Vacation in Hanioti, Greece
A small town located in the Halkidiki area – Kassandra, where the atmosphere here is definitely Greek, Hanioti is a busy resort where you can take a break from it all. If you're looking for a mixture of adventure, sun and relaxation, then Hanioti needs to be on your list.
And what would be the best place to sunbathe? Well, a Blue Flag beach I would say. And yes, Hanioti has a Blue Flag awarded shore, with wide beaches that stretch along a 5km strip to Pefkohori. With small pebbles, fine sand and crystal clear waters, you will find that Hanioti has lots to give if you are a beach fanatic.
Swarming with both locals and foreigners, the central square of the small village is very much alive at night. Friendly waiters inviting you to have a seat in their open terrace, divine smells coming from the open-air taverns, modish drinks and lots and lots of chatting – this is the general atmosphere you plunge into after 20:00pm
With prices ranging from budget sunbeds (only $3 USD) to posh lounges (over $16 USD), this place delights you with all its mix charm of both old and new.
Food – Where Can We Eat in Hanioti?
Well, if you are a seafood lover like me, then you need to try Colibri Tavern. Even though it might look expensive at first glance, the prices are actually quite decent! For a table of four, you can go as low as $80 USD and still be crop-full. Colobri has delicious food, very friendly staff and fast serving. Once you get seated, they greet you with that marvelous garlic bread (which is actually grilled bread with olive oil, oregano and a fantastic garlic spread!). Food comes fast, so if you're already hungry then you won't regret this place. Mussels in white wine, grilled shrimps, fish, feta cheese, traditional mousaka – all taste heavenly. Desert is on the house and usually consists of fresh fruits or a small cake selection.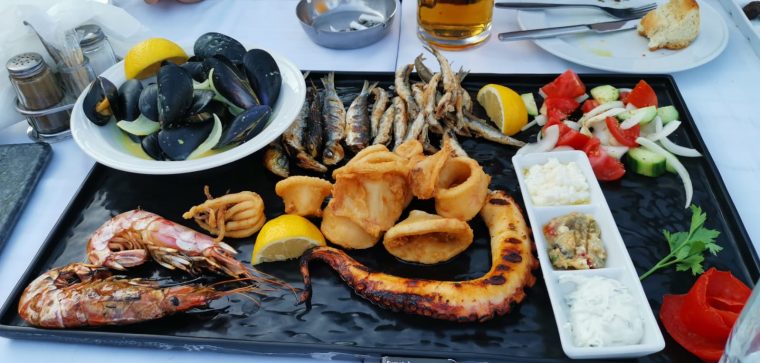 If you are not on a budget, go straight to Achinos. A 5 start restaurant with a superb view of the sea. Here, the waiters are top-notch, very well trained and the serving is impeccable. The food you ask? DIVINE! Even friends that hated sea food ended up having some. Baby squid, king prawns, mussels, the best sushi and great wine – these were the ingredients for the perfect evening. While the bill can easily go over $200 USD, the culinary experience is well above most places in the area.
Having Fun in Hanioti – Where to Go?
During daylight, you can also rent a spot on Achinos private beach. Achinos Beach – 7 Seas has a select clientele and amazing location. Two sun loungers with plush cushions, two beach chairs, a huge floor cushion and umbrella – that's $32 USD, please! A bottle of water is on the house and you can order anything you want from the menu – pricy, but worth every penny!
If you don't want to spend to much money just sitting on the beach, there are lots of spots to consider. Hanioti has a Blue Flag beach just close to the center. With drinks that quickly quench your thirst, the bars are quite close to the shore. Here, prices range between $3 and $6 USD per sunbed, depending on the location.
If you're staying a couple of days in Hanioti, then you could also make a quick tour of the Peninsula. Neabry locations such as Pefkochori, Chrousou, Nea Poteidaia and Afytos are great places you can visit.

If you're in for an adventure, you can rent a speed boat and roam the shores. For $70 USD per hour you can spend some time snorkeling in lagoon like waters, scanning the coast for great spots and even have a party with friends! Always brig your sunscreen and be careful how far you go – you will also need to have gas to return. Usually, you have a spare tank of gas hidden in the driver's seat. It should last for almost 4 hours.
A small kart track is nearby – just a few kilometers. You can easily reach it via car. It's not so impressive: karts are small, the track is short. But, once you drive off in that low car, adrenalin kicks in and you feel just like a racer!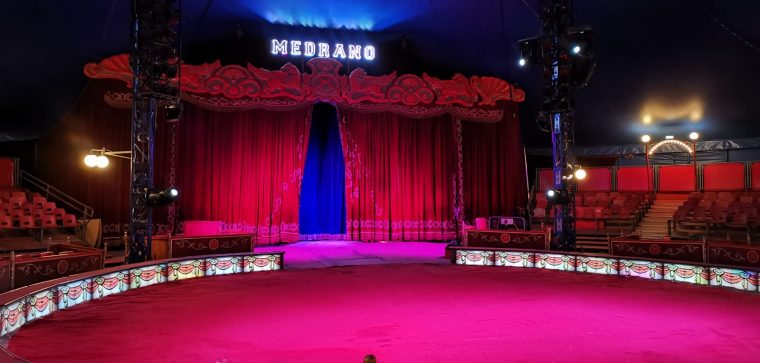 If you have kids, then the Circus is in town! Medrano Circus is right on the main street and offers 2 hours of entertainment. To be honest, we grownups were not so entertained, but there were definitely some wow moments. Price? $16 USD per ticket. Beware of the mascots that come to take photos with you. We ended up paying for the photos more than we did for a whole day of fun!
Where to Stay?
Need a quiet place to sleep? Better avoid the central area, as those are buzzing until late in the evening. The narrow streets are filled with accommodations that range from a cozy room to a 5 star hotel. Parking spots are hard to find, so if you get a room that has free parking assured, then go for it.
So, if you're looking to spend your time on a sunny beach, enjoying the sun and having drinks, then Hanioti is a nice place. What I loved was that there was a mix of effortless posh and cosiness to all locations. People were friendly, places were clean and everything was relaxed. The average age was 35 to 40 for tourists. Not so many youngsters under 20 – only locals. Kids? You would not spot them to much during the day, but oh boy, did they fill up the streets once the sun went down.

Thinking of planning your vacation to Hanioti in Greece? Let me know and I can offer you some extra advice!