Plitvice Lakes National Park Croatia
Plitvice Lakes in Croatia is a beautiful national park with breathtaking scenery and fantastic forest vegetation. It's a must go-to place if you are thinking of touring Croatia.
It covers three hundred square kilometers and is located between Zagreb and Zadar, where it is accessible to tourists. The tourist attraction is an excellent mix of deep woodland and a chain of waterfalls that reveals a magnificent background.
In the forested park also lies the homes of various wild animals such as boars, bears, wolves, and diverse bird species. Additionally, Plitvice Lakes is a significant UNESCO World Heritage sites in Europe and has become a famous tourist attraction that receives thousands of travelers all year round.
Best Time to visit Plitvice National Park
A trip to Plitvice Lakes requires advanced planning to ensure you get the best out of your journey. The unique destination offers a magical mix of waterfalls, lakes, and trails that are designed to give travelers a beautiful view after every bend.
Tourists have access to the national park throughout the year, making it possible to plan your trip during your preferred season. The location is stunning regardless of the season, with summer offering lush greenery and vibrant colors, while winter brings out scenic landscapes covered with ice and snow.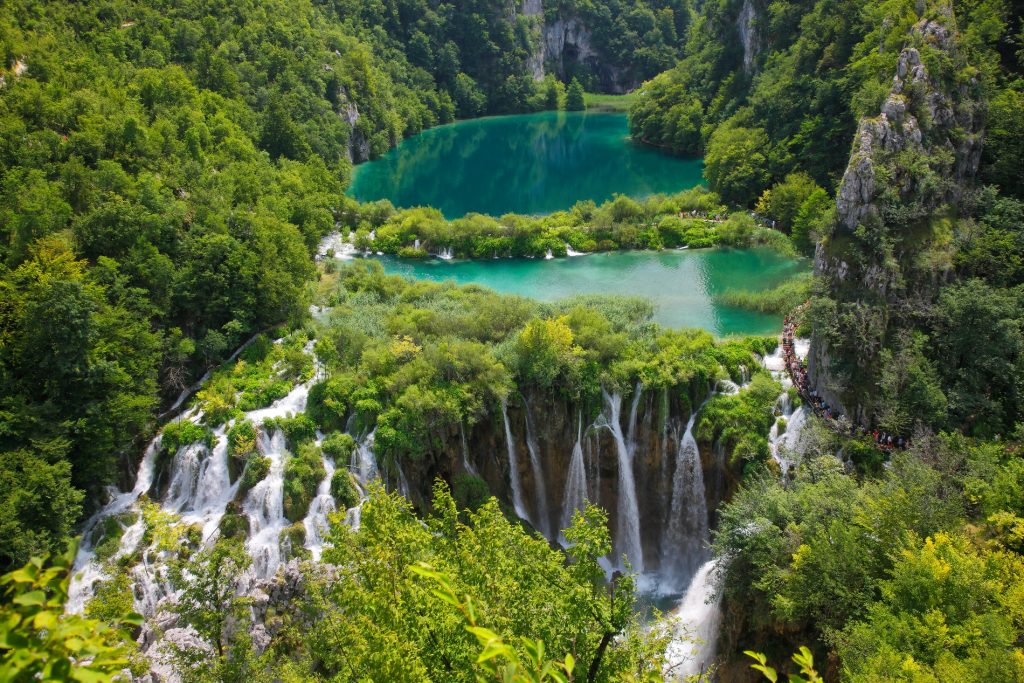 Peak season in Plitvice Lakes is from July to August, which is the summer season in Croatia. Many visitors include a visit to the national park as part of their vacation itinerary when traveling alone or as a group.
However, it can get jam-packed on the pathways during these months. If you prefer fewer crowds but still want to enjoy great weather, consider visiting in April and May or in September and October. Most times, the national park opens for extended hours for the benefit of tourists and can be visited as early as 7am and close at 4pm or later.
Visiting Plitvice National Park
The thought of sixteen interlinked lakes with various colors that flow into waterfalls from different heights is enough to make you book your ticket to see Plitvice Lakes.
The national park can be reached by car, shuttle, boat, or public transportation depending on your location within Croatia. Upon arrival, travelers can choose to hike to different areas of the park to see various natural scenery spread all over the area. The park has four major hiking trails that have different routes that are used for touring the park.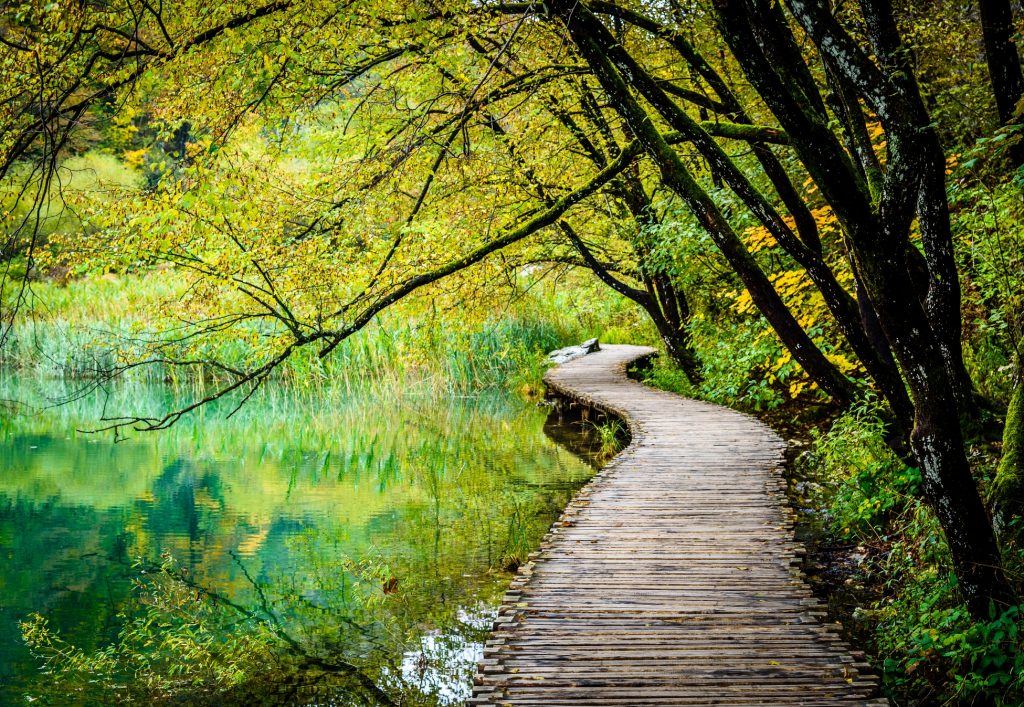 Generally, the park is divided into sections that can be accessed by different entrances. The sections include Lower Lakes which comprises of Veliki Slap and Entrance One. The upper lakes is another section that can be accessed by boat or shuttle and have beautiful waterfalls and trails worth exploring. Another section is located near Proscansko Lake that has a path that goes around it.
Hiking to the lakes takes a minimum of six hours but can be reduced when using boats and buses that depart every two hours. The public transportation is available from April to October, with buses moving from the upper lakes to the shore of the largest lake in the park known as Kozjak.
When using the boat, visitors begin their trip at the lower lakes and end up at the largest waterfall in the country, known as Veliki Slap. Additionally, swimming at the lakes and waterfall is prohibited for adults and children.
Plitvice Lakes in Winter
Plitvice resembles a frozen paradise in winter. The cold season begins in November and extends till March revealing a spectacular site of the park covered in lots of snow. For a better experience, travelers can also opt to visit from December until February because of the below zero temperatures.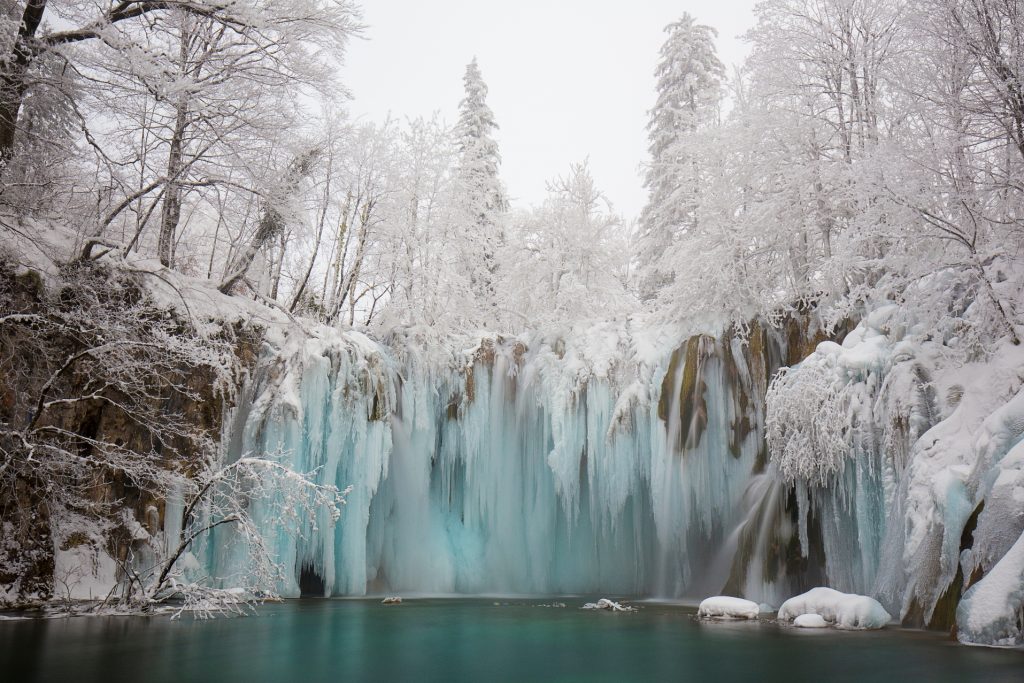 Making your way to Plitvice Lakes during winter is possible by car or public transportation. It is essential to check the current condition of the road before going to the park and confirm the opening hours.
When traveling by bus, ensure you drop off at the right stop as only one entry may be in use. Luckily, the national park records low tourist numbers during the cold season.Also, the cost of entry is lower and can be sixty Icelandic Krona or less depending on the time of year.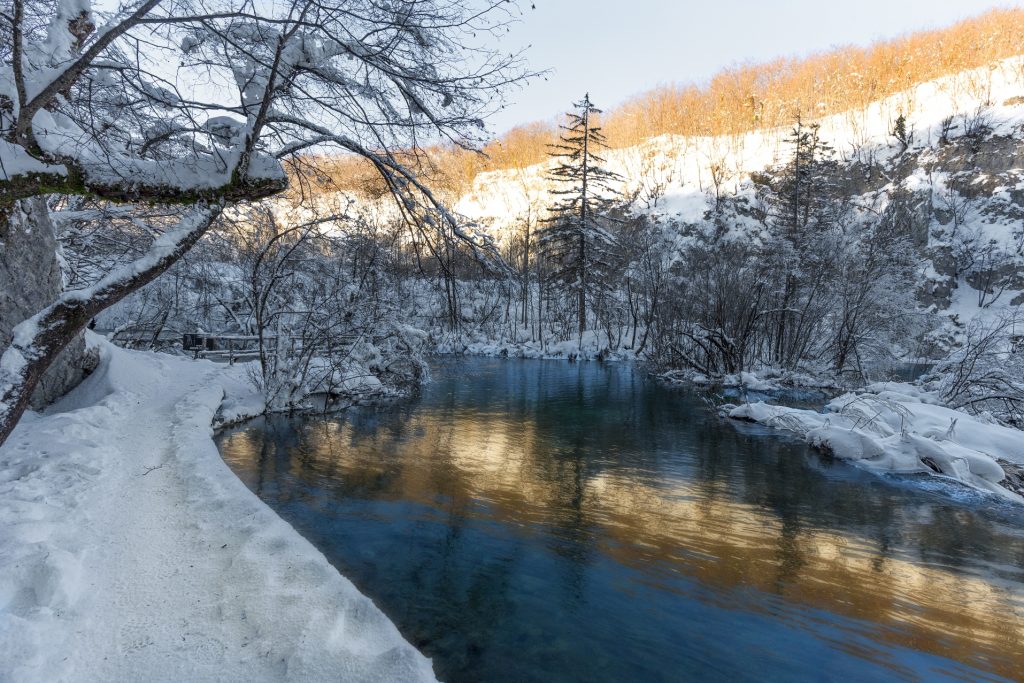 How Long to Stay at Plitvice Lakes
The time spent on a trip to Plitvice Lakes depends on one's schedule and the areas that must be visited at the national park. Visiting the popular attraction can be done within a day, but you may feel rushed and not see the lakes in their fullness.
Several companies offer one day tours from cities such as Split or the capital city, Zagreb, to the area making it possible to get the best out of your trip. If your time is limited, you can visit the upper and lower section of the park, which takes two to three hours to complete, respectively. It is advisable to start with a bus ride, then enjoy a boat ride to avoid trekking up the trails.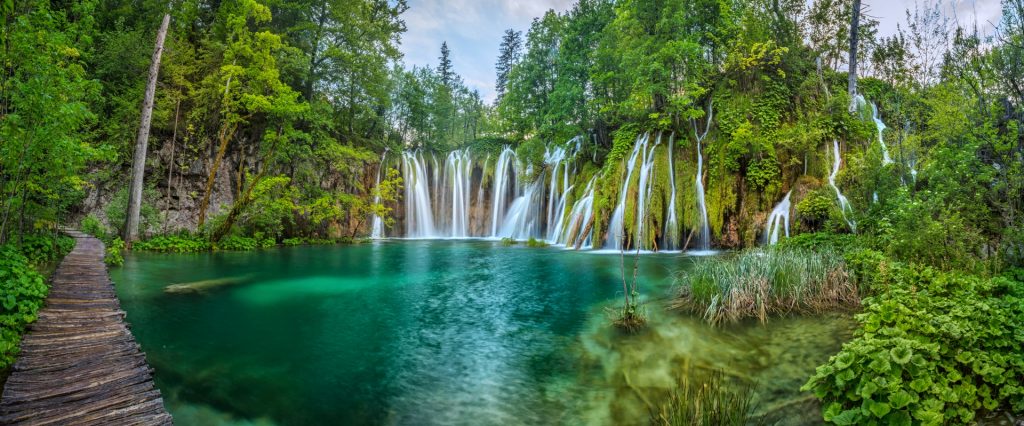 For the best experience, plan to spend a minimum of two days or more at Plitvice Lakes and enjoy various activities available at the location. Start your visit as early as possible so that you can avoid large crowds and capture the amazing park sunrise. Catching the sunset is also possible as the park closes at 8pm throughout the year.
Charges at Plitvice Lakes
Touring the UNESCO Heritage Site comes at a cost that depends on the length of stay, season, and age of visitors. Entry fees to the park are at the highest in the summer season and much less in the off-seasons. Students are also allowed to enjoy lower rates as long as they have an identification document to prove they are in school.
The ticket for visiting the national park includes sightseeing and transportation using the panorama train or electric boat. However, it does not include meals, but food can be bought at different restaurants along the trails.
Booking tickets is done online and are valid for particular dates as well as times. The online booking has reduced queues at the gates, especially in the high season, but if some tickets remain, they can be purchased at designated entrances.
Booking of tickets in advance is encouraged, with visitors being allowed to reserve their tickets two days before visiting the site. Daily tickets vary depending on the season, with the costs ranging from 55 to 180 Icelandic Krona annually.
In cases where travelers wish to extend their stay and book a room at nearby hotels, the ticket validity can be extended at the lodging house. Parking is also available at the site at 7 Icelandic Kronaand is charged hourly, with payment being made when exiting Plitvice Lakes.
In the end, a trip to Plitvice Lakes gives you a chance to enjoy a pleasant trip during summer or winter. The popular site in Croatia is magically beautiful and worth visiting all year round.