If you're looking for a 2 days in Rome itinerary, then you're in luck. We just came back from a short trip to Rome and we can tell you we didn't even need more. Are 2 days in Rome enough to enjoy the full perks of Italy's capital? Probably not. Are 2 days in Rome enough to see the highlights and a bit more? Definitely yes!
Most would argue that having just 2 days in Rome won't be enough to enjoy the sights this place has to offer. But, if you're prepared for it, then it's doable. We're living proof!
In this article we'll let you know hot much it costs to spend 2 days in Rome. Learn a bit what you should do in order to experience Rome to the max and about how we got around without spending too much. We'll also be adding some valuable tips that you surely should consider.
Previous to our trip we actually did some research online and read lots of articles about 2 days in Rome itinerary. But once we actually got there, some of the things we had read didn't actually add up. This made us think that the articles we read weren't actually from people that experienced that. We were a bit disappointed, but we ended up just fine!
You might have read that the Roma Pass is something you should buy, or even Omnia Card. Forget about those. You will just be spending extra money and they won't bring you any actual value. We'll detail that in another article.
We got on the plane on the 7th of April and got back on the 9th of April. This is just so that you get an idea of when we visited and the prices. So, let's get started!
What did we visit in 2 days in Rome
While spending only 2 days in Rome you'd expect not to see so many things. But you're wrong to think that. You can actually see all the highlights of Rome in 2 days and even more.
We got to explore some hidden gems of Rome that we're sure you had no idea about. But just because they are hidden, doesn't mean they are not worth seeing.
Most tourists limit themselves to the Colosseum, Trevi Fountain and Vatican City. But there's just so much more to Rome than you probably know.
This is why you'll probably be surprised to see how many places we've seen in Rome in just 2 days. We'll cover both days below and create an itinerary later on. If you decide you want to see all the places we've visited in just 2 days in Rome, then write down the itinerary. You'll find it useful!
Rome 2 days itinerary – Day 1
We arrived in Rome at around noon and we weren't familiar with the city. The first thing we did was go to the hotel and do the check-in.
The check-in was fast as we had printed out the QR code and the person at the reception just scanned it. We paid for the city fee and went to our rooms to unpack.
After we had finished at the hotel, it was time to grab something to eat. And what could we want more than a true Italian pizza?
Right next to our hotel location there were multiple and various locations you could choose from. We settled at the first one we could find, since we were starving.
Now that our stomach was full, we took our first good decision: not to go on a walking tour of the city. Instead, we opted to take a tour with a Hop in – Hop off bus to see just how far all the top attractions were and decide what we wanted to see.
Hop In and then Hop Off in Rome
The Hop in – Hop off bus station was so close to our location, it only took us 3 minutes on foot to reach it. And we stopped at a red light. Lucky for us, it was the last tour they were doing that day. We opted in for the cheapest one which was 16 EUR/person – 3 Pass.
The lady informed us before hopping on that if we buy the tickets now, we would not be able to hop off the bus, since there were no other busses coming for the day.
Normally, with the ticket we took we would have had 3 hop-ins and hop-offs. That meant we could get off the bus at any station and wonder around. After that we could get back on another hop-in buss, from the same company, and continue. So, if you arrive earlier, this is something that you should surely take on your first day.
We opted in for the GreenLineTours Panoramic bus, but this is because it was the only one available. But we're sure it was a good decision. It wasn't expensive and we got to tour Rome on the Green Line.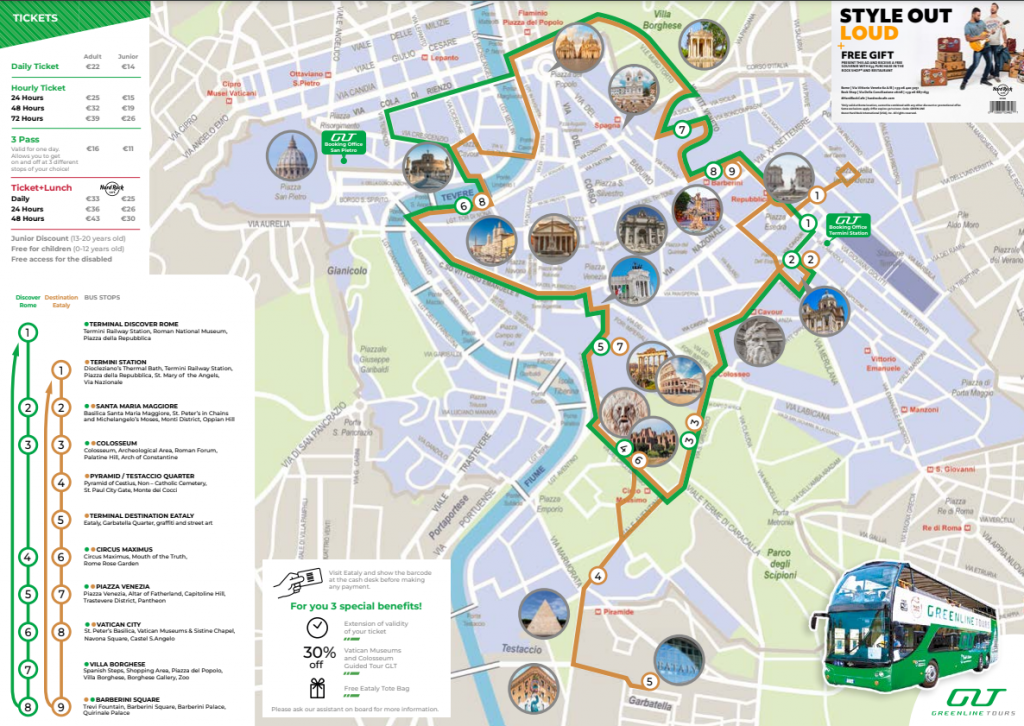 If you're reaching Rome earlier in the day, then you can checkout multiple Panoramic busses and you can choose depending on the tours they offer.
Visit the Colosseum in your 2 days in Rome
After we finished the tour, we realized that the top attractions were actually quite close to our hotel and so we decided to go on foot for the first time and explore Rome.
Our first stop was the Colosseum. It took us less than 15 minutes to reach it by foot. When we got to it, it was something that we kind of marveled at. It is enormous!
We were actually surprised to see that there were not many people at the colosseum and there was nobody waiting in line to get in. After touring the whole location, we couldn't actually find the entrance or ticket store. So we gave up for the moment, thinking we will be back the other day.
We didn't stress much about it, because it was enough for us to just see it. We took pictures of it and marked as completed in our 2 days in Rome itinerary.
Another thing we noticed was that the Colosseum was undergoing rehabilitation. Still, people were inside and visiting.
Tito's Arch, Forum and Palatine Hill
While we were there, we also marveled at the Tito's Arch of Triumph and Forum. The views are incredible. Getting that feeling that you're seeing what ancient civilizations have built, in your lifetime, is something that sends chills down your spine.
All three points of interest are close to each other and I mean it. You literally just walk from one to another, continuously. You'll step in history, marvel at the things you see and transpose yourself in an ancient world, that's still alive today.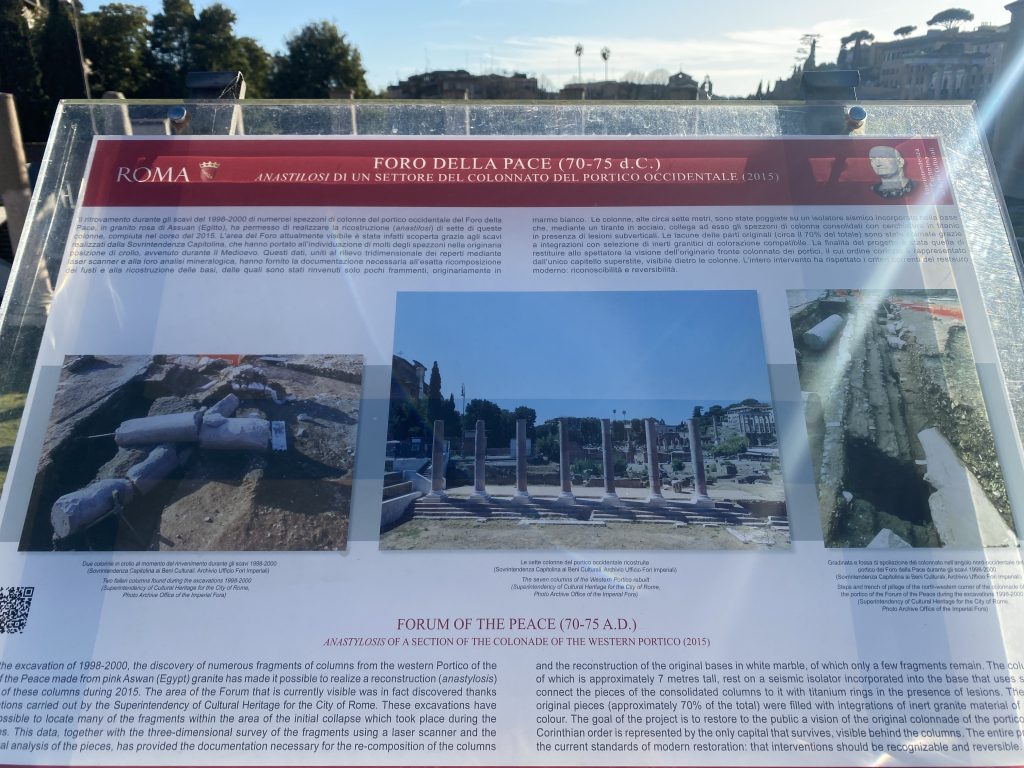 Next stop – Circus Maximus
Not many tourists have heard about the great Circus Maximus and some don't even want to visit it. This is not because it's not worth seeing, but they don't actually know what it's about.
This arena could seat up to 250 000 Romans and it's the place where chariot races took place. It was a massive venue were Romans got together and enjoyed themselves. It was a great place for entertainment and also a hub where you could socialize.
It's located between the Palatine Hills and Aventine. So this means it's a walking distance from the Colosseum. If you only have 2 days in Rome to visit unique places, then this should be on your list.
Baths of Caracalla or Terme di Caracalla
Unfortunately, we weren't able to visit them because we got there late. Remember we did this whole itinerary on foot. So, by the time we reached the Baths of Caracalla, it was around 7p.m.
We got to see them from the outside and they are indeed something else. You wouldn't believe your eyes the thermal SPAs they had back then. If you're interested in visiting them, be sure to reach them before 6 p.m.
We had no idea about the schedule so we took our time with seeing the Colosseum and others.
Baths of Caracalla was not on our 2 days in Rome itinerary, but we kind of went to see it anyway.
We ended our first day in Rome with dinner close to the Colosseum. The menu had lovely pasta and profiterole. Diner was served at Pizza Forum Pizzeria Ristorante. 3 pasta, one profiterole, 3 beers, 1 coca cola and 1 water cost around 80 EUR.
It topped up the day and we couldn't have been more pleased of what we had managed to see.
We first used our Rome 24h ATC ticket at around 9pm, when we boarded the Metro from Colosseum to Termini. We weren't tired of walking (well, some of us were) but we had our stomach full and didn't want to risk it.
So, the ticket was valid until the next day, 24h after we had our first trip with it.
Rome 2 days itinerary – Day 2
We reserved a full day to visit the Vatican. But we actually didn't need a full day. We totally skipped the Sixteenth Chapel and the Vatican Gardens, but instead got a great view of them from the top of the Dome. I'm not even sure if the Gardens were open for visits, since there was nobody inside.
Later, we got to see some other landmarks which we weren't expecting to see.
We left the hotel at around 9am and took the metro from Termini to Ottaviano station. It's a fast ride and you'll be left 10 minutes away from the Vatican City. Walking distance, I mean.
Piazza San Pietro
This is just like you see in the movies. An immense square, decorated with Roman pillars, statues and buzzling with people. You can walk around freely in the square, but when you actually want to enter towards the Basilica, in the actual Vatican, you need to get past security. It's security just like at the airport. You place your bag and cellphone in a container and they scan it.
Basilica San Pietro or Saint Peter's Basilica
I'll start off by saying it has a free entrance. You don't pay anything to visit it. And it's worth it.
Although you might be reluctant to give it a try because of the long line of waiting, you should know the line works very fast. We got inside in less than 10 minutes, with the security check and all. You can see the line in the picture above. It's a zig-zag line. We went through that in just a few minutes.
The Basilica is something you should see. You only need to see it once as it will stay in your mind for very long. If you just take a moment to actually look at the details of the artworks, you will certainly be wowed.
While we were just looking like we had no idea what all of those were about and we struggled to read the plates in front of all the objects, guided tours were taking places. If you're lucky enough, there will be quite a few of them. I actually stopped and listened to what they were saying and I guess that was one of my brilliant ideas.
There's also an entrance to the catacombs in the Basilica – the Vatican Necropolis. If you're the average tourist, you won't see the entrance. But if you spy on the groups, you'll see they will go down in the catacombs. The entrance is not that obvious. To give you a hint, it close to the Tomb of the Apostle Peter. You will see a circle in the floor and if you look close you'll see there's a tunnel under there.
We didn't pay any ticket for entering the catacombs, although when we checked now there was an entrance fee of 13 EUR. So we're not sure about that.
What we did actually end up paying for was going up to the Basilica. The line was crazy. It took us about 40 minutes to buy the tickets and then some more to wait in line at the elevator. Again, if you can, make this purchase online and skip the line. Tickets were 8 EUR/person for walking to it, and 10 EUR for elevator.
We were so tired of waiting and standing so that once we got to the ticket office, we bought 2 tickets for the elevator. We thought we would go all the way up with the elevator. Boy, were we wrong!
You'd think that when you buy elevator tickets you just hop in the elevator and go straight to the Dome. Well, yeas and no. You get to the dome level and then you go in a spiral to reach the top. I mean spiral. And tight space. I highly do not recommend for someone to try reaching the top if they are not fit or have health problems.
You reach the Dome inside, where you can circle it, and then you go at the very top of the Basilica – you will see both in the small clip.
Climbing over 200 narrow steps, in a spiral and at a kind of rapid pace (since there were people behind us – teenagers in our case) made our heart race. When we finally got to the very top, our legs were literally shaking. We had to take some moments to catch our breath. One woman was so red and felt so bad, people were starting to worry. So, again. we advise not going all the way up if you're not somewhat athletic.
But the view was amazing. That's where we got to take the picture of San Pietro Square in all its splendor, we got to see the Gardens of the Vatican and actually we got to see the whole Rome! If you think you're up to it, it's worth it.
Castel Sant Angelo
It's so close to the Vatican you won't even realize when you've reached it. It's an imposing circular castle, which was first designed as a mausoleum for Hadrian, the Roman Emperor. It later became a fortress and a castle. Today, it is a museum.
We did not go inside, but we did spend a few minutes admiring it. There were live musicians playing by the river Tiber and the whole atmosphere was just awesome!
The Pantheon
This is a must visit if you're 2 days in Rome. I mean it's just stunning. It's a former temple that started to be built in 27 BC. It got burnt down and it was rebuilt again. The magnificent cupola has a looking eye right in the center. It is said that it never rains in the Pantheon even if it has that open circle at the top.
To be honest, if kind of does rain. But hey have built the plumbing so well hidden, there are actually tiny holes in the floor where the water is drained.
Entrance is free and you can visit it on your way to the Trevi Fountain. It's not actually crowded as people come and go.
Trevi Fountain
You know how you've got that one place you want to see and you get so disappointed about? This is what happens when you reach Trevi Fountain. Although it must be on your 2 days in Rome itinerary, don't get too excited.
The fountain itself is a splendor. It's magnificent. But you don't actually get to see it because there is a mob of people around it and it's located, well, behind some buildings.
There are hundreds of people checking it out every minute I would say. Ladies posing 20 minutes for a selfie. Worn out men that just want to get it over with. It's insane.
Maybe the fountain would work best if visited in the evening, when all the tourists have to continue their way. Or maybe early in the morning. I mean you can visit it anytime, it's in open air!
I'll just post our pictures here so you can see the crowd. We spent less than 5 minutes here and were on our way.
Pyramid of Caius Cestius and Porta San Paolo
We bet you had no idea there was a pyramid in Rome! Well, there is one. Unfortunately, it cannot be visited inside and it is rather small. But, it's still something we thought about taking a look at, thinking that a pyramid in Rome shouldn't be missed.
This pyramid was built as a tomb for Gaius Cestius (a member of the Septemviri Epulones,), most likely between 18 and 12 BC. and might have not been the only one in Rome. It reaches almost 37 meters from the ground up and 30 meters at the base, per each side.
From Fontana di Trevi take the metro from the Cavour station – line B metro line Laurentina, to head to the pyramid. You will have to pass the following metro lines, in this order: Coloseo, Circo Massimo and then you'll get off at Piramide.
Once you get out of the metro, go to your left. You won't have to walk long, maybe 1-2 minutes and you'll see the pyramid and Porta San Paolo.
After we saw the pyramid and the gate, we walked around a little bit. We were looking for a place to enjoy a coffee. There's a small fast food right across the pyramid if you are starving. Il Buongustaio has pizza, panini and something to drink. But we actually didn't stay there.
We started walking towards the metro Circo Massimo and had a coffee somewhere along the way. There are small boutiques where you can sit down and enjoy a coffee. It's a part of Rome that's not dedicated to tourists, and so it's less expensive than the rest.
Back to Colosseum
On our 2 days in Rome itinerary, we saw the Colosseum twice, in both days. This time we wanted to visit it. But, due to the pandemic, tickets were not sold on site. And although you saw signs that said "Tickets –>" they were not open.
If you wanted to visit the Colosseum, you should have either booked your ticket online or opt in for a guided tour.
Unfortunately for us, all the tickets were sold out when we tried purchasing online, and the guided tour was 40 EUR per person, which we thought was expensive. There was a nice Indian guy that was trying to convince us to purchase the guided tour and he patiently explained the whole situation. If you book the tickets online, you should show up in advance, before the hour you selected, because you will have to stand in line. There's also the Skip the like tickets, where you go straight to the gate. With the guided tour, you also don't have to wait in line.
As a consequence, if you plan on visiting the Colosseum in Rome, book your ticket at least 24h in advance. They are sold fast and you'll regret it a bit.
Dinner at a Chinese Restaurant
From the Colosseum we took the metro back to Termini, where our hotel was. We rested a bit and then looked at the options we had for eating.
We thought that we had tasted the traditional Italian pizza, pasta and coffee, so we were going to try something different. And we did. And it was great!
We ate at a Chinese restaurant. Let's call it restaurant, but it was not that formal type of restaurant.
Huaweiju Restaurant was one of the highest rated places where you could try authentic Chinese dishes. It's ran by actual Chinese people that do know how to cook. I've personally had Chinese food before, cooked by Chinese Chefs, and the taste matched 100%.
When ordering, you are given a menu where the foods are numbered. So say you'd like a spicy beef soup – that's number 122. You write that down on a paper and once you're all decided on the numbers, you call the waiter to pickup the paper. And that's how you order.
We had 122 – spicy beef soup, 136 – pork ribs with onion, 80 – chicken with mushroom and bamboo, 007 – steamed dumplings and 016 – shrimp salad. For drinks, we had their beer Tsingtao.
I'll just start by saying don't order the spicy beef soup. Just don't. Save yourself the horror of having to taste something that's so hot, you can't even swallow it. The woman that got me the soup giggled a bit when she said it was spicy. But I had spicy food before so I wasn't scared at all. We all tried it. We couldn't eat a full spoon. I mean there's chilly flakes, chilly peppers, chilly seeds, chilly everything. It's a pool of chilly. And it was also very warm. Not sure if this soup was an exception and they don't usually make it like that, but I would advise against trying it.
The atmosphere was super friendly, prices were decent: from 5 EUR for one dish, to maybe 7 EUR for the beer. Oh, the beer – I thought it was great. I might have sensed some ginger in it, but it had nice flavors and I loved it.
Day 3 visiting Bioparco di Roma – Leaving Rome
We had a few hours to spend until we had to reach the airport. Out Terravision shuttle would depart at 13:40 and we had to leave the hotel by 10:00. And so we did and decided to visit the zoo.
Did you know Rome has an awesome zoo? It's not actually called a zoo, but a Biopark. It resembles a bio park, with lush green vegetation, many well cared for animals and thematic places. If you still have time for a visit, do it. Tickets for one person was 17 EUR and you can purchase tickets online or at the entrance.
The metro ticket was expired so we had to purchase others. But, instead of purchasing the same, we purchased 2 tickets of 100 minutes each. You could use any public transportation from ATAC 100 minutes after you had first used the ticket. When you use it, the time and date will be stamped on the ticket so you'll know for how much time it is valid. We took 2 per person since we were using one to head to the zoo and one to get back.
We took the bus 910 from Termini and that stopped near the entrance of zoo. When you return, you take bus 223 back to Termini. The bus stop can be found over to the right, when you exit the zoo via the same entrance. Both rides are around 20-25 minutes.
There are lots of animals inside the bio park. The photos I posted don't do it justice. There are elephants, seals, penguins, lions, tigers, snakes, alligators, colorful birds, giraffes, tiny monkeys and many many more.
Tips for your 2 days in Rome itinerary
always check the bill. We had some unfortunate events that we only noticed when we were back home. I usually keep some bills to place them in the photo album. I noticed once place billed us 3 extra pizza and some other things we did not order. When you're in a rush and want to eat and leave, you won't notice. Another place wanted to charge us $100 for 3 cappuccino and one latte. It was actually 15 EUR. So, check the bill before you pay it. It might save you some cash!
don't purchase Roma Pass or Omnia Pass. Instead, purchase a 24h ticket from vending machines which is 7 EUR. They have ATAC for transportation. That means the ticket is valid on all ATAC transports: bus, metro, trolleybuses and tram. You will just need that ticket if you follow our guide + another 2 tickets valid for 100 minutes if you want to visit the ZOO on your departure day.
book tickets online. We could not visit the Colosseum because there were restrictions due to the pandemic. Tickets were only sold online. To avoid any issues, we would advise you book your tickets online, if you're sure you want to visit those places. Oh, and you'll also save time.
save your money and try not to buy souvenirs. We bought a T-shir from the Vatican labeled "Made in Bangladesh". Fridge magnets were 1 EUR near the hotel and 5-7 EUR in Vatican and around. We're talking about the same magnets. Book bought from Vatican was 17 EUR. We found the same book at the airport for 20 EUR in the duty free area. We didn't actually find any local souvenir shops.
ignore people trying to sell you various things: from chargers to hand made bracelets. You'll see that all over Rome there will be people coming at you and trying to sell you things. Especially in tourist locations – these are swarming with vendors on foot. We haven't found any that harassed us. They were okay if you just said no.
keep your money safe. Pickpockets are something only natural in all tourist locations all around the globe. Rome is not an exception. If you have a backpack, wear it in front of you.
How to get from Ciampino airport to Termini – using Terravision
Our 2 days in Rome itinerary started on a Thursday and ended the same week on Saturday. We flew 1h and 30 mins from our location straight to Ciampino airport.
Getting from Ciampino to Termini can be done directly via Terravision Bus. This is the best way to get out of the airport and straight to Rome's city center – which is Termini station. Why is it the best way? Because you don't have to change busses or hop in a bus then a train. It also is the fastest way to reach Termini from the airport, because it doesn't have any additional stops.
As you get out of the Ciampino airport, head left to the bus stations. You will see the bus station named Terravision – it's actually the first one. If you're lucky, there will be one just waiting for you there. If not, don't panic. The time you will need wait for another one is 10 minutes or even less, depending on the traffic.
If you're wondering where the return station is, it's the same spot you're being left at: Termini station.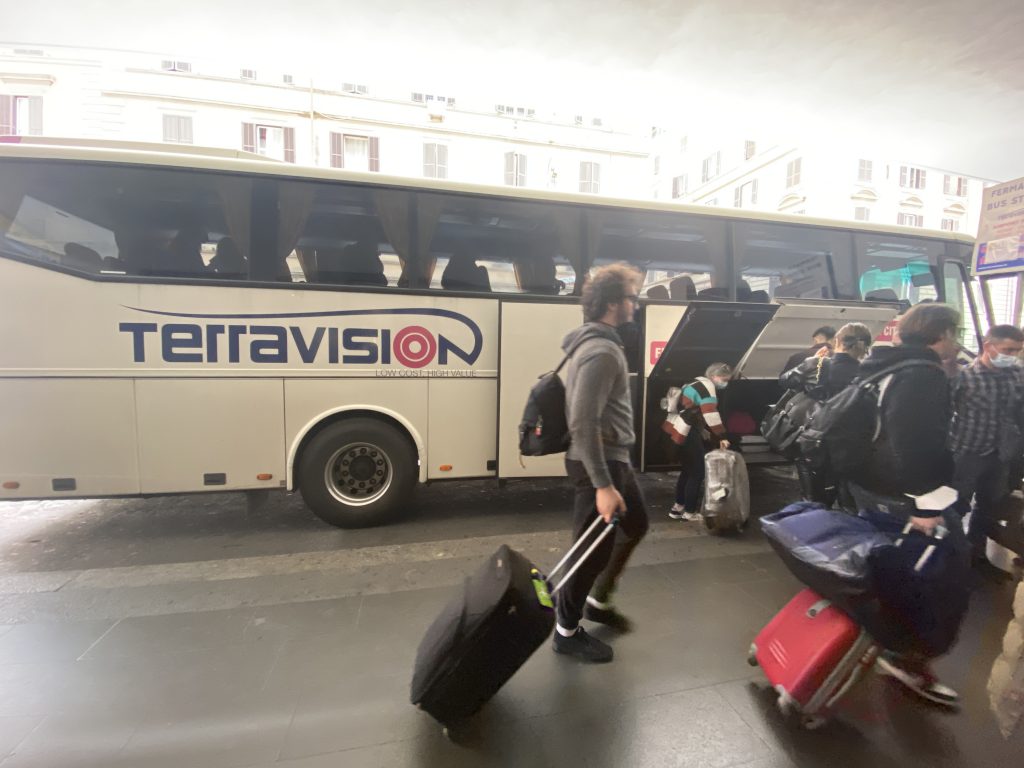 Where can you buy tickets
We got so nervous about buying the tickets because when we got out of the airport the buss was already in the station. Someone saw us at the line and told us that the tickets had to be purchased online. We freaked out and scanned the QR code on the buss – there was a QR code sticked on the bus side. By the time we got to pay the tickets online (it was in Italian) the bus already left.
You can go online at book.terravision.eu and you can change language and buy your tickets easier.
Let's debunk some myths about this: tickets for Terravision can be purchased before you hop in the bus. That means you can pay cash to a representative that's standing right there, at the door. Don't stress yourself.
The other bus came in less than 3 minutes. It was really fast so we didn't loose much time waiting. That's why we recommend choosing this option to get out of the airport. It's the fastest.
We advise you do purchase the tickets online if you can. This is because we actually bought tickets to go and to return and we got to pick the time of both departure and arrival. So, we saved our seats, so to say. It can get crowded in the shuttle, so you might want to do that.
How much do the tickets cost
Bus transfer from Ciampino to Termini was 6 EUR/person and we got a discount for purchasing them for returning. We only paid 5 EUR/person for the return ticket.
We were 4 people on this trip so we ended up paying a total of 24 UER from Ciampino to Termini and 20 EUR from Termini to Ciampino.
If you're planning your 2 days in Rome itinerary, then you should save time and money and choose to use this direct shuttle. That's what we would do again, if we ever go back in Rome.
Where should you stay for 2 days in Rome
For your 2 days in Rome you will need to stay somewhere close to the bus stops or metro station. This is because you need to spend as less time as you can in between seeing the main attractions in Rome.
You should look into hotels that are close to Termini station – this is the main node in Rome. It's where the busses stop, the metro lines flow and the trains leave. It's the biggest in Rome and from Termini you can get anywhere else without any trouble.
We paid a 32EUR tax for staying in the city, at the hotel, upon arrival. So when planning your budget you might want to consider this. The tax varies from hotel to hotel, depending on the stars it has. Our hotel had 3 stars, so that's why we ended up paying 32 EUR. That is 4.00 EUR per person per night for 2 and 3 star hotels. For 4 star hotels you will pay 6.00 Euros per person per night and 7.00 Euros per person per night for 5 star hotels.
We booked our room at Hotel California
We booked our room at Hotel California because it was the most affordable and closest to Termini station. And for just 2 days in Rome it was more than we needed. Plus, it had breakfast included in the price.
The room was a bit small, but if we stop to think about the price, it was quite large. We had a private bathroom and the view wasn't at the main road. This was nice because or friends got a room with a street view and they could hear the trams at night. It wasn't something too loud, but still if you don't sleep sound, then you might want to request a room that doesn't have that.
Our biggest surprise was the bathtub/shower. It was in the room. The toilet was in a separate space, but the sink and bathtub were literally in the room.
What we didn't like was the smell that came out of the sink. It was a sewage like smell. It was not pronounced, but you could feel it a bit. While we were away we always left the windows open. Which was fine because we could set the room temperature to whatever degrees we needed to stay at.
For breakfast they served: omelet, boiled eggs, some ham, sausages and salami. You also had a few fruits, croissants and cereals with milk. There was also a coffee machine and soda machine. If you ask my personal opinion, the breakfast was bad. That's because I'm used to having other dishes for breakfast. I don't eat or enjoy processed meat.
So, for breakfast, all I would eat was one boiled egg and half of a croissant. I tried one slice of ham, but it was so thin I could barely taste it. You don't get any vegetables. Also, they ran out of omelet every morning and you'd have to wait around 20 minutes for them to make another batch. I never got to taste the omelet.
Other locations to stay in Rome
If you're planning on staying 2 days in Rome, then you might want to checkout other accommodation spots.
All you need to do is keep in mind the location of the places you're wanting to travel to and your hotel. There are several nice hotels close to Termini station, so you'll have plenty to choose from. For reference, we will list below an interactive map of hotels in Rome.