Although it is not so popular amidst foreign tourists, the Emen Canyon is actually a hidden gem of Bulgaria.
Limestone cliffs, great hiking trails and waterfalls – these all gather up to form a fantastic sight that you shouldn't miss. This canyon will delight you with its vertical rocks of over 120m in height and marvelous caves.
Did you know that in 1997 this was where the first eco trail (eko pateka) was built in Bulgaria?
The actual canyon is 1km long, while the eco trail has around 3km. And even at the beginning of your walk you are greeted by Emen cave, which is around 3km in length.
Where is Emen Canyon located?
Emen Canyon is located 20 km away from Veliko Tarnovo, in Bulgaria. The canyon begins exactly after you exit the town of Emen.
While Emen's population is around 100 people, by the time summer sets in, you'll find around 300 people there. That is because tourists come to Veliko Tarnovo province to visit Emen canyon in the hot season.
What can you do in Emen?
Emen canyon is actually composed from an upper side called Goren (Upper) Boaz and a lower side, called. Dolen (Lower) Boaz. The Upper Boaz starts from the nearby village Novo Selo and continues until reaching Emen. That's a 5 km strip that reaches the Mihaltsi dam, in the lower Boaz.
What can you see in Emen Cayon?
Emen cave is the first thing to see when entering the canyon. It boasts a length of 3113 meters, being one of the deepest caves in Bulgaria discovered so far. Inside the cave you will find a whooping 6 different species of bats, two of them being unique in Europe.
The river Negovanka flows through the canyon, carving a perfect picture of nature's masterpiece. You will be amazed of the picturesque sights that this river shapes. Going on the eco trail, you will discover wooden bridges that interconnect the two river banks.
Besides the fairly easy-to-cross bridges, there's one that will pump some adrenaline into your body: the high bridge. It's an old wooden bridge that crosses the river, connecting the canyon cliffs from each side.
Momin Skok is the amazing waterfall that makes it all worth it! It is around 10 meters high, but you should know that the myth surrounding it is nothing but sad. The name of the waterfall actually means "woman that jumps", this being a reference to all the women who have jumped from those cliffs. They would have rather died than marry the Turks.
Moving away from its myths, the area that surrounds the waterfall makes it perfect for a picnic and relaxation. All you can hear is the river flowing, away from the city buzz.
The last stop is actually Negovanka lake, an oasis of peace. Spending the summer afternoon here is pure delight. The sun's rays flicker in the water, while the leaves barely dance in the calming wind.
Visit Buzludzha Monument near Emen Canyon
While in Emen, it would be a shame not to check out the Buzludzha Communist Monument.
Not only does it have an intriguing shape (like a flying saucer) , but it also is a part of Bulgarian history. The Monument was actually for a memorial house, which was supposed to have heating, designed for special events.
Inspired by sci-fi movies and and the Roman Pantheon, the architect Georgi Stoilov shapes the symbol of the communist party in a building. It gathers all the elements that the communists desired: eternal future and eternal glory.
But it's not only the architecture of this place that has historical significance, but also the Buzludzha peak. Besides the battle between fascists and partisan forces that took place there, the Bulgarian Social Democratic Workers Party was also founded there, in 1891.
Dryanovo Monastery
A unique place to visit, not far away from the Emen canyon, is Dryanovo Monastery.
Founded in the 12th century, this place is that piece of quiet you need while going on vacation and taking a break from touring. But, its past history is everything but quiet. It was built with a strong connection to the struggles of the Bulgarians for freedom and even used as a fortress in Bulgaria.
Bacho Kiro Cave
Near Dryanovo Monastery you will find one of the best caves in Bulgaria: Bacho Kiro.
Embedded in the canyons of the Andaka and Dryanovo River, this cave received its first visitors way back, in 1938.
It's most famous because of the excavations that revealed artifacts belonging to Homo Sapiens – a population of African origins. While exploring the cave you will be intrigued by its carvings and shapes.
Where can you eat in Emen?
After a long walk through the Emen Canyon, you might want to grab a bite to eat. Lucky for you, there are several places you can enjoy a great meal. Listed below are some of the locations you can settle for lunch, dinner or maybe a quick snack.
Eat at Dryanovo Monastery
Remember we talked about this Monastery earlier? Well, if you're planning on visiting it, you can also enjoy a great meal there.
Rabbit stew, wine crafted by the monks, traditional flatbread are just a few things that are worth savoring. If you're thinking about prices, don't worry. All the dishes are reasonably priced. Besides, if you don't like rabbit, you can choose from pork, chicken, salads any many more. Plus, you can try the local cuisine there which is pure delight!
The whole dining area has a traditional feel to it, with benches and table decked in the customary tablecloths.
Eat in Asti in Veliko Tarnovo
This location is much closer to the Emen canyon. It's located in a residential area outside the city.
There they serve Italian cuisine, and barbecue. Prices are well in the low range, but the food is actually fantastic!
Verona, Bar & Dinner in Veliko Tarnovo
If you're looking to taste a great pizza, then this place is where you need to go. It's rated as having one of the most delicious pizza and friendly staff.
It's a stylish restaurant with a cozy atmosphere, where everyone will find something they would rather eat, besides pizza. And if you're lucky enough to visit during summer, there's a great garden where you can enjoy your meal.
Kaloyanova Fortress in Arbanasi
This restaurant is not your typical restaurant. If you're looking for an original place to eat, then Kaloyanova Fortress is where you should head to. It's also quite close, Arbanasi being a province of Veliko Tarnovo.
Although the menu is quite average, and sometimes the serving a little slow, the architecture of the place makes you feel like you're in an Arthurian movie!
Acommodation in Emen Canyon – Where to Stay
Although there are not so many hotels right in Emen, you will find several of them very close to the canyon. The price range is very broad so you can surely find something that is affordable, but also nice. If you're looking for something that's more exclusivist, then we've also got that covered for you in the hotel list below.
The Willow House – starting from $39 USD per night
If you're someone that likes the whole outdoors experience, then this place is something you should be looking into. It's got a nice friendly feel to it, a big yard and a small swimming pool for cooling.
Rooms are 15 square meters and come with a single or double bed. You get to have a mountain view or a river view right from your window.
Oh, did we mention it also has karaoke and a playground for kids? So, if you're looking to stay here with your family and friends, you'll have plenty to do!
The nearest airport is a 2hours drive from here, and it's just 200m from Emen's center.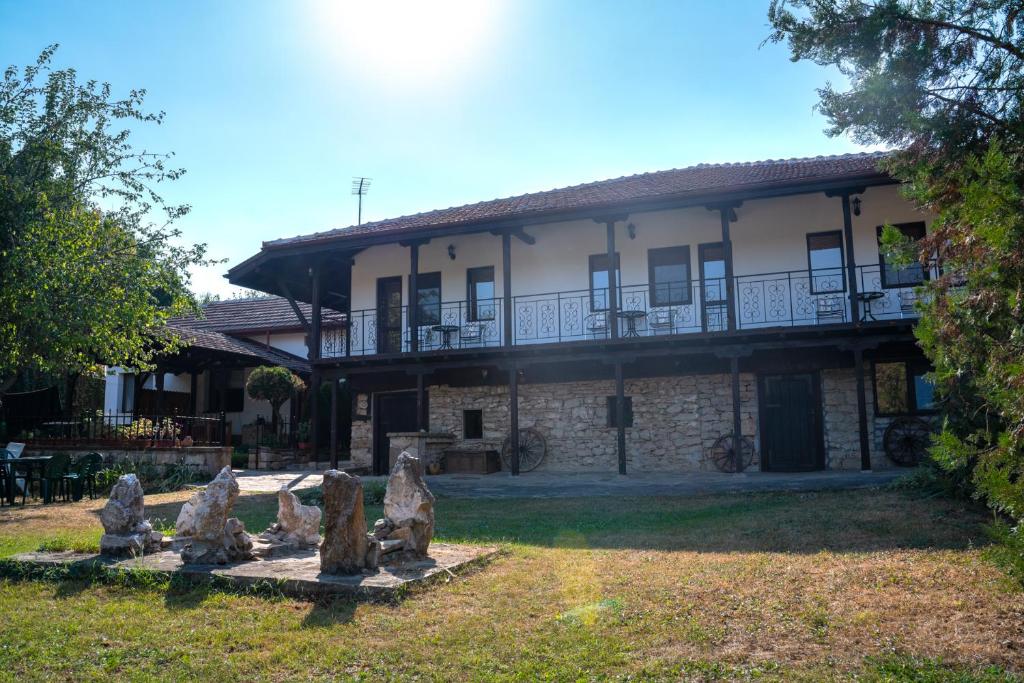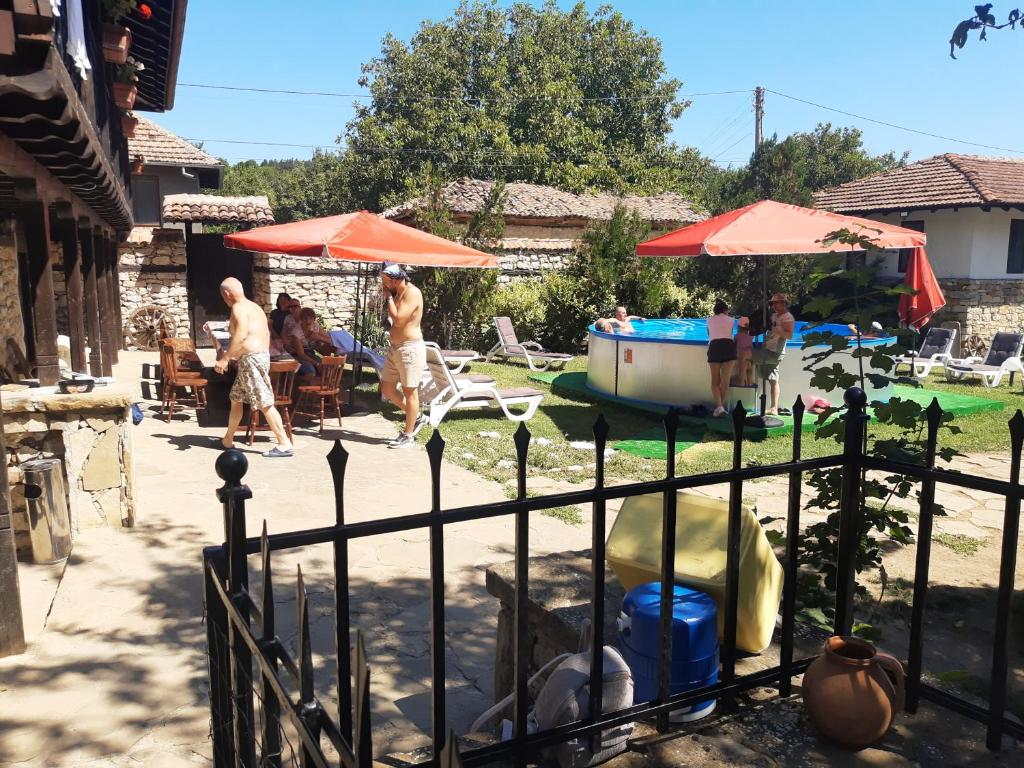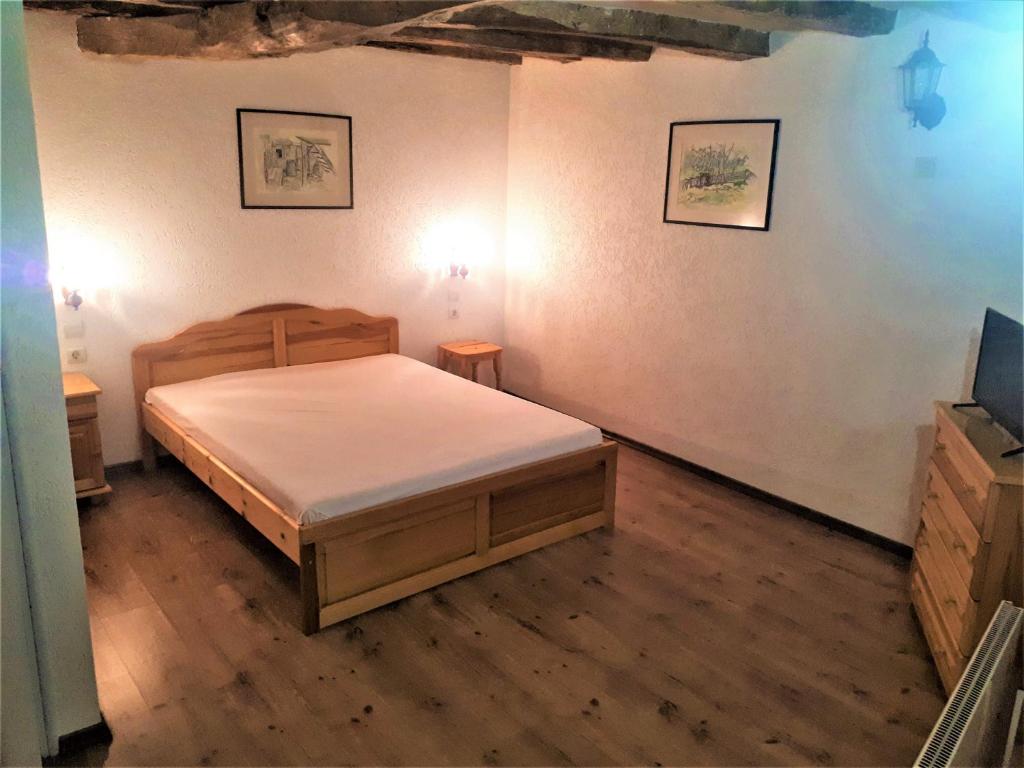 Eco Hotel Imenieto – from $39 USD per night
This hotel is perfect for those of you who like to be close to nature and adventure in its trails. Being only 500m away from the path that leads to Momin Skok Waterfall, this place offers an outdoor pool and a restaurant.
Couples particularly liked this location, rating it 9.3 out of 10.
Bozhentsi and the medieval fortress Tsarevets from Veliko Tarnovo is 25 minutes away by car. If you don't have a car, there's also a buss stop 300m from this location.
Full Apartment – Studio Paradise – from $52 USD per night
If you're also looking to visit the nearby fortress from Veliko Tarnovo, then an apartment might just be the place you need to stay in.
Only 300m away from the Archeological Museum and 1km away from Tsarevets Fortress, Studio Paradise offers free wi-fi and non stop reception.
Couples particularly liked this location, rating it a 10 out of 10!
The apartment has 40 square meters, a city view, balcony and private bathroom.
Tsarevets Design & SPA – from $73 USD per night
This is the only hotel situated just 50m away from Tsarevets Fortress. It's a building dating from the year 1891, where kings enjoyed the beauty and serenity of this place.
Couples particularly liked this location, rating it 9.4 out of 10.
Rooms vary in sized, ranging from 20 square meters to even 50 square meters. But no matter what room you choose, you'll always have a delicious breakfast included!
So, if you're looking for a fancy place to stay in, Tsarevets Design and SPA might just be what you need!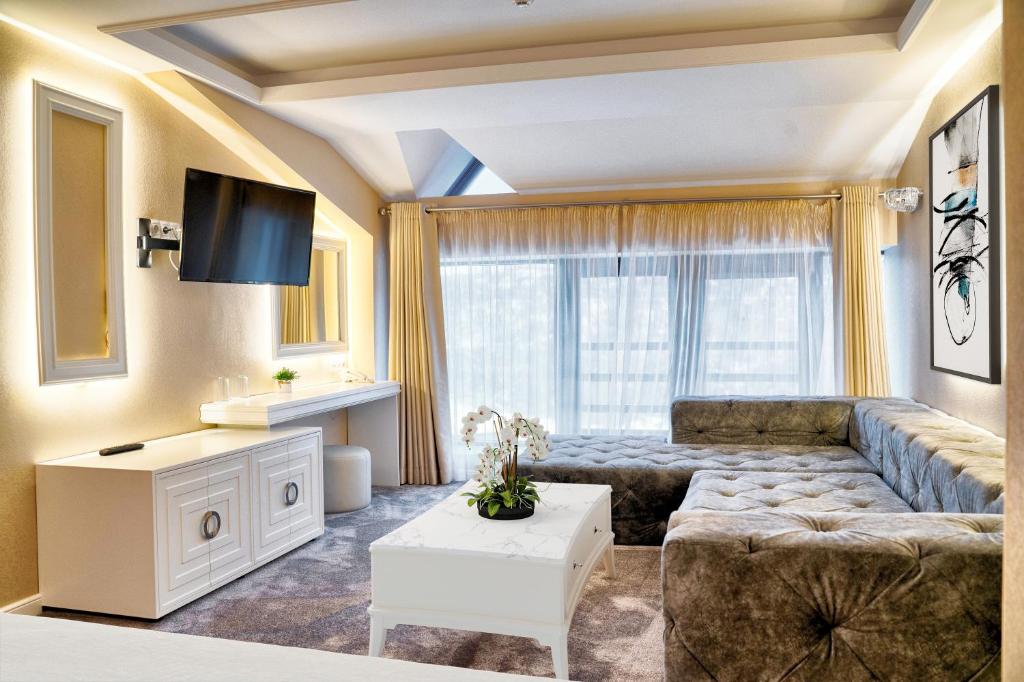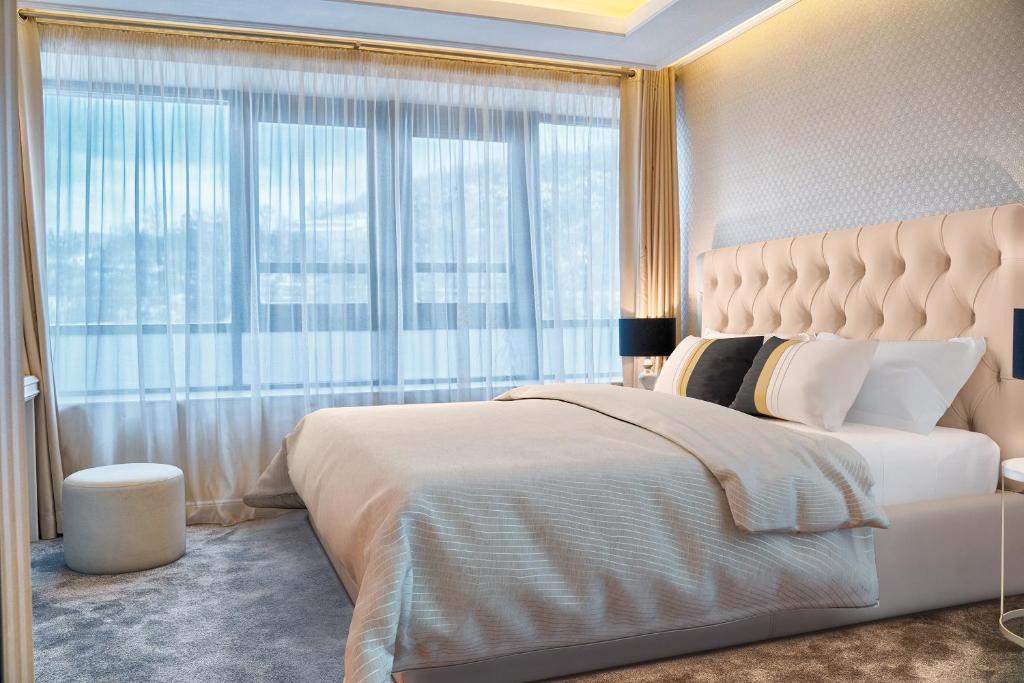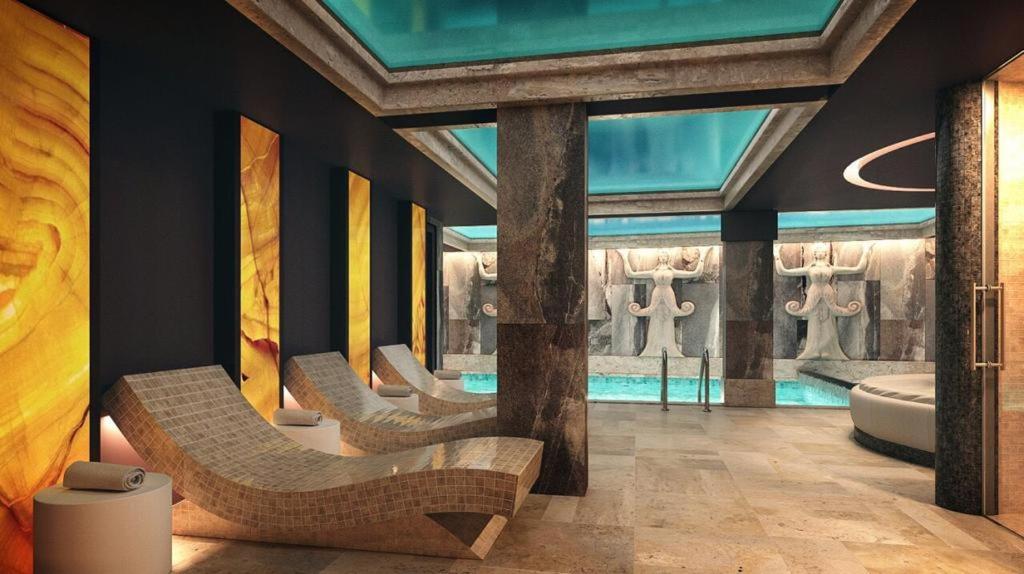 Rent a whole villa for 6 persons – $105 USD per night
If you're traveling with several people or family, renting this villa in Veliko Tarnovo might be the best option for you all.
This accommodation has 150 square meters, two bedrooms and a large living room that comes with an extensible sofa.
It's located in the old part of the town, adding more to its charm. All the major attractions in Veliko Tarnovo are no more than 2.5 km away, so they can easily be reached just by walking.
Visitors have rated this place 8.3 out of 10, stating that the location is wonderful, the views are amazing and the owners super-friendly!