Unique Places in Thailand That You Never Knew Existed
Have you know about these unique places in Thailand, you would have probably went to visit them earlier. But that's ok, it's never too late!
Thailand is a nation of pure beauty and splendid beaches for honeymoon tropical destinations. It is situated in the center of the peninsula of Indochina in the region of South East Asia.
Its capital city is Bangkok and is filled with some of the most gorgeous sites the country has to offer for tourism. Its different cities include Pattaya, Phuket, Koh Samui, Chiang Mai that will provide you with the best beach vacations that you ever had!
Thailand has a perfect blend of vast cultures and traditions all in on place. When you visit it, you get to experience them in a great way and learn about these different cultures.
It has everything from the nightclubs, if partying is your thing, all the way to the simple and devoted lifestyle of monks. It has it all, but you should know there are some unique places in Thailand that are worth visiting!
With all these different cultures and traditions presented in one place, a tourist might get confused about where to go. Another case might be that you have visited the country before, but want to visit the unique places in Thailand this time around. This article is designed to guide you in every way about these places and when you can go there, what they have to offer and more.
Lets dive in!
Unique places in Thailand – Sam Phan Bok
Known as the Grand Canyon of Thailand, you must visit this place to believe it. It's located in the Ubon Ratchathani Province of Thailand, in Southern Isaan.
This is the largest rock reef that is situated within the Mekong River. The Grand Canyon of Thailand is equivalent of and is considered as 'three thousand shallow lakes'. The Tourism Authority of Thailand has named and recognized the Sam Phan Bok as one of the most amazing site for the tourists to see. They also regarded it as a place that must be visited and experienced.
The holes that are present within the rocks of the canyon have emerged due to the water that rushes here. Besides the astonishing rock formation, there is beautiful flora and fauna to see here, that's why we think it's one of the gratest unique places in Thailand you shouldn't miss!
This place is also considered as a huge seasonal visiting site. The best time to admire its beauty and really take in the whole experience, is when the sun rises, and when it sets. The temperature get rather low at this time, giving a glimmer on the rocks due to the sunlight on the surfaces of the stones.
When to visit Thailand's canyon
In the rainy and winter seasons, the water levels rises and makes the canyon almost invisible. A large part of it submerges underwater. This makes it not so ideal to visit this place during such a time, as you will barely get to see anything.
The ideal time to visit is during the months of the warm summer season. Between the months of November to April, the Mekong River begins to dry out through evaporation caused by the heat. The deep layers of the canyon are thus revealed, making it a gorgeous place to see!
Wat Pa Maha Chedi Kaew bottle temple
This is also known as a temple made up of a million beers, located in Si Kaeo.
It was in 1984 that a game between a group of monks begun. In this game, they attempted to place a hundred bottles of beer on the wall. It was an astonishing site as their game went on and on, until there came to be about 1.5 million bottles of beer in total on the wall. They eventually ended up creating one of the most innovative and complex exteriors of an architecture in the whole world. This makes this place such a unique place to visit in Thailand.
As years went on, they continued building and the complexity of the architecture grew. They also focused on the element of recycling and cleanliness in nearby areas. Even now, the monks are keen on keeping the construction going. They never tire away and the more bottles that are given to them, the more and better they'll build.
The Red Lotus Sea in Udon Thani
If you ever reach the land, then this is one the the unique places in Thailand that you simply need to see!
Seeing the Red Lotus sea and gliding with a boat on its surface, can be one of the most adventurous things to do in Thailand. This is regarded as one of the best and gorgeous seasonal sites for visiting in Thailand.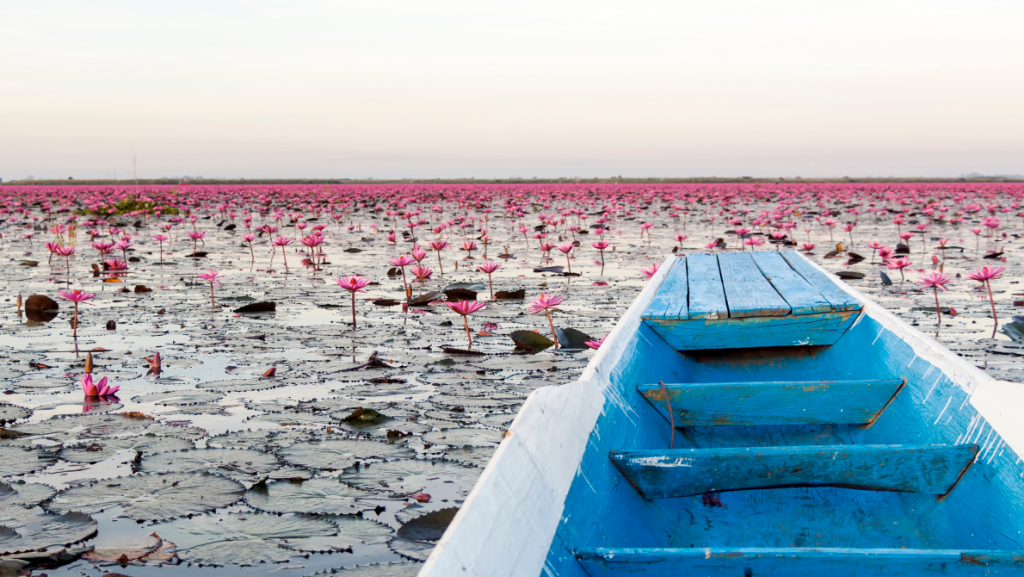 It is absolutely breathtaking with the flora of Red Lotus spread all across it. One cannot help but appreciate the beauty and magnificence of this place with all of their heart and love.
This is a very well loved area for visiting and spending romantic quality time together by Thai couples. That's not all, family time here is just as lovely and memorable. Families come here from all over the country and the world to witness the gorgeousness of the Red Lotus Sea and make beautiful lasting memories with their loved ones.
When it's best to visit the Red Lotus sea
It is called Talay Bua Dang in Thai language, and it is officially known as Nong Han Kumphawapi Lake. In winter months, when the weather is at its peak for coldness, the entire lake undergoes thee transition of blossoming into a wonderful land filled with splendidly pretty pink lotus flowers all across its water body.
The beauty of the lake in full blossom is so intriguing and captivating that it is considered as the most strange lake in the whole world. The red lotuses scattered across the seascape, forming a thick blanket of flora over the lake. This is a marvelous sight to see in a lifetime for sure.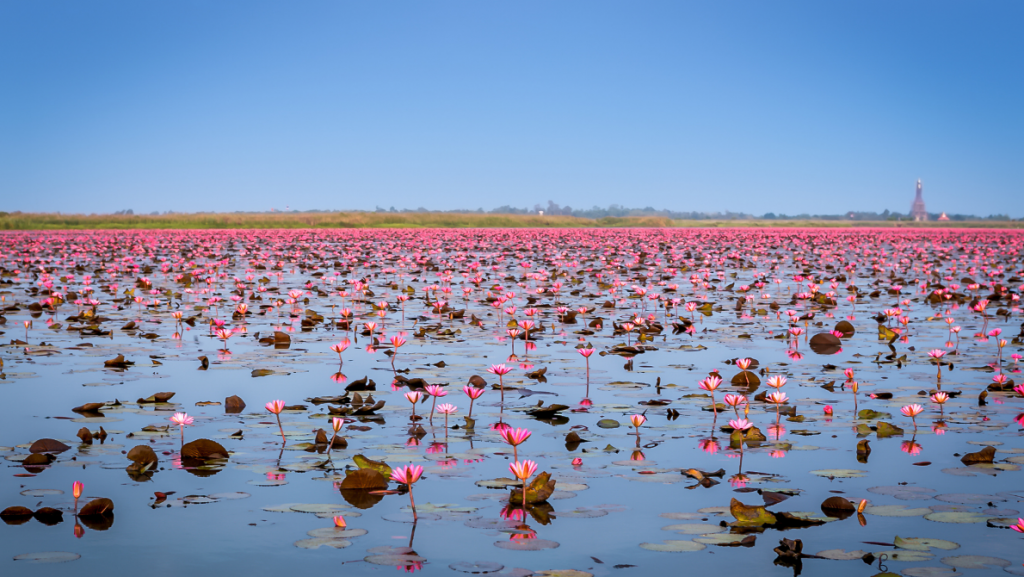 The full scale of beauty of the lake cannot simply be peered into from a distance. You can, if you wish, use binoculars for viewing the lake and flora in a close and zoomed in action. But that does not compare to actually being on the lake.
Get on a boat ride when you visit this place, it is the most perfect method of experiencing this true fairytale! These boat rides can easily be booked in the car parking areas. If you feel like not joining a tour guide, feel free to explore the place on your own.
Sak Yant Tattoo
This experience is regarded as getting blessed by a monk in Thailand. This is a honored tradition. Oftentimes tattoos are considered to have a deep meaning behind their existence, some can be a thing of the moment. However, Sak Yant Tattoos have a highly respected tradition and history that is magnificent once understood.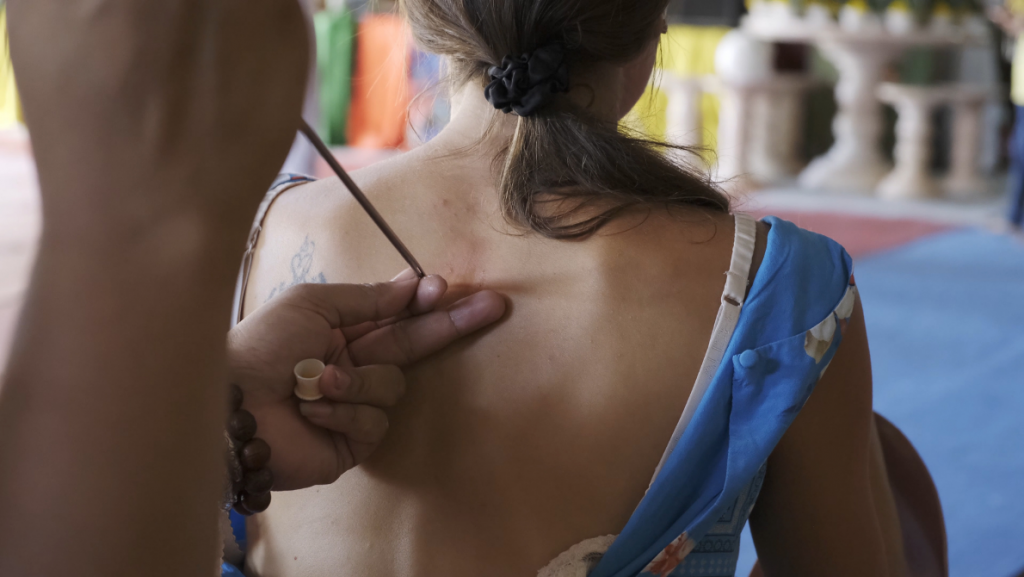 Sak Yant Tattoos have a meaning
Their significance is dated back to the 9th century in the Khmer Empire, where they are believed to have emerged from.
Sak Yant Tattoos are done for bigger reasons than that of appearance of vanities. These tattoos are powerful, holding immense magical powers within them as warriors who went to war had them for protection against the darkness and harm.They were believed to be protected by the Tattoos from any sort of wound or skin injuries.
There are many designs depending on their powers, abilities and traditions. The design of the tiger is known to give strength, authority and protection from evil and harm. This is the most popular design chosen by the Muay Thai fighters.
Once the tattoo has been done, there are certain rules to follow. Some of the rules include not to kill, steal, be unfaithful or speak ill or any mother.With some confusion surrounding which ones can be backed up by history and which ones cannot, this argument is debatable.
The most popular place to get a Sak Yant tattoo in Thailand is the Wai Khru fay at Wat Bang Phra. It is located about an hours distance from Bangkok.
Ko Hin-ngam – The cursed island
This is a tiny island where apparently no one lives, yet it is very intriguing. This is also known as the cursed island of the black pebbles or stones.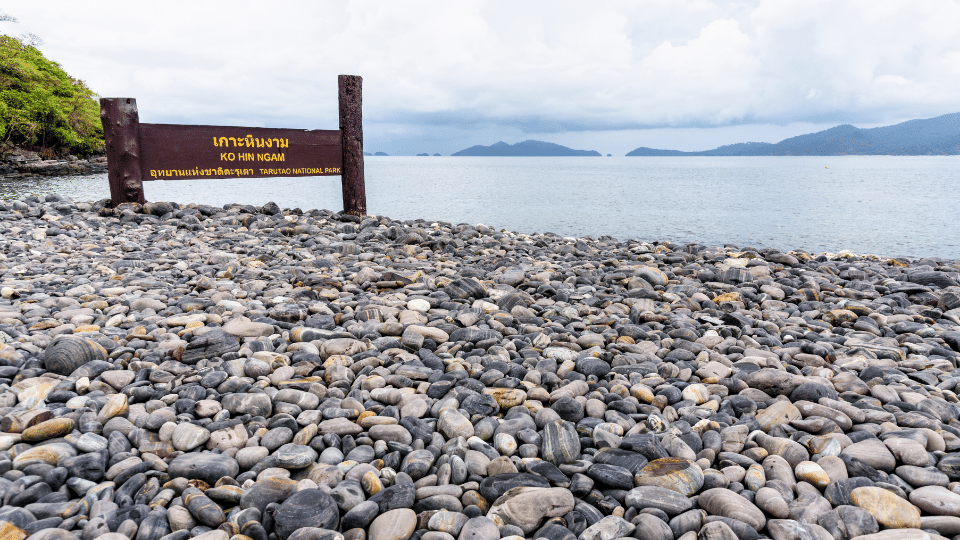 According to Thai mythology, the Gods had once embellished this entire island with these beautiful black stones. There is a Thai God, Tarutao, who had placed these stones here on this island. This is a deity that is well known in Thai culture and tradition.
Legend has it that whosoever takes a stone off this island, is forever to be cursed. Rumors are there have been some tourists that have taken a bunch of stones, but returned them by mail once misfortune landed on them.
Of course this creates a trigger in the mind, and surely makes this one of the most unique places in Thailand that you should see. So, if you're interested to know more about this cursed island in Thailand, the locals there have many stories to tell.
The island is in the Satun Province of Thailand. You can even get boat rides to explore further on the island and have a great adventurous experience.
Erawan Waterfalls
These waterfalls are located in the Kanchanaburi Province in Thailand. This is amongst the most famous and visited waterfalls in this country.
The falls are within the 12th National Park of Thailand, and are a major attraction of this park. There are seven tiers to the waterfalls and there are many caves and emerald ponds near it in the park. The falls and the park itself are named as the 3 headed elephant from the Hinduism mythology. The topmost tier of the Erawan waterfalls are believed to look similar to the head of an elephant.
The park is heavily filled with forests and foliage, it is beautiful and great for a peaceful family time. There are limestone hills in the park along with many plains and streams as well. A must visit place in Thailand for sure.
Unique places in Thailand – Sra Morakot Emerald Pool
Also known as the Emerald pool, it is a breathtakingly beautiful place. It is an hour distance from Ao Nang.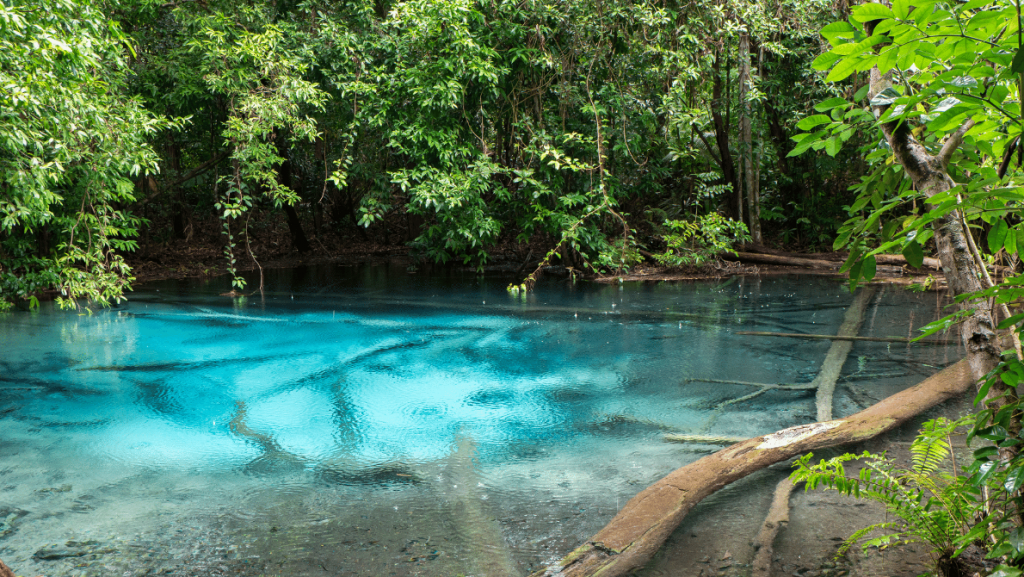 The color of the pool is emerald, but don't think this is some sort of trick! It's naturally colored that way and once you see it, you'll find yourself relaxed and mesmerized by the view. It provides a very scenic sight and a memorable experience.
If you are tired on your trip, then you must visit this place for some winding down and relaxation. Best time to visit is at 10 AM.
Wat Chaloem Phra Kiat Phrachomklao Rachanusorn
Situated in Lampang, this is its most popular location. This place is also known as the Bell Towers.
These beautiful towers are situated atop the mountains of the Jae Hom district. These are unlike anything you may ever have seen before! The white and golden pagodas are spread atop the peaks and the precipices.
You can trek up to the hillside and reach a glorious vision within thirty minutes. On this path, you will come across a footprint belonging to Buddha allegedly. You will be overcome with joy and appreciate the beauty of numerous stupas you'll get to see now.
Pha Singh Liao
This is one of the most mystical places you can visit in Thailand. This is a naturalized phenomenon.
Due to geology, there are cracks in the body of rocks that look magnificently.
This place is located in Ban Mai Mai Phana, Hod district, Chiang Mai Province in Thailand. People are eager to visit as it is a glorious work of nature.
Thai Burma – The Death Railway
This area was originally titled the Thailand – Burma railway. It is called the Death Railway as over 100,000 laborers passed away during the time of this railways construction from 1942-1943.
The laborers were the war prisoners and Asian slaves who did labor work here. This was a tragic part of history, and naming this railway as Death Railway has brought light to the sufferings and deaths of the laborers.
If you wish to visit historical sites that are both educational and astonishing, then definitely visit this unique place in Thailand.
Sra Nam Pud – Krabi
This is a beautiful and glowing blue lagoon, seemingly a place perfect for nymphs to live in. It;s just a walk away from the Emeral pool that we mentioned earlier.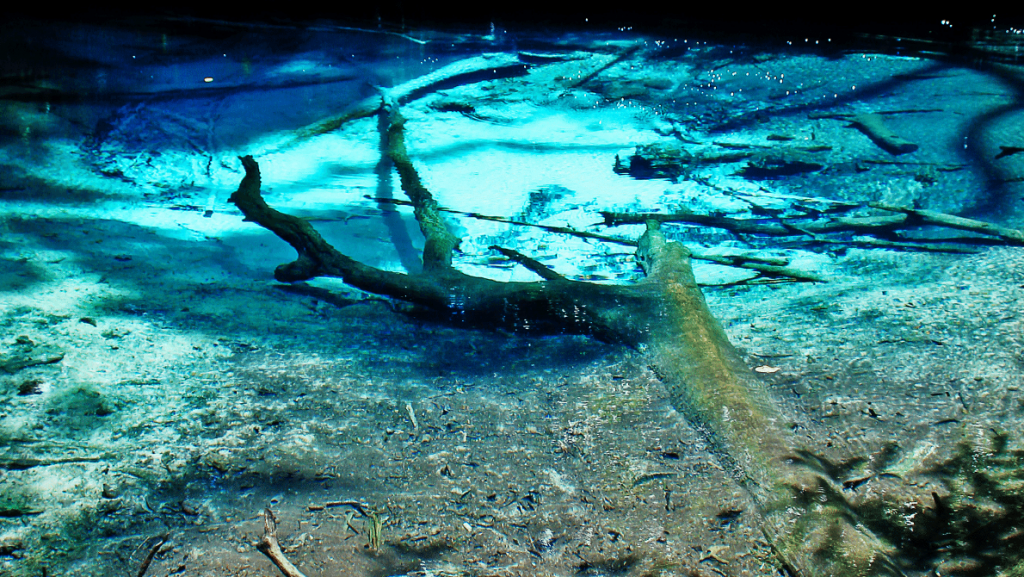 The water glows when the sun rays hit its surface, making you instantly realize you have entered a fairytale world. The water even has multiple different hues of emerald green in it, adding to its prettiness. It's a perfect place for photography and scenic relaxation.
It is located Khao Phra Bang Khram Wildlife Sanctuary, at a distance of 70 kilometers away from the Krabi City Center. Be sure not to miss it!
Now, after reviewing some of the most unique places in Thailand, don't you think it's time to plan a trip? 🙂