Sunny Beach Bulgaria is one of the "must visit" spots for tourists from all over the world, while in this country. The popular destination features sandy beaches that stretch for almost 2.5 kilometers on the Black Sea.
We visited Sunny Beach Bulgaria in August 2021 and loved it ever since.
Its popularity is based on its affordability, colorful nightlife, and its pristine beaches. Whether you are traveling solo or as a group, you are guaranteed an unforgettable vacation on Sunny Beach.
Besides being the perfect summer destination, Sunny beach is also near major airports, making airport transfer easier. The closest airport is Burgas, which is only 30 km from the resort and takes visitors about half an hour to get to Sunny Beach. Alternatively, you can travel to Bulgaria via Varna Airport which is approximately 100km from Sunny Beach with the journey taking about two hours.
It is the best option for those looking for better deals on flights and are willing to pay more to travel down to the beach.
When to Visit Sunny Beach in Bulgaria
Sunny Beach is an all-year-round destination because of its warm climate and limited chances of rain.
Summer, is from June to August is the best time to visit because the climate is warm and dry. The temperatures experienced in Sunny Beach during these months are usually highs of 28°C, especially in August.
Nevertheless, the resort experiences cooler climates compared to other areas within the Mediterranean making it a popular destination in summer.
If you prefer cooler weather, consider visiting from November to May, when the temperatures are mild and humidity levels bearable.
SUNNY BEACH WEATHER
What to choose: Golden Sands or Sunny Beach?
The two top destinations for tourists traveling to the Bulgarian coastline are Golden Sands Bulgaria and Sunny Beach. They both offer the best spots for relaxation, entertainment, and unique attractions. Even with their popularity, they offer different features to visitors allowing them to choose one over the other.
So, is Sunny beach better than golden sands?
Sunny beach is a "Blue Flag" award winner meaning it maintains high standards on the beach. Some of the reasons for winning the award in 2016 include clean seawater and beach unpolluted by sewage of industrial water. It also has lifeguards and facilities that are clean and well maintained.
Alternatively, Golden Sands also takes the lead in the list of top-tier European beaches. The gold-colored sand in the long stretch of beach feels wonderful underneath bare feet. High levels of cleanliness and modern facilities are some of the things visitors can expect at the beach.
If you prefer, spending your vacation surrounded by nature, then Golden Sands is the best spot. The beach is near several nature parks that are worth exploring on foot during the summer. Some of the parks include Golden Sands Park, Sea Garden in Varna, and Botanical Garden in Balchik.
On the other hand, Sunny Beach is the perfect destination for history lovers. The beach is home to several archaeological sites with the most popular being Nessebar, an ancient coastal city.
Whether you go for Sunny Beach or Golden Sands, you are assured of a beautiful shoreline perfect for relaxation.
Our personal opinion? Go for Sunny Beach if you want a more vibrant atmosphere and if you like the hustle and bustle. If you're more of a person that likes to just relax, then go for the Golden Sands!
Where to Have Fun in Sunny Beach
Sunny Beach is often referred to as the ultimate party destination in Bulgaria, because of the many events that take place on its shores. The beach is home to several big discos and clubs where revelers can dance the night away.
If you are looking for a vibrant destination to have fun summer days and party with the best DJ-s during hot nights, Sunny beach is your ideal spot.
Clubs and Bars in Sunny Beach
Cacao beach located on the south coast of Sunny Beach has some of the best clubs and bar chains for partying. The entertainment spots in Cacao never sleep, earning it a spot among the top 100 clubs in 2016.
Some of the "must visit" clubs include the Bedroom Beach Club, La Cubanita Beach Bar, and The 1. These clubs offer an incredible party atmosphere, famous DJ-s and celebrities, diverse music, and excited revelers. Some of the clubs are so popular, you need a reservation to get in.
The entire beachfront of Sunny Beach is a "bar street" with countless bars lining the street. Some of the most popular bars to visit include Scandals for British drinks; Flying Dutchman and Ballarmann Beach bar for Dutch fans. For the best cocktails, make your way to Shooters, which is at the center of the beach.
Flower Street is a "must visit" spot for party lovers in Sunny Beach with its many bars, big clubs, and strip clubs. The clubs on the street are usually full from 11 pm onwards, with some closing the doors at 6 am. Disco and club promoters are always on the street trying to entice people to visit bars to have fun.
Sunny Beach nightlife is a party scene that goes on and on, making it the best destination for an exciting vacation.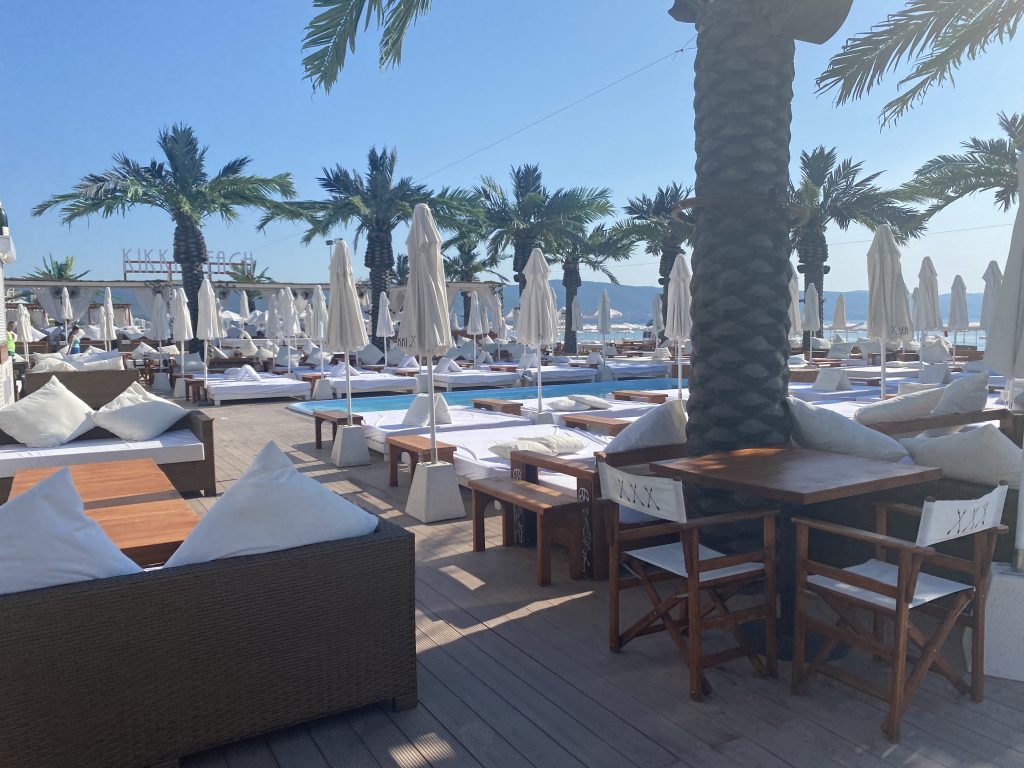 Luna Park
Besides the clubs and bars, there are also some amusement parks you'll definitely have to visit. One of them is Luna Park and it's situated right near the beach line.
This was the place we got to spin our brain around and experience some nausea at a certain time. When we decided we were going to take on each and every attraction, we weren't quite aware of the implications.
We first went safe with the spinning swing that got all the way up, above the buildings. It was a nice ride, considering the speed was moderate. Still, if you're afraid of heights, we definitely don't recommend this one!
After that, we said we were going to do just one per night. And so we did. The next evening we migrated to Luna Park and stood in line to wait for the carousel ride. Oh, what a fun ride that was! You get to spin at 380 degrees at some point, but the ride is short in length. After the ride ended my shoulders hurt from the safety blocks.
We found that the most scary ride was the hammers. That's one ride we won't be taking again. One is just enough. It's not actually called the hammers, but it resembles that ride. You are standing in a seat, with some safety belts on and the ride pulls you up, as the ends where you are keep rotating. There are 2 seats, back to back on each end. The heights are incredible. At one point it stops and you are head down and don't actually understand where you are. Then it lets you go and you are simply lifted from the seat. Speed is fantastic! If you're looking for adrenaline, this ride is a must!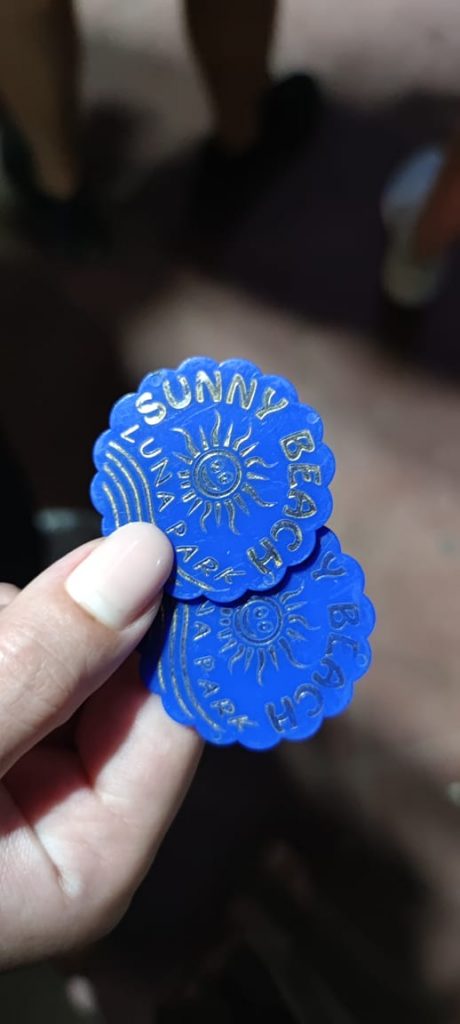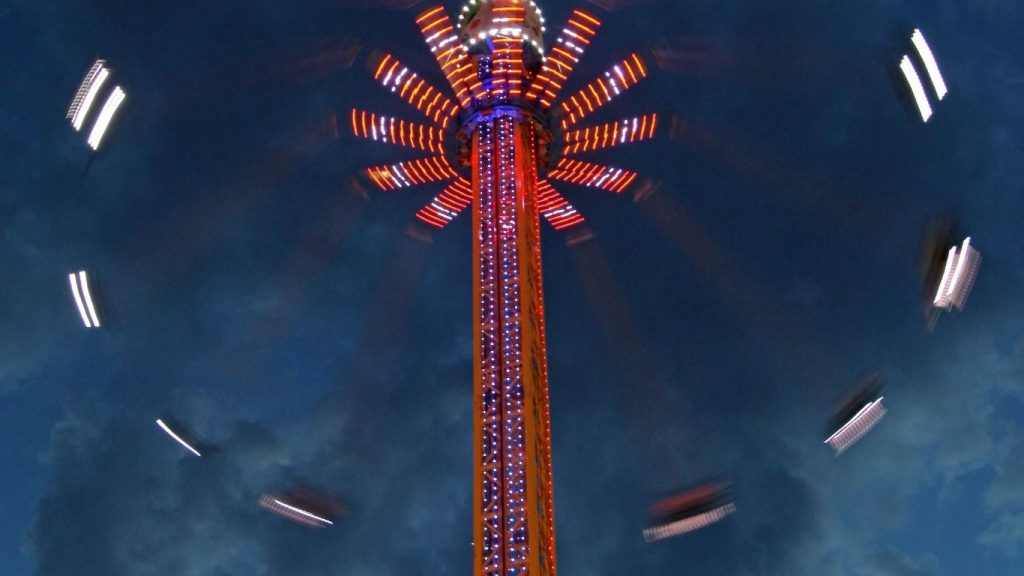 Sling Shot Ride
This is yet another crazy ride you can try, while in Sunny Beach Bulgaria.
It's basically a forged ball, with two seats inside. The ball is made out of steel bars (at least I hope they were steel) and it's anchored down by elastic ropes. Those ropes are tensioned and once you're secured in there, someone just lets go of the elastic ropes and you go up-up above!
As the ball goes up, in a split second, you get that feeling in your stomach. You know what I'm talking about! See our video below to check it out.
Price for one person is 10 EUR. You can go ahead by yourself or with another person. If you can't find anyone courageous enough to try it with you, a staff member joins. The ball will not go up with one person only.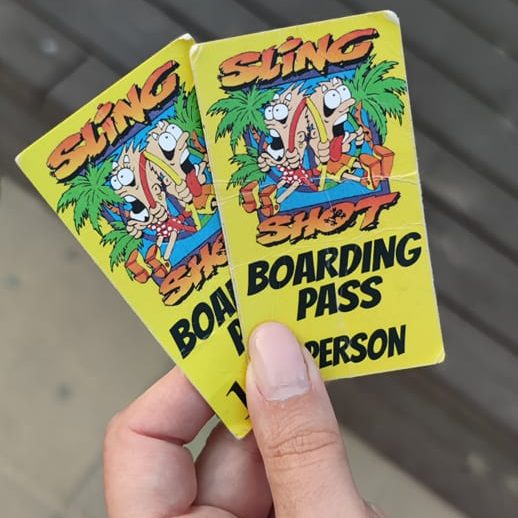 Aqua Park in Golden Sands Bulgaria
If you love water rides and can't reach Nessebar and its aquapark, then this one will settle down your appetite for fun. Whether you like the adrenaline rush of some fantastic slides or just need to relax on a lean river slide, this place might just be ideal for you.
Although much smaller in size than the one in Nessebar, you'll love it for sure if you're up for some great fun! You can checkout the prices on their website and browse around some photos to decide.
How Expensive is Sunny Beach
Sunny Beach is one of the most affordable resorts for travelers from all over the world. The beach offers cheap yet quality accommodation and entertainment spots for visitors. The destination attracts thousands of tourists annually because of its low prices when compared to similar destinations in Bulgaria.
From what we had seen so far, prices were very low compared to the conditions. We thought even the hotel was cheap, but it looked fabulous – you'll see below.
Compared to other beach resorts in Bulgaria, you can say it's more on the expensive side. Although it's animated and has a few posh places, pricing is more than decent, compared to other similar locations all over the globe.
That's why tourists from all over the world come to visit Sunny Beach Bulgaria. While we were there, coach cars were leaving tourists to their hotels. Germans, French people, Dutch, Romanians, some Americans and other nationalities were there.
Things to do in Sunny Beach Bulgaria
With several things to do for tourists in Sunny Beach, you may find it hard to choose the best ones. Luckily, the 8km shoreline offers several options to travelers visiting alone or with family. Some of the "must-do" things are highlighted below.
Visit the waterpark
During summer, the best way to cool off in Sunny Beach is by visiting the waterpark. The popular ones are Action Aquapark which is the largest in the area which features rides, slides, and thirty themed pools.
Its amenities include an adventure island, fountain, geysers, wooden bridges, and a black hole. If you are visiting with children, make sure to visit the mini zoo and Adventure Island.
Take part in watersports
At Sunny Beach, sports lovers will be spoilt for choice with various options made available for tourists. Try out jet skiing, volleyball, and paragliding while on a beach holiday. If you want to explore areas further away from Sunny Beach, consider booking an excursion where you can rent banana boats, paddleboards, or kayaks.
Tour Nessebar
Walk through the streets of Nessebar, one of the most popular UNESCO World Heritage Site in Bulgaria. Its traditional architecture showcases the merging of many civilizations into a culture infused with a rich history.
Also referred to as the "Pearl of the Black Sea", the protected town has various attractions worth checking out. They include the Thracian fortifications wall, Apollo temple, the Acropolis, and several churches with ornamental decorations common in the Byzantine era.
Go shopping
The walkway in Sunny Beach has numerous shops which take over an hour to explore. The shops vary in the merchandise on sale with some having gift items such as sailor hats with Bulgaria printed on them and several stylish sunglasses. Vendors at the shops sometimes allow buyers to bargain. This gives you the opportunity to get unique items at reasonable rates.
Where to Stay in Sunny Beach Bulgaria
When we visited Sunny Beach, we stayed at the Casino Hotel. This was more towards the end of the beach town, towards Nessebar. As a big plus, the hotel is right next to Kikki beach and has a great outdoor pool.
Did we enjoy our stay? Yes. Would we recommend it to others? Yes, some of our friends later came and stayed there.
The design is a bit eccentric I would say, with pink flamingos and mirror mosaic pumas. But the rooms are great, exactly as shown on the booking site.
One thing I didn't like was that we never actually got our room cleaned. We went out at around 9 am and came back at around 2 pm. Then left at 5pm and got back at around 9pm. During this time no one came to even change the sheets, although the sign was on for room service. But instead, while we were taking a quick nap, someone would knock at the door – we assumed it was the housekeepers but we just couldn't move ourselves away from the bed.
One thing we have to mention is that although the hotel did have a casino, it was closed during our stay. But if you wanted to play black jack or anything else, they would personally call a car and escort you to another casino without any additional costs.
The hotel was close to the beach – I mean a couple of meters away. There were nearby restaurants and places we could eat. As for the food at the hotel, we only had breakfast that was included. Would not recommend it. There wasn't much to choose from and it was the same each morning: toast, eggs, cheese, some gratinated potatoes, some pie, pancakes and fruits. Oh, and coffee for me, please!
Another thing we have to mention is that this hotel is dedicated to adults, as in it doesn't have a kids playground or pool. The was a kids pool at a certain point in time, but it was just left unattended and it's in ruins now.
There are of course other places you can book your stay. The prices range from wildly affordable to a bit expensive. We have yet to find a place that we can truly call expensive in Sunny Beach Bulgaria.
If you'd like to see the costs for your stay, then just adjust your dates below and you'll have a full list of hotels and apartments you can book.
Where to Eat in Sunny Beach Bulgaria
Overall, Sunny Beach is an ideal destination for inexpensive summer trips and worth visiting when in Bulgaria.