When most people think of the top places to visit in Brisbane Australia, they mostly think of the outback, or its largest and most well-known destination of Sydney.
However, there is a city that should be considered on your list of places to visit here in Australia. Regarded as one of the world's most livable cities and widely known for its Queenslandian architecture, the city of Brisbane offers much to those trying to get away.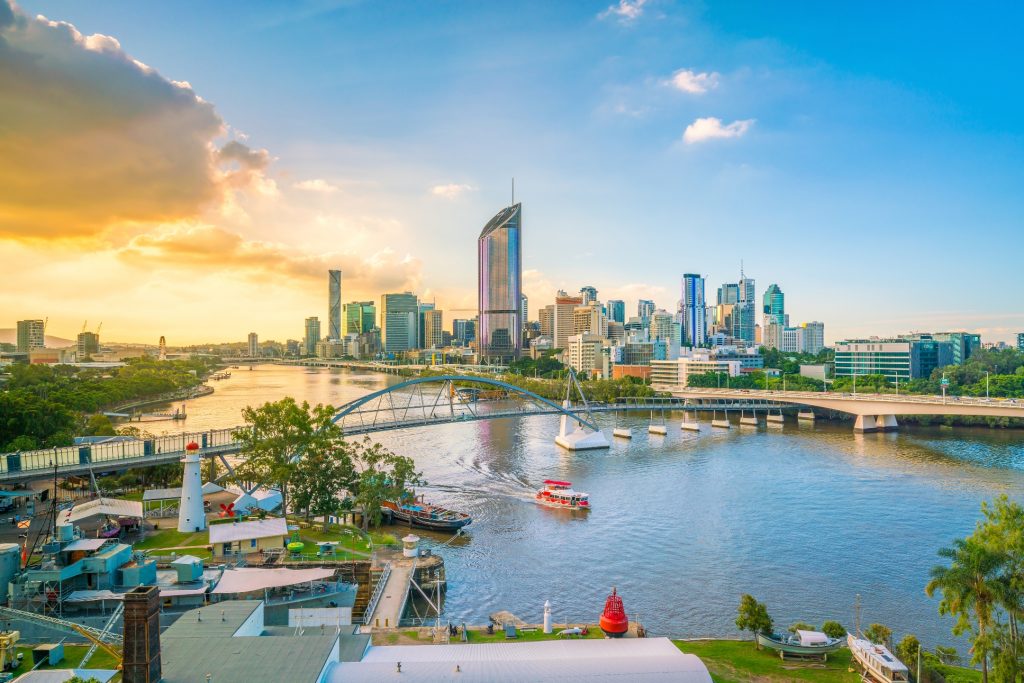 Brisbane is a large city. With nearly 3.6 million people in its metropolitan area, it is no surprise that it is also the cultural hub of Queensland and a popular destination in Australia. With its magnitude comes a very vibrant tourism industry that has played a significant role.
Receiving roughly 4.6 million visitors yearly, Brisbane is home to a vast amount of activities and sites that are available to anyone who steps within its city limits. Although attractions can be found throughout the city, the vast majority of them can be found within the downtown area called Brisbane City.
Places to Visit in Brisbane – the Story Bridge, Australia's longest Cantilever Bridge.
Created by the late John Bradfield, the Story Bridge is much more than just a method of getting from point A to point B. Along with its stunning view, the site also offers visitors the ability to climb to the top during twilight (most popular time), day, dawn, or night.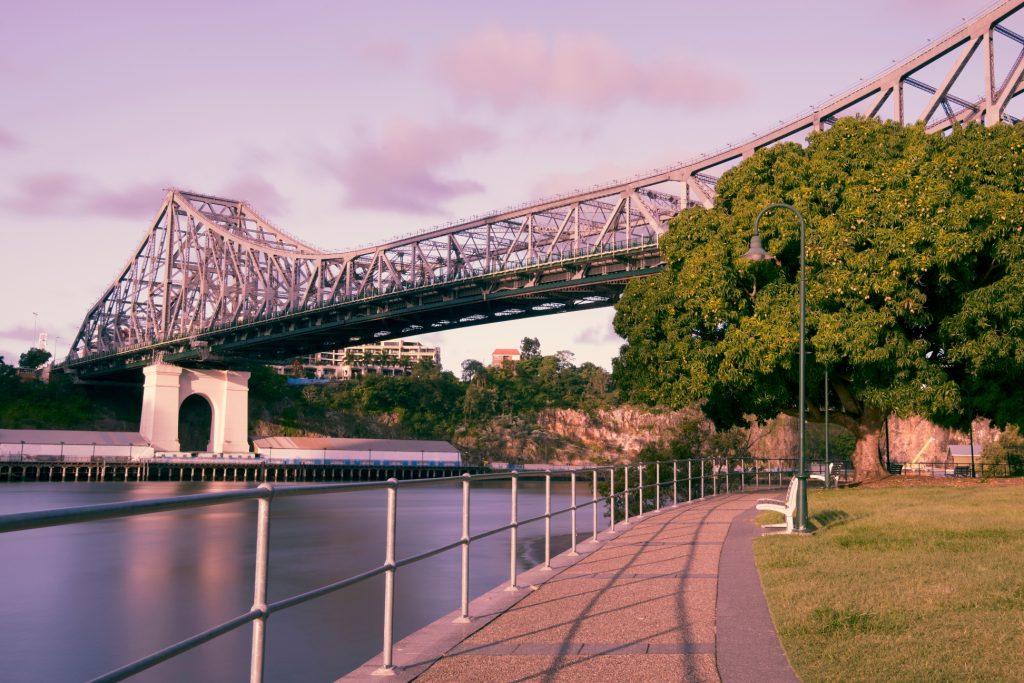 Tickets for the twilight climb, which is the best time to ascend, will cost roughly 159 Australian Dollars or 108 U.S. Dollars for adults. Students and seniors pay 97 dollars, while those ages 6-16 will be about 92 dollars. If you do not care which time you go and want to save money in the process, tickets for the day, night and dawn are significantly cheaper, saving you upwards of 20 percent.
Places to Visit in Brisbane – Saint John Cathedral
After bravely reaching the top of Story Bridge, you may, depending on your adrenaline levels, want something that will relax your nerves. What better place can we suggest than the Saint John Cathedral off of 373 Ann St, Brisbane City?
Being the second oldest cathedral in the city, this Anglican establishment has been active since the early 20th century and actually finished its final construction recently in 2009.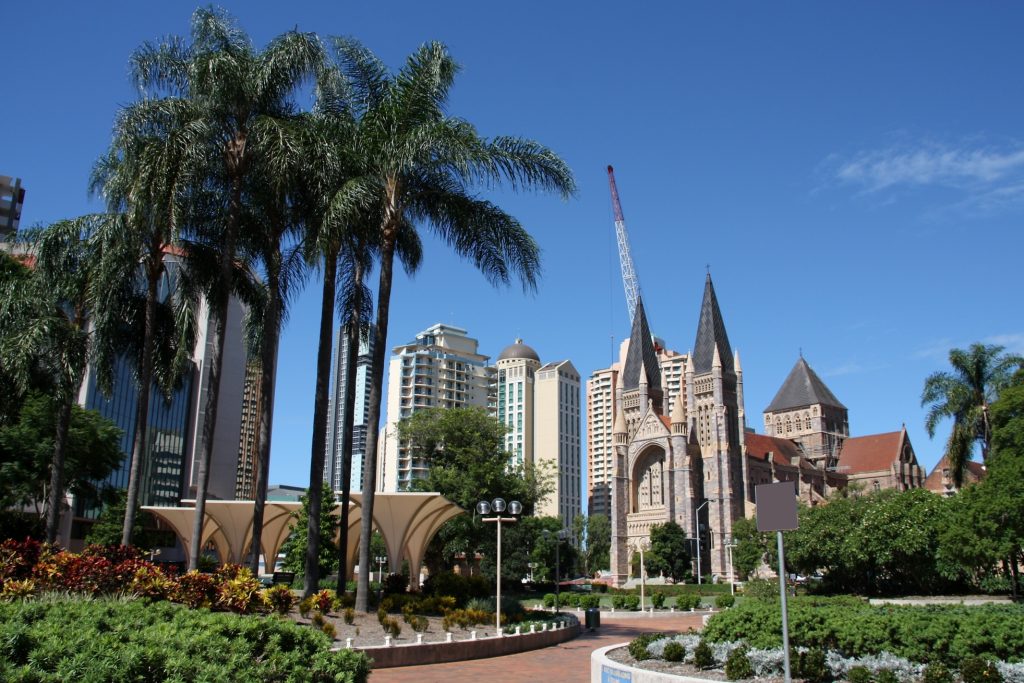 Although Anglican, the Gothic revival style of the church, should be very familiar to those of the Catholic faith and for those who are native to Western Europe. This is not surprising considering that Anglicanism split from Catholicism during the time of Henry VIII, in what would become the Church Of England.
Besides the main cathedral, tourists will be able to tour other buildings such as the Webber House, Church, and St Martin's house as well as the Deanery.
Places to Visit in Brisbane – the Museum of Brisbane
While you are in the center of the city, it would be also wise to take advantage of the numerous places within the vicinity. One such place that is not too far from the Saint John's Cathedral is the Museum of Brisbane.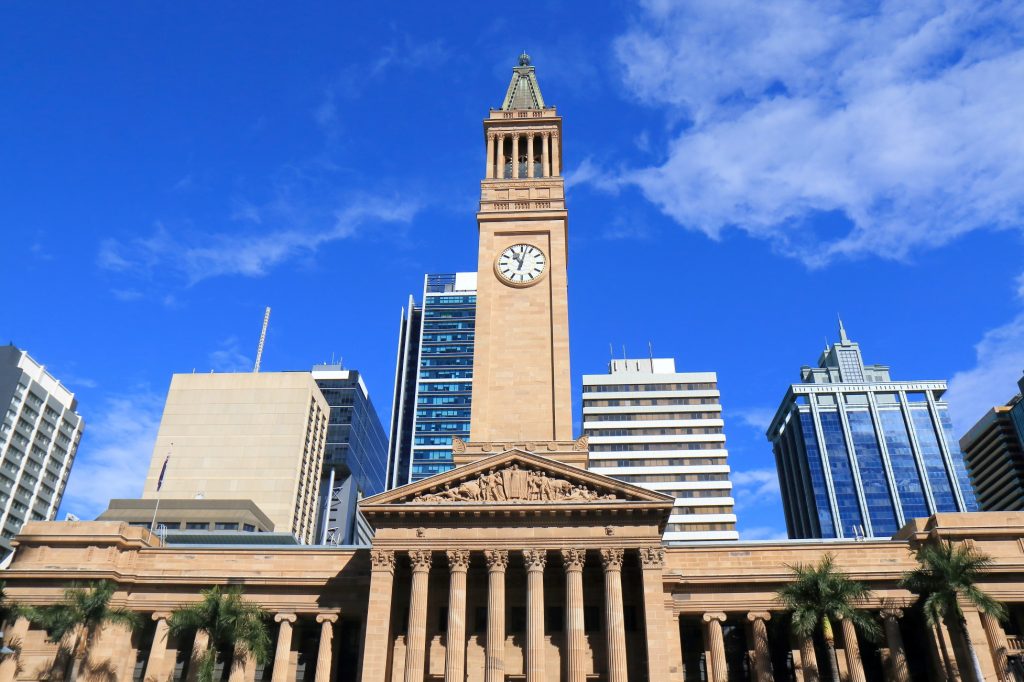 The reason why you should choose this museum is quite simple: it is the best resource for learning about art, culture as well as history. Here, you will be able to learn about the cities tribal origins as well as the ability to engage in entertaining events, exhibits and tours. As with most museums, admission is free and opening times range from 10 am to 5 pm, and even longer for those coming on Friday.
The Brisbane City region of this metropolis is not where the site seeing ends and even though suburbs are notorious for being culturally dead, it is not so in Brisbane.
Parks and Wildlife
Across the river in the Kangaroo Point suburb of the city is an excellent place to start when considering leaving the Downtown region. The reason for this is simple, the Kangaroo Cliffs Park is a great way to engage in rock climbing activities. Although the wall is not the largest of its kind, only about 20 meters high, it is quite a challenge and is suited heavily to those who have children.
In the eastern section of the city, there are a plethora of attractions that are not only fun and interactive, but educational as well. When you think of cities, particularly ones with massive populations, you hardly think of it as a place that connects with nature.
However, to the tourist surprise, Brisbane is just that. Located near Mount Coot Tha, you will have the chance to visit the Sir Thomas Brisbane Planetarium, the Brisbane Botanic Gardens, and of course, the Lookout. What is even more pleasant is that all of these exhibits are in the same vicinity, drastically reducing your commute time.
Places to Visit in Brisbane – Sir Thomas Brisbane Planetarium
If you are heading west from Brisbane City, the first place you will run into is the Sir Thomas Brisbane Planetarium.
Located Mount Coot-Tha Rd, the Planetarium is a great place to learn about science, technology, and astronomy. Starting at 16.40 for single admission tickets and 45 dollars for family (two adults and two children), entrance into this exhibit is definitely a bargain.
The main reason for this is that the museum offers live shows such as the Capturing The Cosmos, Dark Universe and Tales of The Traveler. If you are looking for something more geared towards children, then make sure to secure tickets for shows like the Perfect Little Planet and The Stars That Could.
If you are not into watching educational live shows, then the planetarium has much more to offer. One such exhibit that may be of interest to you is the Brisbane observatory, which provides much to those curious adults, adolescents and children who want to learn about the stars.
It should be, however, noted that this attraction requires booking, which is accessible on their main website. If you aren't into observations and want to bring something along with you, make sure to check out the exhibits Galaxy Gift Shop, which houses a wide range of science and astronomy merchandise.
Places to Visit in Brisbane – Botanical Gardens
Moving along, you will not have to travel very far to access the next great location. Located directly across from the planetarium and right next to the Mount-Tha Coot Library, the Brisbane Botanical Gardens is something you should not miss.
The gardens are open daily with free admission.
Being nearly 130 acres long, the Botanical Gardens have been a form of retreat for the city's three million residents and who can blame them.
Recognized as Queensland premier subtropical botanical garden with everything you need to enjoy yourself, the park has a lot of activities that cater to just about anyone. Besides the serene atmosphere that is a new area to the rigors of everyday society, visitors can enjoy guided tours at no cost to them and have brunch at the Gardens Cafe.
Places to Visit in Brisbane – Mount – Tha Coot Lookout
Much more significant than the view at the Story Bridge, there is another excellent way to see the cityscape and skyline of Brisbane. This place is the Mount – Tha Coot Lookout right off of Sir Samuel Griffith Drive.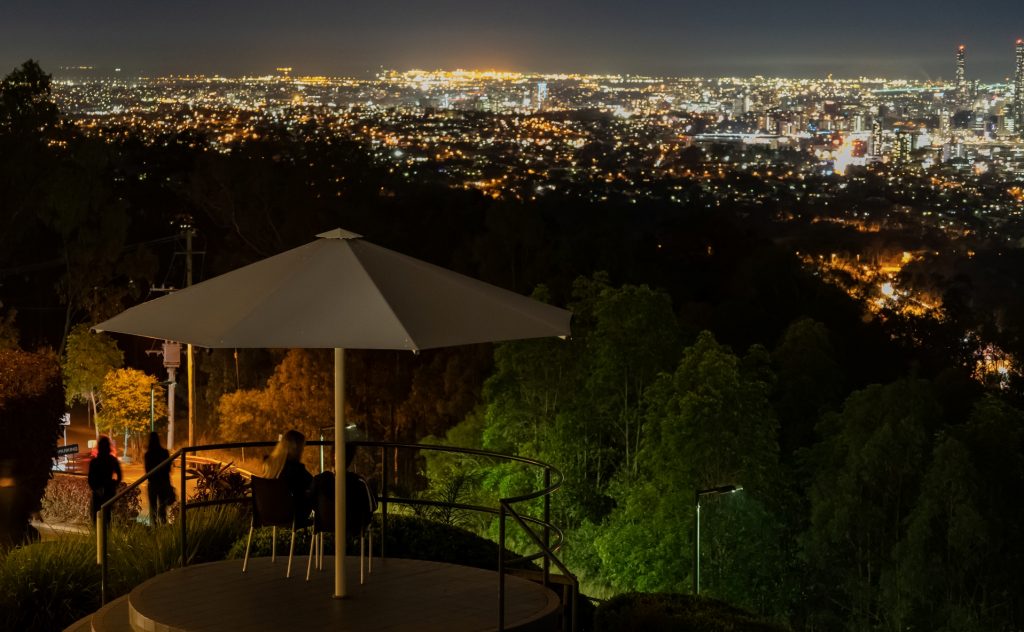 Beginning in the early 19th century as a wooded hill, the Mount – Tha Coot Lookout has catered to the Brisbane people since its first modernization in the 1880's. Completely free of charge and offering free-wifi, this destination is a great place to visit.
With numerous trails for hikers and several restaurants, such as the Kuta Cafe, the tourist or visitor is well accommodated.
Places to Visit in Brisbane – Lone Pine Koala Sanctuary
Heading more south and requiring more effort to access is the Lone Pine Koala Sanctuary on 708 Jesmond Rd. We all know Australia is notorious for its koala wildlife, but why go all the way to the Outback when you can access it here right in Brisbane.
Opening in 1927 to protect Australian wildlife from the devastating effects of the fur trade, the Sanctuary has become a great place to learn about animals in the land down under.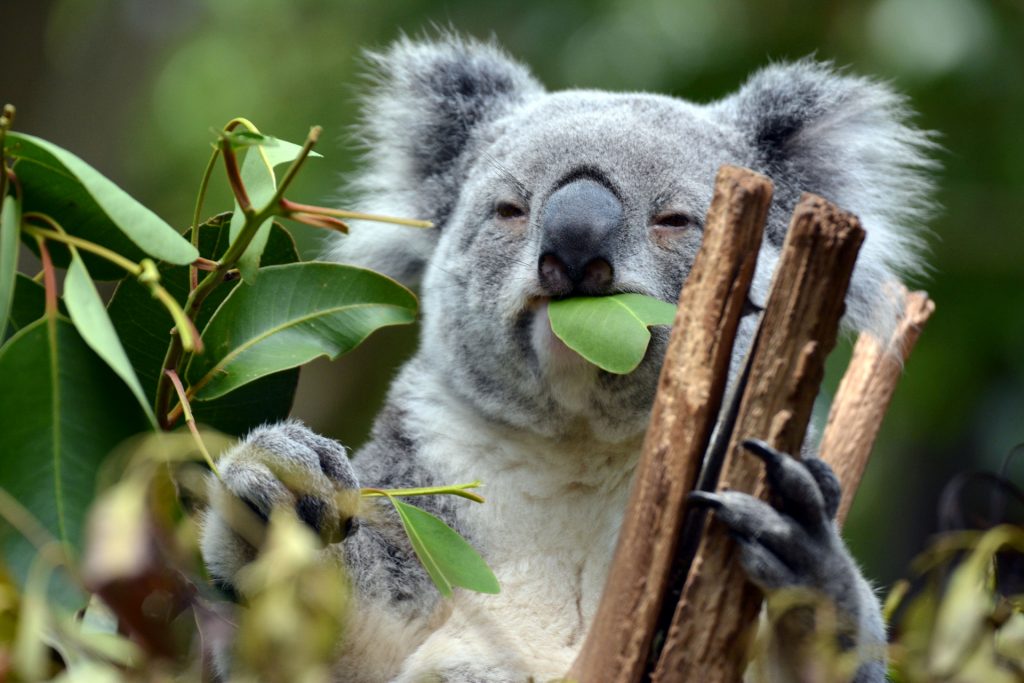 Only 45.00 dollars for adults and 25.00 for children, this destination is not only fun and educational like our previous mentioned sites, but also affordable as well. With these reasonable prices, you will also be able to get numerous discounts if you purchase tickets online. Some of these discounts can go as high 10% for daily passes and as high as 20% for yearly passes.
Your trip is concluding and what better way to finish your experience at Brisbane then touring several destinations that are not too far from the cities airport.
Places to Visit in Brisbane – Fort Lytton National Park
The first place that we will have the chance to visit very near to where the airport is located in the Fort Lytton National Park in Lytton Queensland.
Built-in response to the military aggression of the Russians and French in the late 19th century, the Fort in the Lytton suburb of Brisbane is a testament to the rich history of the region.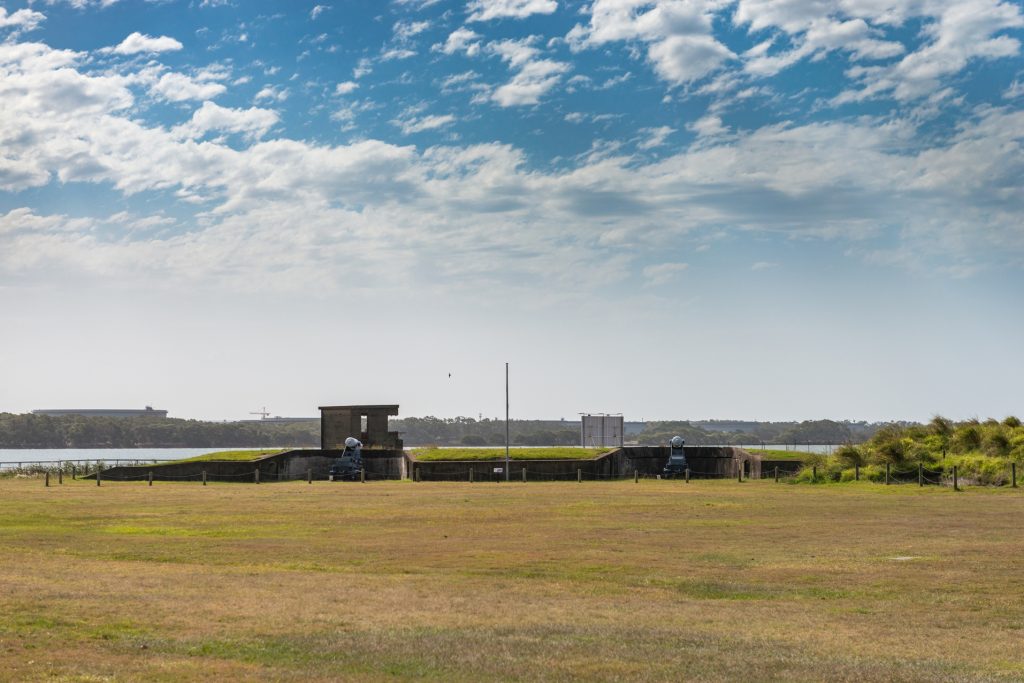 Not only can you learn about the birth of Queensland's military and defense, but you can also tour the fort and learn about 20th-century war technology free of charge. Granted, you must visit the site on Sundays to get this free offer. Any other time will cost $6.65 for adults and $3.65 for children.
If military history is of no interest than you and are looking for something more natural, Brisbane offers offshore destinations that are very rewarding to the tourist. The two destinations off the shore of Brisbane that you should take the time to visit is Saint Helena's Island and Moreton Island National Park. We will first mention Saint Helena's Island since it is the closest to the shore.
Places to Visit in Brisbane – Saint Helena's Island
For those living in the United States, Saint Helena's Island is eerily similar to Alcatraz Island in San Francisco. Much like Alcatraz, Saint Helena's Island was a perfect place to house dangerous criminals as it was remote, compact and far enough from surrounding landmasses and islands.
What made it even more ideal was that it was almost impossible to escape the island as the treacherous waters and sharks were very common.
Today the island has mellowed significantly and you can visit it as it has been converted into a national park. One activity that you should enjoy is the Ghost Tour, which is around 110 dollars to access.
Another great event that you should also consider and is significantly cheaper is the Prison Experience. An award-winning tour for all ages, including children, will only cost you roughly 84 dollars.
Places to Visit in Brisbane – Moreton Island and National Park
Located slightly to the northeast of the Saint Helena Island is the Moreton Island and National Park. Considered to be a "Gem of Southeast Queensland," the island will arguably be one of your best experiences.
A perfect getaway from the city, Moreton Island offers lovely sandy beaches, swimming, surfing and fishing activities to all who come. Transportation to the island is done through the Micat or the Tangalooma Ferry.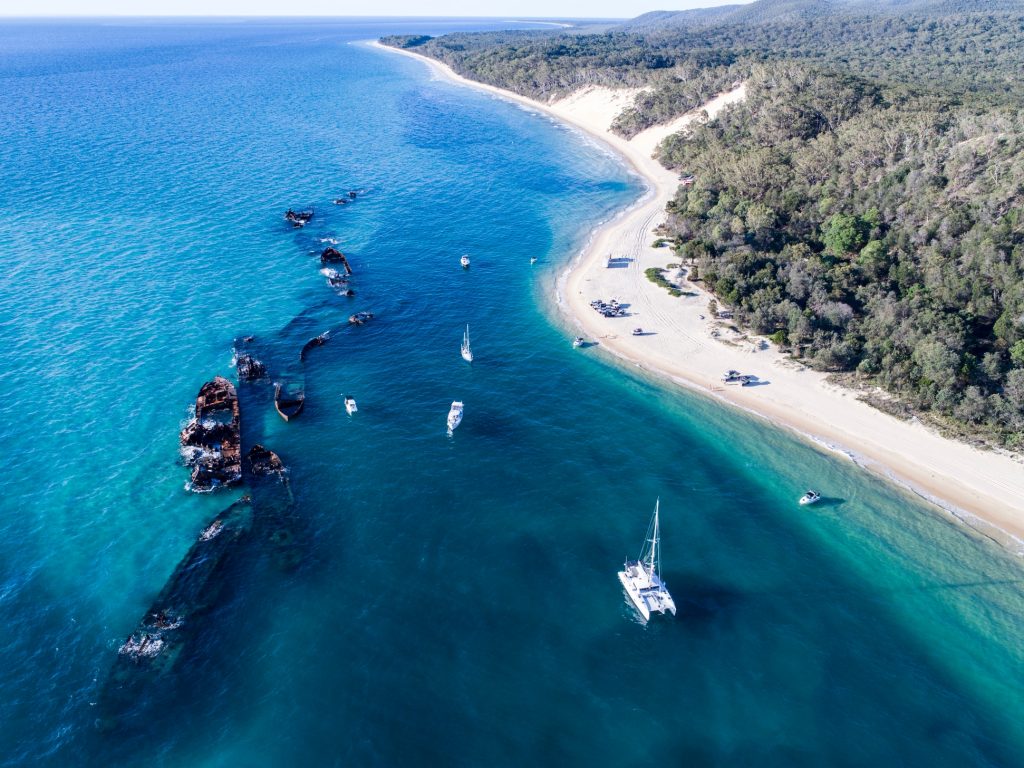 The Micat, in particular, operates on a demand-based timetable, so expect higher frequency on the weekends where they leave to the island multiple times a day. After being dropped off, there are actually several options for the visitor in terms of lodgings. They will be able to either make their own camp, use luxury camping (known as glamping) or even unit rentals. If they are not impressed by that, the island also offers real estate and beach homes. 
Places to eat in Brisbane – Restaurants in Brisbane
Besides taking part in the culture of the city, Brisbane also offers quality restaurants and venues.
One restaurant that is highly rated, as well as catering to those who want to save money, is the Kadoya. Here you will have the opportunity to experiment with casual Japanese such as the standard Taiyaki, Fish Katsu Bento, and of course, Ramen.
If you are not interested in budget Japanese, then the Brisbane City area provides you with many more establishments that offer high-quality budget food. Some great names include the German Sausage Hut, for all things German, and if you are nocturnal, check out the Pancake Manor, which is open 24/7.

If fine dining is what you're looking for, then you will be pleased to know that Brisbane has lots of high end gourmet establishments.
One of the best rated restaurants is Urbane Restaurant. The food is a little bit pricey, but the atmosphere and divine tastes are second to none.
Now that you know the best places to visit in Brisbane, all you need to do is find the perfect accommodation and start your journey!