What do you think are the main ingredients for a perfect honeymoon tropical location? If you're already picturing a beach, some palm trees, sunbeds and a quiet place where you're sipping a tasty cocktail, then you and I are on the same page. Just keep on reading and you'll find at least one place where you should be spending your perfect honeymoon.
Treehouse Villa in Koh Yao Noi, Thailand
Koh Yao Noi (Little Long Island) is located in Phang Nga Bay and still enjoys a slow pace and sleepy atmosphere. The moment your feet touch its grounds, you magically forget all your worries, problems and even some wrinkles disappear from your face.
Being fairly new, the Treehouse Villa resort is located on a calm beautiful beach, clean and well maintained. It was built around a close-to-nature concept, with friendly staff that will go the extra mile to attend to all your needs.
A private sand beach just three steps ahead, diner on site, deep soaking bathtubs for each villa, flat screen TV, Wi-fi and an insane view! This a luxurious resort in Koh Yao Noi that you won't want to ever leave. It's remote, a bit isolated, private and exclusive. Doesn't this sound like the perfect honeymoon tropical location?
The villas are accessed by suspended bridges, your bath is hammock shaped and the bed is king-sized!
What can I do in Koh Yao Noi?
There are lots of activities you can do while in the resort, but we'll actually provide you with a full list of things you can do. The perfect honeymoon doesn't have to be so relaxing – why not spice up your trip?
Jet sky and speedboat rides are great if you're in for a bit of adrenaline. You can roam the waters at high speeds, see new horizons and witness the fascinating serenity of the place. You can also visit nearby locations like Ko Yao Hai or Phi Phi Islands.
Local activity centers offers some great rides at somewhat reasonable prices. And what do I mean by reasonable? Well, I've put up some numbers for you to see. Just keep in mind that 1000 Thai Bath (TBH) equals $33 USD at this time.
You can charter a speedboat and visit Koh Hong Islands, Phi Phi Islands, Krabi & Railay beach & Poda Islands Trip, Phang Nga NP, James Bond Island, Koh Panyee, Racha Islands or even have a private sunset cruise.
That's close to 30 000 THB. The prices include renting the speedboat itself with a captain on board, a boat boy and a guide. You also get unlimited soft drinks and fruits. Tours can last up to 8h and the boat can accommodate up to 15 people. So if you split the bill, you should be ok price-wise.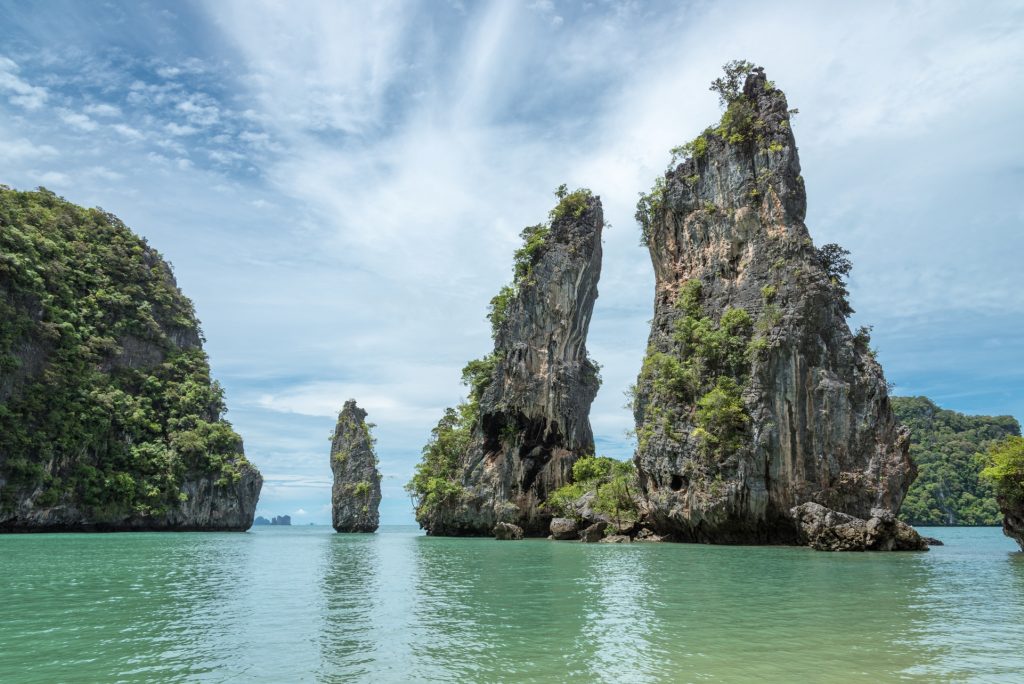 If you're thinking about a private sunset cruise to accompany your perfect honeymoon, they have it! Floating on waters for about one hour will cost you 4 000 THB.
You could also dive and explore the seabed in Shark Point, Koh Doc Mai, King Cruiser wreck or Anemone reef. You will be delighted to know that you'll get the boat for 12 000 THB and spend a whole 5h underwater. Bring a maximum of 5 friends and you have unlimited soft drinks and fruits. If you forgot to pack your scuba gear, then you can rent one for 2 000 THB which includes 2 tanks, weights and equipment.
To save some money you could go for the larger speedboats and share the space with other enthusiastic tourists.
If you're a fan of the agent 007, then you've probably seen all the movies. What if I told you that you could visit one of the islands where The Man With the Golden Gun was shot? Yes, I'm talking about the James Bond Island (Koh Tapu) in Phang Nga Bay. You can book a tour for only $130 USD for you and your other half and enjoy the perfect ride in your perfect tropical honeymoon.
But that's not all you will see in Phang Nga Bay. Imagine emerald green waters, dramatic limestone sights, sea caves and exotic marine life. That's just a picture I cannot paint in words.
Where can I eat in Koh Yao Noi?
Or, a more important question is what can you eat in Koh Yao Noi? Well, they do have several restaurants that server both local and international cuisine.
Thai food, seafood, pizza, barbecue, Mediterranean, you can find them all!
La Sala is a place where they serve fabulous food. Wild prawns (not farmed), fresh fish, excellent green curry, crepes suzette and actually all that's in the menu will delight your taste buds. I have no doubt!
It might be difficult to reach, so grab a taxi? Also, there are only a few tables so you should book in advance. What's the perfect honeymoon location without the perfect food?
Prices are quite decent (low) for the overall experience. Price range: US$5 – US$20. Told you it was decent 🙂
Other moderately priced locations are Kaya, Rice Paddy – for dinner and Faye's Kitchen if you're a vegan and looking to spend some extra money.
The Westin Resort Nusa Dua, Bali, Indonesia
You're no stranger when it comes to Bali, as I am sure you've read or even seen it's natural beauties. But this resort is destined to be the perfect location for your tropical honeymoon!
With large rooms, excellent service, breathtaking views and Staff catering to all your needs, the Westin Resort is undoubtedly one of the greatest beach resorts you have ever been to!
What can a tourist do in Nusa Dua?
If you're thinking you'll get bored staying at the resort then you've never been so wrong! Besides, what's a tropical honeymoon without some great adventure?
Need to feel the rush of adrenaline kicking in? Grab your sunscreen and swimsuit and go parasailing! For only $40 USD per couple you will be lifted in the sky, have your heart beat faster and have the biggest smile on your face.
If you're feeling daredevil-ish, you could try a jetovator. What's that you ask? For $125 USD per person you can have the most thrilling aerial water vehicle. Well, it's technically not a vehicle, as it floats. This jet pack uses water as a way of propelling and can lift you up to 30 feet high and thrust forward at speeds of 30 miles per hour. Did I mention you can also dive? Just be careful on that thing, we don't want you ruining your perfect honeymoon!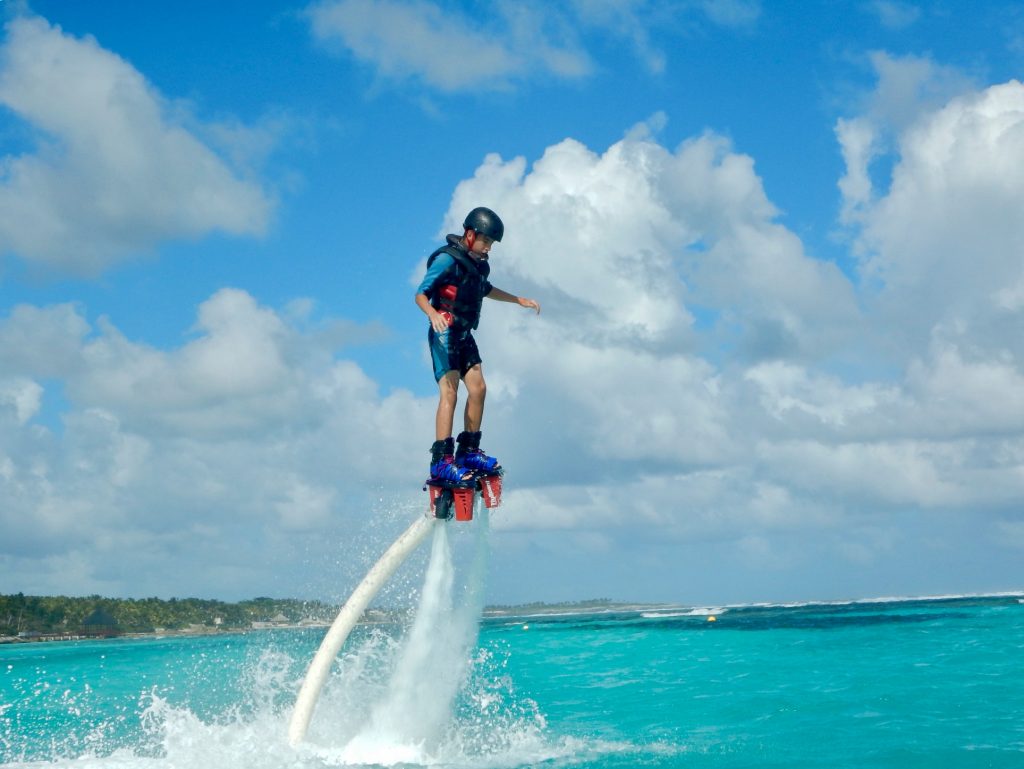 Looking for something more relaxing? You could also book a package and sale on a glass bottom boat across the sea, go snorkeling and visit Turtle Island. That would be close to $90 USD per couple and it's a two hours experience.
Another place you won't want to miss is the Water Bowl. You'll get to see nature and its impressive force, while the waves splash the rocks like they would want to move them. Fresh air, relaxing spot and a short walk from the Bali Collection. Just be careful, the volcanic rocks are sharp and although you might be tempted to get closer to the waves, you should avoid doing that. It's for your own safety.
Surf and Turf is an amusement water park where you can get a lot of rides in your hour and it will only costs you $15 USD.
What restaurants should I go to in Nusa Dua?
If you fancy Chinese food, then Bali Nelayan is where you should go. But if you don't like live Mandarin music, then you might want to reconsider. You'll easily find it thanks to its specific Asian exterior. The prices are decent and the food tastes good. You'll find a menu page below. Keep in mind that 100 000 Indonesian Rupiah (Rp) equals $7 USD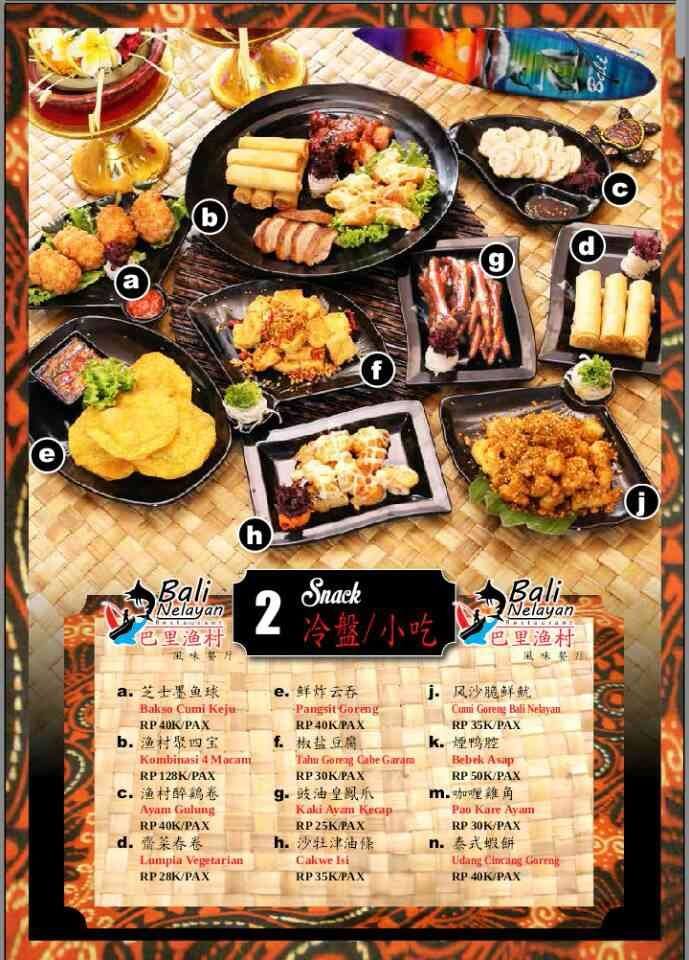 Nusa Dua Pizza is for those of us that enjoy Italian food. What's different about this place is that it actually has an Italian chef. Pizza is made in a stone oven which gives it a delicious taste! Prices? 60 000 Rp for a Margarita, 50 000 Rp for seafood pasta and 35 000 Rp for a bacon salad.
If Indian food is your thing, then have a seat at Dhaba Restaurant. Price range is $5 – $20 USD and you'll be served dal tadka, masala chai and everything you imagine – if it's on the menu list. Staff is so friendly, gives you advice on what you should eat and servers you fast.
Other places you might enjoy eating at are: Warung Halme Ikan Bakar Ala Jimbaran if you like seafood, Raja or Tavern de Bali if you wish to experience the Balinese cuisine and I will also mention Koki if you're feeling a bit Japanese.
All in all, Nusa Dua might turn out to be the perfect honeymoon tropical location for you and your significant half. Just look at this place!
Soneva Fushi, Kunfunadhoo Island, Maldives
Getting all fuzzy and wormed up? Wait till you see this perfect honeymoon location!
Soneva Fushi luxury villas have two locations: one that's all about Privacy and one that stands for Snorkeling. While both sides have the signature Maldive beaches and the azure waters, there are some differences that need to be pointed out.
The Private side is for those of us that crave to see the perfect sunrise. It's designed to face East so you can get the absolute morning view of the horizon and the island Maalhos.
On the Sunset side, you will find access to reefs where dolphins can be spotted – what a sight! There's also the island Eydhafushi pretty close, just 650 meters.
This huge resort has a Private reserve with 9 bedrooms, if you're looking to bring some friends with you.
If you'll find that 9 bedrooms is a crowd, then your perfect honeymoon location should be in this 1 bedroom water retreat with a slide included!
What does a tourist do in the Maldives?
You will find plenty of unique things to do in Maldives. From visiting islands to exploring the waters, relaxing beaches and crowded bars, this place has it all!
Pay a visit to Alimatha Island, Biyadoo Island or Ambara and you won't be disappointed.
Where should I eat in Kunfunadhoo Island ?
Out of The Blue is a beautiful place for dining and watching the sunset. The views in this place are just jaw-dropping. The delicious foods and mix of flavors will just delight your taste buds .
They also have a slide, so if you're looking to cool down, just go! A wine cellar and a mini garden from which you can pick your herbs are just two lovely accents the place has.
Fresh in the Garden is where you'll dine above the earth, while the aromas of herbs will surround your senses and delight your nostrils. This would make the perfect honeymoon location where you can dine beneath the sky and stars.
So Hands On is a Japanese restaurant where a three stared Michelin chef will serve you mind-blowing sushi.
The above mentioned are all part of Soneva Fushi Resort – but that's not all. Once Upon a Table sits you under a retractable roof, with only eight seats for an intimate dining. Crazy, huh?
Le Domaine de L'Orangeraie, La Digue Island, Seychelles
Have a taste of Seychelles tropical paradise by lodging into this another perfect honeymoon location. Discover the island's coastline, secluded coves and secret white sand beaches, while enjoying the hospitality of the place.
Le Domaine de L'Orangeraie has 63 villas for you to choose from, just a few steps away from the distinguished Anse Severe beach. Garden villas, Suite Residences, Villa Presidentielle, Charme or Élégance all welcome you to stay in a spacious surrounding and amidst exotic gardens.
For the perfect tropical honeymoon I would highly recommend you settle at one of the Garden Villas. But keep in mind that they also offer honeymoon discounts, so you're in for a treat!
For a minimum of 4 consecutive paying nights you get:
1 complimentary in Villa welcome to include sparkling and local delicacies upon arrival
1x 30 minutes complimentary Hammam & Jacuzzi session for the couple
10% discount on any treatment booked at Eden Rock SPA for the couple
1x romantic candlelit dinner for 2 in the privacy of the "a la carte – ''Combava" restaurant (special menu designed by our head chef. Excluding drinks)

Clients staying for a minimum of 3 nights will receive :
1 complimentary in Villa welcome to include sparkling and local delicacies upon arrival
10% discount on any treatment booked at Eden Rock SPA for the couple
Things to do in La Digue Island in Seychelles
Beautiful palm trees and interesting rock formations set the scene at Anse Source d'Argent. A white sand beach with its own reef where you can go snorkeling anytime you want.
Looking for a more secluded beach? Try Anse Cocos. Shallow natural pools are contoured by boulders therefore being a perfect spot to photograph.
Maybe you're a fan of history and want to see how old farms looked like? L'Union Estate Farm is a place where tortoises roam the colonial coconut and vanilla plantation. With wooden houses, old farming tools and coconut mills, it's doe to these things the place has a specific charm to it, therefore attracting tourist everyday of the year.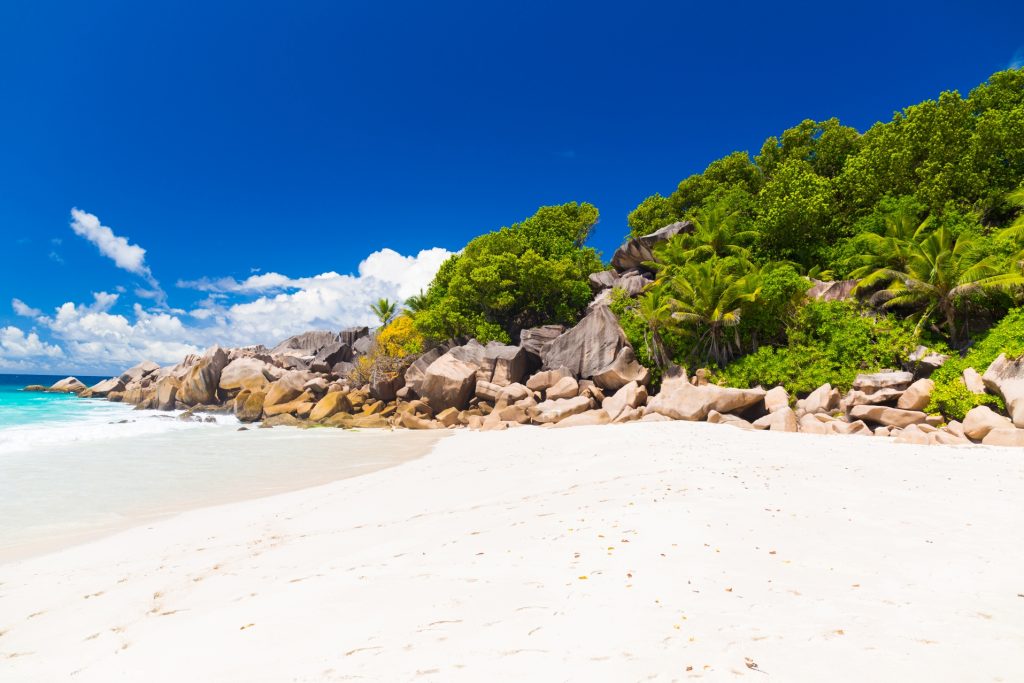 Assuming you want some peace and quiet, you definitely need to reach Petite Anse. You might be questioning why should you go to a beach where you can't swim because of the rough sea. Well, I'm thinking that the perfect tropical honeymoon location involves a bit of privacy. And yes, this place has it! If you want to get away from the crowds and enjoy a marvelous sight, then it seems like it needs to be on your list.
Where can I eat in La Digue Island ?
Bellevue, Chez Jules, Rey and Josh – these are just a few names that come to my mind. You can enjoy a tasty dinner with a magnificent view. Small starters are close to 150 R while meat courses can cost you up to 500 R
When it comes to converting the local currency, 1000 Seychellois Rupee is close to $74 USD.
If you like Italian food, then Le Repaire is another yummy location that is looking to host you. Prices are decent, but the food is excellent!
---
Have you decided on your perfect honeymoon location? After seeing all these great destinations, it's kind of hard to pick just one, right?
Wherever you decide to go, just make sure to pack well and be safe. Have a great honeymoon!