A travel guide to Capri, Italy
For all those who have never heard of Capri, it is a beautiful island located very close to the city of Naples, Italy. It is actually a very popular destination among tourists and one which should definitely be visited by those who are planning a trip on the Western side of Italy!
Need to know more about everything you should see, visit and do on the wonderful island? Then you're in luck, as we've selected the best spots you shouldn't miss in Capri!
How to get to Capri
The only way anyone can get to Capri is by sea. The ferry leaves from Naples and also from Sorrento. It takes around 1 hour to get to Capri from Naples and around 25 minutes if leaving from Sorrento.
During the Summer, due to a large amount of tourists visiting the island, one can also catch a ferry from Positano, Salerno and Ischia. It is quite useless to take a car to Capri, as the island is small and worth exploring it by foot. The buses in Capri are quite good and are usually on time.
The island has 2 main parts or villages; Capri, which is the lower part and Anacapri which is much higher up. One can either take a cable car or a bus to go around the two sides of the island.
What Capri is known for?
Lemons
Apart from marvelous locations and scenery, Capri is also known as the island of lemons. Almost every house has a lemon tree in its garden! You can also see lemons on doors, benches and street signs. Shops have a wide variety of lemon candy and limoncello on offer. Thus, you can't leave the island without having a piece of Capri's traditional pastry, Delizia al Limone and a shot of limoncello! Maybe even take some as a souvenir to your friends and family back home.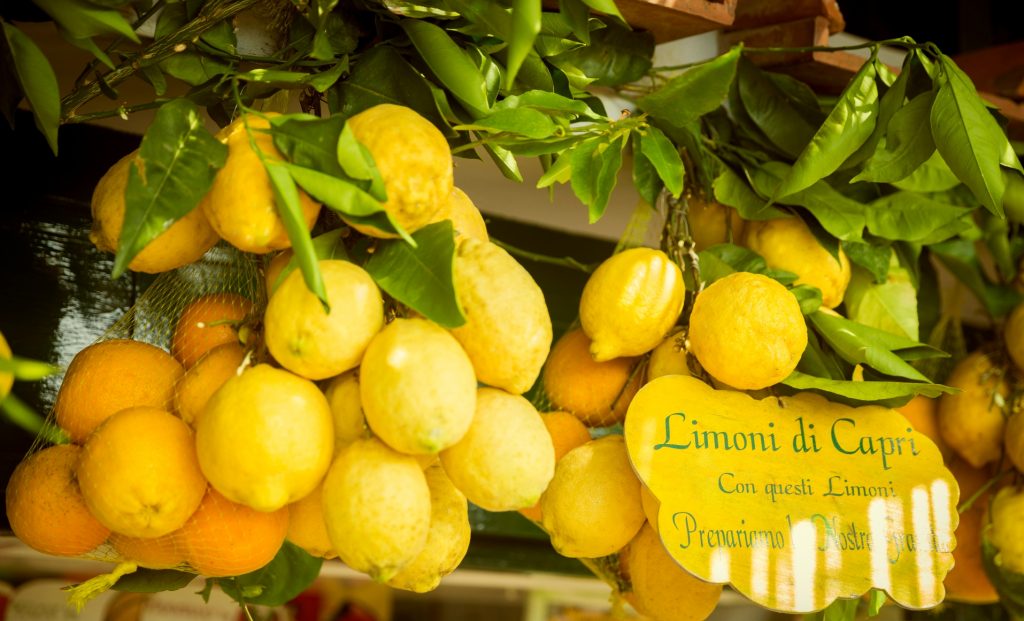 Sirens
Capri is associated with Sirens because of the myth of the Greek hero Odysseus. Sirens were half maidens, half bird creatures that used their voices to lure sailors to their deaths. When the Siren songs were heard by sailors, the Sirens could then control them. The only way to keep sailors safe, was to put wax in their ears, so that they wouldn't hear the sounds made by the Sirens.
Ceramics
There are various shops on the island of Capri which sell hand made ceramics. Pottery made in Capri have local colors and patterns, which make them stand out among other ceramics made in other countries. They are also great for souvenirs and gifts!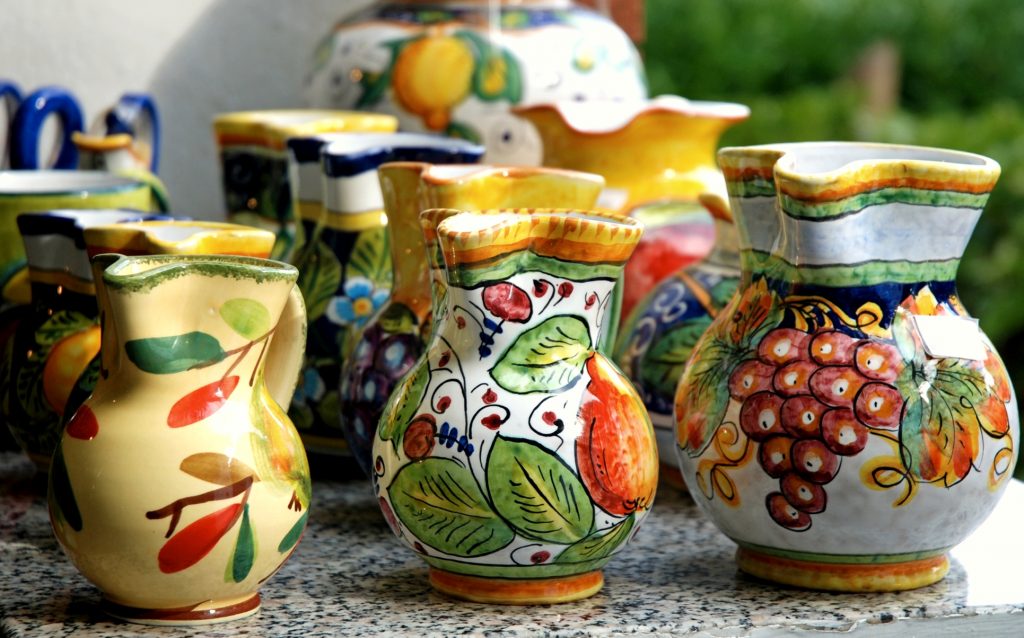 Things to Do & See in Capri
Faraglioni
This is basically the first image that pops up on Google when you search for Capri. Faraglioni are the three rocks rising out of the sea. These can be found on the island's Southern coast. All 3 rocks have a name; Stella, the one which is still attached to the land. The second one is called Faraglione di Mezzo and the furthest away from the island is called Faraglione di Fuori, or Scopolo. 
Belvedere Di Tragara
This is one the very scenic view points of Capri where you should go to see the view of Isole Faraglioni.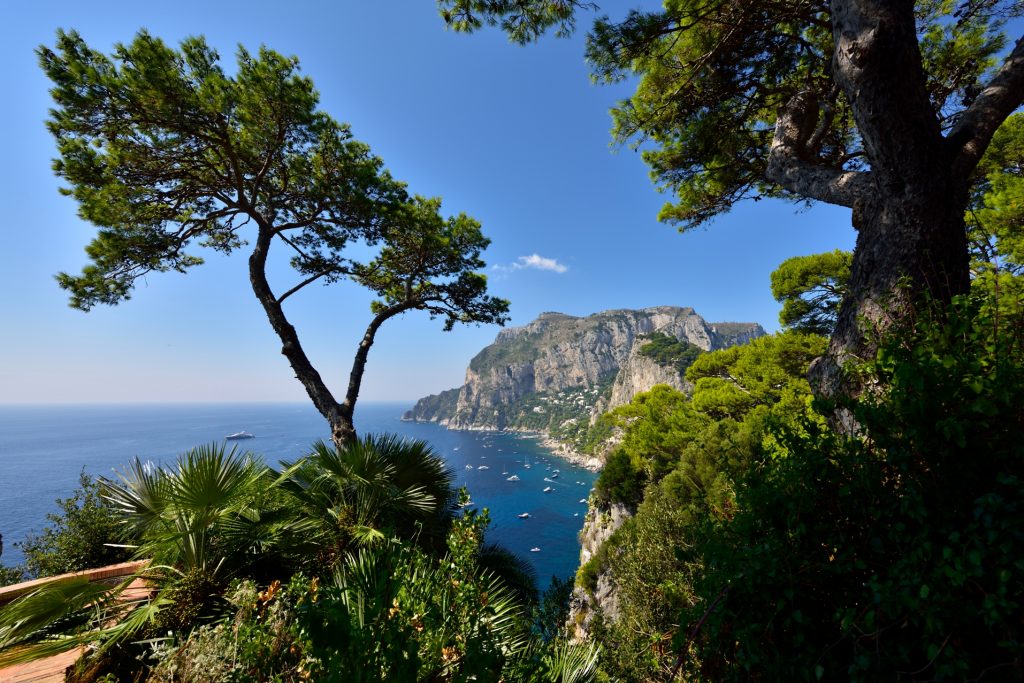 La Grotta Azzurra
This very blue cave (also known as Blue Grotto) is one of the most famous sights on the island. You can book a trip on a wooden rowboat, which takes you from complete darkness to a cave lit by azure blue light.
The Blue Grotto is easily accessible from Anacapri by bus or by boat from Marina Grande. When visiting Capri, take the weather into consideration as when the sea's rough or there are high winds, it is closed for visitors. Entrance fee to the Blue Grotto is 14 euro per person.
Chiesa di San Michele Arcangelo (Anacapri)
This church is located in Piazza San Nicola in the heart of Anacapri and it is famous for its exquisite Majolica floor mosaic done by Leonardo Chiaiese, which dates back to 1761.
The Red House (Casa Rossa)
A bright red facade house that is situated in Anacapri and surely stands out among the other plain-faced traditional architecture of the island! This red house is one of the most interesting residences on the island and is well-known for its great rooftop view, Medieval-style details, moorish windows, great artwork and wonderful patio.
Villa Jovis
This is the place where the emperor Tiberius stayed dying the last ten years of his reign. Villa Jovis was a real centre of power for one decade. The style of the villa is a combination of the Classical villas from the Roman Empire with elements of a small fortress. If you're thinking of taking a group tour, you can book one here.
Shopping in Capri
The most famous shopping street is Via Camerelle which is known for its exclusive fashion boutiques, with brands of many famous designers next to each other, such as, Valentino and Armani. Warning: Some shops close for the Winter months due to the bad weather and lack of tourists.
Trekking / Hiking
Seeing that it is quite a small island (just around 12,000 population and one can get from one side to the other by walk in 2hrs and a half), Capri is a great place for trekking! The views of the sea can be seen from all over the island. Thus, it is a great way to see all of the famous spots on the island without having to get any transport!
Romantic things to do in Capri
Capri is such a beautiful island that some consider it to be one of the most romantic destinations in the world. The lovely piazzas, scenic views, lemon-scented streets and the clear blue scenes are only a few reasons why Capri is considered to be a romantic island. It is also the perfect island to take your loved one on a candlelit dinner and a long romantic walk afterwards.
Here are some romantic places one should visit when in Capri:
Monte Solaro
This is the highest and most panoramic point on the island and it can be reached by a 12-minute chairlift ride or by foot. You can see all the way down to the center town of Capri and as far away as the whole Gulf of Naples from Monte Solaro. Relax with your significant other on the peak by having a drink on the rocking chairs at the La Canzone del Cielo cafe.
Giardini di Augusto
This garden is characterized by a variety of plants such as dahlias and geraniums. From this garden you can also get a panoramic view overlooking Mount Solaro and the Faraglioni (mentioned further up in the article).
Via Krupp
A beautifully built pathway commissioned by the German industrialist Friedrich Alfred Krupp. It links Marina Piccola to the Gardens of Augustus. Via Krupp is sometimes closed due to falling rocks. However, you can have a look at it from the Augustus Gardens. This intertwining road is not to be missed!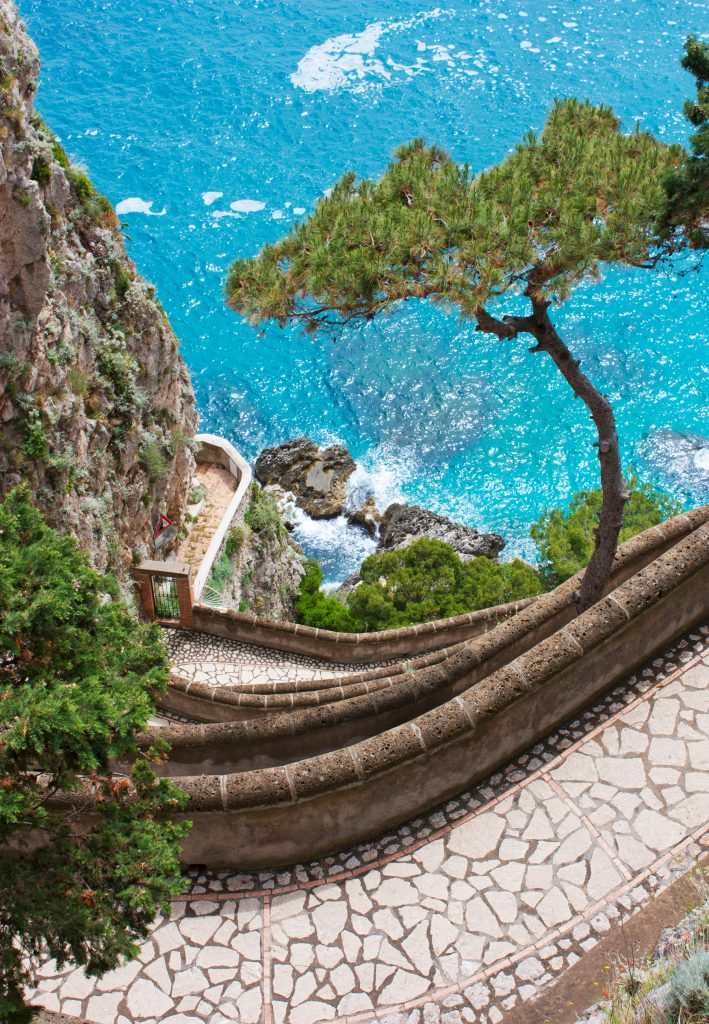 Villa San Michele
A visit to this villa nowadays still feels like a walk through a fairytale. You can have a stroll through the gardens and have a look at the magnificent scenery. There's a cafe at the top of the villa, which is not to be missed, especially when visiting during the afternoon! There's also a sphinx, which people rub for good luck. Rubbing the sphinx also ensures you will live happily ever after with your true love.
Marina Piccola
This is the bay in which the legend states that Ulysses was seduced by the sirens. These creatures were also mentioned by Homer in his Odyssey and it was believed that they resided on the nearby cliffs – Scoglio delle Sirene.
There are free beaches and also beach clubs in Marina Piccola. This location is warm during almost all of the seasons throughout the year, but don't forget to check the weather before going.
——————
For such a small island, there are so many things to do, see and visit! Thus, people don't only go to Capri for the beautiful blue sea which can be seen all around it, but also for the culture, sightseeing and shopping! One surely cannot get bored of the scent of lemons all around the island, the picturesque streets and crystal blue sea surrounding the island.
Hotels and accommodation in Capri, Italy