The Secret City of Bergamo Explore Italy
If you love Romanesque and Renaissance structures, old intertwined with new, then you will absolutely adore Bergamo! This is an underrated gem that Italians have and while most tourists use it for transit, they are missing out on a fabulous escape form everyday life.
Consider it a romantic city, situated in the Lombardy region of Northern Italy. A small place, with a population of 120 000 people, Bergamo is a wonderful combination of historical architecture and high-fashion streets.
Once you're in Bergamo, you'll get to the center of the town in less than 15 minutes via bus. Tickets are inexpensive and you can get a 24h pass with only 5EUR or a 72h pass with 7EUR. That means you can travel by bus, funicular or trams using only that ticket. As a personal note – take your time to explore its narrow streets with your own two feet. It would be a remorse not to see all the spectacular views that this place has to offer!
With winding roads and imposing walls, the Old Citadel is easily spotted behind the monumental gates that defend its beauty.
Stylish small restaurants and cafes are present throughout the narrow streets and surround the squares. The food is generally good and serving is ok. We found that the bars usually open after 10 am, so if you are a morning person and desperate for breakfast, then you'll be pleased to know there's a McDonalds near the train station! Oh, the train station you ask? It's 2 bus stops from the funicular, basically dividing the old town from the new town.
Italians here don't speak English so well – some don't speak at all, so it can be quite difficult sometimes. Lucky for us, there are lots of local teens gathering in Piazza Matteotti, exactly in the center of Bergamo's Lower Town (Città Bassa) that you can communicate with. If you are a smoker, be sure to bring your packs! Cigarettes are hard to find in shops and are only available non-stop at vending machines – which require an ID scan or finger print and they only work for locals.
Take the Funicular – Sit Back and Enjoy the Ride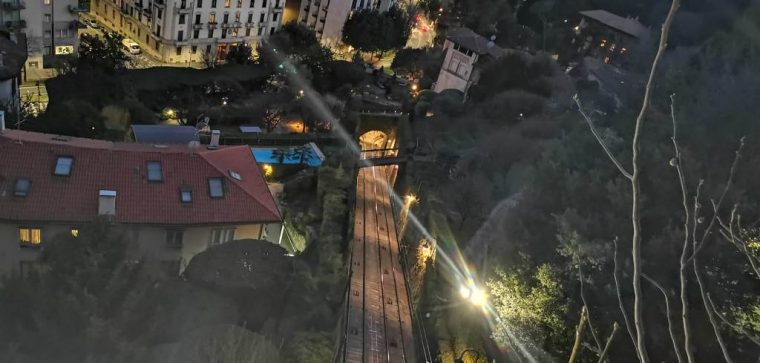 The funicular connects both the old and the newer part of Bergamo. A slow cruise to the top allows you to witness the splendor in which the city dives in. Medieval like buildings, narrow roads and an overall peaceful sentiment hogs the atmosphere. While it's a steep ride to the top, you can also effortlessly walk down the stone road at night and appreciate the view – and oh, what a view that is!
Piazza Vecchia
Entering the Old Town, you are greeted by a charming square framed by patrician houses, Gothic arches, astonishing architectural buildings and the smell of fresh brewed espresso. The municipal library is housed by the late-Renaissance Palazzo Nuovo, just to your lower right and the flavor of the place urges you to take a seat and enjoy the scenery.
Santa Maria Maggiore (Basilica of St. Mary Major)
Right behind Piazza Vecchia, trailing the Gothinc arches, stands an impressive arhitectural tresure in Piazza del Duomo. Santa Maria Maggiore church, built in 1137, is a remarkable edifice with lavish embelishments, overwhelimg statues and intricate frescos.
Colleoni Chapel
Located right next to the Santa Maria Maggiore church is the Colleoni Chapel, constructed in early Lombard Renaissance style. With its luxuriant façade of inlaid marble, it stands to prove that less is not always more.
The City Gates and Walls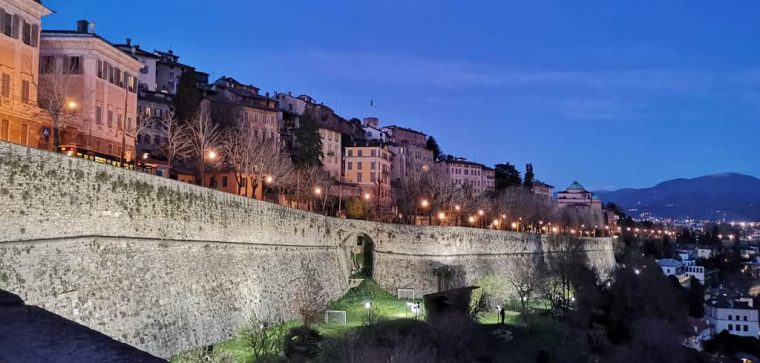 Surrounded by fascinating Venitial walls, the Old City is guarded still today by massive gates that are in unreal condition, despite their age. Rosewood marble, imposing columns and dazzling architecture, stand witness to the historical influence that Bergamo has experience throughout time.
Museum of Natural Science and Archaeology
For those of you who love ancient history, this place is a real treat! Within its walls you will find collections of artefacts and relics that will excite you.
Take a day trip!
Where to Stay in Bergamo – Accommodation
Already thinking you should be travelling to Bergamo? Let me know!