Although Beijing is famous for its ancient Chinese architecture, there are many less well known tourist attractions that will surely catch your eye. When you visit Beijing for the first time as a tourist, you might be pushed into visiting the more famous sites. But wouldn't it be great if there was more to see than the fantastic and historical attractions like The Great Wall, The Forbidden City and The Ming Tombs?
More and more residents of Beijing are letting the world experience their lesser known tourist attractions. Travelers are captivated by the alluring stories that each of these places portray and are fascinated by the scenery. Once you set foot on these sites, you feel the charms and history that will simply take you to a whole new world!
Want to know what non-conventional places you can visit in Beijing?
If you ask Cui Jian, a Chinese rock star, there are lots of hidden spots to visit if you want a taste of Beijing. Have you ever heard about 798 art district in Beijing? Sure you haven't! But you might actually find it interesting. Housed in a former military factory, this area is host to the annual Beijing Queer Film Festival and Beijing Design Week . The atmosphere in 798 Art District – also called Factory 798, can't get more industrial than it already is! Built in the 1950s, the constructions have now been transformed and given another life: a hippie community of art galleries and cafes. Planted on the vast site are curious outdoor sculptures, colorful graffiti and bistros where you can get a quick taste of Beijing.
Who's Wu Jianxin? Well, he's the one that mentioned Baiyun Guan. While he owns a private vine club in Beijing and grew up near Houhai, he often looks to get out of the buzzing neighborhood and just relax. What was once a peaceful lakeside village, you might find that now it is being overrun by ear-popping pubs and boat rentals for tourists. Wanting to escape from it all, Wu often goes to clear his mind at Baiyun Guan.
White Cloud Temple – a place of relaxation, stillness and meditation
Baiyun Guan is a Taoist temple that has a certain mystical charm to it. Well hidden from tourists and their clicking cameras, it is a wonderful place to just appreciate a leisurely paced sightseeing. If you're already thinking of visiting, then be sure not to miss the traditional ceremonies and rites that are performed by Taoist monks. This 800 year old Baiyun Guan Temple will award you with a magnificent display of grace, color and stunning architecture! Oh yes, did I mention that it's also the headquarters of the Chinese Taoist Association?
If you'll ask an ordinary designer where he'd want to go, he'll probably say Milan or Paris. If you ask Li Jing, who is a designer by profession, he'll tell you it's Nanluogu xiang in Beijing. Although you'd think that being situated in downtown Beijing would make it a popular destination for tourists, it's well preserved stretch of backstreets are almost unknown. The district accommodates a large number of bohemian bars, hostels and fancy boutiques. Contrasting with the city's modern high-rise buildings, this place radiates the charm of old Beijing. Curious to see it?
See the Stunning Mutianyu Great Wall
While several walls were being built starting with the 7th century, to consolidate the borders, only few have withstood the test of time.
It is approximated that the Great Wall rose during the Ming dynasty to almost 8 850 Km in length, but you might be surprised to know that now it measures almost 21 196 Km with all its divisions.
If you're visiting Beijing, then you'll be excited to know that some of the best sections of the wall are quite near.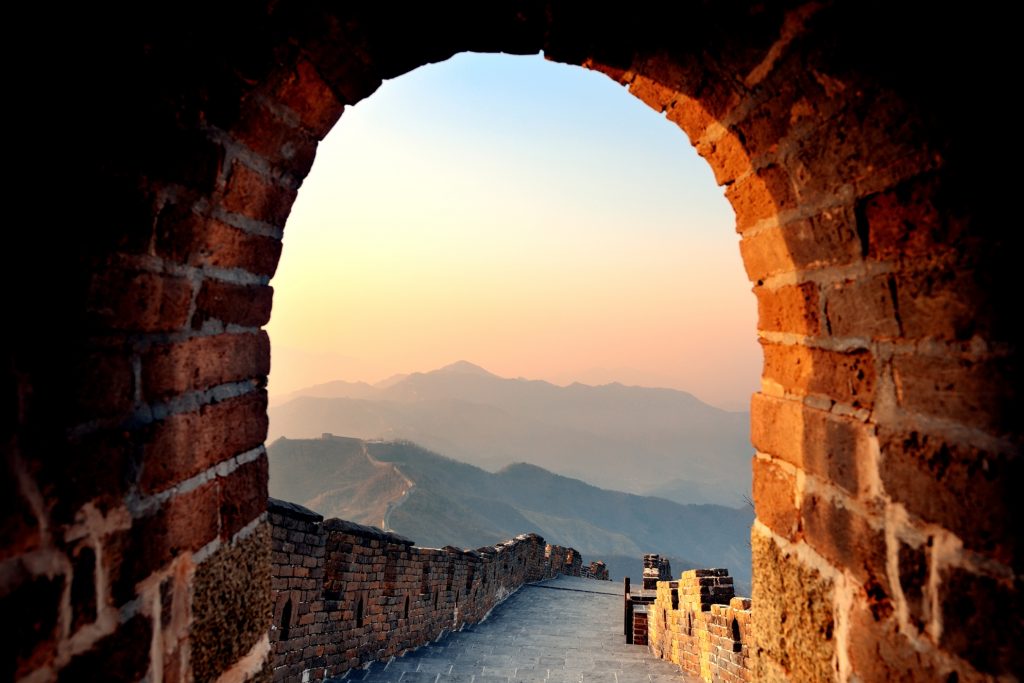 Mutianyu is one of the best restored wall segments and the one that you shouldn't miss. It is abundant in greenery and the sights are truly majestic! And while the most popular parts of the Great Wall are crowded, this ancient piece of history remains not-so-popular. If you're visiting in late spring or early autumn, then you will experience a sight like you have never before. Golden leaves that mark the way or a raw green backdrop that freshens up the atmosphere; humming birds that accompany your pace rhythm; no matter the season you choose to visit it, I promise you it will be worth every second you stay there.
Did I mention it's only 75 Km from Beijing?
Choose Yunmeng Mountain if You Like Hiking
Yunmeng Mountain actually means a mountain that is always covered in mist and it is one of the best picturesque scenic spots in the suburbs of Beijing. While you will find Yunmeng Mountain to be a stunning natural location, you should know that it is not so jam-packed. Actually, you might see Chinese around only on a summer weekend or a holiday. This is one of Beijing's less known tourist attractions.
If you're a believer in myths and mythology, then you should know that the mountain is thought to be a reincarnation of Yunmeng and Fuxi. Younmeng was the daughter of the Chinese goddess Nuwa (creator of mankind and Fuxi's sister and wife) and Fuxi was a Chinese god, credited for inventing fishing, hunting and cooking, but also for creating humanity (alongside Nuwa)
Deep valleys, an abundance in trees, waterfalls and a sea of flowers is the best way to describe the place. Seen from afar, the scenery is both visible and partly hidden behind the thick mist. If you're visiting from April to May you will surely be mesmerized by the scent of the blossoming flowers.
Thinking of leaving Beijing without a souvenir? Of course not. But what if I told you that you can buy some original mementos and not spend your money on printed magnets? For those of you (me included) that are searching of atypical gifts, you should visit the Jindian Consignment Shop. That's where you won't find those carved-in-jade dragons, chopsticks or cloisonne things that you'll see everywhere. Rather than your average souvenirs, you will discover some quaint pieces of Beijing to bring home with you. From antique clocks, old bus passes to flying pigeon bicycles (whatever that is), that's the place you need to shop for home.
---
If you have visited Beijing a number of times, you might have missed these spots. Or, you might have actually been there.
While locals might think that the sanctified places in Beijing are overrated, tourist have yet to discover all the charm that it has to offer.
I would advise you to see absolutely everything this city has to offer, be it either a major attraction or not, as it will surely leave you awe stricken!