Have you ever wondered why Chefchaouen is blue and if it is worth visiting? Well, some say that this is the place where dreams are made and painted blue! Not just any blue, but Moroccan blue. This is Chefchaouen, Morocco's Blue City that will transcend you into a whole different dimension, one of beauty, relaxation and a state of unconsciousness. Yes, just like in a fuzzy dream!
If you want to know why is Chefchaouen blue, then I'll explain it to you below.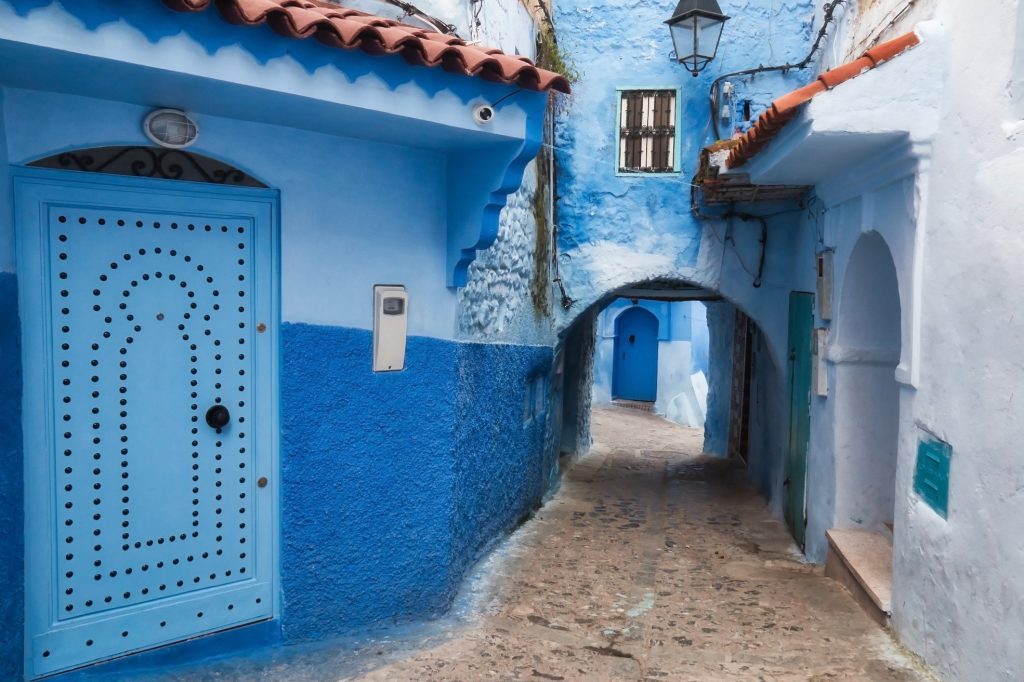 Chefchaouen, or Chaouen (easier to pronounce, right?), is a city in the Rif Mountains of northwest Morocco. It's world famous for the picturesque sights that contour the old town. These blue washed buildings, cobbled streets and steep roads once formed a small fortress, established in 1471. While in 1920 the Spanish made Chefchaouen part of Spanish Morocco, it regained its independence in 1956.
But you might be asking yourself what kind of color is this Moroccan blue? Well, it's all kind of blue: Persian blue, Azure, Sapphire and all those magnificent hues, that only women know by name.
Stay tuned or actually pack you things, as we're giving you 7 good reasons to put Morocco's Blue City on your travel list!
The History of Chefchaouen's blue color
Why is this Chefchaouen so blue? Well, we don't actually know for sure.
It is still a mystery why this smoothing color was splashed all over the walls. There are different tales and myths that the locals will tell you, if you're willing to listen. One relates it to the Sephardi Jewish community who used to associate the blue color with the presence of God. Another story assigns it to the Jews fleeing from Hitler's invasion in Europe. But there's one story that will give you chills and make you reluctant about visiting the City. According to it, the blue color of the city was used as a repellent for the malaria mosquitoes. You shouldn't worry, those times are long gone 🙂
However, according to some other locals, the walls were painted blue at some point in 1070 to simply attract tourists – disappointing, huh?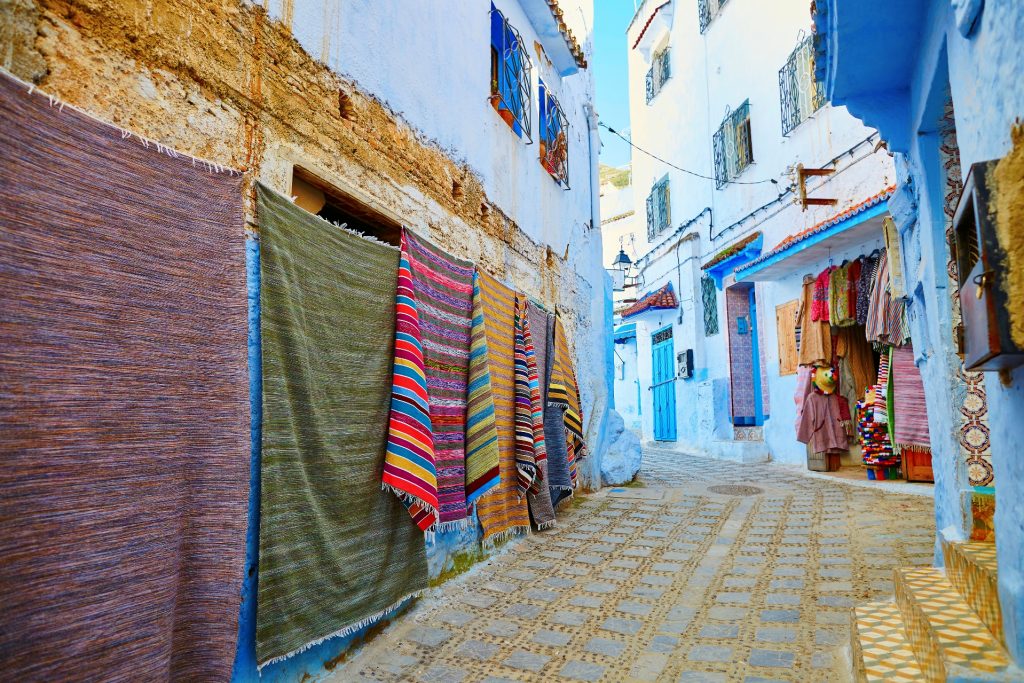 Whatever the true story is, the city still stands with all its glory and stunning beauty, surrounded by mystery. It is regarded as " The Blue Pearl of Morocco". Strolling up and down through its alleys gives you an instant rush of serenity and calmness. Yes, it's just like in a dream that you don't want to wake up from.
Wander and Capture in the Blue City of Morocco
Jaw dropping surroundings, this is just one reasons to put Morocco's Blue City on your travel list! The mountains guarding this place resemble two horns. It is believed that the city actually got its name "Chefchaouen" from this view that mirrors two horns. The actual City name means "watching the horns". The city itself has quite a mysterious feeling to it and a highly photogenic decor. The best place for a perfect selfie! As you start strolling through the streets you feel like time has reverted to the 15th century. The way buildings and alleyways are styled give the place a fresh vintage look.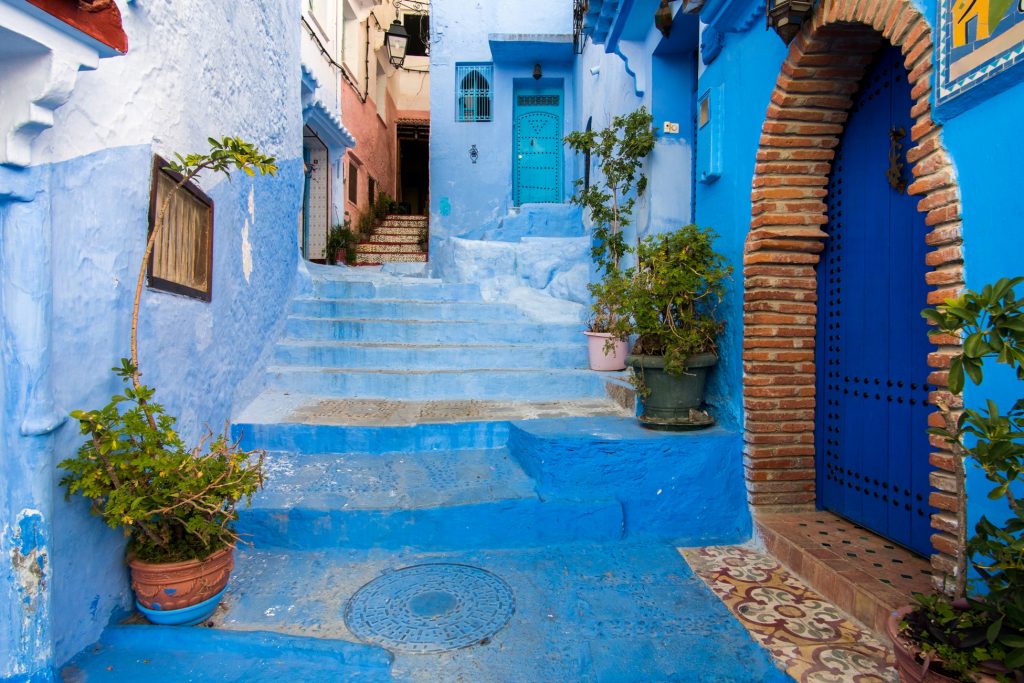 It would not be a bad option to roam in the city and get lost. Well, not lost-lost, just wonder around. You can see its beauty behind the lenses of your camera and share its charm with friends and all over the internet – worth it! The streets are soaked in all shades of blue, that causes the body to produce calming chemicals. Yes, this is science speaking! Whether it be turquoise, sky blue, morning blue, ice blue or navy blue, your eyes will just cry out to go there again and again and again.
Discover Rif Mountains
Visit Chefchaouen's Rif Mountains and enjoy the vast panoramic view of the blue layer from atop. The peaks at 6500 feet won't disappoint any hiker enthusiasts! There you'll find some of the lushest green and stunning hiking trails.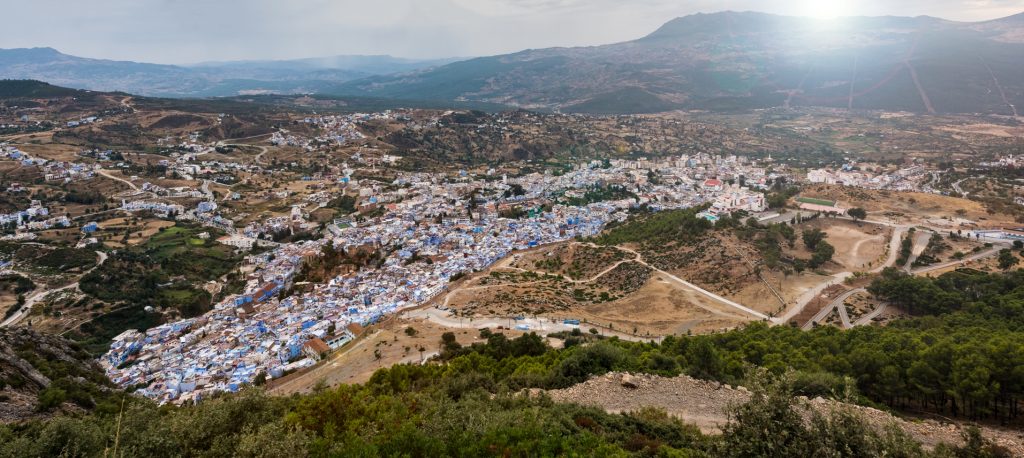 Talasemtane National Park is a 2 day hiking trip to the top. So, if you're in for adventure, pack your clothes and cans and go for it. You might want to check the weather, as it can get pretty windy up there. Rain showers are so unexpected and you'll probably get soaked from time to time. But that's ok, that's why you stuffed a raincoat in your bag, right?
Shop in Blue Medina
The grand market of Medina is in full swing on every Monday and Thursday. It receives the sellers and visitors from far off places. The "Souk" (local word for Market) or simply the market, boasts a traditional look. It places on display a variety of fresh tasteful fruits, healthy green vegetables, local crafts and herbal teas.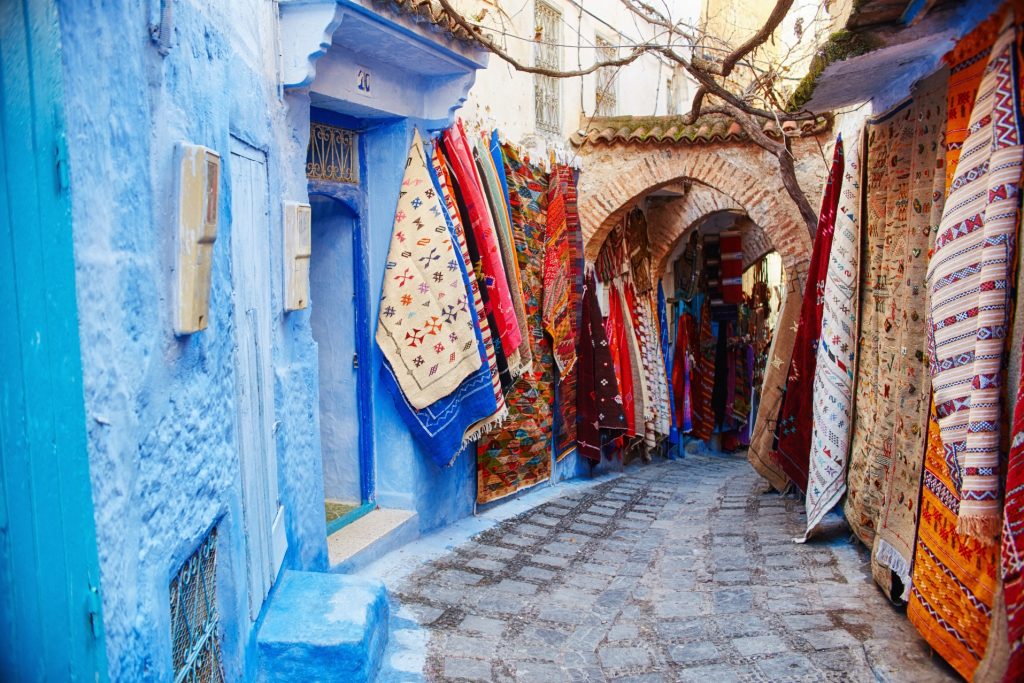 Here, tourists and locals mix and mingle, while filling the place to the brim. Lined with cafes and stands that will make you crave food, the market is not that expansive, but holds the tint of comfort and relaxation.
If you're a fan of souvenirs, then don't miss buying some leather goods. These are often produced by locals that strive to infuse a bit of the City's charm in their products.
Marijuana in Chaouen
Another reason why this area is so popular among tourists it, yes, you've guessed it – marijuana. Tourism is greatly enhanced by the general availability of recreational drugs.
While cannabis has been banned in Morocco since 1974, it is partially tolerated although illegal. Being one of the world's largest producers of hashish and cannabis suppliers, it has provided great economical advantages for more than 90 000 households.
Having a reputation as being a center of the marijuana plantation region in Northern Morocco, you might be surprised to know that during summer, over 200 hotels pamper tourist from all over Europe.
You should also know that before the industrialization of cannabis, it was consumed locally by mixing it in food, smoking it in a sebsi, mixed in food or even used as an ingredient in sweets and candies!
Now about the question of why is Chefchaouen blue. Getting the picture? 🙂
Ascend to Spanish Mosque to have the perfect view
To the east of city stands the Spanish Mosque. It was built in 1920's during the Rif War and overlooks the Medina.
While you might need to be in shape to see this attraction, you should know that the view is worth the effort. There is a 40 minutes hike to it through the trail starting from the "Bab Al Ansae". A good morning exercise routine, if you ask me. But don't worry, you can stop anytime to catch you breath and enjoy the blissful scenery.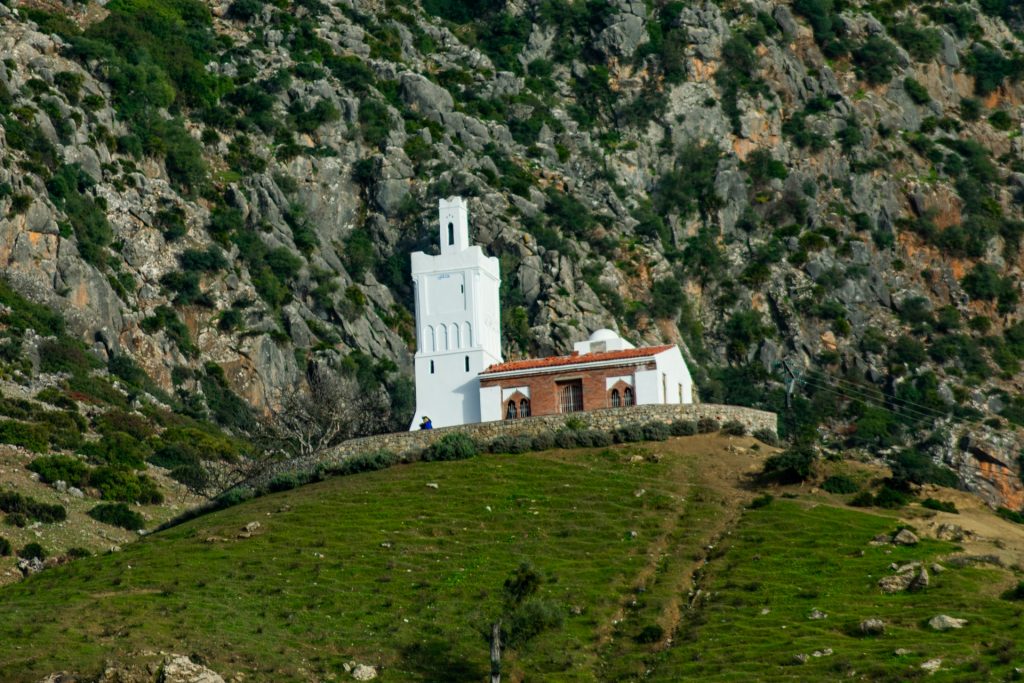 The best hours to enjoy the panoramic view of town from atop are just before dawn or dusk. The track also passes a river. If you're lucky you will get to see the local women washing clothes. That's where the true colors of life are best displayed.
Connect with nature at Akchour Waterfalls
If you're a nature freak like I am and love green sights, then Akchour waterfalls is that majestic beauty you don't want to miss.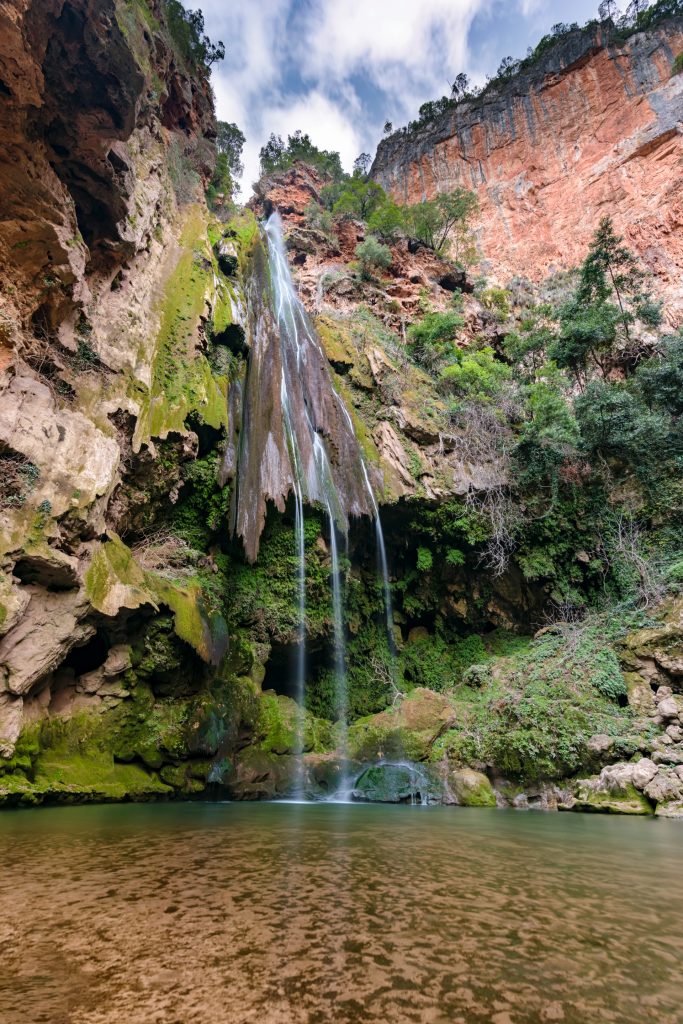 Only 30 km stand between Chefchaouen and this heavenly spot. The first path your feet need to strut is a 45 minute walk to a stunning waterfall. Adjacent to it is God's Bridge, which looks like a stone arch hovering over the Akchour River. The scenic view confirms that if there was heaven on earth, this is where you'd find a piece of it.
But, like all the best things, you'll have to put in an effort to reach it. When it comes to hiking, the usual advice always applies: wear comfy sport shoes, have snacks and water and some clothes if you feel the weather is tricky.
Take a Day to Relax at the SPA
Hidden among the blue walls of Chaouen is the perfect oasis where you can relax. This luxe SPA is a 5 minute walk from the Spanish Mosque, right in the heart of the Medina
The location features intricate archways, embellished floors and , well, you've guessed it, baths! But not just any baths, traditional and unique Moroccan hammam.
If you're desperately in need of some herbal massages after those long walks, relaxing baths and the perfect scenery, then you must experience this Moroccan pampering. It can be a good choice to visit it on a rainy day and get the instant rush of tranquility while watching rain pouring outside.
---
Now that you've experienced a small taste of the best places to see in Morocco's Blue City, got an idea of why is Chefchaouen blue, is it worth visiting?