You've got your destination set, your trolley ready to go, but you're still wondering what are the non touristy things to do in Barcelona? If you're looking to live the life of the locals or enjoy hidden gems in Barcelona, then we've got some tips to make your trip amazing.
Forget about the most popular places in Barcelona, where the tourists form long lines or push against each other to visit. This city has the most amazing vibes outside the well marketed sites. You'll be surprised to discover Barcelona in another way: captivating and surprising!
Whether you're traveling in a small or larger group, you can book a taxi transfer if you also plan on exploring the surroundings. You can pre order your rides and schedule pick-ups. This is an efficient way to stick to your travel schedule.
Montjuic Outdoor Cinema
We bet you had no clue that there was an outdoor cinema on the grounds of a castle now, did you? Although it's placed in a touristy spot, we're listing it on the non touristy things to do in Barcelona because few people know about it.
Also known as Sala Montjuïc, the Montjuic Outdoor Cinema is a popular open-air cinema event that takes place typically from late June to early August, in the stunning setting of Montjuic Castle. The cinema screens a diverse selection of films, ranging from classic movies to recent releases, offering a unique cinematic experience under the starry night sky.
If you're thinking you'll get to sit in a cinema chair, think again! The venue provides a comfortable outdoor seating area where you can bring your own blankets or portable chairs to enjoy the film screenings. It's a popular activity among locals, in a relaxed and festive atmosphere.
The Fairy Forest hidden bar in Barcelona
Locally known as El Bosc de les Fades, it's truly a fantasy forest in Barcelona. If you're looking for a novelty bar, then this is the place to see. It's designed to resemble an enchanted forest, creating a magical and otherworldly atmosphere.
When you enter El Bosc de les Fades, you'll find yourself surrounded by a forest-like setting with artificial trees, plants, and cascading waterfalls. The dim lighting, sound effects, and ethereal music further enhance the mystical ambiance. The bar is designed to simulate a nighttime forest, with stars twinkling overhead.
The interior features cozy seating areas, including tree trunks converted into tables and nooks hidden among the foliage. There are also various props, such as fairies, gnomes, and magical creatures, adding to the fantasy experience.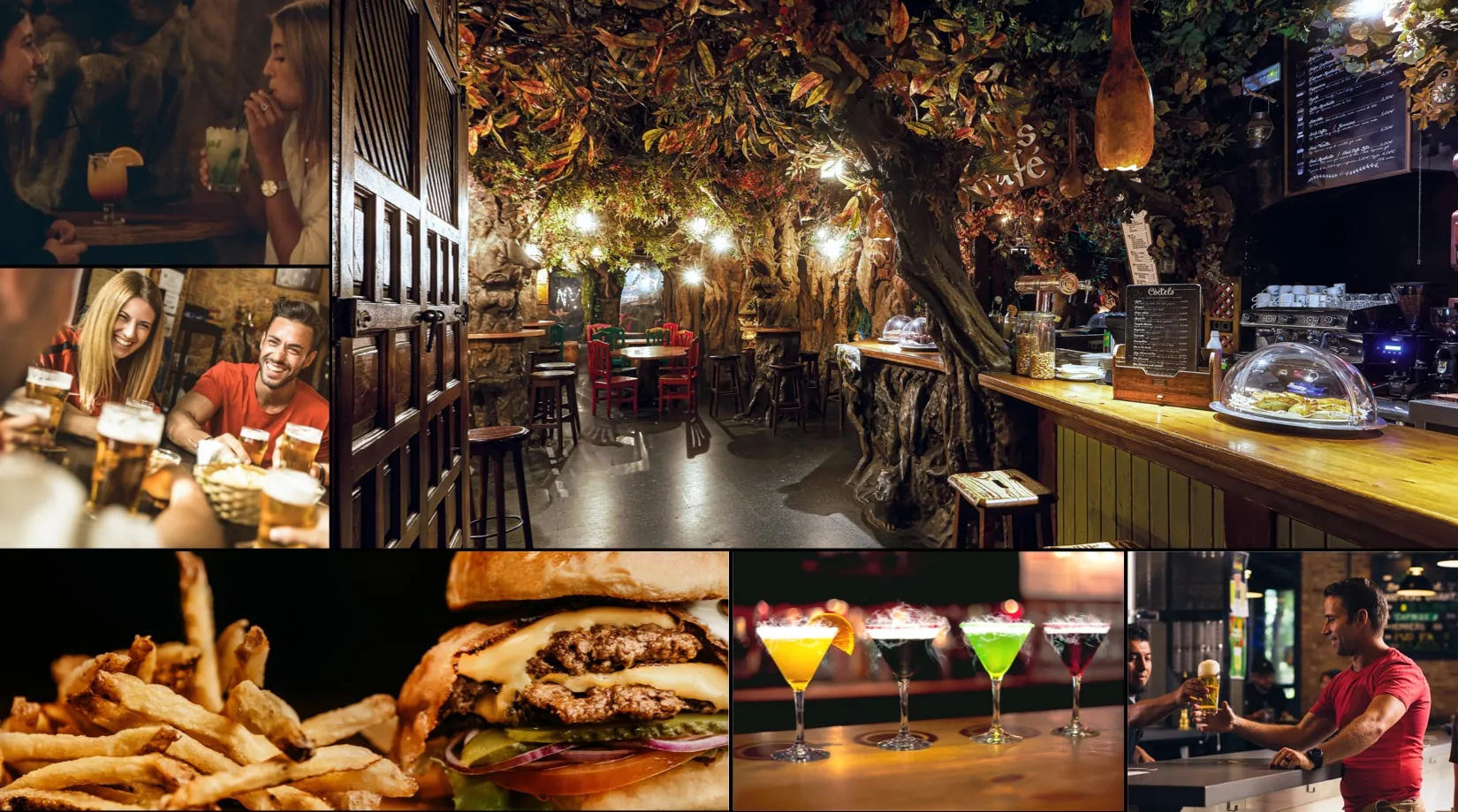 El Raval district: the least touristy neighborhood in Barcelona
Known for its multicultural atmosphere, artistic scene, and historical landmarks, El Raval offers a unique blend of history, contemporary art, and diverse culinary experiences. It's one of the most amazing places you ca find in Barcelona, with a great vibe.
Speaking about culture, this place is home to several museums and cultural centers, including the Museum of Contemporary Art of Barcelona (MACBA) and the Center of Contemporary Culture of Barcelona (CCCB). These institutions host exhibitions, events, and performances that showcase modern art and culture. If you're lucky, you might just be in time for one.
Hungry or in need to taste some Catalan cuisine? El Raval offers a wide range of dining options, from traditional to international flavors. You can find cozy coffee spots, trendy restaurants, and tapas bars, along its vibrant street art scene.
But where could you actually get a glimpse of the local atmosphere? Well, like in any city: the market! The Mercat de Sant Antoni is a popular local market where you can browse stalls selling fresh produce, meats, and other goods. It's a great place to experience the local atmosphere and maybe even enjoy a snack or meal.
Non touristy things to do in Barcelona – Escape Room Fun
Barcelona has lots of Escape Rooms where you can enjoy an afternoon. If you've never ventured in such a game before, you should while in Barcelona!
You'll be closed in a space where you start your journey and you can only get out by discovering and solving clues that are placed inside. For around an hour, you'll have to put clues together, solve riddled and come up with answers that fit the questions.
There are various themed rooms, where you can go undercover as a journalist and solve mysteries, jump into SWAT missions, get jailed or even escape from the Jumanji jungle. It's a great way to bond with friends and train your mind!
The Escape Room games last from 60 to 120 minutes. You either manage to get out of the room or not. Prices can vary between 16 – 25 EUR for each person attending the game.
How to avoid crowds in Barcelona?
Barcelona is a popular tourist destination, and certain attractions can get crowded, especially during peak travel seasons. If you prefer to avoid crowds and have a more relaxed experience, here are some tips:
Plan your visit outside peak times: Consider visiting Barcelona during the shoulder seasons of spring (April to May) or fall (September to October) when tourist crowds are generally smaller compared to the summer months.
Explore early in the morning or late in the evening: Many attractions tend to be less crowded during the early morning or late afternoon/evening hours. Plan your visits accordingly to enjoy popular sites with fewer people.
Visit lesser-known attractions: Barcelona has plenty of hidden gems and off-the-beaten-path attractions that are equally fascinating but less crowded. Research and explore these lesser-known places to experience a different side of the city.
Avoid weekends and holidays: Weekends and public holidays tend to attract more visitors. If possible, plan your visit on weekdays when the crowds may be smaller.
Purchase skip-the-line tickets or book timed entries: Some popular attractions offer skip-the-line tickets or timed entry slots, allowing you to bypass long queues. This can help you save time and avoid the busiest periods.
Explore local neighborhoods: Barcelona is made up of diverse neighborhoods, each with its own charm and attractions. Spend time exploring local neighborhoods away from the main tourist areas to experience a more authentic and relaxed atmosphere.
Be flexible with your itinerary: Allow for flexibility in your schedule so that you can adjust your plans if you find certain places too crowded. Discover alternative attractions or visit popular sites during off-peak hours.
What are the dos and don'ts in Barcelona?
When visiting Barcelona, it's helpful to be aware of the dos and don'ts to ensure a respectful and enjoyable experience. Here are some general guidelines:
Dos:
Do try the local cuisine: Barcelona is known for its delicious food. Sample traditional Catalan dishes like paella, tapas, and seafood.
Explore the local neighborhoods: Barcelona is a city of diverse neighborhoods, each with its own unique character. Take the time to wander through neighborhoods like Gracia, El Born, and Eixample to discover their hidden gems.
Learn basic Spanish or Catalan phrases: While many locals in Barcelona speak English, making an effort to learn a few basic phrases in Spanish or Catalan can go a long way in showing respect and making connections.
Respect local customs and traditions: Barcelona has its own cultural customs and traditions. Respect local customs, such as observing siesta hours or being mindful of noise levels in residential areas.
Be cautious of pickpockets: Barcelona, like many other popular tourist destinations, has its share of pickpocketing incidents. Stay vigilant, keep an eye on your belongings, and be cautious in crowded areas.
Don'ts:
Don't forget to validate your metro or bus ticket: When using public transportation, make sure to validate your ticket at the machines before boarding. Failure to do so can result in a fine if caught by ticket inspectors.
Don't litter: Barcelona is committed to keeping the city clean and beautiful. Dispose of your trash in designated bins and be mindful of the environment.
Don't wear revealing clothing in religious sites: When visiting religious sites, such as churches or cathedrals, it's respectful to dress modestly and avoid wearing revealing clothing.
Don't rely solely on taxis: Barcelona has an excellent public transportation system, including buses and the metro. Utilize these options to get around the city and avoid relying solely on taxis, which can be more expensive.
Don't ignore local regulations: Observe and follow local regulations, such as smoking restrictions, parking rules, and noise regulations, to avoid any issues or fines.
Visiting off the beaten path offers a different perspective on Barcelona, showcasing its multicultural identity and creative spirit. Besides the fact that it's a place full of history, art, and culinary delights, it's also a city where everyone can get a bit of everything. You can be a young spirit, a teen looking for fun, a senior or in between, Barcelona has it all! Remember to be open to new experiences, embrace the local culture, and approach your visit with a sense of curiosity and respect