If you're already planning your trip here, you surely don't want to miss out on the best beaches in Montenegro! Or if you have already decided what to visit, be sure to add these on your list if you're someone like me who enjoys tanning.
Many that tour Montenegro would stop at Zabljak to venture into nature in Durmitor National Park, Mount Lovcen for hiking, near Kotor, or the Ostrog Monastery that's been carved out of a cave, on a mountain cliff. But besides medieval cities, Montenegro has some amazing beaches that might just make you want to move there.
Sveti Stefan Beach
Although it's a beautiful sandy beach, with a spectacular view, it's not one of the most crowded beaches in Montenegro. With its spectacular sparking water, several good restaurants where you can enjoy a delicious meal and not so loud music, this spot is perfect for relaxation!
Sveti Stefan is actually a small beautiful island, connected to the land by a walkway. You'll want to enjoy the sun laying in Milocer beach ,former summer residence of Queen Marija Karadjodjevic. The views are just breathtaking and you'll surely understand why this is one of the best beaches in Montenegro once you reach it.
Ulcinj Beaches
Although a bit rocky, Valdanos Beach attracts tourists that love nature in its wild form. This place has not yet been urbanized, and so it still keeps the charm of the untouched nature.
You'll find it is surrounded by olive trees which makes it an ideal place for visitors that want to enjoy privacy. We must say though, if you're keen on entering the water, be sure to bring your water shoes. This place is filled with sea urchins.
If you would rather sit naked on a beach and enjoy the perks of having a flawless tan, then your best option would be Ada Bojana. It's perfect for those of you that enjoy being free of all clothes and judgements.
With its fine sand, shallow water and perfect sunsets, this nudist beach guarantees you a relaxed day. So, if you're looking for a beach that completely expresses freedom, then be sure to check out Ada Bojana!
Long Beach or Velika plaza, should be your option if you love buzzling beaches, kites and surfing. You shouldn't miss it even if you're traveling with your children, as the water is not that deep. The free pebble beach and the amazing fish restaurants will make your stay fabulous.
Tivat Beaches
Tivat is a coastal town in southwest Montenegro, located in the Bay of Kotor. It's a great place where you can enjoy the sun, while settling in one of 17 beaches in Tivat Riviera. Besides its pristine shore beaches, you can also take a dive in one of the tree islands nearby: the "Isle of Flowers", Ostrvo Sveti Marko isle and the Otok Gospe od Milosti "The Lady of Mercy Isle".
Opatovo Beach, Donja Lastva or Belane Beach are just a few worth mentioning. If you're looking for a city beach, then Belane Beach is the sandy beach located right in the center of the town, near hotels and promenades. The other two are 3 to 1.5 km further away from the city, but they guarantee fine sand and sparking water.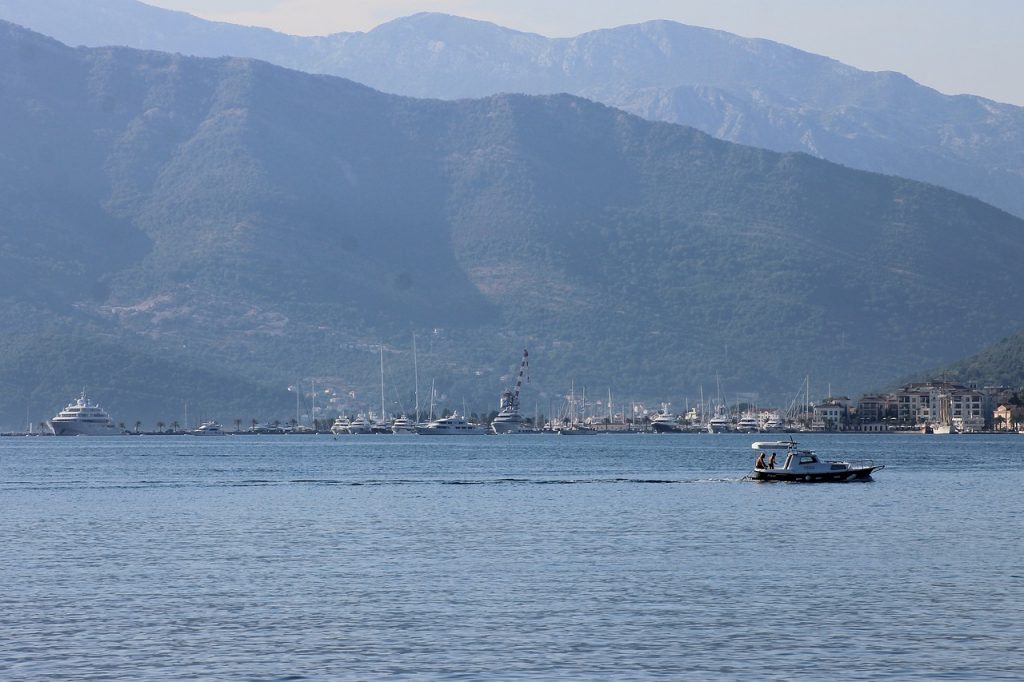 Herceg Novi Beaches
If you're looking for something with an unique atmosphere, then Dobrec Beach is what you'll want to visit. Because it can only be reached by boat, this special beach has maintained its personal charm, great food serving and super comfy bungalows. It's practically a piece of paradise, with a laid back atmosphere.
Zanjic Cove is one of the most attractive swimming and picnic areas in Herceg Novi. It's a small pebble beach, carefully hidden by three cliffs, with clear warm water and a couple of restaurants. You can get there either by boat from Herceg Novi, or by car through very steep and narrow driveway
Mogren Beach in Budva
If you like privacy, then this is one of the best beaches in Montenegro where you can relax. It's sheltered by an imposing cliff that just make the view spectacular!
Mogren beach is also easily accessible by road, so you won't have to worry about having an adventurous ride to reach it. Although it's somewhat secluded, it doesn't lack sunbeds or beach bars. This is one of the favorite beaches in Budva, near the Old Town.
The most awesome feature is that it's actually formed by two strips of sand, connected by a tunnel. It's fairly quiet if you don't go there in peak season, but it doesn't lack blasting music. So, if you're looking for a more family friendly beach, then you should surely pass on this one.
Secluded Beaches in Montenegro
Plaza Zukovica is a secluded beach mainly because it's one of the most inaccessible best beaches in Montenegro. It can be reached by adventuring on a gravel road that will just scratch your car if you're not very careful. But don't get discouraged by the rocks or cliffs, as this beach has some unique spots that are just perfect if you're looking to get away from it all. Mind you, there's no phone signal there or electricity for that matter. But, rest assure, you'll find several small coffee shops and a restaurant.
Crvena Stijena beach (Red Rock Beach) is located near Bar, behind the hill Volujica and it's perfect to hide from all the noise and crowds and enjoy a moment of silence. It's easily reachable by boat and you'll find it's a great picnic spot with natural shade. It's rarely visited due to its location, but the view is impressive!
If you enjoy nature, then this blend of sea, cliffs and forest is one of the best beaches in Montenegro where you can throw a party without anyone knowing! Hladna Uvala (Cold Bay) is a small fishing bay, located halfway between Bar and Ulcinj. This can be a private paradise, just for you to enjoy, as it rarely gets visitors due to its secluded location.
So, if you've already booked your summer vacation in Montenegro, make sure you visit at least one of these amazing beaches. There's surely one that will guarantee you a warm stay!