Siem Reap is the capital and biggest city of the Siem Reap Province in northeastern Cambodia and the country's second-largest.
In the Old French Quarter and surrounding the Old Market, Siem Reap contains French colonial and Chinese-style buildings. Museums, traditional Apsara dance performances, a Cambodian cultural village, souvenir and handicraft stores, silk farms in the countryside, restaurants, fishing villages. Also, it includes a bird sanctuary at Prek Toal and a cosmopolitan drinking and dining scene, which can all be found inside the city.
Why is Siem Reap famous?
There is just one reason why so many people visit Siem Reap: mainly to see Angkor Wat. The dome is the world's largest religious building, with an imposing structure and size. You have to keep in mind that this temple was constructed over 1000 years ago before we had any of the technology that we have today.
As a major tourist destination, Siem Reap now features many hotels, resorts, restaurants, and other tourism-related activities. This sight is primarily due to its closeness to the Angkor temples, Cambodia's most renowned tourist destination.
Top sights to see in Siem Reap
The city of Siem Reap is flourishing. It's easy to understand why people come to visit it, with its magnificent temples, delectable street fine dining, and exciting nightlife. Further than the famous Angkor Wat, here are the most pleasing sights to see.
Angkor National Museum
This modern museum, which is an excellent complement to a visit to Angkor Wat, does a great job of explaining and unpacking the history of the Angkorian period, with audio-visual presentations, excellent information boards, and a well-organized collection of Khmer jewels from the site's shrines, as well as pieces from other Cambodian archaeological sites.
One of the best ways to get your mind around the many phases of the Angkorian period, as well as the succession of monarchs who tried to outbid each other on their temple-building ambitions, is to pay a visit here.
The Butterfly Center at Banteay Srey
This attraction is Southeast Asia's largest butterfly sanctuary, home to thousands of unique butterfly species that float freely around a vast, enclosed tropical garden abounding with lush greenery and a variety of tropical flowers. A trip here is a fun natural break, especially for families with little budding naturalists in tow.
You can watch the entire life cycle of a butterfly from the pupae stage to the adult stage, in addition to appreciating the stunning kaleidoscope of colours created by the large number of various butterflies in the garden.
The Gibbon's Flight
The Flight of the Gibbon zipline tour is located inside the Angkor Park region and hasten zip lines that span a jungle sky over a two-hour route. There are four suspended sky bridges, a 50-meter abseil for the thrill, and 21 platform stops along the way. Edible plants, medicinal plants, wild orchids, and a tarantula house are among the many possibilities to learn more about the rainforest environment and flora and animals.
There's also a chance you'll see gibbons in the nearby jungle since a number of them have been released back into the wild. The tour includes pick-up from Siem Reap hotels as well as lunch.
Is Siem Reap Worth Visiting?
Siem Reap is home to a variety of gorgeous cultural attractions and a multitude of recreation activities.
Yes, it is worth visiting, even if you just want to see the world-famous Angkor Wat temples. In addition, the natives are kind, and the costs in Siem Reap are reasonable. Is it an Expensive Destination? No, if you compare Siem Reap to other Cambodian cities, it is not pricey at all.
Best Restaurants in Siem Reap
The top restaurants in Siem Reap attract visitors with high-quality cuisine, extensive drink menus, friendly hospitality, beautiful surroundings, and walkable central locations from most of the city's hotels.
Banlle Vegetarian Restaurant
Bangle Vegetarian Restaurant in Siem Reap caters to vegan with meatless versions of classic Cambodia, Asiatic, and European foods. This local restaurant, housed in a traditional wooden home in Wat Bo Village, also produces veggies to serve healthy, organic, and nourishing dishes.
Quesadilla with guacamole, veggie amok with steamed rice, and vegetarian eggplant tempura standouts at Banlle Siem Reap. There's also a nice assortment of fruit smoothies and juices, as well as ice creams and sorbets for a try.
Café by IndoChine
Café Indochine is a high-end restaurant in Siem Reap's Sivatha Street. The elegance of the restaurant sets the tone for a pleasurable eating experience.
Steaks, Khmer set meals for two, and Italian pasta dishes are among the menu's highlights, including steaks, Khmer set menus for two, and French and European cuisine. Cambodian delicacies such as beef salad and chas kruang are must-tries during a visit to Siem Reap (curry steamed in banana leaves). A generous portion of French-style salads will accompany your selections. Homemade ice cream, banana flambé, or mango ice cream with apple liquor can also be available dessert.
Ecstatic Restaurant
If you're looking for delicious Italian pizzas in Siem Reap, go to Ecstatic Restaurant. This pizza parlour has been offering pizza, Italian food, and Khmer food since 1994, with more than enough options to treat you to a quick yet good snack to cool down from the Cambodian sun.
There are 20 different types of pizza to choose from, so there is something for everyone. Thin or thick crust pizzas are available. With loads of cheese and a flavorful sauce, the eggplant parmesan is very excellent. Breakfast is served all day at Ecstatic Restaurant.
Is Siem Reap Safe?
Siem Reap, is Cambodia's safest destination. It has become a popular tourist destination and accommodates that with ease. While minor crime is regretfully commonplace, one can stay secure if they keep their senses about them.
The city is safe when it comes to more violent crimes, so travelers should follow the advice, act as they would in any other tourist location, and enjoy their lovely vacation. But, be aware at all times of your belonging and yourself!
Hotels in Siem Reap
The Unique Angkor Villa – from $22 USD per night
Enjoy this location and the superb views it has to offer. Located at less than 1 km from the city's center, this villa operates with a 24h front desk.
Couples particularly like the location — they rated it 9.6 for a two-person trip.
The facility also has one restaurant on site, serving Asian cuisine and a tasty selection of Khmer and Western dishes.
Room size varies from 21 square meters for a deluxe double room with free airport pickup, to 45 square meters for a premier king room. When booking any room, you have a free airport pickup!
Nearby attractions include Artisans D'Angkor, Angkor Night Market, The Happy Ranch Horse Farm, Angkor National Museum, Cambodian Cultural Village. These are all within a 3km radius. If you want to visit Angkor Wat, that's 7km far away from the villa.
Siem Reap – Angkor International Airport is only 8km away. Don't worry about the trip from the airport to the villa: the managers have you covered!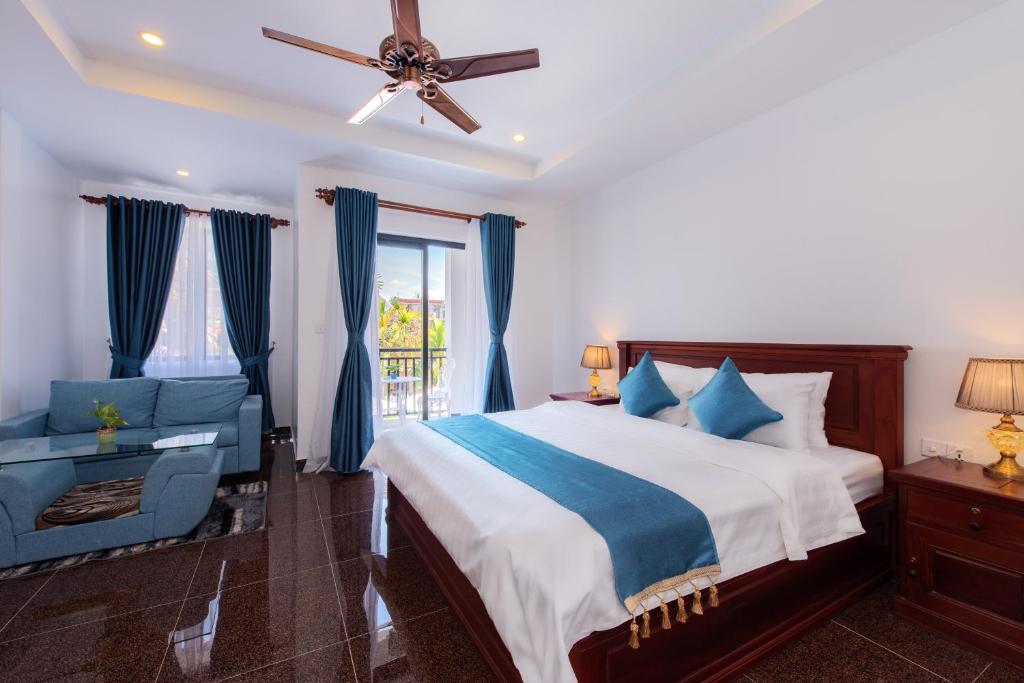 Hillocks Hotel & Spa – from $64 USD per night
This fabulous location is less than 2km away from the city's center and features an outdoor swimming pool and a fitness center.
Couples particularly like the location — they rated it 8.6 for a two-person trip.
The property has in in house restaurant that serves local Khmer cuisine as well as Asian and Western dishes. You can take all the meals at Green Hill restaurant, on site.
Rooms are quite large to begin with. The smallest suite is 50 square meters, while the presidential suite has 150 square meters.
King's Road Angkor, Angkor Trade Centre, Major Cineplex Siem Reap, Wat Bo Temple and Pub Street are all in a 1.3km radius.
While Angkor National Museum is 2 and a half km away, you'll need to 7.5km to get to Angkor Wat.
Siem Reap – Angkor International Airport is 9km away and you get a free one way pickup or round trip – depending on your stay.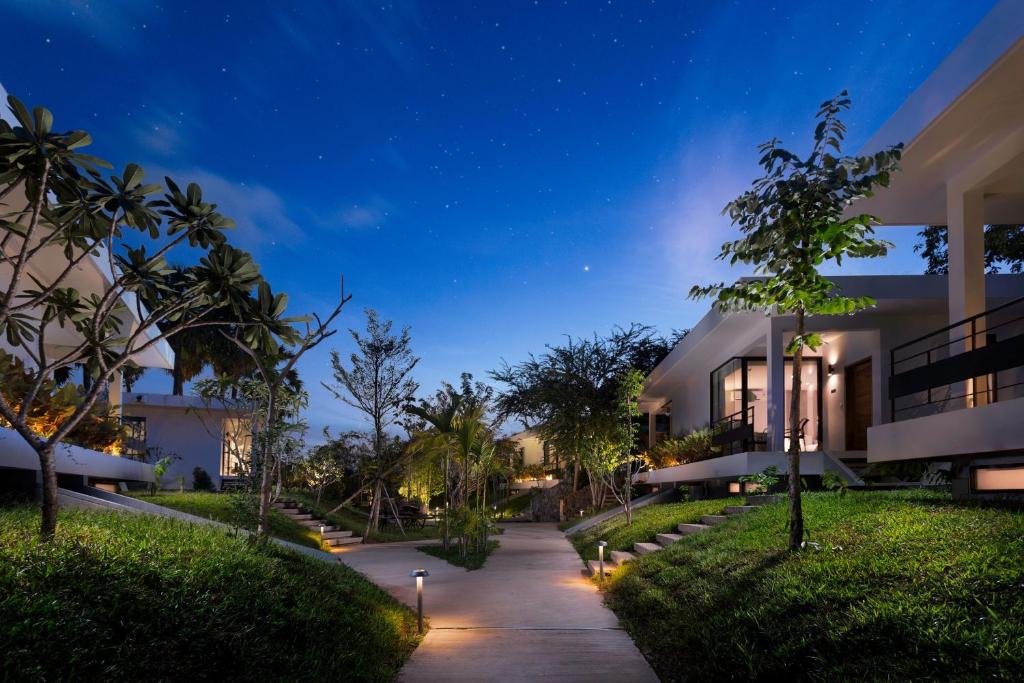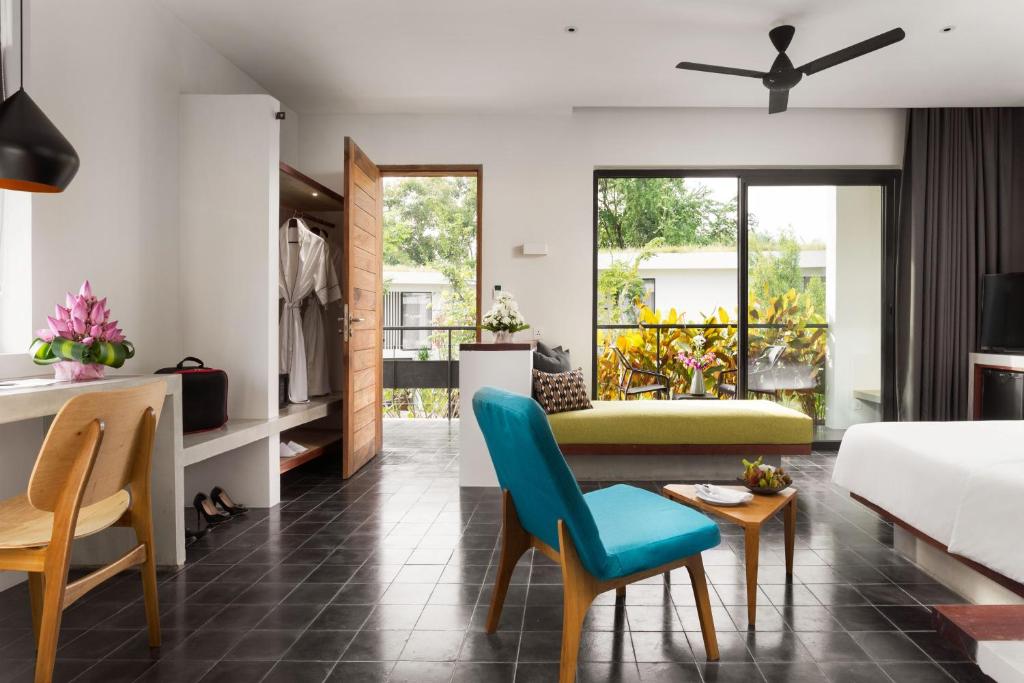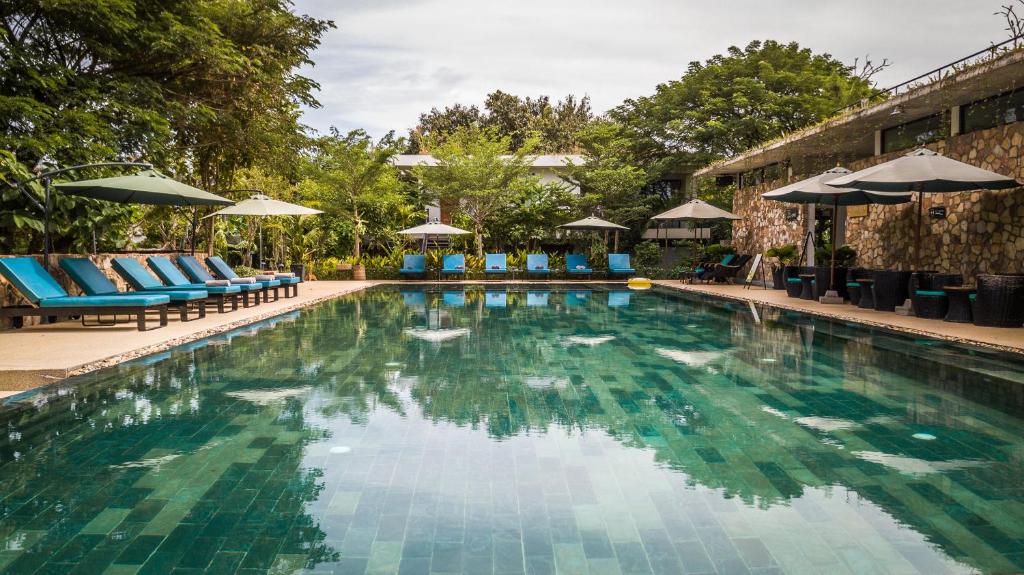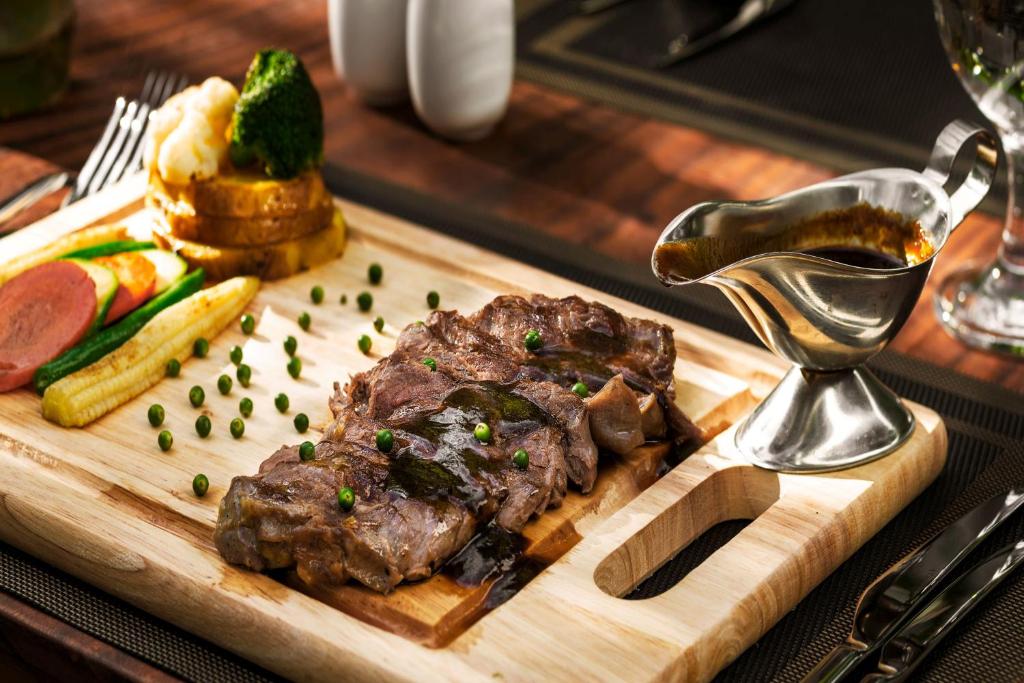 Blossoming Romduol Boutique – from $13 USD per night
At just 1 km away from the city center, this location has been rated as being very good by tourists. Not only that, but it's been rated over 1400 times!
Couples particularly like the location — they rated it 8.8 for a two-person trip.
While you can get a good breakfast at $3 USD, you can also have the other meals at Sweet Lullaby Restaurant. This restaurant is on site and offers traditional Khmer, fusion and International dishes.
Room size varies from 16 square meters for a double room with air conditioning, to 20 square meters for a deluxe double room with a balcony.
The Happy Ranch Horse Farm, Cambodian Cultural Village, Preah Ang Chek Preah Ang Chom and Angkor Panorama Museum are all in a 4km radius. While Artisans D'Angkor, Major Cineplex Siem Reap, the Old Market, Angkor Night Market and many more are just 500m away, if you want to visit Angkor Wat – that's 7km far!
Siem Reap – Angkor International Airport is 8km away from the location.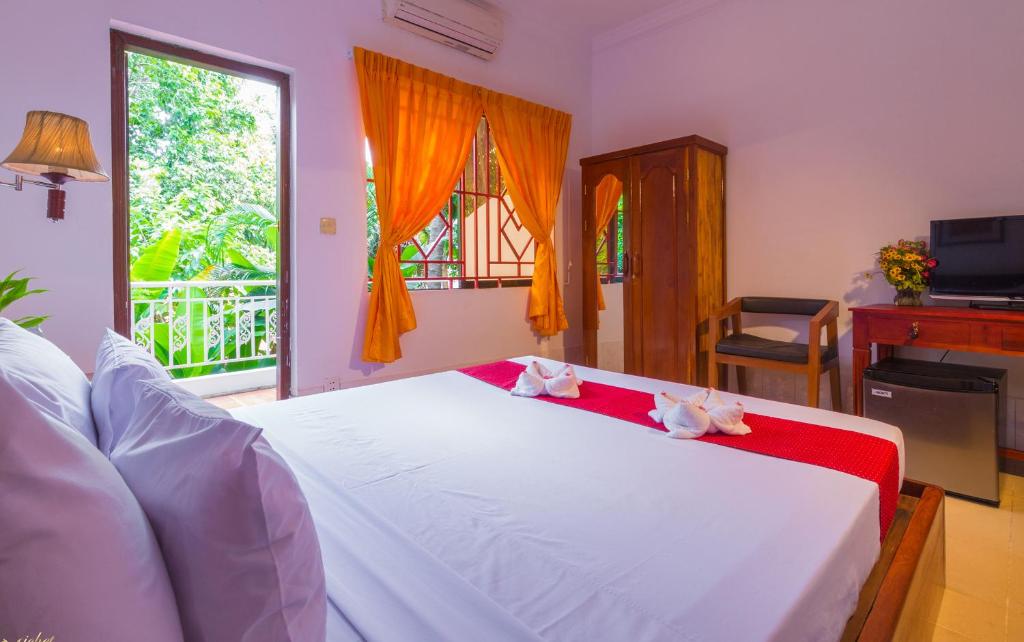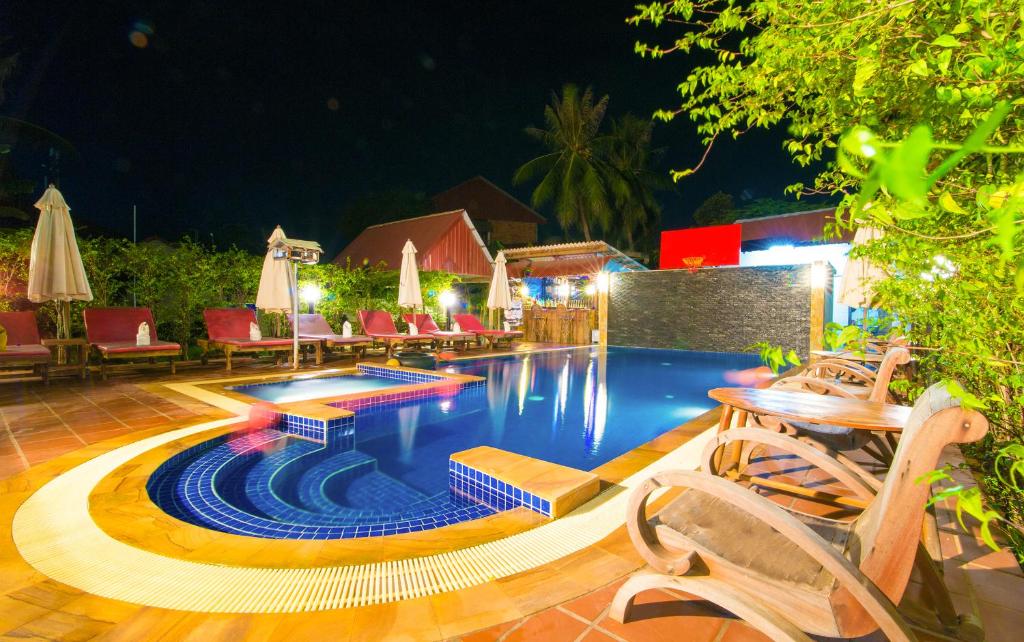 There are many things to see and do in Siem Reap, including fantastic restaurants and other attractions. Suppose you're a tourist looking for something unique to do. To accomplish this, you must go across Siem Reap with your family and friends. Or, why not, on your own!