Caye Caulker is roughly 21 miles northeast of Belize City and takes around 45 minutes to get by private water taxi. Despite being just half a mile broad and five miles long, Caye Caulker is the second-largest island in Belize. It is located within the Belize Barrier Reef.
Caye Caulker is a fantastic spot to get a PADI or NAUI diving certification, with lessons held immediately on the adjacent reef. Caye Caulker also has a lot to offer in terms of activities and beautiful locations to visit, such as restaurants, beaches, and other attractions.
Things to do in Caye Caulker
The Split
They split all the activities between doing in Caye Caulker; this is the one you'll do the most. The Split, located on the island's northernmost tip, all the cool kids hang out. Spend the day at the dock resting, swimming, socializing, watching kite surfers, and soaking up the sun.
Beverages can purchase at The Lazy Lizard pub or a 20 Belize bucket of ice-cold Belikin Beer. You have arrived at Caye Caulker. Relax and have a good time. You will undoubtedly meet a wide range of individuals here and possibly make some lifelong friends
Try Kite Surfing
During the high season, the island of Caye Caulker offers exceptional kitesurfing conditions on most days. A strong easterly wind, flat water, and a shallow lagoon make this a fantastic site to learn kitesurf.
If you want to give it a try, go kite surfing with Kitexplorer in Caye Caulker and experience the thrill of riding the wind! It's probably just as much fun (and challenge) as it appears.
Rent a Bike
For 15 Belize a day, rent a bicycle and bike around the island. Cars and other motorized transportation are prohibited on Caye Caulker. It's also the most enjoyable mode of transportation. Caye Caulker's motto is "travel slow," so be careful to follow it; the roads are uneven and packed with little peaks and falls. If a local see you rushing down the street on your bike, expect yells of "Hey guy, calm down."
Restaurants in Caye Caulker
Chef Juan's
Chef Juan's kitchen is fantastic. This site can be your favourite restaurant on the island. Although the site lacks a view and is a little off the main road, the cuisine is outstanding. You place your order at the counter and will be notified when your food is ready. Every meal they took here is just delicious. This location is relaxing and lovely.
Pasta Per Caso Anna & Armando
Italian cuisine on the island of Caye Caulker? Yes, as well as excellent, authentic Italian cuisine. The salads are delicious, and you felt secure eating them there — that is lovely to eat something green for a change! You're seated at big tables with other tourists, which is quite enjoyable. The kinds of pasta are well-made, inventive, and tasty. Because this tiny establishment appears to be highly popular, it is one of the few restaurants on Caye Caulker where you should make reservations.
Hibisca Restaurant
The cuisine is unique and diverse, from handmade pasta and Thai coconut curries to Brazilian pork or spicy fajitas made of beef, chicken, or jerk pig. The evening specialties are usually creative versions of whatever fresh fish and seafood are caught that day. The beautiful, open-air wrap patio of this raised-stilt wooden residence is filled with heavy wooden tables
Indoor dining is available, but you'll want to attempt to get one of the outside tables. Throwers of margaritas and sherry are available, and there's a decent wine list for Caye Caulker. The cuisine is incredibly memorable for most people, but it is also somewhat pricey.
Beaches in Caye Caulker
Beaches of Caye Caulker Northside Beach Club is home to what you feel to be Caye Caulker's most fantastic beach. It's, without a doubt, the largest beach on Caye Caulker that has sand. There are several free deckchairs, sun loungers, and hammocks, as well as covered swinging beds that can rent for a charge.
Split Beach
It's a fantastic spot to spend the day. The Lazy Lizard is an excellent pub and grill with fabulous food and refreshing beverages. North and South Caye Caulker are separated by the Split, which is a body of water. It's a beautiful spot for free exploring. There is a port where you may relax and sunbathe, as well as convenient access to the ocean. For those who wish to try their luck, there is also a fishing area. Rental kayaks and paddleboards are available.
Relax at Iguana Reef
Iguana Reef rapidly became my favourite beach on Caye Caulker's entire island. It's a beautiful, clean beach that's not quite as congested as Split. It also has six beds in the sea, so you can truly relax on a hammock in the middle of the ocean. Iguana Reef includes a bar, around 40 beach lounge chairs, and a variety of aquatic life, including sea horses, stingrays, and crabs, swimming about in its shallow waters.
With a snorkel and mask, you can view stingrays, more than 20 different types of fish, seahorses, and the most relaxed pelicans you've ever seen. It's on the island's west side, so it's a great place to watch the sunset. If you want to obtain one of those beautiful ocean hammocks, get there early.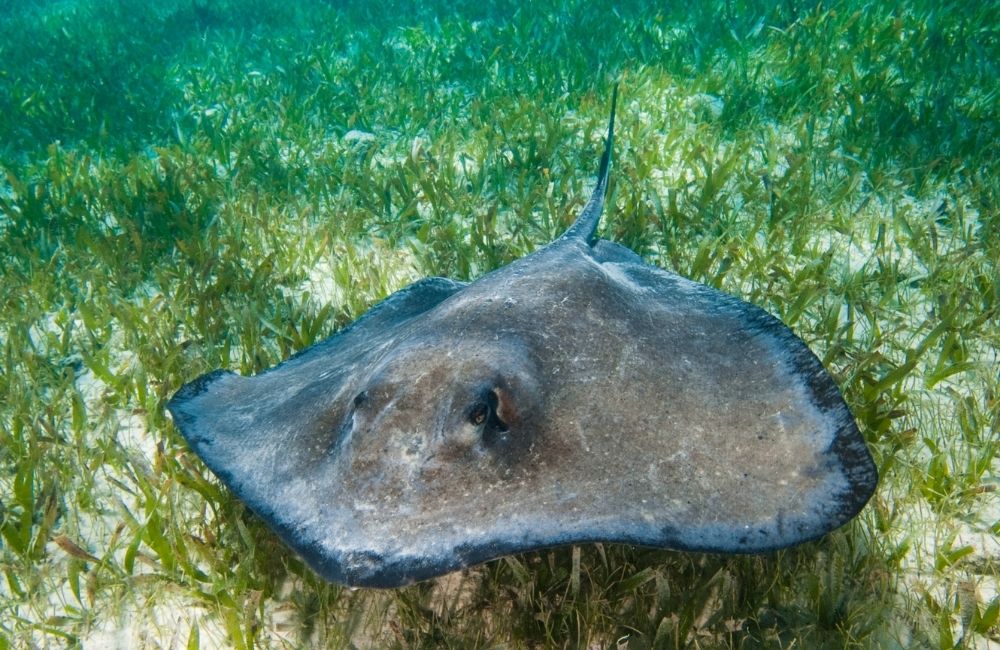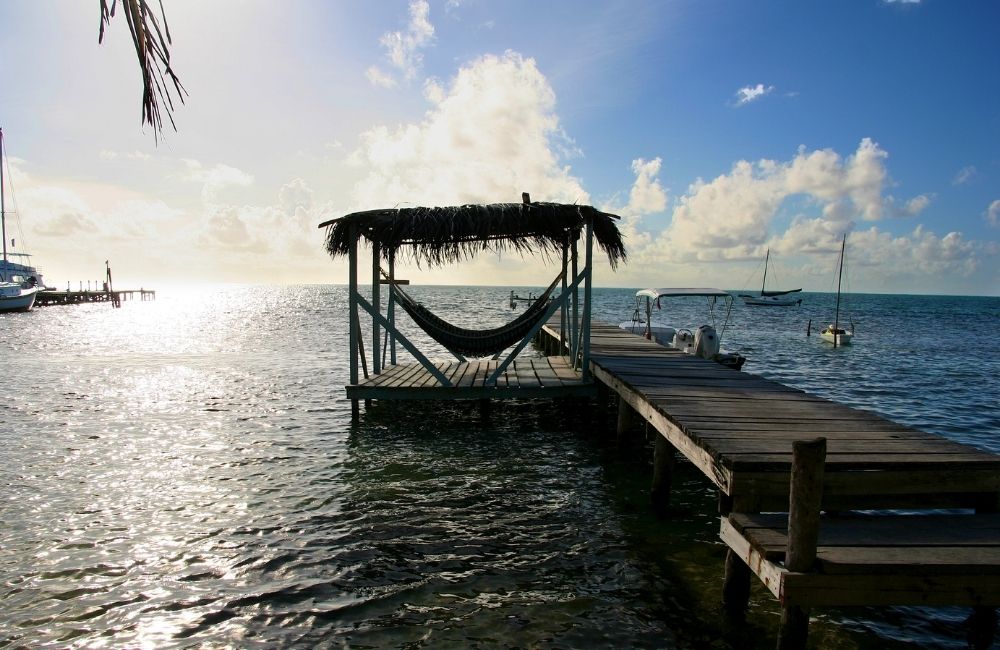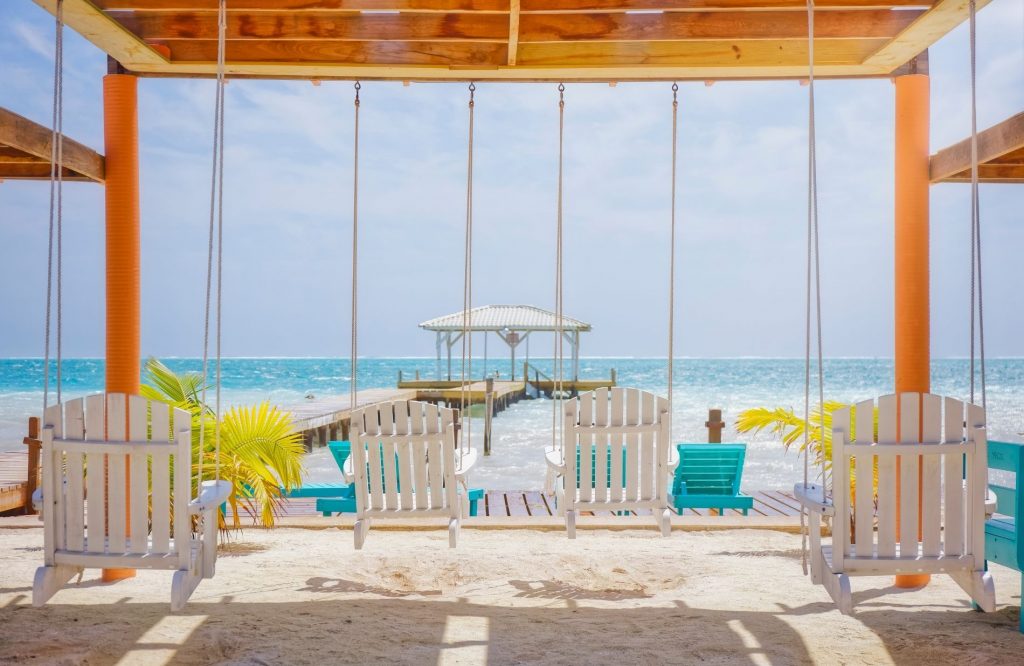 Weather in Caye Caulker
The weather is pleasant throughout January. In January, for example, the highest temperature is 27°C.
The weather is nice between February and May. This month's high temperature is 35°C, and 14 days of rain are forecast for May.
March, April, May, June, July, August, September, October, and November are the hottest months on average.
Between June and December, the weather is pleasant but not ideal. This month's high temperature is 32°C, and you may anticipate 75mm of rain every month throughout this time.
The water temperature is warm enough to swim in the year.
Where to Stay – Hotels in Caye Caulker
If you're thinking of staying in Caye Caulker, then don't worry about your budget! There are plenty of places that can accommodate your needs. Ranging from affordable beachfront hostels, to seaside villas, you'll surely find something listed below.
Bella's Backpackers – from $49 USD per night
Located at around 2.7km from the city's center, but only 100m from Caye Caulker Beach, this accommodation is perfect for travelers seeking to enjoy a sea side view, at lower costs!
Couples particularly like the location — they rated it 9.2 for a two-person trip.
Although Bella's Backpackers doesn't have a restaurant where you can eat, you have the option of having breakfast for just $6 USD. Also, you have a barbeque at the property and a shared kitchen, so you can cook if you like to.
Room size ranges from a 16 square meter double or twin room, to 27 square meters for a bed in a 6 to 8 dormitory room.
The closest airport is Sir Barry Bowen Municipal Airport – only 31Km away. Philip S. W. Goldson International Airport is 38km far away and Chetumal International Airport about 90km away from this location.
Seaside Villas – from $237 USD per night for an entire Villa
This property offers a beachfront view, right next to Caye Caulker Beach. It features an outdoor pool and a hot tub for its guests.
Couples particularly like the location — they rated it 10 for a two-person trip.
You can chill in a one bedroom villa of 74 square meters if you decide to come here, or 93 square meters for a two bedroom villa with a sea view.
Tourists loved the place because it's centrally located, has an awesome rooftop hot tub and a comfy bed! Besides, it's only 30km away from Sir Barry Bowen Municipal Airport and 37km from Philip S. W. Goldson International Airport.
Dream Cabanas – from $75 USD per night
200 m from Caye Caulker Beach, this place offers you air conditioned rooms where you can chill, after a sunny hot day.
Couples particularly like the location — they rated it 8.4 for a two-person trip.
Although the place doesn't have a restaurant, you'll find Little Kitchen Restaurant, Reina's, Pasta per Caso and more nearby. Café bars are also in the 300m range.
All the rooms have 35 square meters and all enjoy having free wi-fi, a private bathroom, terrace and an amazing view!
The closest airport is Sir Barry Bowen Municipal Airport – only 30km away. If you're coming from Philip S. W. Goldson International Airport, that's 38km away. Chetumal International Airport is 91km far away.
Caye Caulker is a coral island that's a bit rocky, in the Caribbean Sea off the coast of Belize. It measures roughly 5 miles by less than 1 mile. Caye Caulker Town is the name of the village on the island. There are numerous things to see and do in Caye Caulker. If you're a visitor looking for something different to do, you must take your family and friends to this island. Or, why not, travel alone and explore the surroundings! Caye Caulker also features several beaches, fantastic restaurants, and a variety of other activities that you can enjoy!