Visiting Jordan And The Amman Region
If visiting the Amman region and Jordan is on your travel list, then this article is just what you need to read!
When people think of the Middle East, many believe that it is either in war, experiencing terrorism, or a constant state of violence.
However, this misconception does not accurately reflect the entirety of the Near East. There are places that have been not only peaceful, but are centers of culture and history that every person should take the chance to experience.
One of these countries is the Hashemite Kingdom Of Jordan.
Established in 1946, around the same time as the State Of Israel, the land of Jordan has been relatively peaceful when place in comparison with its northern and eastern neighbors. With such stability and its high human development, Jordan has been and is a great country to visit.
Being both an ancient and religious history, the modern cities of Jordan have very much to offer to the curious eye.
What should be particularly fascinating to tourist is much like Israel, Jordan is an excellent location for understanding biblical and ancient near East culture and history.
Dating back to the Paleolithic area, the present-day region of Jordan has been home to many biblical events and people.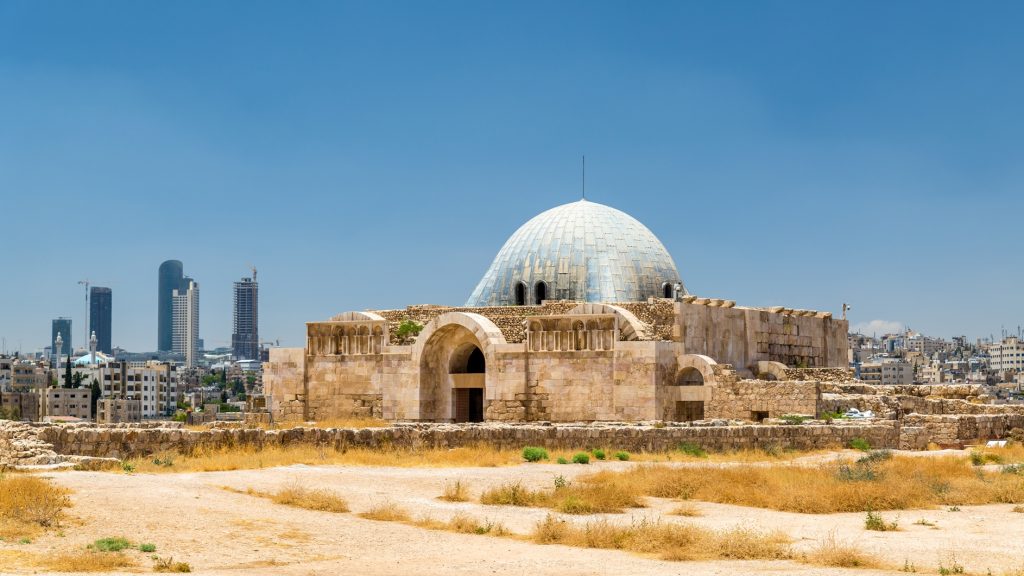 In fact, the modern city of Amman, its capital, is named after Rabbat Amman, which was the ancient capital city of the Ammonites. The Ammonites, a western Semitic group, are well known in biblical antiquity and have contributed much to the archaeological setting of Jordan, which can be seen today.
So, if you're planning on visiting the Amman region, then you won't be disappointed by the sights and history of this place!
Even though most of the ancient architecture of Jordan comes from the Greek Period of the region, that of Qasr-Al-Abd and the widely known Petra, you still can find remnants of Ammonite culture.
Places such as the Rujm Al-Malfouf, ruins of a former Ammonite watchtower, and the Amman Citadel, which is a fortified structure in the capital city are locations you shouldn't avoid seeing.
It is, however, the Hellenistic impact that has made Jordan quite reputable.
One of these Hellenistic structures is the Qasr Al- Abd. Built-in the Maccabean Period, it is said that the building was created by the notable Jewish dynasty, the Tobiads, who were supporters of Hellenism in Judea.
Architecturally it is a marvel. Flavius Josephus, a first-century Judaic historian, described the structure as a, "A strong fortress, which was constructed entirely of white marble….". This was very common among the Greeks, who employed this type of architecture into their buildings frequently.
On the other hand, Petra, which is more widely known, has been the country's top attraction and with excellent reason. Literally meaning the "Stone," the Petra is believed to have been constructed during the time of the Nabateans, a nomadic Arab group.
If you're visiting the Amman region, or even if you're not, this scene is something that will simply amaze you eyes!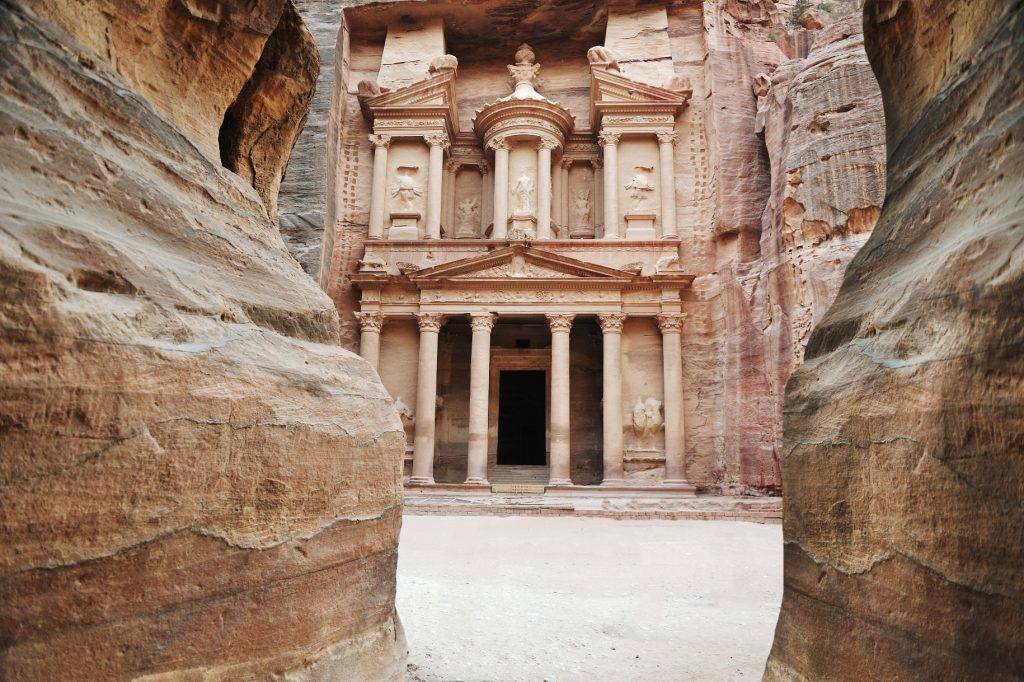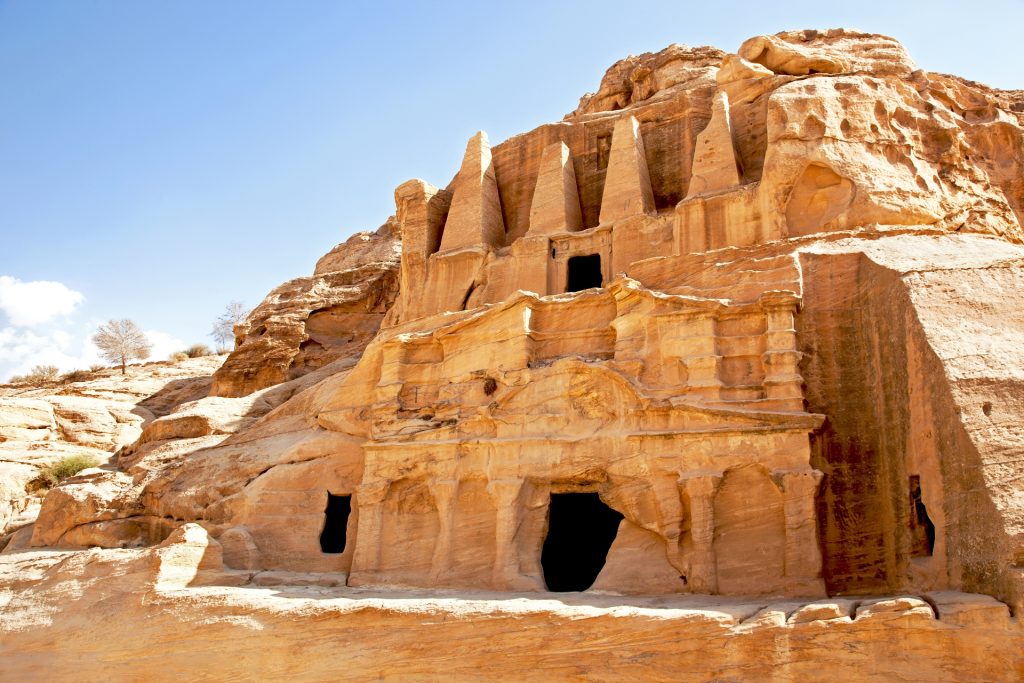 What once was the economic center of Nabatean life faded into obscurity with the area being annexed by several powerful empires, like the Greek and Roman civilizations.
Since 1985 however, the Petra has been one of the most important historical sites in the world, becoming not only a World Heritage Site, but also the symbol of Jordan.
It also is Jordan's most visited destination getting about 800,000 visitors annually. The site is open throughout the year, but emission will not be cheap. It will cost about $127 USD per person to access Petra. If you are visiting from nearby countries like Israel and Saudi Arabia, which can access the site by bus, then it will be wise to bring along your passport as it is required for entry into the country.
Where Can You Stay in Jordan?
If you are planning on staying in the area, do not worry because the region offers many great accommodations.
One you should look into is the Grand Hyatt Hotel in Amman( not owned by the American version). With the hotel being only minutes away from iconic landmarks, this location offers a shuttle service to the Petra, pool, gym, Hamman (Turkish bath), and Souq (market).
More include the Petra Bed & Breakfast, the Petra Moon hotel, and the Mövenpick Resort Petra, which are all great lodgings to visit.
If you are coming on a budget and don't want to break the bank yet you prefer good quality and service, then I suggest you consider the Ibis Amman on Mohd Fayadh al Assaf Street.
With a room costing as low as $64 USD and with 4 out of 5-star reviews from nearly a 1,000+ people, you cannot go wrong. Others include the Crystal Suites at $43 dollars and the Kindi Suites Hotel at only $66 dollars per night.
If you do not want to stay in this area and are visiting the Amman region and one of the most modern cities in the area, then Amman has you covered.
From its meager beginnings as 'Ain Ghazal, Ammon has genuinely flourished into a world-class city.
This is due to the adoption of primarily liberal and western attitudes that has made it one of the most progressive cities in the Arab World. With this comes an array of cultural richness that can be seen nowhere else in the country.
Explore the Culinary Scene of Amman
One way tourists can see this is by observing the appetizing display of Amman. Once exclusively traditional in its cuisine with the notable shawarma and falafel served commonly, if you're visiting Amman you will now see a more Westernized establishments such as French Bistros and Italian trattorias.
This is, of course, due in part to the high presence of Europeans and Americans in Amman, as many are not just tourists but also are expatriates who live in Jordan and at times, foreign exchange students.
If you are planning on eating out and experimenting with the diverse food, I suggest a few restaurants that will give you that and more.
The most widely known, that has been visited by the king, Abdullah II of Jordan himself is the Hashem restaurant in downtown Amman.
For decades, since the inception of the city, Amman's Hashem has been serving Jordanian cuisine to not only their locals, but to tourists as well. It is said that Hashem does not feel like a restaurant, but more of your home kitchen and is most likely why it is so highly rated. With no menus to choose from, most people come to expect the traditional dishes that they have grown up on.
If you are a foreigner, these dishes will include the falafel, fuul, baba ghanoush, falafel sandwiches, fatteh, and chickpeas in yogurt sauce. They have also added more western appetizers like french fries. It should be rather inexpensive to dine here as it will cost you about 3 JD's.
If you are looking for a restaurant that offers meals to satisfy your sweet tooth, then look no further than Habibah off of King Faisal Street. There you can enjoy delicacies like the traditional Jordanian dessert baklava and the more widely known dessert of knafeh nabelseyyeh.
Shopping in Amman
If you are not hungry and just want to take in the vibrancy of Amman, then you are in good hands because Amman has been highly touted as being a hub for entertainment and leisure.
One place that is worth the visit, especially for tourists, is the "Old Amman" section of the city. Here you will find the stereotypical Arab street market, or Souq, that offers many different vendors and shops.
Besides having a traditional shopping experience, visiting Amman can also provides a much more modern experience. Malls such as the Sharia'a Al-Wakalat, City Mall, and Mecca Mall all offer designer clothing and accessories that you would see frequently worn in the West.
If you are looking for something cheaper, I suggest souvenirs like the keffiyeh, a traditional male head wrapping, hand made near Eastern pottery, Bedouin dresses for both men and women, and of course, Jordanian daggers.
All of these souvenirs can be found throughout the city, but if you want to have a more pleasant exchange experience, it will be best to shop in the western section of the city.
Have fun in Amman
The nightlife of Amman is equally as exciting as you will not find it hard to have a great time in the city as almost all of Jordan's clubs are located within it's capital city's limits. This is predominantly due to Amman's young population who have turned the once conservative metropolis into the regions "Sin-City."
Even with Islamic law prohibiting the consumption of alcohol, modern Jordanians seemed to have developed an open mind towards it. One high bar that you should see, especially if you eating late at Hashems since it is near it, is the Jafra Cafe. In the downtown area, it is prevalent with locals and offers items like the Nagrileh, an oriental tobacco pipe, and plenty of affordable dishes.
Places of Historical Significance
There is, however, more to Amman than just shopping centers and bars. The city also offers excellent educational tools for tourists. Throughout the city, you can find many great Museums and exhibits that do a great job of educating visitors about Jordan.
A great place to start is the Jordan Museum, which is not only the largest, but has the most archaeological items in all of Jordan, many dating to the biblical Period. Well known artifacts that you can see include the oldest human statues from the Ain Ghazal civilization, the stele inscriptions of the Moabite victory over the Israelites, and portions of the recently discovered Dead Sea Scrolls.
Tired and in need of a place to stay? The Greater Amman area is full of great hotels and hostels that will help you settle yourself in. There are many to choose from and range in price and quality.
However, Jordan is changing that and not only have they been un-impacted by their neighbors, but they are one of the most progressive and fairly safe countries to visit.
With its ancient history going back as far as the Bible, classical landmarks like Petra, and numerous high-quality restaurants and bars, Jordan and the Amman region is a place travelers want to mark on their map.
In conclusion, Jordan and its capital city Amman are well worth the trip and offer many to those who want a taste of Near Eastern culture. With terrorism, political upheavals and general instability, the Middle East has been a region that has been avoided.
Don't forget when visiting the Amman region to see if you need VISA to enter Jordan!