Cheap Places To Eat In Los Angeles That Won't Break Your Budget
Cheap places to eat in Los Angeles that are just stunning – you wouldn't think they could exist, right? Well, you couldn't be more wrong!
Being one of the world's most diverse cities many are not surprised to see a rich and diverse culinary scene here in Southern California. With notable restaurants like Urswawa, Wolfgang Puck, and Patina, Angelenos and tourists alike are well-taken care of when it comes to dining.
The only problem is that these aforementioned places are very pricey and can honestly cost an entire paycheck! Luckily there are much more affordable alternatives that will allow you to equally enjoy the cuisine of Los Angeles.
Here are the best cheap places to eat in Los Angeles that won't break your budget.
Furn Saj Bakery & Restaurant in Los Angeles
The first restaurant on our cheap places to eat in Los Angeles list is the Furn Saj Bakery & Restaurant in Granada Hills, a neighborhood in the northern section of Los Angeles. If you are one who enjoys Middle Eastern dishes or even Mediterranean, this one is a must.
The reason why I say that is because Lebanese dishes are widely known for their versatility and quality and you can experience that at Furn Saj for cheap.
Family operated since the beginning, what makes their food great is not its 100% guaranteed quality, but the love and dedication they put into every dish. You also do not have to worry about bad service because one of their prized philosophies is to treat their customers as if they were family.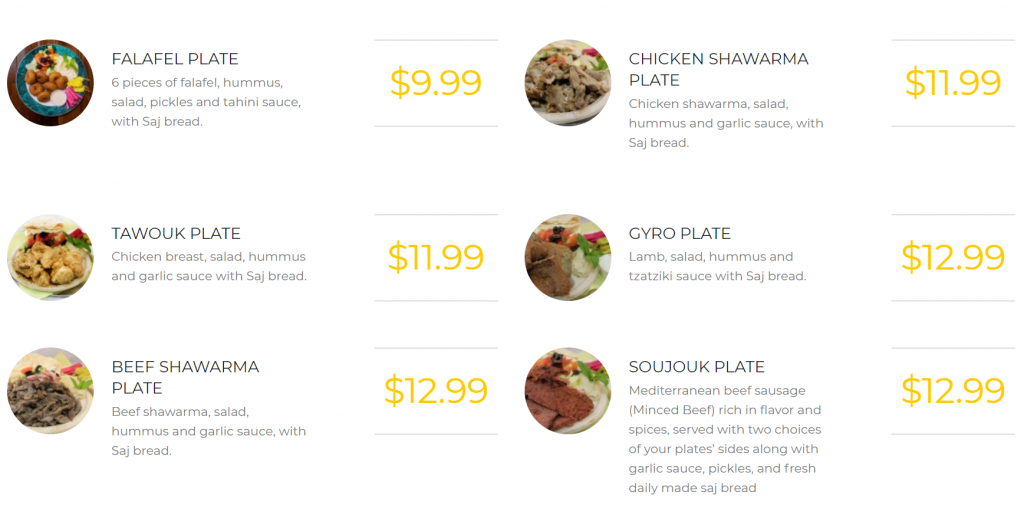 Once there, I strongly suggest trying the Beef Shawarma consisting of sliced beef with hummus and garlic sauce, surrounded by a Saj Bread.
Mana'ish is an excellent dish if you are a cheese lover, but they even have options for vegans with the light cuisines such as the Falafel plate.
If you need to satisfy your sweet tooth rest assured that Furn Saj has you covered. They have desserts ranging from pudding, called the Mahalabiyeh and Nutella covered pizzas with bananas on top.
As for prices, you can order a plate, entree, and dessert for less than or up to 30 dollars which is very reasonable considering the exotic nature of the food and the number of positive reviews it has.
How to reach Furn Saj Bakery & Restaurant in Los Angeles
Accessing this store is fairly easy as it is located off of a widely used street called Balboa. If you are entering the Los Angeles area from nearby cities like Palmdale, Lancaster or Santa Clarita, using the 14 or 5 then 405 before merging onto the 118 west, will get you there quickly.
Granted, once on the 118 west, you will need to exit off of Balboa and head south on the street. It will be on your left in the same shopping complex as the Chase Bank and will be about five stores down from that location.
If you are heading north from the areas of Downtown Los Angeles, West La, Hollywood, or the adjacent communities, always make sure you are heading north on the 405. Once you are on the freeway and have survived possibly the worst traffic you will ever experience, exit off of Chatsworth and turn left.
Once you get to Balboa make a right and it will be very hard to miss the Chase Bank, which will be a sign that you have arrived. All you have to do is enter the shopping complex and enjoy authentic Lebanese cuisine making your commute worth the effort. Parking should not be a problem considering that it is in a shopping complex.
Vivian's Millennium Cafe in Los Angeles
If you are one who enjoys having brunch, a meal that has both elements of breakfast and lunch, then look no further than the Vivians Millenium Cafe in Studio City. It's not only a cheap place to eat in Los Angeles, but it's also a famous one!
The restaurant was first started by Walter and Vivian in 1963, but besides being owned by the two of them, the store has also been owned by Angelo Pagan, an actor, and George Marshall. Many believe it is the current owners who added the Millennium into Vivian's Cafe.
Although ownership has changed over the years, the food has always stayed the same. Some dishes that are worth your trouble would be the Vivians Scramble, which are scrambled eggs with diced ham, tomatoes, onions and mushrooms. It is topped with your choice of cheese served with french fries and toast. All of this will only cost you $13.45.
If you are craving pancakes, I strongly suggest you try their combos. One combo that is definitely something you should experiment with is their French Toast Combo. The French Toast is two pieces of thick french toast, topped with fresh strawberries and powdered sugar. It is also served with two pieces of eggs and two pieces of bacon or sausage.
This delicious breakfast will only cost you $12.45 and it's one of those places in Los Angeles where you can eat cheap and still enjoy the meal!
If you are someone who wants to try other lunch options, then this place also offers a great variety of dishes that are both tasty and cheap.
Besides the Tuna Melt, a salad with tuna, tomatoes, and mayo, they also have a wide assortment of sandwiches, soups, and burgers. For their sandwiches, their Club Sandwich, a triple-stacked turkey, ham, bacon, Swiss, American cheese with tomatoes, lettuce and mayo will definitely give you the most for your dollar at only $13.95.
Burgers like the classic hamburger are strongly suggested and if you want to go light they have plenty of soups available, ranging from veggie to chili.
Getting to Vivians Millennium Cafe in Los Angeles
This possibly is one of the easiest locations in this article to reach. It is located right of the widely known and used Ventura boulevard and it is within walking distance of the 101 freeway.
If you are heading south on the 101 freeway I suggest taking the exit onto Vineland Avenue, heading south towards the foothills. It will be right off of Ventura on your right-hand side and the restaurant will be very close to a gas station.
If you are heading north on the 101 freeway take the Lankershim exit. Stay north on this street till you reach Campo De Cahuenga. Make sure to make a left on Cahuenga and this street will lead you directly to Ventura Blvd. The restaurant will be on your left.
The many downsides to this location is that there is absolutely no parking. However, you shouldn't despair because there is available parking right next to the Nail Garden and Togo Sandwiches. To access it you can use Plaza Pkwy which will be on your right if you have taken the Cahuenga way or on your left if heading east on Ventura.
Me and Crepe in Los Angeles
If you are looking for some Chinese flavors, then look no further than the Me + Crepe in Pasadena, California. Although not in the city of Los Angeles, this Vancouver based restaurant is still very accessible to most Angelenos and it definitely will not be hard to find.
It's rated as one of the cheapest places to eat in Los Angeles that will also leave you wanting for more!
This Mini-chain started out in Richmond British Columbia before expanding, soon operating in both Canada and the United States. In fact, they opened their first American based store here in Southern California and are continuing to expand.
What is nice about it all is that their menu is wallet-friendly and will keep both you and your bank account satisfied.
The type of food they offer is a Chinese style crepe or Jianbing. Jianbing if you don't already know is a very popular traditional Chinese street food that is typically eaten in the morning. Its main ingredients are wheat, eggs, and sauces.
Although that may sound bland, the Me+Crepe is far from boring when it comes to your taste buds. They offer a wide range of Jianbing ranging from beef to lamb to even the original. All of this is also affordable as the original Jianbing, which is widely eaten in China, will only cost you 5.95.
They offer soups, several types of tofu and your choice of beverage. However, instead of drinking the soda I suggest you mix it up and try the Soybean Milk or the Plum Juice so you can have the authentic Chinese experience.
How to reach Me and Crepe in Los Angeles
To get to this place you will need to take either the 210 if you are coming from the northwest, the 134, if coming from the San Fernando Valley or the 110 if you are coming from the south.
If you are using either the 210 or 134 you want to merge on the 710 as quickly as possible then make a left on W Colorado. Once on Colorado, you will need to be vigilant for S Raymond Ave as you will make a right turn on that street.
Stay south till you reach E Green Street where you will make a left. Once on the street, the restaurant will be on your left right after the Copa Vida Coffee shop.
If coming from the 110 all you have to do is continue north till you reach E Green Street and the restaurant will be on your right. Parking may be a hassle so plan accordingly.
Guisados in Los Angeles
Being so close to Mexico and having a very large Mexican population, it should be of no surprise that Los Angeles has some of the best Mexican themed restaurants in the world.
One restaurant that I believe is worth your trouble is Guisados. Being listed among the cheap places to eat in Los Angeles doesn't mean it's not full of flavors and good vibes!

Guisados, which was born in the Boyle Heights community, has been offering its signature braises on handmade tortillas since 2010. Since then they have grown and have a total of five locations in the Los Angeles area alone. There's one in Echo Park, another in the historic Downtown Los Angeles region, one in West Hollywood and their last location being located in Burbank.
Much like Furnsaj Bakery And Restuarant, Guisados has a clear philosophy that is very customer based. It wants its customers to experience many of the culinary feasts that Mexicans and Mexican Americans enjoy – allowing each and every customer to experience the comfort and familiarity of their restaurant and dishes.
Speaking of dishes I strongly suggest trying their numerous selection of tortillas. One, for example, is the Tinga De Pollo, a shredded chicken breast braised with tomatoes, cabbage, chorizo and chipotle which is also served with chipotle chile and avocado.
Also, another one that is worth trying out is the Quesadilla con Chorizo which is queso panela that is grilled and complimented with chorizo served with a mild chipotle sour cream.
The best thing about all of this is not only that they are rated highly at 4.6 stars with a thousand plus reviews on google, but almost their entire menu is lower than $5 dollars. How's that for cheap places to eat in Los Angeles ?
How can I get to Guisados
Having five locations around the city you have your choice as to which one to attend.
If you are in the West Los Angeles area near Beverly Hills it makes sense to go to their location off of Wilshire. This location is hard to access because when on Wilshire you will have to make right on S Linden Dr. A good tip to remember is that you know you are close to this street when you have passed Santa Monica Boulevard. Once you have made a right on Linden Dr, look to your left and enter the first alleyway which is actually the Hodges Parking Lot. The restaurant will be ahead.
If you are planning on going to the Boyle Heights location I strongly suggest using Sunset blvd if coming from the west, the E Cesar Chavez Avenue if you are located to the east and the 110 if coming from the south.
Andres in Los Angeles
Located in Central Los Angeles is one of the top places to go if you are looking for Italian food and cheap places to eat in Los Angeles.
This place is called Andres, which is located off of 3rd street in the Central Los Angeles community of La Brea.
Opening in 1963, Andre's main focus is to serve wholesome and delicious Italian food all at reasonable prices. This restaurant's story starts with Chef Andreone who received his culinary education at one of the most reputable culinary schools in all of Europe, the Le Cordon Bleu in Paris France.
With this education and being raised Italian, it was no surprise that Andreone found so much success here in southern California. After immigrating here and working for numerous high-quality restaurants, Andreone decided it was time to test the waters and open his own establishment. Luckily for him, it was a success on the first try and it was called Andre's Of Beverly Hills which came to define the "Continental Cuisine".
Fast forward today and Andre's Italian Restuarant and Pizzeria in La Brea is the last one standing. The restaurant also has a sister store in Canoga Park called Grandi Italian. Besides the deep and rich history, the food is equally deep and rich.
On the menu you will find typical Italian dishes like lasagna, spaghetti, and pizza all at reasonable prices. For the large quantities of spaghetti, it will cost you around 11 dollars, while the small ranges around five to eight. For the lasagna, one standard size will cost nine dollars while a large mozzarella or Parmesan pizza will cost about $11 USD.
However, those are dishes that are widely eaten by most Americans so I am thinking that you would probably want to diversify your choices. Do not worry though because the prices do not change much.
For exotic dishes like the Meat Tortellini, it will only cost about nine dollars while others such as the Mushroom & Cheese Sacchetti, will only cost you $8 USD. Also keep in mind that toppings and extras such as meatballs or garlic bread will be an additional cost, ranging from 0.25 cents to 2.00 dollars.
For the dessert, Andre's does not disappoint. You can choose between a tiramisu, an Italian cake, a standard cheesecake, a chocolate cake and a choice of gelato/sorbetto which comes in a pint, cone, cup or quart. Getting to this restaurant will not be hard.
How to get to Andres in Los Angeles?
If you are in the West Los Angeles communities or in Santa Monica, take Santa Monica Blvd going east till you reach W 3rd street. Remember that Santa Monica Blvd splits into two right at the Avenue Of Stars street, so you want to make sure that you are on the right side. Once you continued straight and made a right on Civic Center Drive, merge onto W 3rd Street and continue east till you reach the Whole Foods where the restaurant will be next to a "Wigs Today" shop in-between the two buildings.
If coming from the south or east lets say from the University of Southern California (USC) I strongly suggest taking the 10 as it will be your quickest option. Once that has been accomplished take S Fairfax Ave heading north for about 3 miles before making a right into the shopping center.
You know you have reached your destination when you see a CVS Pharmacy. As for parking, like Furnsaj, you will have an entire parking lot so getting a parking ticket should not be an issue.
Roscoe's Chicken And Waffles in Los Angeles
We have covered so far Mediterranean cuisine, Chinese, Mexican, and even Italian, but we have not gleaned over traditional American restaurants here in Los Angeles.
One that I believe that should be mentioned is the Roscoe's Chicken And Waffles.
What makes this place unique is that it is probably one of the only authentic Southern restaurants in the region.
When you think of California, southern cuisine does not come to mind, but Roscoe has helped change that image, opening and operating successfully seven stores throughout the metropolitan area.
Although it is based in Long Beach, California, the restaurant has expanded to neighboring communities of Los Angeles, Inglewood, and Pasadena.
Created by Harlem native Herb Hudson in the late 1970's, the restaurant has one of the most unique histories of any restaurant in the area, being tied to the entertainment industry. It is said that the main reason for the mainstream success of Roscoes was due to Natalie Cole and Motown. She and the likes of Redd Foxx would often promote the restaurant during interviews and public events.
The restaurant offers stereotypical southern cuisine, ranging from fried chicken, okra, red beans, rice, and cornbread and is not that expensive considering that it is popular with celebrities and has had notable guests like Snoop Dogg and Obama dine there.
Many of their standard home style dishes will cost less than 15.00 dollars which is very good considering how calorie-dense they are compared to the above-mentioned restaurants. "Scoe's", a ¼ chicken with two waffles and sauce will only cost $9.90 USD while "Lord Harvey", a ½ chicken smothered in gravy and onions, grits and a hot biscuit will only cost you $12.50 USD. Not bad at all!
Surprisingly, Roscoe's Chicken And Waffles does not provide any desserts according to their menu, so if you are someone who craves something sweet you may be disappointed.
However, there are items like the standard hot chocolate for $3.20 USD, various types of lemonades that range from $3.25 to $3.50 USD and apple juice or milk for those who want a healthier option. I suppose the waffles covered with butter were too much for some and the owners did not think they should add more calorie-dense dishes.
From these seven locations you can have your pick at which one to go to. I suggest going to their oldest one in Long Beach, California as it is the birthplace of the food chain there in Southern California.
Getting there may be arduous considering how far you are. If you are coming from the Santa Monica Pier, Venice or the Federal Building in West Los Angeles, the 405 will be your fastest route. Once you reach the 710, merge onto it going south. When you have done that look out for the W Shoreline Dr as you will be exiting onto that street.
Once on it continue south till you see a ramp that is signaling to you that it is transitioning into W Broadway. Take this route by staying in your far left lane. When you are on W Broadway, continue east for about 2 miles and Roscoe's Chicken and Waffles will be on your right. Y
ou know you are close when you are near a Vons and if you missed it, the first street or intersection will be Alamitos Avenue.
Getting to Roscoe's Chicken And Waffles in Los Angeles
If coming from the north such as Los Angeles, Pasadena, or even Compton, the 710 will be your best bet.
If coming from the east such as Santa Ana or Anaheim, the 405 will suffice but you will have to merge on to highway 22, which transitions into E 7th Street before heading south on Alamitos. Staying south on Alamitos will almost guarantee that you reach W Broadway.
One thing has to also be noted that if you do plan on making a right on W Broadway, be prepared to make a U-turn as the restaurant will be on your left-hand side. This is only if you are not able to find parking but fortunately, if you go at a less crowded time, Roscoe's will have available parking across the street from their restaurant, right next to the Mau Maki Sushi place.
With frugality and budgeting becoming popular terms in our cash striped generation, many are finding new and more efficient ways to have a good time without destroying their finances.
With all the personal finance gurus warning that dining is an expensive endeavor, and although they do make a point, there are clear alternatives that will actually give you a five-star experience without causing you to go broke.
It is time we go where we will get the most bang for our buck. In this article, I have given you six locations in and around the Los Angeles area that will allow you to dine just like the stars on Rodeo Drive.
If you want Mediterrean we got Furn Saj for that. If you are looking for something more exotic or romantic might I say, we have Guisados and Andre's. If you are from the Far East we have Me and Crepe and Southerners do not be discouraged, Southern California has something to offer you as well in Roscoe's Chicken And Waffles or Vivian's Millennium Cafe!
Without a doubt, these are cheap places to eat in Los Angeles that will fill your stomach, delight your taste buds and have a great LA vibe to them!
This entry was posted in
North America
,
America
,
Los Angeles