Žabljak is a small little town in Montenegro, often visited by tourists that want to see the breathtaking Durmitor National Park and many more. The warmth and hospitality of Zabljak, narrow roads and calmness, make you just wish you would have booked your stay for longer. If you've already got setup your Montenegro itinerary, be sure not to leave this location out!
The destination is most popular in winter, when loads of tourists visit to ski on the Durmitor's high slopes. It is located at 1456m altitude, making it the city formed at the highest altitude in all of the Balkans.
But, although it is a splendor covered in snow, let's not forget that Zabljak is actually nested inside the Durmitor National Park, making it a perfect destination anytime of the year.
Top Attractions in Zabljak
Zabljak might be a small town, but there are loads of things you can do while you're there. From stunning nature walks, hiking, canoeing and even jump ropes, this location can accommodate every traveler!
Crno Jezero – A Stunning Lake
Also called the Black Lake or the eyes of Durmitor, is a marvelous lake that you just simply need to see. It is located at around 3 km away from the town's center and you won't have any trouble finding it. Signs are placed all over Zabljak and will guide you to it. Entrance was 3 EUR/person.
If you're going by car, you should know that you will eventually reach a barrier, and you will have to park the car and continue on foot. The winding path that covers the ground in the park is paved and if you have a bike, then ride it on the bicycle track that borders the grass. I estimate that there's about 1 km through the heart of the forest until you reach the lake.
If you're visiting in summer or spring, you will be delighted to discover meadows full of flowers, hidden behind the fir trees and a cobbled fountain to quench your thirst. You can also have a break on one of the benches carved in wood. All of this, plus more, adds up to form one of the most iconic sceneries!
For playful tourists, Crno Jezero hides an adventure park. It doesn't matter if you're young at heart or young in age, you will still have fun!
Lighting poles are present along the entire paved length of the pathway. At the end of it, on the left are free toilets, on the right you will find signs with various information. There are also wonderful restaurants so if you're looking for a place to have a relaxing meal, you'll find one.
In the end, you'll see the grand Black Lake in the background. And, to your surprise, it won't be black at all! You'll see a spectacular lake, in the shape of an 8 (that's why they also call it Durmitor's eyes), with smooth cobbled edges, guarded by mountain peaks.
Ledena pecina – Durmitor Ice Cave
If you're up for it, consider taking a challenging trail from Zabljak to this intriguing cave. It's a popular trail if you're into hiking, backpacking or camping.
It's a loop route, of around 12 km, where you'll get to enjoy the wonderful nature and some quiet time. The best time to visit it is from May to September, as the lush greenery will provide you with a marvelous view and temperatures won't be so low.
Be sure to be properly equipped once you decide to visit, as there might be some snow patches and slippery steep inclines. Even in July, the cave could be blocked by snow.
The whole route would take around 6 hours to do. You'll be exploring the beautiful terrain and incredible scenery. Best to bring several snacks, lots of water and take breaks when needed.
To be honest with you, the cave itself is not something that's a must see. You'll probably be a tiny bit disappointed. We won't post any photos of it, we'll let it be a surprise. But, the trip is totally worth it, because of the stunning nature!
Tara River and the Spectacular Canyon
If you're a rafting fan, or just want to try it out, Tara river is just what you're looking for!
But before you reach this river, you've got another spectacular view waiting for you. Durdevica bridge is an imposing 5 arch bridge, and was once the greatest concrete bridge in Europe. It crosses the river and so you can take some time to admire it from the top.
Tara boasts shades of emerald and has borrowed the green from the pine forest that borders its banks. Snaking through the rocks, offering seekers a fairytale show, any tourist would be silenced once making eye contact with Tara.
It's one of the finest places where you could go rafting, zip lining or bungee jumping.
One day of rafting will cost you around 40 EUR. This includes transportation from Zabljak and entrance to Crno Jezero park that we mentioned earlier.
Bobotov Kuk
Rising up to 2523 meters, Bobotov Kuk is the highest peak of Durmitor. If you're located in Zabljak and you're looking for adventure, grab your gear and start hiking!
It will take you around 7 hours of up and downs and a good pair of hiking boots to conquer this giant. The start is moderate, so don't let that fool you. It will get challenging and steep along the way.
Depending on when you visit, you might not be able to do the climb. Winters might block the paths, making it impossible of very dangerous to climb. But, if you do reach the top, you'll see one of the best panoramic views of the Durmitor Park.
The trail is well marked, and you don't really need a guide for it. Even if you are not that experienced, you can still manage without.
Tips: have some hiking poles with you and a rain jacket, just in case.
Piva Lake
With it's delightful turquoise color and crystal clear waters, Piva Lake is something you need to visit while you're in Zabljak.
Even though it's an artificial lake, it just fits perfectly with the surrounding nature. Thick forests that guard it make this place surreal.
You can enjoy a relaxing cruise and admire the view: high mountains, untouched nature and fresh air. What more could you want?
Nevidio Canyon
Ready for some adventure? You'd better be! Nevidio canyon will give you some thrills and chills while dramatic gorges will complete the landscape.
It's Europe's last discovered canyon, attracting many climbers and canoe lovers. Unspoiled nature gathers people from around the globe, be it for the adrenaline or just to admire the wilderness.
It's an unforgettable experience that we would recommend you to take. Cliff jumping, sliding down rocks and swimming in cold ice water are just a few of the things you can do. However, we don't recommend it for children or someone that's not that in shape!
Savin Kuk Ski Resort
Skiing and snowboarding is not something that Zabljak doesn't have. Being so close to Durmitor makes it the ideal place for you to book your stay and enjoy the rides!
For only 5 EUR, the chairlift will take you 20 minutes to go up at 1.5 km. You'll also get to enjoy the fantastic scenery – included in the price 🙂 A taxi ride to this place from Zabljak town would be around 5 EURO and in 10 minutes you'll be there.
If you're visiting in March, it's usually not that crowded. The weather is nice and sunny – so don't forget your glasses and sunscreen. Hire an instructor if you're not sure of yourself, as there are plenty on site. If you didn't come prepared, that's okay. Equipment is affordable to rent.
The track is steep at the top, but gentle after that. It's a light slope, that lets you enjoy the views – untouched and wild lands.
If you want to grab something to eat, there are two restaurants and a bar. Prices are affordable, as this resort is mainly for the ones that love comfort and are not looking for something extravagant.
Where to Eat in Zabljak
You might be thinking that being a small town, Zabljak doesn't have that much to offer in terms of food. Well, you couldn't be more wrong. This surprising location has over 20 spots where you can enjoy a great meal.
From cheap eats, to moderately and a bit high priced, the restaurants here have it all: Italian cuisine, grill, middle East or Eastern European, it's a feast!
Depending on where you're staying, it might be a great idea to just checkout the google ratings and choose your spot. We're going to try and make things easier for you by posting a map below. Checkout the ratings and reviews of other people that have ate there and decide what's best for you.
Where to Stay in Zabljak – Hotels
If you haven't figured out where to stay in Zabljak, don't worry. There are a few places where you can comfortably rest and relax. We've gathered a couple of them right below, and reviewed them. And to help you even more, at the end you'll find a map will all the available spots to accommodate you and the prices.
Durmitor Bungalows – as low as 37 EUR/night
If you're a nature lover and would like to wake up in the morning with a spectacular view, then this place is where you should think about sleeping. The peaceful surrounding will offer you a tranquil stay, while you get to have the most relaxing nap.
It's one of those places where you can enjoy quality time with your friends, while making a barbecue or have some fun with the kids. Needless to say if you're traveling solo, it's an ideal location as well!
Couples particularly like this location, as they have rated it a 9.2 from 10.
The whole complex is a rustic place with a huge yard, nesting just 5 bungalows. It is tidy and well cared for. The bungalows as well: they are clean inside and have a cozy feel to them.
The owners also organize trips to Tara river, jeep safari or rend you bikes. They are wonderful people to deal with.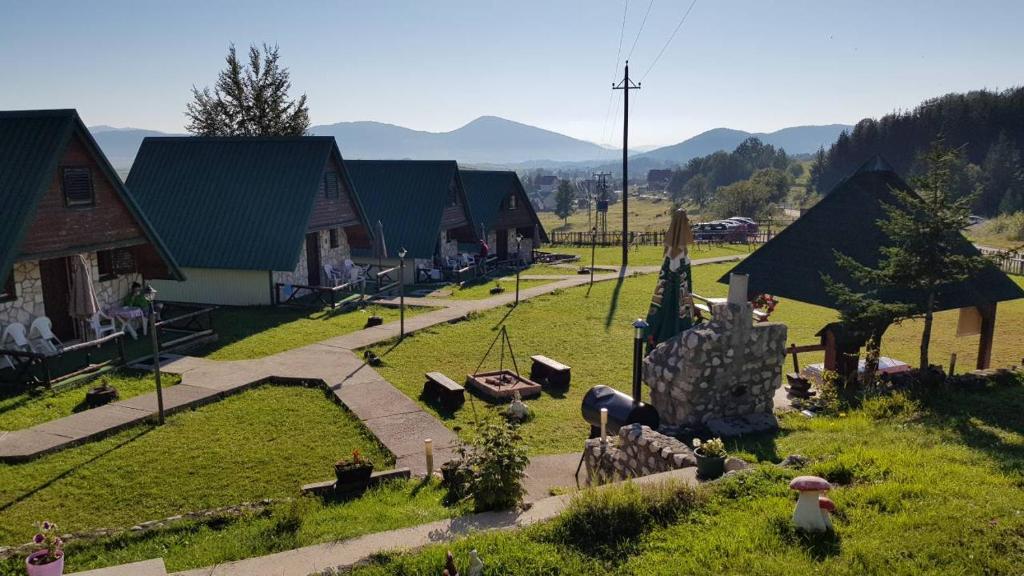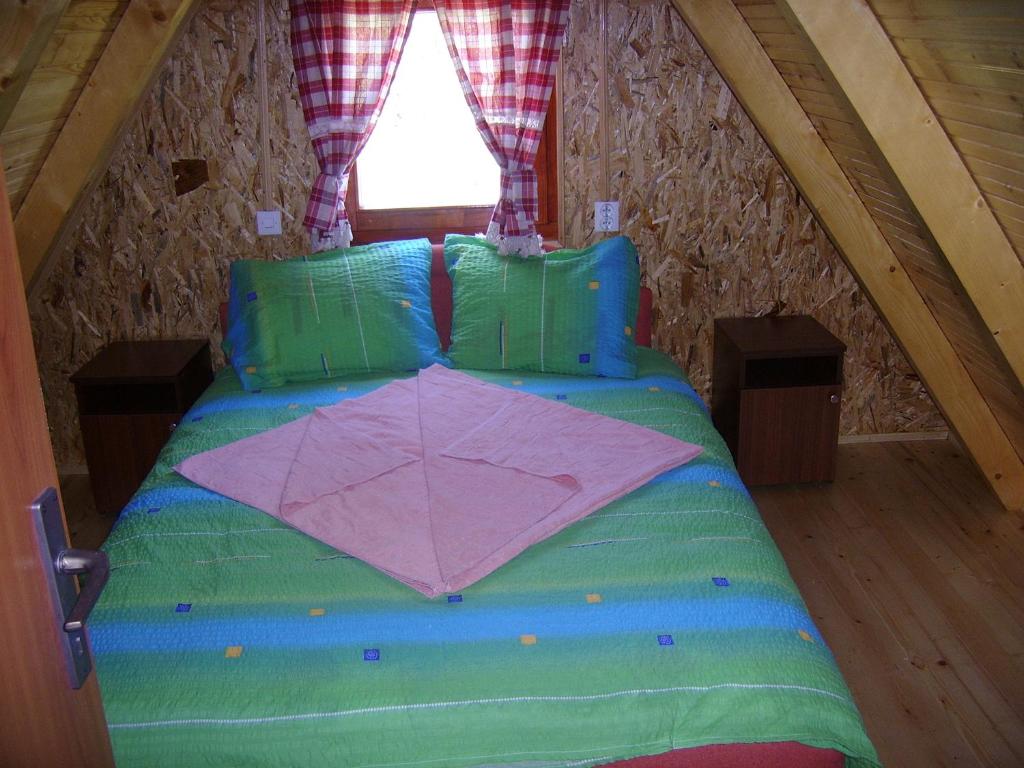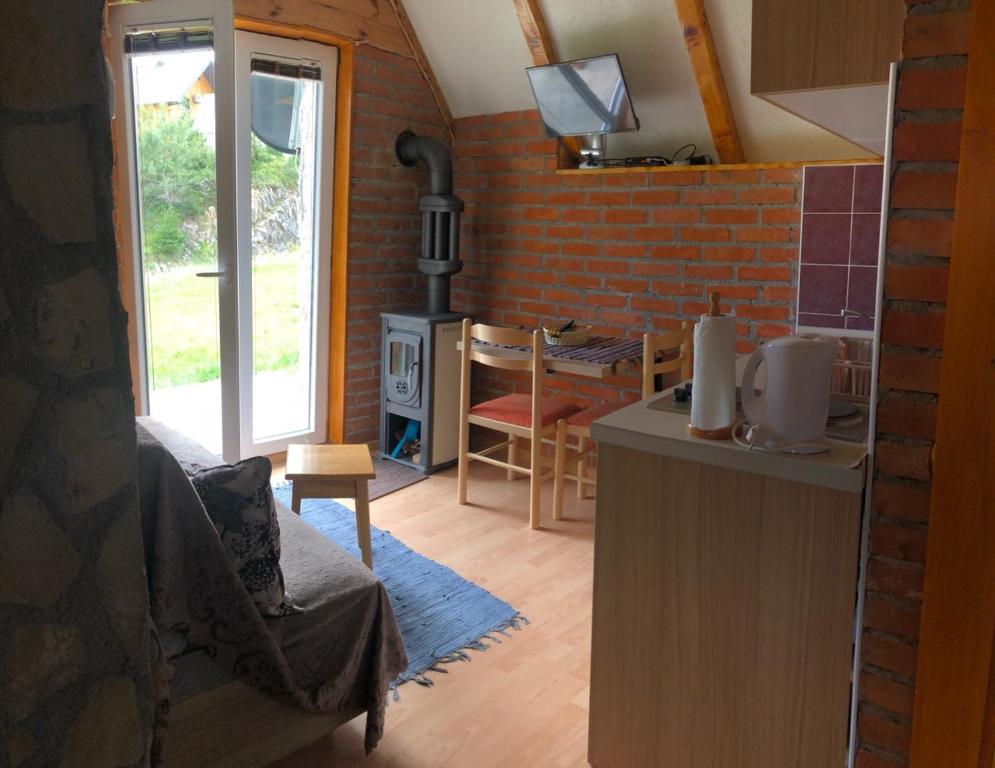 Villa Lusso – whole villa from 449 EUR/night up to 8 adults
If you're traveling with a group, and you're looking for something more on the posh side, Zabljak will surprise you with this place. Being mostly a rural town, you wouldn't expect a villa like Lusso to even be here. But, because of that, we have to admit, the price is pretty high compared to the average.
Did we mention it has a sauna? Yes, you have your own mini SPA inside the house, where you can warm up after a long skiing day.
If the price doesn't scare you, then we think that the accommodation won't let you down! See pics below.
Find other places to book in Zabljak below. Just choose the date!