Hurgada Egypt is a fairly new vacation location in Egypt. It's 54km long and not very wide. It stretches along the Red Sea and it's full of resorts. Actually, that's kind of all there is to see in Hurghada, but we'll get to that later. But, just so you don't panic, this was honestly our best vacation yet. And we plan on going back in Spring next year!
Our 7 days away in Hurghada Egypt started on the 11th of August. This is just so you have a rough idea of the weather and prices during this time. The city itself wasn't touristy at all, until some time ago. It was a fisherman's village, but at some point, oil was found near Hurghada and so it kind of grew from a small village to a city full of beach resorts.
We're going to be frank in this article and tell you from the start that the city is nothing to brag about, besides its wonderful resorts. Once you step foot outside the resort, you're in a whole other world. Hurghada Egypt is kind of sad. You'll see desert, sand and lots of forgotten places. Empty stores. Unfinished or abandoned buildings frame the streets. We can't state in words what we felt when we got off the airplane and went into the city.
But, before you exit the airport, there's something you need to know. The airport is small, it has only two terminals. You will purchase VISA upon arrival, which is 25 USD per person.
Before the exit, there are a few stalls that sell SIM cards. It's best to purchase one as you'll be needing it. They have Vodafone, Orange and Etisalat. A SIM card with 27 GB would be around 15 EUR. You don't need more than that, trust me! The person at the counter will ask for your phone and passport and will change your sim card. Easy as that. Your communication will be monitored throughout your entire stay, for security reasons. They don't state that, but it's obvious.
Whatsapp calls are banned in Egypt, but you can send and receive messages. Skype does not work at all. I would only use Facebook Messenger for video calls and calls in general. Also, VPNs are banned. You will be able to connect to the VPN for a second, after which you are disconnected.
If you're traveling with a travel agency, there will be a representative waiting for you in the airport, to guide you. Ours was a few feet away from the VISA purchase place. If needed, he would assist you.
You get your first glance of Hurghada when you drive to the resort. We stayed at Titanic Palace Hurghada resort. That was around 30 minutes with a shuttle bus. During this time, we couldn't believe our eyes the poverty we saw. It was actually a mix of overwhelming and imposing buildings, next to God forsaken homes and shops. And trash, lots of trash. This was our first impression of Hurghada.
To top things up, our bus broke because of the scorching heat. We had to wait around 10 minutes for another shuttle to come pick us up. This is when we got a good taste of the Egyptian weather. When we came off the airplane, we didn't realize hot hot it actually was. Maybe it was because we had air conditioning on the plane and my whole body was frozen. When I got down from the plane I was so relieved. But, when we went outside of the bus, oh boy! Imagine no humidity, and around 40 something degrees Celsius. In your face! It felt so hot I had to get on the bus again, even though we still had to wait for another one.
Nevertheless, we weren't going to let some high temperatures stop us from enjoying our vacation. We grew accustomed to it by the next day. We couldn't complain about it, since when we arrived at the resort, you would feel the breeze of the sea or cold waters from the pools.
In our 7 days in Hurghada Egypt, we visited the following: Orange Bay island, Cairo with the pyramids, made a short cruise on the Nile, went to the papyrus factory and Museum of Cairo, took a day for safari, toured Hurghada and enjoyed the resort.
Below we'll be detailing what we did each day and provide you with some useful information for when you visit Hurghada. Be sure to also read our Tips and Tricks!
Hurghada Weather – When to visit
Hurghada weather in August is as warm as it gets there. We found out from locals that August is the most hot month of the year. It would reach around 50 degrees Celsius. Lucky for us, we barely had 40. In the recent three years, it seems that the temperatures have dropped quite a bit, as locals say that that are experiencing a cooling of the desert by some 5-10 degrees, depending on the area.
So, the weather in Hurghada in August is hot. As hot as it gets. And the atmosphere is dry. You will need to use sunscreen all the time, as you can feel the sun burning your skin. Although it is hot, the wind helps a lot with managing with the high temperatures. You actually won't feel that hot, since the wind blows all the time. We had no issue vacationing in August in Hurghada Egypt.
We've had some friends visit in April, when they said it was kind of chill to take trips on the Nile. Otherwise, it was okay.
Regarding temperatures, they have winters from 11 (at night) to 22 degrees Celsius during the day. That's December, January and February. It's that time of the year when they don't exactly like to go out. Locals feel cold at 15 degrees, so they would rather stay inside. Streets would be empty. It's like literary winter for them, except it doesn't snow. Or rain. It only rains around 3 times per year, and just for a few moments. The rain quickly gets sucked by the sands and heated pavement, and it's gone like it was never there.
From April things start to get warm, and the Hurghada weather reaches 30 degrees Celsius during the day, with 19 degrees at night. May boasts 34 degrees and by June, you'll already have 36 degrees Celsius. July is kind of the same as June, as the heat reaches it's full potential in August, when you can spot even 50 degrees Celsius. From August, the temperatures start decreasing in Hurghada.
Depending on where you normally live, you might find the weather in Hurghada to be accommodating or not. We live in a place that has four seasons, but even in summer, temperatures would rarely reach 40 degrees Celsius. And that would be for a day or two maximum. We had no issue whatsoever in Hurghada with the weather. At least not when we were staying at the resort.
When you're in the resort, the air conditioning runs non stop. And I mean it. Doors are open, but the air conditioning is on. You feel the transition from hot to cold, but it's not something that bothers you.
On the other hand, when you get out of the resort, you have to wear a hat or something to cover your head. The sun will shine like you have never seen it before.
Forgot to mention one important aspect: in August, for example, the sun rises at 5 am and sets at 6pm. That's something you should keep in mind!
Things to do in Hurghada – What we did in 7 days
On our list of things to do in Hurghada Egypt you will find mostly trips. We'll also let you know what is worth visiting in Hurghada, things we had no time do to, but wish we had seen. One thing you should know is that you won't be able to take trips everyday. It's exhausting. For example, if you plan on seeing they pyramids, that takes a whole day. The next day you'll be so worn out, you'll probably sleep half of it.
We'll tell you what we did on each day spend in Hurghada, Egypt.
Day 1 in Hurghada Egypt – checking in and booking trips
Check in at Titanic Palace in Hurghada
For the first day, we'll only tell you we checked in, slept for a while as it took us around 12h to reach Hurghada from our home, and booked our trips.
We arrived at the hotel around 12, while the check in would be made at 14:00. While at some resorts they would just make you wait in the lobby or invite you to take a walk, Titanic Palace in Hurghada was different. They just invited us in.
People there are very welcoming. I mean never have I visited a place before that had such amazing people that worked there. First of all, everyone was super friendly. That's because they live off of tips. We'll get to that later. But, even so, they had a great vibe! Everyone, from the guy cleaning the pools to the guy just passing by, would ask you if everything was okay, with a big smile.
Although our check in was at 14:00, when we arrived they took our luggage, tagged them and left them for safe keeping. We had our resort bracelet strapped on our wrist and were told we could start enjoying the whole resort. They invited us to go at the restaurant and eat, since we were just off the plane. And so we did.
The surprise came later, when we found out that they had upgraded 2 out of 3 rooms. There was nothing to be upgraded for our room, since we had their bungalow room. But, for the 2 families that had joined us in Hurghada Egypt, it was a treat. And to think that all they had to do is place 10 EUR in the check-in documents! Yes, if they have free rooms and you tip them, they will upgrade your room so that you can enjoy your stay with them. That's something to remember for any resort in Hurghada, or Egypt for that matter. They each saved a few hundred Euros.
At 14:00 sharp we went at the reception to take our rooms. One guy took all our luggage with a trolley and off we went to each room. We tipped him 5 EUR at the end and he was more than happy!
After that, we took some time to sleep as we were very tired. The room was clean and the smell was that of an oriental perfume.
Booking our trips for the next days
Our tour operator informed us upon arrival that we would meet with a local guide later at 17:00 and we would be able to choose and book our trips. And so we did. At around 17:00 we were at the reception and the guide was there.
To start off, I would like to mention that everything is negotiable. Even the prices for the trips are negotiable. You can try to go as low as half of the price and negotiate from there.
If you find the prices are too high, you can book them with another tour operator. We've had friends that have used GetYourGuide and ended up better than booking at the hotel. We'll post offers from GetYourGuide for each trip we made, so you can see the costs and compare them to the local guide's, if you plan on going to Hurghada Egypt.
Day 2: Orange Bay Hurghada Day Trip
We opted in for an Orange Bay Hurghada day trip, for our second day. It's an 8 to 9 hour long trip, that will keep you occupied for the whole day.
You leave the hotel with a bus, at a given time, and head to Tito's marina. At the said hours, you need to be either at the reception or in front of the hotel. This goes for all the trips you book. When you pay for the trips, they will give you a paper for each one. You need to have that paper with you when you leave, because it will be given to the driver or guide.
From the hotel to the boat, the drive lasted around 30 minutes. We got off at the small port, and embarked.
For the Orange bay Hurghada trip, you will have lunch included, which will be savored on the island. Free drinks are included on the boat. Bring your sunscreen, as you will need it! Also, there's a stop for snorkeling to see the reefs and fish that swim in the sea.
The sea is crystal clear. You will be able to see everything down there, so be sure to bring your equipment. We had ours, but we also saw they had some on the boat. Also, if you're not a good swimmer, ask for a vest.
On our way to snorkel, we passed Mahmya Island and Paradise beach.
After snorkeling, the boat would sail to Orange bay, where you will stay around 3 hours. That's more than enough, because there isn't much to do there.
There are multiple bars and places you can sunbathe on poufs, so bring your towels. The beer was around 7 EUR (Stela, local beer) and a fresh was 6 EUR.
Lunch was great, as we had various options to choose from. There were also local dishes, as well as international. You wouldn't starve and you could get as much as you wanted.
The sea there is magnificent. You have a hammock in the sea where everyone takes pictures, a swing and lots of walking on shallow water. The sea withdraws and after some hours rises again. It's a place where you would want to go, if you love the sea. Pictures below for Orange Bay Hurghada.
Day 3: Visiting Cairo and the Pyramids from Hurghada Egypt
On our second day, we had booked a private tour to the pyramids. The reason why we took a private tour was because we were a total of 8 people, and it would save us some time, as opposed to traveling with a larger group.
Friends had warned us about this trip. They told us that they would get up at 2 am and reach the hotel back at around the same time. This was because when traveling with a larger group, some want to stay more in one place, and the guide will have no option but to do that. So if some want to stay more visiting the museum, then all have to stay. If some want to ride the camel at the pyramids, then they all have to wait.
Although it is not suitable for children, we had 2 kids around 5 years old that were just fine. They slept while going to Cairo, and the whole way back. As a consequence, we wouldn't say it's not suitable for kids, but definitely not suitable for babies!
We left the hotel around 3am and were back by 22:00. The hotel had packed us lunch, as we were told we could have it to go. So the evening before, we informed the reception we would be heading to Cairo and they had the bags ready for us. It wasn't something I would call lunch, but more of a snack. The actual lunch was included in the trip in Cairo.
Visiting Cairo and the pyramids from Hurghada is something you should do only if you're keen on seeing the pyramids. I, myself, would have rather visited Luxor, but we'll do that on our next trip there. I'll explain later why it was not a must see for me.
On your way from Hurghada to Cairo, the bus will stop several times for checks. There are military filters that check the passengers and make the drivers stop to rest for 10-20 minutes. The drivers are not allowed to drive for long hours, thus they are obligated to stop. It's a safety thing and I thought it was a good thing. The bus will also stop in some locations where you can use the restroom. Don't be afraid to use them, they are cleaner than I have seen in other European countries.
During our drive, the guide told us a lot about Egypt and how it has expanded in the last 7 years. A new city was being built next to Cairo. They'd call it the New Cairo and all the public institutions would be moved there. It would be a high tech city, connected to the old Cairo by electric train. They were also planning on building a new airport next to the pyramids and move the museum there.
In the last 7 years, over 7500km of new roads were built. And this wasn't stopping. We saw 14 lane roads at one point, all for one way of driving. Driving from Hurghada to Cairo was made much easier after there roads were built.
He also told us new cities were being built in the desert. We saw one where they were building a private college, and a whole campus around it. It was enormous. Wind mill farms were planted in the desert. Expansion is the word for all of Egypt now, if you ask me, after seeing it.
When we arrived in Cairo, we couldn't believe the traffic. It was like nothing I had ever seen. It was chaotic! Cars looked like they all had their own driving rules, went from one lane to the other without signals, there were no traffic signs and I had only seen one traffic light. They would sometimes come so close to the bus, you thought they would hit us. Two actually did, but everyone carried on. No one was mad. Pedestrians crossed the street wherever they could. Someone was driving on our lane, but opposite way. They would just honk and be on their way. Until you actually see it, you cannot imagine this even exists. Moreover, you cannot understand how they can even function this way. But they do.
The guide told us before that being a private tour, we get to do and stay as much as we want everywhere. He said we could visit the Papyrus institute, a factory perfume shop, a shop from where we could buy clothes made of Egyptian cotton (factory shop), cruise on the Nile, the Cairo Museum and the pyramids, plus take a tour on the camels. We chose all of them, minus the camel ride. We had that included in our safari tour for the following days. Also, the Nile cruise would be an extra 10 EUR per person.
The papyrus institute in Cairo
The papyrus institute can be skipped. After visiting, I would never ever come back. They did greet us with tea. This is something you will see everywhere. They would pour some red (berry maybe) tea and invite you to have some when you arrive.
It's a small shop-like place, where there's an Asian looking guy that explains how papyrus is made: how it's weaved and how much it takes for it to change color and be painted. That takes around 10 minutes.
The guy that explained was so annoying. I was trying to translate what he was saying and he would look at the rest continuously telling them to pay attention. If they don't want to pay attention, they can leave. We had 2 kids with us and he was annoyed that they weren't curious about how the papyrus is made. I'm not sure if he's the only guy there explaining this, but if he is, he will make you feel so bad you even entered the place.
After he had finished explaining, he would push you to a tunnel like room, where papyrus was listed on the walls. And he would shut the door. Neatly framed papyrus, of all sizes, were hung up for display. He turned off the light and we were able to see them glow in the dark. While in the light there was something painted on them, when it would get dark you would see a totally different drawing.
Prices for the papyrus were out of this world, extremely expensive. You will see some prices in Egyptian Lira (E.L.) in the photos below. He told us that he would give us 50% discount on any of them. Still, even with that discount, they were expensive. Even if you would have negotiated to 20% of the price, it would have been expensive. Plus, we later purchased papyrus in Hurghada Egypt at decent rates. We'll get to that later.
So, if you're planning on visiting the papyrus institute in Cairo, don't expect much. At least that is how I felt. Don't get me wrong, the papyruses are great! A couple of pictures below for you to see.
Factory perfume shop in Cairo
This guy here knew how to do business. We ended up purchasing 8 bottles of perfume from him. Prices were decent and the man would not lower them. Scents are magnificent. We even got his business card and said he could ship to our country anytime.
To start with, you would never find this shop on your own. It's like a basement. You descent from the street and enter the perfume shop in Cairo. They will great you again with tea. This time he saw we weren't too fond of that tea so he asked if we would like some coffee instead. We all agreed to that.
He spoke our language which was a nice surprise. After we got a sip of coffee, he started explaining to us that these scents could help with various problems, like sleep issues, headaches, back pain and so on. He also started listing the names of famous perfumes that he had replicated there, in a manner that you would not be able to tell which one is which.
After giving us several samples to sniff and tested on our skin, we were addicted. The scents were wonderful. It was not your average perfume, but an oily essence, packed in a painted glass bottle. You just had to have one! Or, as in our case, several.
The perfumes were sold in groups of four. You couldn't purchase one, just 4 of the same quantity. That is you could have 4 bottles of perfume, but with different scents. We took 4 smaller bottles of Jasmine and Lotus flower (2 bottles of each) packed in a nice box, and 4 larger of Ramses and Nefertiti (2 of each) packed in a velvet red box. The smaller ones cost 60 EUR and the larger ones 110 EUR. He also added some very small but elegant perfume bottles that we could later use as a gift.
We were kind of afraid that once we got home we would find that the perfumes would be changed, or somehow altered, but it was not the case. Those were the same perfumes we tested, so don't be afraid to purchase from the perfume shop in Cairo. They were all sealed with a tape, to prevent them from leaking. As for the prices, they were very good, compared to other places we went. As an example, we bought just one large bottle of perfume from Hurghada Egypt, which ended up costing us around 72 EUR – way more expensive. And we also couldn't negotiate that one. He just gave us an extra bottle, a smaller one, half the size as extra.
If you plan on taking a trip from Hurghada Egypt to Cairo and love perfumes, then his factory perfume shop is something you shouldn't miss!
Egyptian cotton shop
This is yet again something you might want to skip. It's just a shop where they have doubled the prices or more for clothing and some accessories.
Being our first visit to an actual shop with clothes made out of Egyptian cotton, we had to purchase something. I ended up spending 15 EUR for a small t-shirt which I planned on gifting to my 1 year old niece. They asked for 25 EUR at first and I ended up purchasing it for 15 EUR. I thought I made a bargain, but I later found that the t-shirt were being sold at 6-8 EUR.
If you plan on getting something from the Egyptian cotton shop in Cairo, make sure to really negotiate. If they ask for 25 EUR, you can get it at 8EUR for sure. Don't let them intimidate you.
I don't have any photos from this location, as it would be your normal clothing shop. Nothing worth photographing.
Cruise on the Nile
For 10 EUR per person, you can take a short cruise on the Nile in Cairo. There isn't much to see, except abandoned floating restaurants that give you the feeling that there was once something marvelous there.
It's a short ride, with the wind blowing, that will make you relax. All you'll see are buildings, palm trees and some hotels. We maybe could have negotiated the price too, since we were a larger group, but we didn't try to do it. We just went with it.
Visiting the pyramids in Cairo from Hurghada Egypt
We didn't come all the way from Hurghada Egypt to Cairo not to see the pyramids! But before we did that, we stopped to have lunch with an awesome view. The place had the windows facing the pyramids. Food was great as we were also famished. It took a while from Hurghada Egypt to the pyramids, so we were hoping for a nice meal, which we had. Drinks not included, just so you know.
Now, the pyramids are everything you see in the pictures and just that. The guide advised us about visiting them inside, as there was nothing to see. Inside the pyramids there are no hieroglyphs, no paintings on the wall, nothing. You just go inside a narrow tunnel and come back. At a certain point you would need to actually crawl, as in gets lower. And that's all there is inside to see.
Another thing you should be careful about is those people trying to make you ride the camel. They will tell you it's free to ride the camel, but what they don't tell you is that it costs you to get off it. The guide told us that we should stay away from them and just ignore them. They would make you hop on the camel, start a tour with you, and when you're a bit far away and want to come back they would ask for money. Sometimes it would cost you 100 EUR to get off the camel. Don't try it, at least not without your guide next to you.
We toured the pyramids and then went to see the Sphinx with the bus. We saw an amazing panoramic view at the top, where the guide showed us some other pyramids far, far away. There are multiple pyramids all over Egypt, but these are the ones that are the most marketed.
Visit the pyramids only if you're actually keen on seeing them. If you're more interested in knowing the history of Egypt, go to Luxor and Aswan. That's where the magic is!
From Hurghada Egypt to the Cairo Museum
This is something you should not miss. It packs all the history in Egypt, and if you have a great guide like we had, you will leave with enormous information.
It's full of ancient relics, tombs, mummies and golden masks that each tell a tale.
Before you enter the museum, you will see a pool of lotus flowers and papyrus outside. They represent the South and the North: Upper Egypt and Lower Egypt. The lotus flowers symbolize rebirth, as they would close during the night and blossom again in the morning. They would also be associated with the sun God – Ra. On the other hand, papyrus is associated with growth, youth and freshness . Placed together they depict the unification of Egypt.
Don't be frightened by the long line that awaits to enter. It moves fast and you'll be in the Cairo Museum in a few minutes. You'll walk freely there, but be sure to pay attention to the guide. He's your main source of information and will walk you to the most important artefacts in the museum, so you don't waste your time.
Did you know that pharaohs didn't exactly look like their statues? They weren't tall or muscular? Even their faces were different. This was because the Egyptians looked at pharaohs as Gods, and thus they represented them through imposing and beautiful sculptures. There's one life size statue of a pharaoh in the Museum and you'll see they were kind of normal sized.
Today, King Tutankhamun's mummy is in the Valley of the Kings, but his golden mask is still on display in Cairo's Museum. By late 2022 it is said the museum will be moving to a location closer to the pyramids and a new airport will be built there.
Until then, upon entering the current Museum in Cairo, you will have to scan your luggage, backpack, anything you have on you. It's a security measure, don't worry. This is kind of normal throughout Egypt.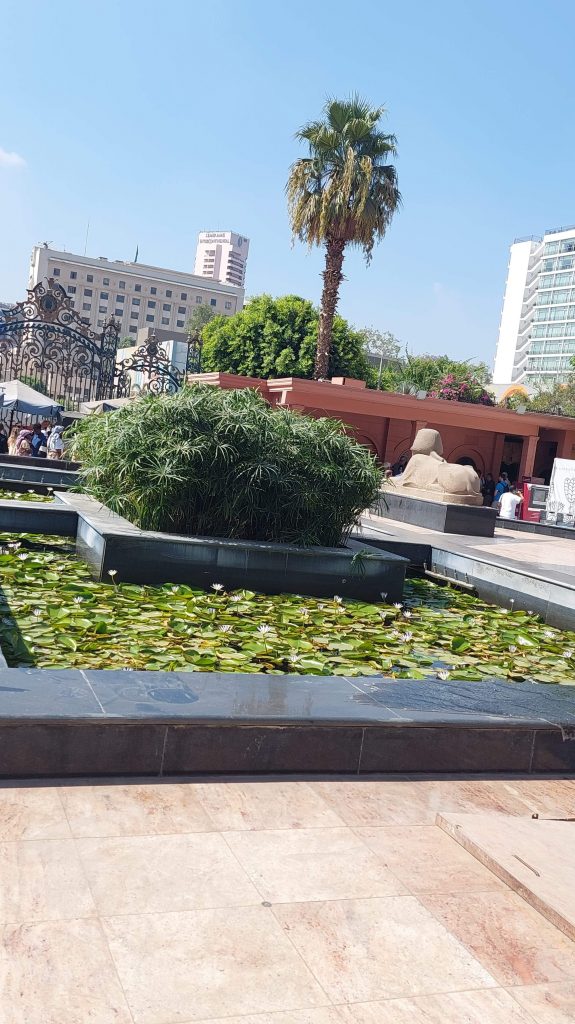 After we finished touring Cairo, we left for Hurghada Egypt. We didn't realize how tired we were, but we slept most of the next day. Traveling from Hurghada Egypt to Cairo to visit it, is a bit exhausting. But, given that we slept the entire night, and we had a bit of rest while coming back to the hotel, made it less discomforting. It was worth it.
And I almost forgot to mention that at the end of our trip, when we were reaching the hotel, the guide told us that if we wanted we could tip the driver and him. He handed us 2 envelopes for us to place the tips. We all tipped them a total of 20 EUR the driver and 70 EUR the guide. We appreciated all the attention he gave with explaining the recent history of Egypt, how he warned us about not going for a camel ride without us, how he cared for us at the museum and all of that. We didn't appreciate the driver that was talking on the phone and almost crashed us into another bus, if we didn't scream about it.
Day 5: Safari in Hurghada Egypt
This is the trip I loved most from Hurghada Egypt, taking a safari. We embarked again on a bus, but this time it wasn't a private safari. You can also opt in for that, but we thought it would be much more interesting if we went with a larger group. Given that the 2 kids and their parents didn't go, we were 4 out of 8 and it was better with a group.
What you do in the safari: go around the desert with a buggy, an ATV and then visit a Bedouin site, where you get to ride a camel.
The safari in Hurghada Egypt started around 10 am and we reached the hotel back at around 19:00, so you could say it was a full day. They picked us up at the hotel and rushed us at the safari site, where they had the ATVs, buggy and other cars to transport you to the Bedouin site.
Before going inside the place, the bus would be scanned and the driver would report how many passengers he had and from where. This became normal for us, when we did trips. We grew accustomed by now. The same thing would happen when you left the site.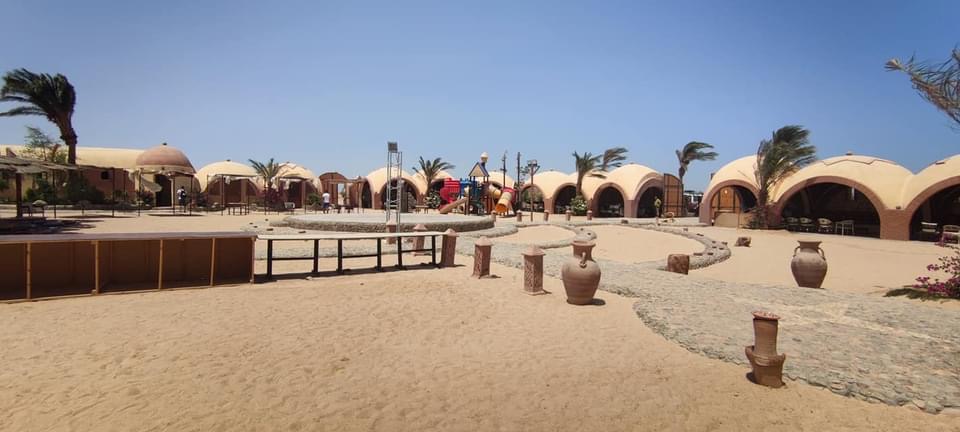 When arriving at the actual location, the guide would talk a bit about Hurghada Egypt and if you would have any questions, we would answer. Not included in the safari cost were the googles for the wind and the scarf for your head. Renting the googles would be 2 EUR each and to purchase a scarf would be 4 EUR each. It summed up to 12 EUR for us and we gave the guide a 20EUR paper. He wrote on his paper the change he would have to give us back and left. The guide later forgot about giving us the change, but we kindly reminded him at the end of our whole trip and he excused himself for forgetting and paid us back 8 EUR. He didn't forget, and we all know that.
We got to drive in the desert for around 40 minutes maybe, on ATVs. I have no idea when time flew by. We stopped to take photos with our phone, as you couldn't take photos while you were on the ATV. The wind blew so much sand, it was obvious we couldn't handle it without the googles and scarf.
There was another guy that took photos and filmed the entire time, from the start of the safari until the very end. Be careful in the end when he will charge you 25 EUR for the photos. He'll take 13 EUR. Also, if you're in a larger group, tell them that only you want the photos. This is because they will place the photos in bulk on a stick, so you will all have them! This is a tip we wish we knew before. We actually realized that after we paid the money, that there was no way he would remember which one is which, so the photos will all be on the stick, as they were.
After the ATV ride which you could take by yourself, or 2 on the ATV, you would try out the buggy. This car was so rudimental, that you had to start it by connecting two wires, just like you see in the movies! But boy, did it run! It was much more comfortable then riding the ATV, but you still had to keep your googles and scarf. Again, you followed the group in the desert and would wave at the cameraman whenever he was around you.
After that, you would hop in a car that was more like a van. You sat in the back on a bench and hung onto anything you could. Around 8 people could fit in, so it was us 4 and a family with 2 kids. The kids were no older than 4 years, maybe less, and one would start to feel sick, but was okay in the end.
Now there is a reason as to why that kid felt nausea. It was because of the driving. That van would go up the hills and dive down like you have never seen before. If there was a steep hill, that driver would climb it. And the desert didn't lack them. He could go around them, but the feeling was fantastic. It was like going to an amusement park. That was the best ride I had in Hurghada Egypt! I would recommend taking a safari trip in Hurghada Egypt anytime!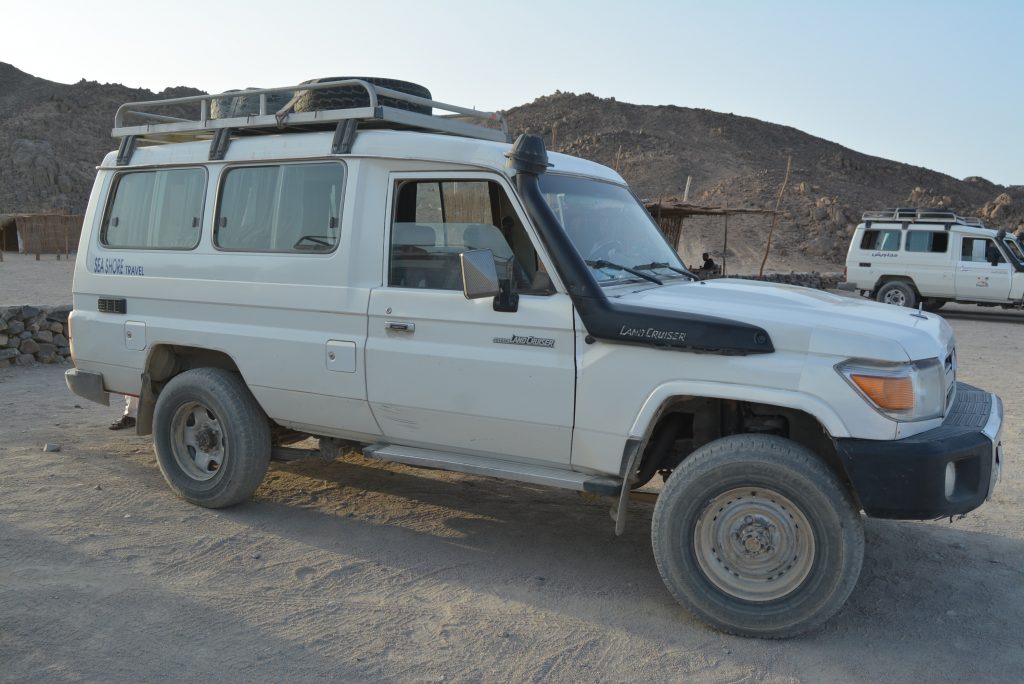 When we arrived at the Bedouin site, there wasn't much to see. We were greeted with their traditional tea, which resembled more with a black tea. We have no idea what it was, but we're still here. You should try sipping from it, just to see how it is.
They also had a sort of a pharmacy with medicinal plants and ointments. The guide told us that the "doctor" skills were passed down from generation to generation. There were bags filled with plans and the doctor told us that they were collected from the desert and used to treat diseases. He told us about each plant and then invited us to buy. The costs were around 5 EUR for a bag filled with plants, or ointments. We bought an ointment that was supposedly going to help with our back pains. It did absolutely nothing. It smelled like one of those Chinese yellow balms if you're familiar with them, but less pronounced.
On the same table there would be some bracelets hand made by the Bedouins themselves, so they said. One bracelet would be 3 to 5 EUR and a hand made camel would strip you off of 10 EUR. Negotiation is the key, so if you ever actually want to buy something, be sure to have that in mind.
Anyway, I started wondering from where all of those were collected, given that the desert was just sand and wind. You might think that all of that is staged and even that it's not actually a Bedouin site. I'll explain why. First of all, the guide told us that the Bedouin women cannot be photographed with other men. They can be photographed with other women instead. Same goes for the men: not to be photographed with other women. Actually, the Bedouin women and men were kind of not allowed to even make eye contact with people of the opposite sex.
In this Bedouin location we found a woman that was making traditional bread. You could even taste it after it was done. It was something made from grains, that were grounded with a stone, by a very small girl. She would flip it several times for it to cook, and it would come out the size and thickness of a pancake. It was actually pretty good to taste. Everyone took photos with the lady cooking the bread and the little girls, even men. You had a plate where you could tip them. Yes, everything is based on tips, as I mentioned in the beginning.
After you had tasted some Bedouin bread, you went to ride the camel. It was just a few feet from the location. You would hop on the camel and take a short ride. The person, man or woman, that held the harness would ask for your phone to take pictures of you. Of course, once they handed your phone back, they would expect a tip. We gave him 1EUR. Most of us did so. Some gave 2EUR and they received a big hug. You went to ride the camels in pairs of 2, no more and no less.
After this we could all buy some Cola or Fanta at a local sort of shop, for 2 EUR and then head back to the truck. The ride back was the same as it was to get there, like a rollercoaster!
When we got back, people were preparing dinner and we had yet again plenty to choose from. Of course, we didn't forget to tip the driver before dropping us off to the site. The night ended with a show: belly dancing, a flame thrower and a guy that swirled around in a traditional costume – which I loved. The atmosphere was so nice, the wind a was blowing a bit, people were eating, drinking and socializing.
Before the show, the guide would walk to everyone with the cameraman and told them about how much it would cost them to buy the photos. He also had 1 photo printed out for each family, which would cost you 3EUR – a ripoff if you ask me, but we took it as a souvenir, as I told the guide he owed us some money from the googles and scarves. I left him 5 EUR as tip.
All in all, this safari trip in Hurghada Egypt was the best time I had there. I have no idea how time went by and it got dark. It was an experience totally worth it.
Bedouin tradition
The guide also told us in the beginning about the Bedouins. He talked about how they came to Egypt, running from wars in their countries. The Bedouins had no rights whatsoever. They were not allowed to live in the cities, not allowed to go to hospitals, to the police and so on. They were exiled in the desert because they came with lots and lots of animals and they couldn't fit it. So, they settled there.
It was later when their former president Mubarak granted them permission to marry Arab women, go to the hospitals, police, and settle in the cities – but this was, of course, without their animals. Given the fact that this was the only lifestyle they knew, living in the desert, they never moved.
Bedouins have their own law and a sort of a chief. When they have issues, they don't go to the police, they go to their chief and he decides how things are handled.
Also, you can trade camels for women. That's a true fact. Marriage is tricky, and they can get married as young as 13-14 years old. Maybe even younger. The marriage can be imposed on them, and they would have nothing to say, or there is a ritual.
Let's say the mother has found a suitable man for her daughter. They will both meet at a sort of a tea ceremony. The girl's face is covered with a vail, but when she pours the tea for her and the man, she lifts the vail. If the man likes her and wants to marry her, he will taste the tea. The same goes for the girl. If she likes the man, she will sip the tea. Both have to like each other in order to marry. If one of them doesn't sip from the tea, the girl puts back her vail and that's that.
Other Bedouins marry their children without them ever meeting. And they cannot oppose the marriage, they are just told that they would be marrying that person. They would have nothing to say about it.
Day 6: Hurghada Egypt city tour
On our sixth day, we decided to tour Hurghada Egypt with a group. It was an organized trip, given as a bonus to us. It was a bonus probably because we didn't negotiate well on the other trips and they thought to give us something in return, because we paid too much. If they don't give you any bonus trips, you can say you negotiated better than us!
The Hurghada Egypt tour included a trip at the marina, the mosque, a Christian church, a candy shop where the prices were non negotiable, a visit to their local market place and go shopping in a shopping center – again, non negotiable. Non negotiable meant that you would be paying the price that was displayed. Nothing extra, no tips. Fair prices for tourists, not doubled or tripled, as seen in other touristy locations.
The trip started around 12:00 and lasted a few hours. Keep in mind that the actual city is not where the resorts are located. It takes about 35-40 minutes to reach it by bus.
Hurghada Egypt Marina
Hurghada Marina is actually a pretty nice spot to visit. It has nice terraces along its main path. You can enjoy a stroll with a wonderful view of the Red Sea.
If you're only doing the tour of Hurghada, unfortunately you won't be able to sit down and enjoy a coffee there. There's no time for that.
Parked there are yachts, small boats and submarines or sea scope boats for tourists. You can embark with a group to see the amazing underwater life. Sadly, we didn't have the opportunity to do so, but from others had told us, it's worth a ride.
Hurghada Egypt El Mina Mosque
From the Marina you can actually see the El Mina Mosque. It's not so far and you would expect to simply walk to it. Instead, you will hop in the bus again and it will leave you in front of it.
While passing to see the mosque, you will also get a glimpse of the fish market in Hurghada Egypt. There are lots and lots of fresh fish there, piled one on top of another. The guide also told us that you can have you fish prepared there and eat it. It looked delicious.
Before entering the mosque, women had to wear a long dress with long sleeves and something that would cover your head. It costs 1 EUR to rent one. You will be shown a small room with dresses on hangers and a guy would just give you one. Mine was for a woman that would have been one meter taller than me. I could barely walk in it.
Once you have your dress on, you will exit the room into the mosque's front yard. Before actually entering it, you would have to take off your shoes and go barefoot. It was a nice feeling, as the floor had some sort of foam cushion under the rug.
The guide explained to us that each mosque would have a nice with a certain shape, that would be pointing towards the Mecca. That's the way they have to pray, towards that direction. More precisely, towards the sacred Kaaba in Mecca. Every Muslim prays towards the Mecca, anywhere they are.
Women are not allowed to pray with men. In the first rows sitting in the mosque there would be men, followed by children. Women had a separate place where they would pray, upstairs. If the mosque didn't have a separate place for women, they would pray in the corner.
You could also find brochures about Islam in several languages, for free. You can take them with you and read them in your own time.
After you finish your tour, as a woman, you go back to that room outside to change. You take off the dress, place it on the hanger and leave.
Coptic Cathedral of Saint Shenouda
With stained glass and long benches to sit on, this church is small in size, but the story that the guide told us made it feel so spacious.
Going back a while ago, 'coptic ' used to mean Egyptian and Christian as well. Nowadays, when you say you're Coptic, you mean you're Christian. In the old days, there were hardly any Muslims in Egypt so their was no need for distinction.
This church also serves as a hospital and educational center for the needy ones, which we found was heartwarming.
If you haven't visited this church, honestly, you haven't missed much. It's just a nice church where you'll get some extra (but interesting) information from your guide.
Candy shop El Zahraa
It's a small but delightful shop, where you will be able to buy chocolate at decent rates. We took 3 small boxes of chocolate that had some figurines taped, referencing Egypt. They were all 18 EUR.
You were greeted with some chocolate samples you could try and they had an ice cream display at the door, which you could also taste.
We later found that the same brand had a shop in the Airport, in the food court area. Worth buying to gift to your loved ones back home.
Local Market
Before we entered the local market, the guide told us that we had to follow him and not stop anywhere. And so we did. We were in and out of the Hurghada Egypt market in 2 minutes or less.
The market was packed with fresh vegetables and fruits. In a corner you could see cages that held chicken, rabbits and other small creatures.
The prices were all listed for every visitor to see. Egyptians would normally tour the market at least once, before even purchasing anything. We found out that they eat fresh food, and barely taste anything that is frozen.
Hurghada Egypt Shopping center
From the market we headed straight to the shopping center. This was much closer to our resort, so we passed by the airport and headed back.
The shopping center was actually in Hurghada Museum. It kind of looked like it was closed and abandoned. And that's because it was closed, but the shopping gallery was open. At least for us it was.
At first, we thought we would go to their mall for shopping, Senzo mall. One guide told us it was the largest in that area. But, we ended up at this gallery instead.
It was a gallery with a few shops: clothes, silver, perfume, papyrus and other souvenirs. You would take a trolly and put everything in it, and pay at the counter – where you came in.
There were some locals there that would help you with your purchases and convert Egyptian Lira to EUR or USD so you would kind of know how much it would cost you. It was like you had your personal shopping assistant. They would advise what to purchase, look for the sizes, add it in the trolley and walk with you in every shop. For that, we tipped 2 USD at the end.
We were first kind of reluctant to buy anything, thinking it would be expensive. But when we reached the counter and the cashier said it summed up to about 140 EUR, we went back to make some more shopping.
T-shirts were 6-8 EUR, dresses the same, some costing up to 14 EUR depending on the quality of the material. We bought 2 silver pendants for 18 EUR. We also bought a papyrus which was 6 EUR and it was beautifully placed in a papyrus box, as opposed to the exorbitant prices at the papyrus institute in Cairo. Perfumes were more expensive than those we found in Cairo, but there was a scent we had not sniffed back there and we liked it, so we took it. Magnets, keychains, everything else was at a very decent rate so we bought everything we liked.
We ended up with two loaded bags for around 250 EUR. That's 6 adult t-shirts, 2 small t-shirts for kids, 2 perfume bottles (one large and one small, given as "bonus"), 3 long dresses, one pair of slit trousers, around 8 magnets, 1 papyrus, some 2 keychains, 1 cola and 1 pepsi can. The 2 silver pendants were paid separately and the perfume alone was around 75 EUR. There might have been something else we bought, but I don't remember at this time. In the end, we thought it was worth it!
Day 7: Leaving Hurghada Egypt
Our check out was at 12:00 and we had the bus take off at 16:00 as the flight was around 19:00. We had talked at the reception to keep one room until we left the resort, and they were willing to let us do so.
Just 10 minutes before 12:00, there was a knock at the door. When we opened, there was the same guy that had helped us with the luggage at the check in. He was also going to check us out. We were not allowed to carry our trolly, he would do that for us, He said it was his job to do so, as we are guests. We tipped him 2 EUR which pleased him. He went on to leave our luggage at the reception.
We stayed behind, had lunch once again at the resort, drank some coffee and talked to each other, before it was time to leave.
The hotel staff will also ask if you would like your baggage to be foiled, as that is a requirement for the airport. You should politely decline, even though they will state it is cheaper then foiling them at the airport. They might have that right, but what they don't tell you is that the airport might decline your baggage because it's not foiled there, so we passed on that. Foiling one luggage would cost you 5 EUR at the airport.
At precisely 16:00 we got in our buss and headed for the airport. The guide wished us a safe trip back home and hoped we would come back another time. And that was that!
Hurghada Hotels – Where to stay
We stayed at the Titanic Palace resort in Hurghada Egypt. This was, by far, the greatest resort we have been to.
It's both family and adult friendly. It's named Titanic because, in some areas, you will find it mimics the boat. There's the stairways that Kate descended on, while Leo was waiting for her, you have the architecture, the grand chandelier, the murals, statues and all of that. It's clean and welcoming.
People that work there are what make this place one of the best. Honestly, I have never felt so great anywhere else. Do you know that feeling when you eat somewhere and the waiter feels you don't tip enough? And gives you that look? Or when you ask for something and they reply with half of a mouth? When you ask for a drink and you get served hours after? When you don't find a free sunbed near the pool or on the beach? Forget all of that.
Titanic Palace resort in Hurghada is a place that makes you feel wanted. Everyone is super friendly. For 1 EUR tip per day, you will have water brought everyday in your room, soda, towels changed and room cleaned. For 2 EUR they would add in an extra 2 bottles of soda in your mini fridge.
For 5 EUR you will be served throughout the entire day by the pool. Sunbeds will be there waiting for you every morning. If your glass is empty, it will be filled up until you say no more. Staff would joke with you, talk to you and ask you if there's anything else they can help you with. Sure, they do it for the tips, but others also work in this industry and expect a tip for doing nothing, and they are, most of the time, showing a poker face. Not here. Everyone looks genuinely friendly, because they actually are.
When we read about reviews for resorts, we didn't find that much for Titanic Palace in Hurghada. Actually, we did find some concerning reviews and that made us doubt a bit. The vast majority of the positive reviews were left by Arab people, so we figured it might not live up to our standards.
Speaking of standards, Titanic Palace is a 5 star resort in Hurghada Egypt. This equals 3+ stars in Europe, close to 4. Mind you, Egypt is in Africa, so don't forget about that.
Even so, we were glad to see our room was clean throughout the entire stay. And so was the whole resort. No matter the time, you would see someone cleaning something: other rooms, pools, trimming the hedge, watering the pavement and more. There was no littering or at least we couldn't spot any.
Food was incredible at Titanic Palace. All you can eat, everything you wanted. From local dishes to international prepped food, you would never starve there.
Regarding the food, I've heard many people say it's not good or that it gives you stomach aches. It actually does, if you mix everything in your stomach, and that is very normal.
For the first three days I was careful what I ate. I had no issues at all. I would stay away from any sauce and minced meat. I would also not eat things that were new to me, like some of their traditional food. This is because my European stomach does not know how to digest this kind of food. Locals would also be sick if they ate what we did. So, it went well as I dodged spicy food, and stuck to what I knew worked for me.
On the fourth day I started eating everything I wanted. I said that if I'm there, might as well take the risk. The food was worth all my stomach aches and visiting the toilet for 3 times a day. It was heavenly. Their traditional dishes are something that I would eat on a daily basis, even at night in between dinner and breakfast. By the fifth day it got better and I would enjoy the meals at their full potential until our vacation ended.
So, it's not the food there that makes you sick. It's the way you combine them and how you are used to eating. There's no bad food at Titanic Palace in Hurghada. There's just poor choice of mixing the foods, or, in some cases, eating more than your stomach can take. Below just a few photos we took from our breakfast. They had croissants
The resort has a number of pools. They have rooms that are linked to the pools and bungalows – like we had, with their own pool. They have water rides outside and a game room inside. They have a shopping alley which I don't recommend because the prices are triple their worth and you have to negotiate. And maybe you don't feel like it. If you're the type of person that likes to bargain, then you will love Hurghada and the whole of Egypt.
Every night there would be something to do: either a foam party, disco night, live music, and many more. You wouldn't get bored over there. Plus, if you have children, there's a playground near the pools, and a pirate boat pool, especially for them.
One of the best things we found about Titanic Palace in Hurghada Egypt, was that it's right next to Titanic Beach resort. This means you can walk around everywhere inside these two resorts, and even eat anywhere you like. Nobody would ever say anything. Food was different between the resorts, especially dinner and sometimes lunch so it's best to check it out.
All in all, our vacation to Titanic Palace in Hurghada Egypt was worth every penny. We spent around a total of 1200 EUR there, including VISA, sim cards, the tickets for the trips, drinks outside of the resort, souvenirs, tips for guides and hotel staff. That is for 2 persons, and we bought and did everything we wanted. We did not hesitate to spend money if we wanted to purchase something. We will probably detail the costs in an Hurghada Egypt guide so that everyone can see how much it actually costs to spend 7 days in Hurghada.
Tips and Tricks
do not drink tap water. Or any water besides bottled water. Egypt doesn't have drinking water and you will have stomach problem;
be careful what you eat. Food is not bad, it's just your stomach that might not be used to new things;
take mosquito repellent, you'll need it;
SPF +50 sunscreen is a must;
do not buy souvenirs from touristy places as they are expensive. Buy them from malls or shop galleries. Or, if you want, you should negotiate. A fair price would be at least half of what they are asking;
do not go on a "free" camel ride at the pyramids. There's no such thing as "free" in Egypt. They will charge you up to 100 EUR to take you down from the camel;
tip the staff at the hotel, it will do you wonders;
drivers and guides expect tips at the end of the trips;
do not pack towels with you. You have towel cards at the hotel and you can exchange them for towels;
everything is negotiable.
As our vacation came to an end, we swore to come back sometimes around May next year so we could finish seeing what we planned for. We're hoping to see the Grand Aquarium, take a trip to Luxor and Aswan and maybe, just maybe reach Abu Simbel via a Nile cruise. Until then, if you have any questions regarding our trips, just leave a comment and we'll be sure to answer! Have a safe trip, wherever you plan on going!