Hot air balloon rides can be spectacular and a one of a kind adventure. But, before planning and booking a ride, you need to make sure you're making the right decision. Although many touristy sites market hot air balloon rides, none are so spectacular as the ones mentioned below.
Countries that have Hot Air Balloon rides:
Which countries have hot air balloon rides?
It's worth to mention that many countries have hot air balloon rides, but when deciding to take this ride it must be memorable. Because that's how these should be, an amazing experience where you get an awesome view floating in the sky. Don't get disappointed by booking an average flight! Make sure you do it right the first time and you'll never forget the spectacular views and thrilling sensation when rising up above.
Hot Air Balloon Rides in Cappadocia, Turkey
One of the most renowned places to take a balloon ride is, yes, you've guessed it, Cappadocia in Turkey. This is a favorite place world wide and it never disappoints.
This hot air balloon ride in Cappadocia ensures you get the taste of this magnificent landscape and enjoy its true beauty! A driver will pick you up from your hotel early in the morning and get you straight to the launching site. Why in the morning? Well, so you'll get to enjoy the sunrise while you're rising in the balloon!
You've probably seen photos of what this view looks like, but it's nothing compared to actually experiencing it! As a bonus and to make this journey whole, a champaign toast will seal the day and you'll also get a commemorative flight certificate which is great to brag about to your friends back home.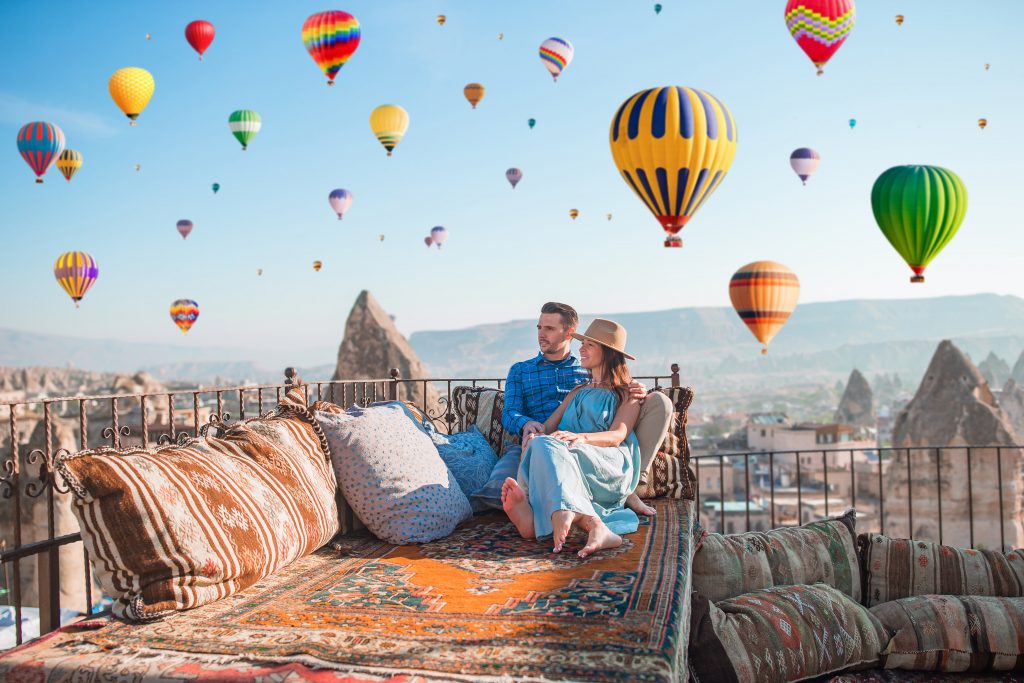 Hot Air Balloon Rides in Albuquerque, New Mexico
The self-proclaimed 'hot air balloon capital of the world', Albuquerque is surely one of the best places to jump in a hot balloon ride. The vast desert horizon coupled with a majestic sunrise and sunset make this journey from up above unforgettable. Be sure to bring your camera as you'll have some spectacular views to share!
Hot Air Balloon Rides in Bagan, Myanmar
Float over Bagan's stunning scenery and just try to get a glimpse of its immenseness! With over 22000 temples and pagodas, there's no better way to immerse yourself in this cultural heaven, than booking a hot air balloon ride.
The balloon will take you high up, providing you with endless views of majestic temples and lush green landscape. This is one adventure you don't want to miss!
Hot Air Balloon Rides in Serengeti National Park, Tanzania
Enjoy a once in a lifetime adventure in a hot air balloon safari, with some breathtaking views! While for most of us this safari can be expensive, I promise you it is worth every penny spent.
You'll get to see the diverse wildlife of Serengeti as you have never before. Cheetahs, giraffes, zebras or elephants are just a few of the animals that roam this land and you get to see them it their natural behavior. This is all without disturbing them or without them even knowing you're there. Imagine that scenery!
Hot Air Balloon Rides in Reims, France
If you thought France was all about the Eiffel Tower and Paris in general, you never got to experience the true side of this country! Famous for its vineyards and sparkling wine, the Champagne region is best discovered in a hot air balloon ride.
The "Avenue de Champagne" is listed as a UNESCO World Heritage and it's an unforgettable experience from beginning to end. Although you get to fly high, the balloon sometimes descends over the trees and you can spot the beautiful color of the grapes and vines. If you have a great eye, you'll also spot the rabbits playing on the fields. All in all, it's a unique experience that you should consider taking!
Hot Air Balloon Rides in Maasai Mara, Kenya
Much like the Tanzania hot air balloon ride, Kenya also boasts in magnificent experiences in the air. This is without a single doubt one of the most exciting experiences you can take while in Maasai Mara. You will ride for about an hour, but it will create memories that will last a lifetime!
Hot Air Balloon Rides in Wadi Rum, Jordan
The desert is itself spectacular, but you've only seen it from the ground up. Imagine grasping its never-ending dunes of sand from above.
If you're in Jordan, then the Wadi Rum balloon rides are something you shouldn't miss, for sure! Described as being reminiscent of Mars, and known as 'the Valley of the Moon", this majestic place is definitely on our list of top balloon rides that are worth it.
You can book a hot air balloon flight here or with any tour operator in Jordan that has these available. Pricing would be around $200 USD
Hot Air Balloon Rides in Dubai, United Arab Emirates
Dubai is mostly known for its wealth and luxury shopping, expensive cars and desert roads. But you shouldn't miss their balloon rides, as they are something else entirely!
There are things that are best viewed from above, and the Hajar Mountains or Arabian Oryx and gazelles in the desert are just a few of them. You get to float over the desert dunes, enjoy breakfast with an awesome view and forget all your worries – at least for a few moments. Some hot air balloon rides in Dubai are certainly posh, but you can also find some that are more pocket friendly, for sure.
Cheapest Hot Air Balloon Rides
While balloon rides usually cost around $250 – $300 USD, there are some whooping scores for private rides which can easily reach $3000 USD. We're not here to talk about those. We want to let you know that there are some balloon rides that are more affordable. Keep in mind that the prices are sometimes lower because of the time spent in the air, but you'll still get to experience the thrills of the ride itself!
Luxor hot air balloon rides promise you a view of the whole ancient city, for only $75 USD. That's a 45 minute flight to drift peacefully over the Nile, see the Valley of the Kings and Queen Hatshepsut's Temple, Karnak, among many other imposing structures. What can be more spectacular?
Bali is another place where you get to experience this type of ride. Although it comes cheap at first glance, starting from $53 USD, you'll be up in the sky for no more than 7 minutes. Even if the time is short, the experience and the magnificent view make it worth it!
Can you travel around the world in a hot air balloon?
Short answer: no. There's no way you can see the world in one hot air balloon ride. We have one word for you: weather. Sure, you can travel around the world and jump in a hot air balloon when you can and enjoy the views. We have yet to find some agency that offers this type of travel, but you can surely pre book balloon flights along your itinerary and make the best of it!
Hot Air Balloon Festivals Around the World
There might be many hot air balloon festivals organized around the world, but there are just a few that will do it right. If you're passionate about these rides and want to join the fun, make sure you choose a festival that offers the best balloon rides! We've gathered some of the most famous events where you can experience the true meaning of a hot air balloon festival – see them below.
Albuquerque International Balloon Fiesta in New Mexico
It's said to be the largest hot air balloon festival on the planet, drawing crowds of up to 800 000 spectators every year. It all started in 1971 and so far it is continuing to grow in numbers and fame.
Starting in early October, it has come to be a 9 day event, where hundreds of balloons are launched which contribute to the overall state of joy and excitement this festival brings. If you're wondering about the best days to visit this event, well, all of them are. It doesn't matter when you join the party, you'll experience the same atmosphere throughout the entire stay.
When it comes to pricing, it's not that expensive either. One session is $65 USD, while children under 6 have a free pass. That's not much for this awesome experience, is it?
The European Balloon Festival in Spain
The European Balloon Festival is the largest hot air balloon festival in Spain, and presumably one of the largest in Europe. It takes place every year in July, in Igualada, Catalonia, a city located within 60 km from Barcelona.
Colorful balloons fill the sky, creating a mesmerizing spectacle. You can watch balloons take off and float gracefully over the region, providing stunning views of the surrounding landscapes.
The top attraction of this festival is the Night Glow, where inflated balloons are illuminated against the dark night sky. The synchronized light and music show creates a magical atmosphere that is simply out of this world. You'll find yourself living in a fairytale ane never wanting it to end!
Taiwan International Balloon Festival in Taitung
Taiwan is slowly beginning to lure in both locals and tourists to its annual hot air balloon festival. Although the name seems to be changing every time, one thing remains certain: it happens every year and lasts about two months!
Starting usually in July or late June, this is one of the best hot air balloon rides that you can attend. You'll want to be there early in the morning (5 a.m.) to make sure you experience the thrills of seeing all the balloons getting lifted. Be sure to book your ride in advance, usually months before the event, or you'll end up watching others from the ground. Which is not that bad, as the scenery is impressive!
You can find out more about the event on their balloon event page and make sure to check out the About – Taiwan Balloons page where they list their balloons.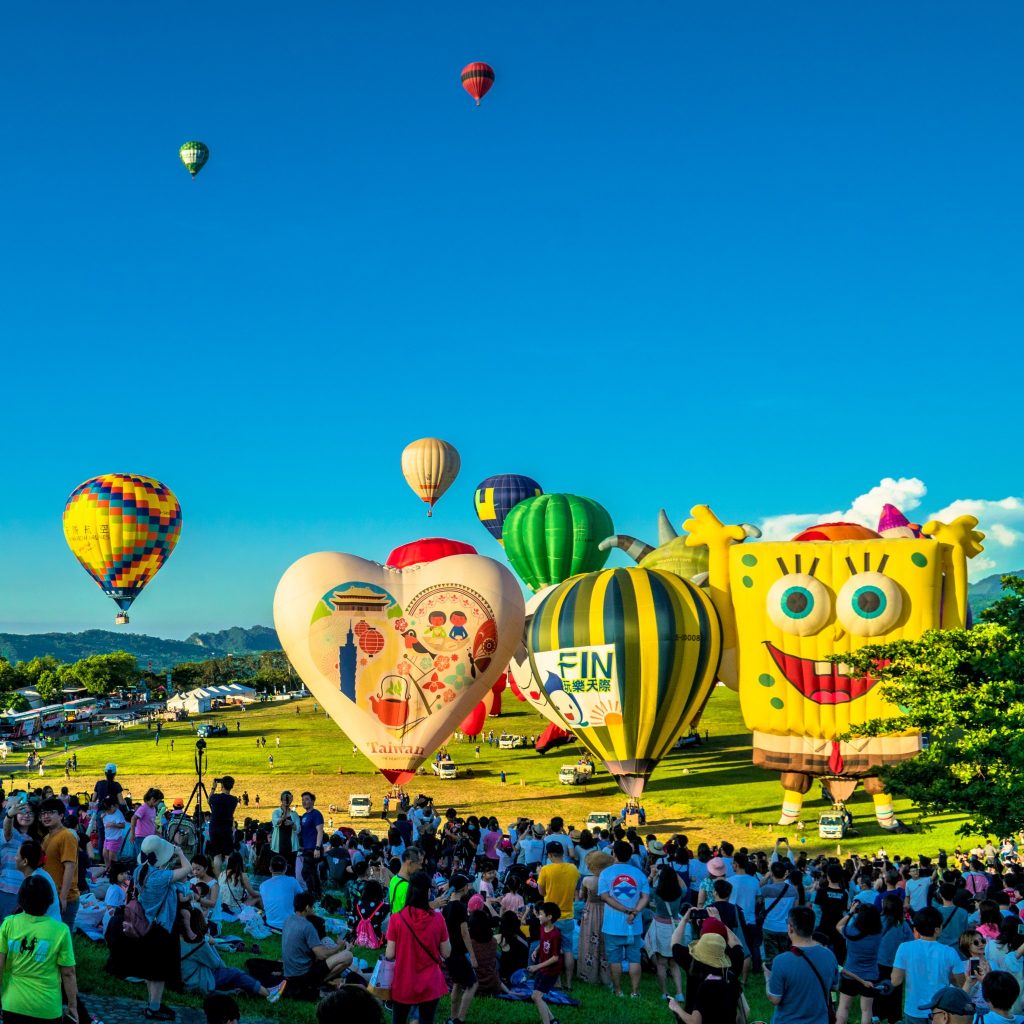 Great Texas Balloon Race
If you love watching competitions or you're a competitive spirit yourself, then the Great Texas Balloon Race is the event you shouldn't miss! It's usually held near East Texas Regional Airport in Longview, Texas.
They also have an official website where you can see the schedule of events and other useful information here.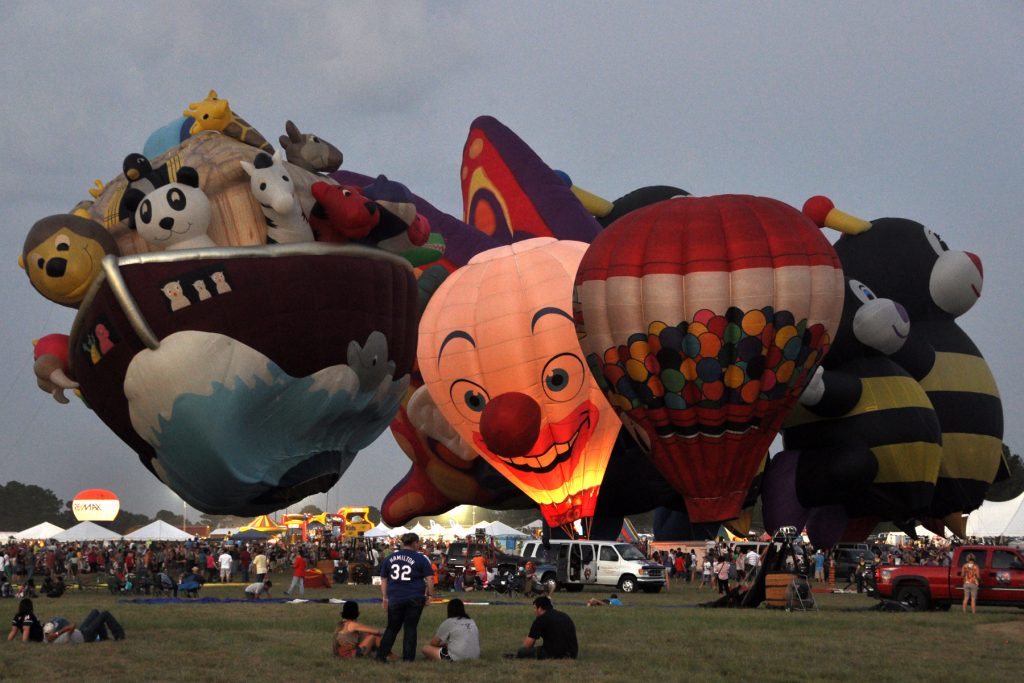 International Balloon Festival of Saint-Jean-sur-Richelieu
Hosted in Quebec, Canada, this hot air balloon festival is filled with excitement and fun! Bringing together family and friends, this festival is swarming with people, balloons, music and games.
It's usually held in August and lasts about seven days. If you have kids, you can safely bring them with you as the festival has great activities where they can free their energy. The gourmet alley is always filled with delicious food, and games and challenges are on the menu, too!
Besides the daytime fun, Night Glows are organized to give you a whole new perspective on hot air balloons. It's memorable, magical and totally worth it. You can find more about the event here.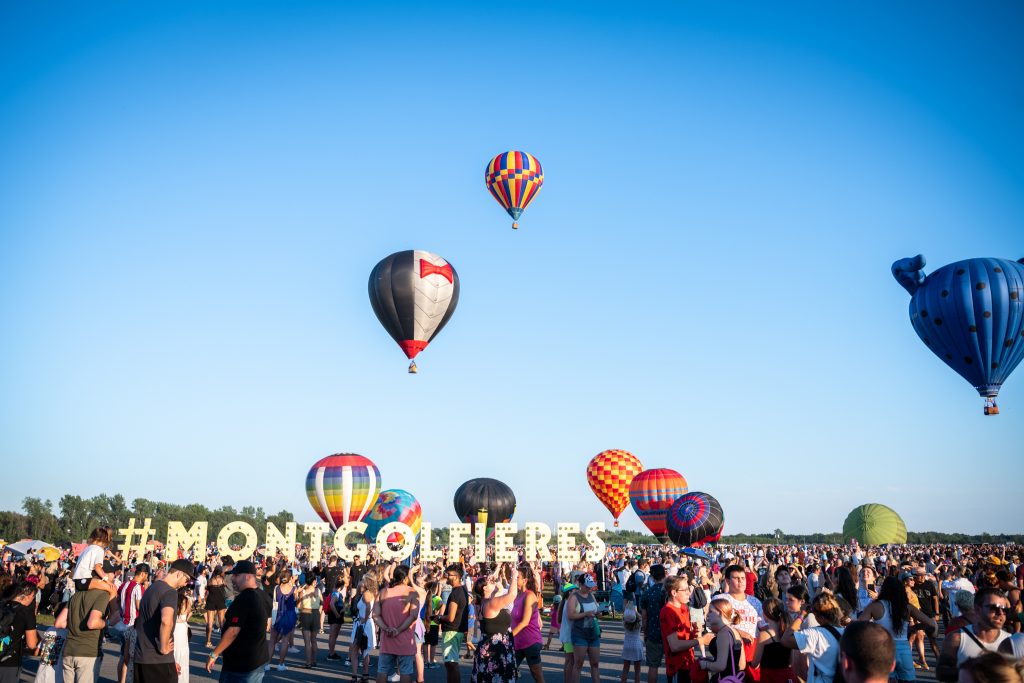 Bristol International Balloon Fiesta, UK
Shorter than most hot air balloon festivals, the Bristol International Balloon Fiesta only lasts four days. But it's not to say that it's not worth visiting. The atmosphere there is amazing (as all the festivals are), family friendly and magical.
Like the European balloon festival in Spain, Bristol also has a couple of Night Glow shows, that are on display for the audience's delight. Up to 25 balloons will light up the sky at night, with BBC Radio Bristol soundtracks in the background.
So, if you're anywhere near Bristol in August, be sure not to miss it. More info about the event here.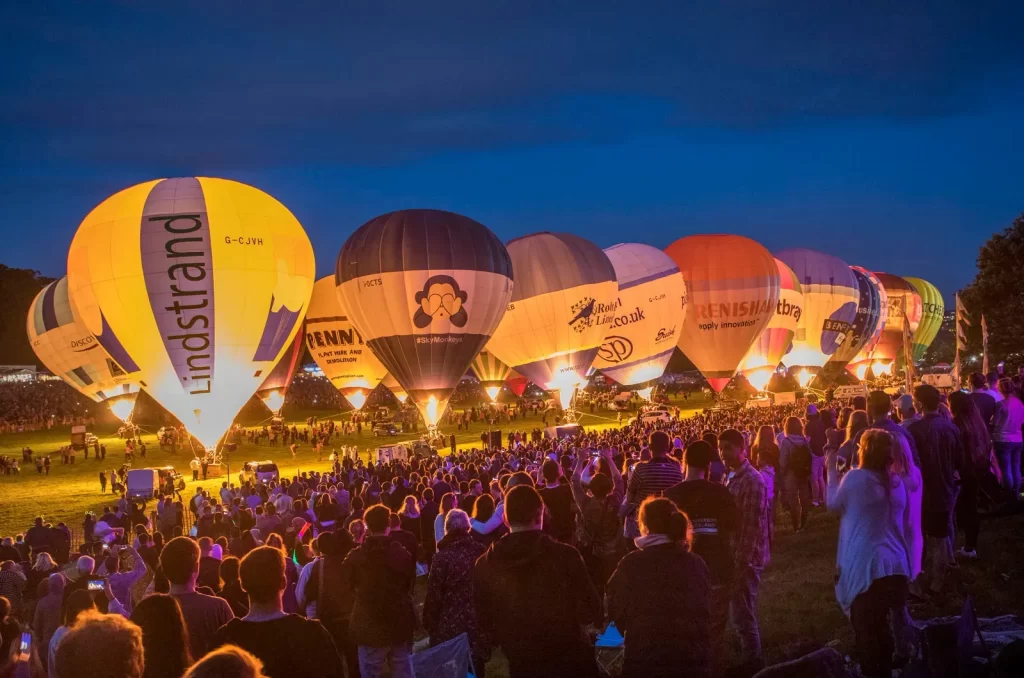 Saga International Balloon Fiesta, Japan
Five days of fun and amazing atmosphere, with hot air balloons just filling the blue sky. Around 110 balloons including from overseas come to his festival to the delight of the spectators.
If you're curious to know, this festival started way back in 1978 with only 5 balloons and basically no audience. It grew fast in popularity and reached 76 balloons by 1987 and roughly 250 000 people attended. In 2016, the 22nd FAI World Hot Air Balloon Championship was organized there and a whooping 1 310 000 people attended the event, 33 countries bringing in 186 balloons. What a show that must have been!
If you're someone that just loves these festivals, then this is one of the best balloon rides you can experience. You'll see below a short clip of the evend and you can find out more about it here.
While there are many hot air balloon rides all over the world, not everyone will challenge your visual sight or enchant your senses. If you've never experienced such a ride before, make sure the first one is memorable. Choosing one of the above mentioned hot air balloon rides will surely be worth it. Have an amazing flight!