Glamping in Europe Explore the Mountains
Camping has always been associated with spending time outdoors while using minimal survival supplies.
However, this is changing with the introduction of glamping that introduces a luxury aspect to the entire camping experience. The popularity of glamping is rising worldwide. More and more spots worldwide are providing a luxury experience in a variety of outdoor settings.
Europe is known for its royal background, which includes luxurious palaces and classy homes. It is no wonder it hosts a large number of glamping sites! Tourists looking for an "out of the box" camping experience can visit and enjoy the outdoors in a magnificent setting.
As glamping in Europe continues to grow in popularity so do the sites that provide luxury camping to visitors from all over the world. If you are looking for some of the best spots to go for glamping, then look no further! It doesn't matter if you're alone or joining a group, you'll find the best spots in the mountains while glamping in Europe just below.
Glamping in The Old Forge, Ireland
At the foot of the Wicklow Hills, sits the majestic Old Forge glamping site. It is one of the popular posh camping sites in Ireland with amenities that make you feel at home.
Set in the background of a Gregorian house, the site offers both yurts and log cabins as accommodation.
The yurts are popular because of the unique holidaying experience they offer those looking to spend time outdoors.
The tents are fitted with bedding as well as other amenities that make your stay a bit more relaxed.
Visitors to the glamping site get to enjoy the scenery on Wicklow Hills. This adds up to beautiful woods surrounded by breathtaking nature. Wildlife species that include deer, badgers, foxes, ducks, owls, and buzzards. These friendly animals are regular visitors on the campsite, giving you an up-close interaction with them.
Glamping in Black Mountains Yurt, United Kingdom
Escaping to the outdoors does not mean you have to give up luxuries, especially when you visit the Black Mountains Yurt glamping site.
It is situated in the countryside and surrounded by natural beauty on all sides. Visitors on the site get the best of both worlds as they get to enjoy spending time in a luxurious tent with an inviting front room.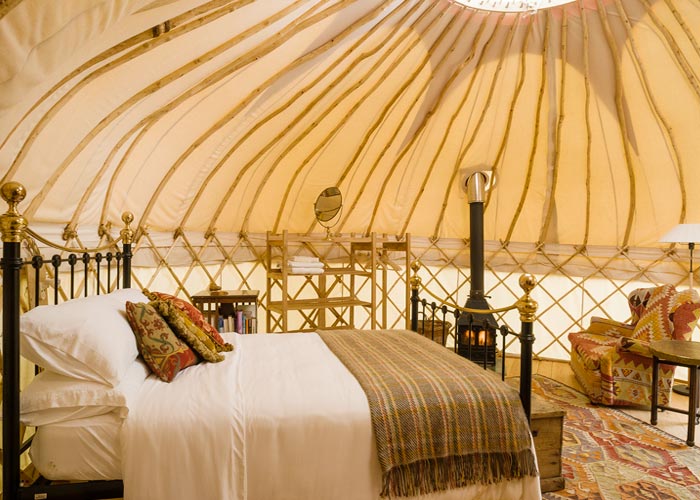 At night, the surroundings are pitch black, except for the candles lighting the tent allowing you to move around. Wooden stoves burn throughout the night and early morning keeping the entire space warm. If you want to feel warmer, the facility offers wool blankets and sheepskin rugs to make your stay as cozy as possible.
Additionally, if you're visiting the UK glampsite, you can engage in a handful of activities that are designed to be fun and entertaining. Some of the popular activities include gliding, climbing, and hiking.
Glamping La Source, France
The French Alps provide a majestic view for everyone staying at the Camping La Source, glamping site.
The site which is situated on a flat area within a wooded area is a picture of perfection for those looking for a relaxation spot.
Once there, you will find that it has approximately twenty-five plots. And you'll be more happy to know that it can be booked by travelers from all over the world. The plots have tents that are furnished with lanterns, beds and other essential furniture.
Wanting to stretch those arms and legs? Swimming in the glistening lake water or hiking from one village to another are just a few things you can do.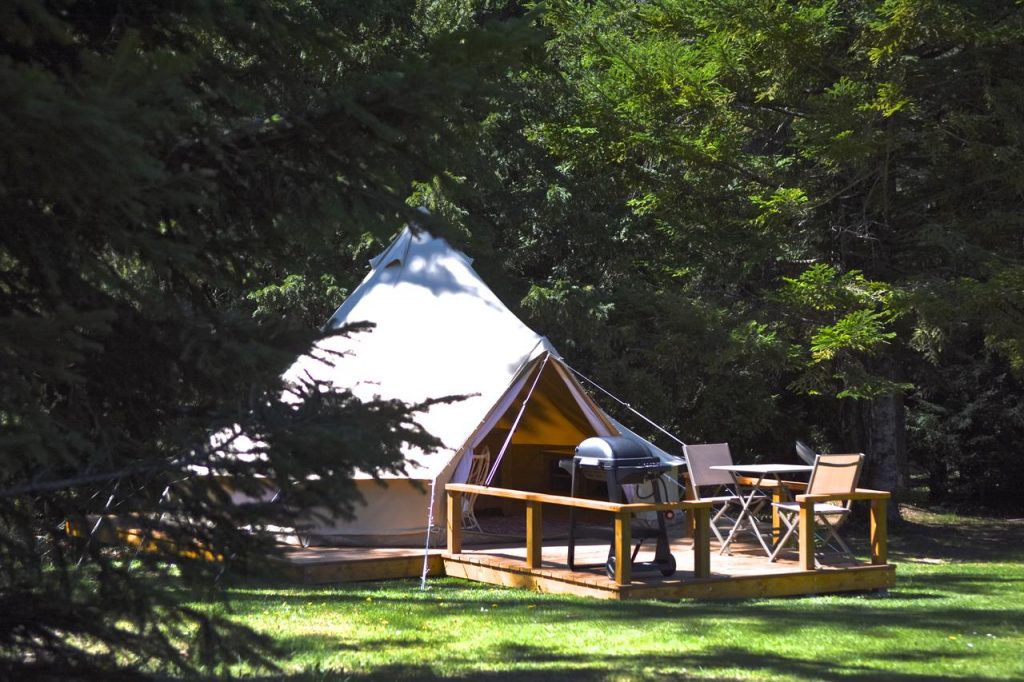 Night time allows campers to enjoy stargazing under the open space while relaxing alone or with friends. La Source offers black skies with incredible shooting stars that occur regularly. The lack of light pollution in the environs makes the camping site calm allowing you to enjoy the background chatter from birds and crickets.
Situated at the border of the French Alps, the glamping site is a "must visit" for those looking for luxury camping.
Glamping in Forest Days, Spain
Forest Days is the perfect glampsite for nature lovers and those seeking a thrilling adventure in the outdoors.
The site is located in the environs of Barcelona and is ideal for families and couples. It is a great mix of a posh camping experience that allows visitors to enjoy nature while having access to the modernity of the nation's capital.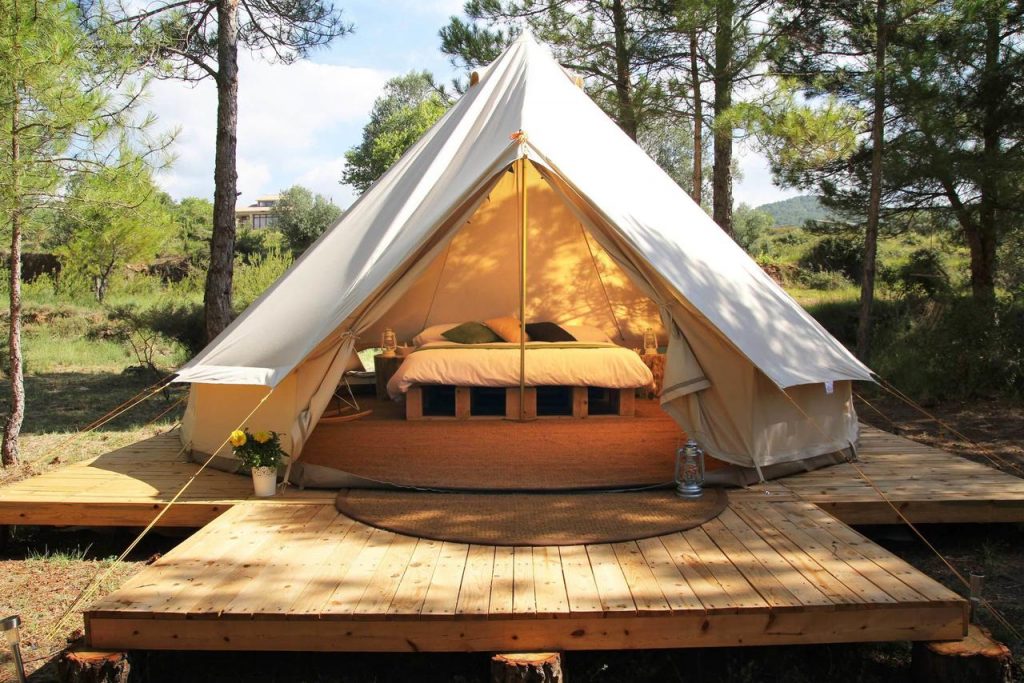 You will be assigned a luxury tent, offered alongside a breakfast basket, daily. Meals at the glampsite are prepared on location including hot beverages that are placed at the tent door.
Relaxation at Forest Days" target="_blank" rel="noreferrer noopener" aria-label="Forest Days (opens in a new tab)">Forest Days does not end with tasty meals and exquisite accommodation, but extends to various activities offered at the campsite. Some of the popular activities at the glampsite include wild swimming, horseback riding, gorge walking, trekking and cycling among others.
The camping site also has great amenities that include public toilets, showers, bars, and a shared kitchen.
Glamping in Europe in Yurt Holiday, Portugal
Glamping in a novel European destination becomes a reality when you step foot into the Yurt Holiday glamping site.
It is located in central Portugal among the mountains, giving visitors a chance to enjoy amazing scenery every day. The luxury site is powered by the Sun and uses organic products to help preserve the environment.
If you plan to be glamping in Europe as a group or a couple, Yurt Holiday is a great place to visit.
The place has two private yurts that are reasonably priced, with amenities. This includes essential furniture, a private bedroom, and a PowerPoint presentation machine.
For meals, the site offers breakfast and a bar to enjoy during your downtime at the campsite. If you prefer freshly prepared meals, you can hire a private chef for you or the group you are traveling with to Europe.
Visitors at the Yurt Holiday site have a wide array of activities to choose from such as hiking, walking, and swimming. The mountainous area is beautiful and a great place to enjoy the outdoors for nature lovers.

Ultimately, for glamping in Europe to be successful, it is advisable to pick spots that give you a chance to enjoy the outdoors and connect with nature. Spending time in the European mountains on a glamping site is an excellent way to relax in luxury without giving up the regular camping experience.