Dubai Marina is a popular and vibrant destination for tourists, offering a wide range of attractions, activities, and experiences. If you're ever in Dubai, then this is a place you should not miss seeing!
Here's a guide to what you can enjoy in Dubai Marina:
Scenic Walks: Take leisurely walks along the Marina Walk or the Beach at Jumeirah Beach Residence (JBR) Walk, both of which offer stunning views of the water and the impressive skyline. Enjoy the fresh sea breeze and the sights of luxurious yachts and boats.
Dining: Dubai Marina is a culinary hotspot with numerous restaurants, cafes, and eateries. Whether you're looking for international cuisine or local flavors, you'll find a wide range of dining options. The Marina Walk and JBR Walk are dotted with restaurants and alfresco dining spaces.
Cruise Experiences: Embark on a variety of Dubai Marina cruise experiences, including Marina dinner cruises, sightseeing cruises, yacht charters, and party cruises. These cruises provide an opportunity to explore the Marina's landmarks and enjoy the scenic beauty of the area.
Beach Time: Spend time at JBR Beach, which is a public beach with fine white sands and clear waters. It's a great place for sunbathing, swimming, and enjoying water sports activities.
Shopping: Explore the Dubai Marina Mall, a modern shopping destination that offers a variety of retail stores, boutiques, and entertainment options.
Water Activities: Try water sports activities such as jet skiing, parasailing, paddleboarding, and more, available at the beach and water sports centers in the area.
Marina Skydive: For the adventurous traveler, you can even experience skydiving over Dubai Marina for a truly unique and thrilling adventure.
Nightlife: Dubai Marina comes alive at night with a vibrant nightlife scene. Enjoy the wide range of bars, clubs, and entertainment options, making it a great place to socialize and unwind.
Golf: For golf enthusiasts, Dubai Marina is close to several golf courses, including the Emirates Golf Club, providing a relaxing day on the greens.
Cultural Experiences: While Dubai Marina is known for its modernity, you can also enjoy cultural experiences by visiting nearby attractions like the Dubai Opera or the Dubai Museum in the historic Al Fahidi neighborhood.
Marina Views: Don't forget to take in the iconic Dubai Marina skyline during the day and night. The district's futuristic skyscrapers and innovative architecture are a sight to behold.
Spa and Wellness: Many hotels in the Dubai Marina area offer world-class spa and wellness facilities for relaxation and rejuvenation.
Luxury Stays: Choose from a range of luxury hotels and serviced apartments in Dubai Marina, offering a comfortable and convenient base for your stay.
Dubai Marina is a dynamic and exciting destination for tourists, providing a mix of entertainment, relaxation, and exploration. It's a place where you can savor the pleasures of urban life while enjoying scenic waterfront views and a variety of activities. Whether you're interested in sightseeing, water adventures, dining, or simply relaxing on the beach, Dubai will surely fit the profile!
What is so special about Dubai Marina?
Dubai Marina is a renowned and special district in Dubai, United Arab Emirates, known for its striking modern architecture, waterfront living, and vibrant lifestyle. There are several aspects that make Dubai Marina a unique and attractive destination:
Man-Made Canal: Dubai Marina is built around a two-mile-long man-made canal that stretches inland from the Arabian Gulf. The canal is flanked by impressive high-rise buildings and provides a stunning backdrop for the district.
Skyscrapers and Modern Architecture: The skyline of Dubai Marina is dominated by sleek and futuristic skyscrapers, including iconic residential and commercial towers like the Princess Tower, Cayan Tower, and the Infinity Tower. These architectural marvels make Dubai Marina stand out as a symbol of modernity and innovation.
Waterfront Living: Dubai Marina offers an exceptional lifestyle for residents and visitors. Many of the buildings are luxury residential complexes with waterfront views, private marinas, and easy access to the beach. Living by the water is a key draw for many who choose to reside in the district.
Dining and Entertainment: The Marina Walk is a popular promenade lined with a wide range of restaurants, cafes, and shops. It's a vibrant hub for dining and entertainment, with numerous options for international cuisine and outdoor dining.
Marina Mall: The Marina Mall is a contemporary shopping destination featuring a variety of retail outlets, dining options, and entertainment facilities. It offers a convenient shopping experience for residents and visitors.
Yacht Clubs and Water Activities: Dubai Marina is home to several yacht clubs and water sports facilities, making it a hub for boating and water-based activities. Residents and visitors can enjoy sailing, jet skiing, and more.
Nightlife: The district comes alive at night with numerous bars and nightclubs offering a lively and diverse nightlife scene.
Proximity to the Beach: Dubai Marina is located near Jumeirah Beach, providing easy access to the pristine sands and clear waters of the Arabian Gulf. This proximity to the beach is a major attraction for those who enjoy coastal living.
Easy Access to Major Attractions: Dubai Marina is conveniently located, with easy access to major attractions such as Palm Jumeirah, the Dubai Marina Mall, and Dubai's bustling city center.
Luxury Lifestyle: Dubai Marina is synonymous with luxury living. The district offers a high standard of living, world-class amenities, and a lifestyle that caters to the affluent and those who appreciate opulence.
Dubai Marina's blend of modern architecture, waterfront living, vibrant social scene, and proximity to major attractions has made it a sought-after destination for residents and a popular area for visitors to explore and enjoy. It embodies Dubai's commitment to innovation and its status as a global city.
Can I walk around Dubai Marina?
Yes, you can walk around Dubai Marina, and it's a popular activity for residents and visitors alike. Dubai Marina is designed with pedestrian-friendly pathways, a beautiful promenade, and well-maintained walkways that provide ample opportunities for strolling and taking in the stunning waterfront views.
Here are some of the key areas and paths where you can enjoy a leisurely walk in Dubai Marina:
The Marina Walk is a picturesque and popular promenade that runs along the edge of the canal in Dubai Marina. It's lined with numerous restaurants, cafes, and shops, making it an ideal place for a leisurely walk, enjoying the view, and taking in the bustling atmosphere.
The Walk at JBR (Jumeirah Beach Residence) is another well-known area where you can walk. It's a pedestrian-friendly area with a variety of dining, shopping, and entertainment options. You can enjoy a walk along the beachfront and take in the sea views.
The Dubai Marina Yacht Club area features a lovely promenade along the marina's edge. It's a great place to stroll while admiring the luxury yachts and boats moored in the marina.
While not technically part of Dubai Marina, the Palm Jumeirah boardwalk is a short drive away and offers a beautiful walkway along the Palm's crescent, providing incredible views of both the Palm and Dubai's skyline.
Walking around Dubai Marina allows you to appreciate the modern architecture, stunning skyscrapers, and the bustling atmosphere of this vibrant district. It's a relaxing way to explore the area, and you can choose to walk at your own pace, whether you're looking for a casual stroll, a scenic jog, or a leisurely evening walk by the water.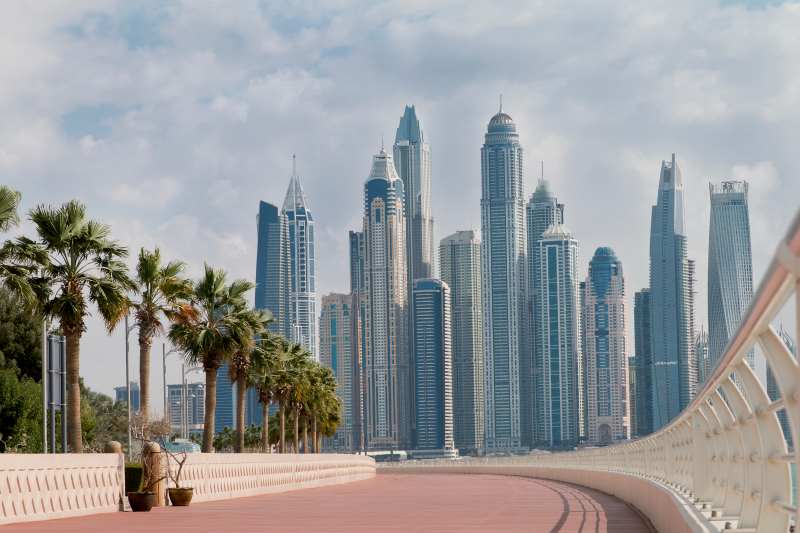 Take a Sun Bath in Dubai Marina Beach
Dubai Marina is a vibrant waterfront district in Dubai, and while it offers stunning waterfront views, it is important to note that it doesn't have a traditional public beach like some other areas in Dubai. However, Dubai Marina is located in close proximity to the Jumeirah Beach Residence (JBR) area, which boasts a beautiful public beach known as "JBR Beach" or "The Beach at JBR." This beach is a short walk from Dubai Marina and offers a fantastic beach experience. Here's what you can expect at JBR Beach:
Pristine Sands: JBR Beach features fine, white sands that are well-maintained, providing a comfortable and clean area for sunbathing and relaxation.
Clear Waters: The beach overlooks the turquoise waters of the Arabian Gulf, offering a perfect setting for swimming and water sports.
Water Activities: At JBR Beach, you can enjoy various water-based activities such as jet skiing, parasailing, and banana boat rides, offered by water sports operators along the shore.
Beachfront Walk: The Beach at JBR is lined with a beautiful promenade that has a wide selection of restaurants, cafes, and shops. It's a great place for a leisurely walk, enjoying the view, and finding dining options.
Sun Loungers and Umbrellas: You can rent sun loungers and umbrellas to relax comfortably on the beach. These are provided by beach clubs and rental services.
Play Areas: The beach area often includes play zones for children, making it family-friendly.
Events and Activities: The beach area hosts occasional events and activities, so it's worth checking the local schedule for any ongoing beachside events.
Beautiful Views: JBR Beach offers lovely views of Dubai's iconic skyline, including the tall skyscrapers of Dubai Marina.
Please note that while the beach is public and free to access, there may be charges for renting sun loungers or engaging in certain activities. The beach can get crowded during weekends and holidays, so it's a good idea to arrive early to secure a spot.
Overall, JBR Beach is an excellent complement to Dubai Marina, providing a beautiful seaside setting where you can unwind, swim, dine, and enjoy a variety of water-based activities. It's a popular spot for residents and tourists alike who are looking for a beach experience in the heart of Dubai.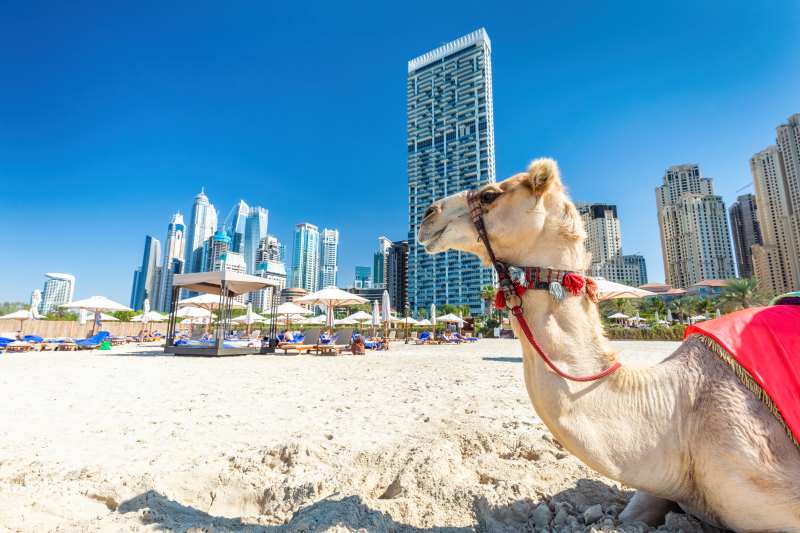 Enjoy a Relaxing View With Dubai Marina Cruises
Dubai Marina offers a wide range of cruise experiences that allow visitors to explore the stunning waterfront and cityscape from the comfort of a boat or yacht. These cruises cater to various interests and preferences. Here are some popular types of Dubai Marina cruises:
Marina Dinner Cruises: Marina dinner cruises are a luxurious and romantic way to enjoy the city's skyline and waterfront. These cruises typically offer a gourmet dinner, live entertainment, and beautiful nighttime views of Dubai. You can find both traditional dhow cruises and modern yacht options for dinner cruises.
Sightseeing Cruises: Sightseeing cruises provide an opportunity to explore the Marina's architectural wonders, including its iconic skyscrapers and innovative developments. These tours often include informative commentary about the city's history and landmarks.
Yacht Charters: For a more exclusive and customized experience, you can charter a private yacht. Yacht charters are ideal for small groups, families, or couples looking for a tailored cruise experience. You can choose the duration, route, and onboard amenities to suit your preferences.
Fishing Cruises: Fishing enthusiasts can join fishing charters departing from Dubai Marina. These excursions offer the chance to catch a variety of fish in the waters of the Arabian Gulf while enjoying the picturesque surroundings.
Sunset Cruises: Sunset cruises are perfect for those who want to witness a breathtaking sunset over Dubai Marina and the Arabian Gulf. These cruises often include refreshments and a relaxed ambiance.
Party Cruises: Party cruises are a popular choice for those looking to celebrate special occasions or simply enjoy a lively atmosphere at sea. They feature music, dancing, and entertainment, creating a vibrant party environment.
Catamaran Cruises: Catamaran cruises offer a stable and spacious platform for exploring the Marina. They are known for their comfortable seating and open deck spaces, ideal for sightseeing and relaxation.
Luxury Cruises: If you're seeking a high-end experience, you can opt for a luxury cruise aboard a premium yacht or catamaran. These cruises often include gourmet dining, top-notch service, and extravagant amenities.
Waterfront Tours: Some tours are designed to showcase the landmarks along the Marina's edge, including the Dubai Marina Mall, Jumeirah Beach Residence (JBR), and more.
It's advisable to book your cruise in advance, and you can choose from a variety of tour operators that offer these experiences. Whether you're looking for a romantic evening, a family-friendly excursion, a party at sea, or a customized adventure, Dubai Marina cruises provide an enjoyable and unique way to explore this remarkable area and the city's skyline from a different perspective.