Getting around in Dubai is not as hard as one might think. Although it's widely known for its high prices and luxurious lifestyle, there are also options that won't break the bank.
If you're looking to rent a luxury car in Dubai or you're looking to save some money on transportation, then this city goes both ways. You've got the luxurious lifestyle on one hand, and the more modest one on the other hand. But, however you choose to travel inside Dubai, I promise you the city will maintain its charm and beauty!
Dubai Public Transport
This city has a world class public transportation network and it can get you from point A to point B in no time. You have multiple options to choose from, that are both efficient and affordable.
Before talking about the public transport in Dubai, you should know that you cannot pay cash for a ticket. You need to use a Nol Card.
Nol Cards are smart cards that are used to pay for the fairs, when taking the Metro, bus or tram. You simply deposit money and swipe it when you get on and off.
Take the Metro to Get Around in Dubai
The Metro is one of the most popular ways to get around Dubai. It's fast and easy to use. There's no traffic and it gets you there in time.
You have two main Metro lines: Red line and Green line. The Red line connects some of Dubai's most popular destinations for tourists, so you'll definitely be using that during your stay in Dubai. The Green Metro line passes through the densely populated areas of Dubai like Deira.
There are two transfer stations where passengers can change between lines. The stations are easy to get around in, with signs that will ease your way through the crowds. Metro takes about 10 minutes to reach each station, just so you know how to plan your trips, if using it.
The runtimes of these two metro lines are as follow:
from Monday to Thursday: from 5 am to 12 am (midnight);
Friday: from 5 am to 1 am;
Saturday: from from 5 am to 12 am (midnight);
Sunday: from 8 am to 2 am (midnight).
If you're thinking you might tour Dubai using public transportation for a few days, then consider purchasing Nol Cards. You cannot use cash or credit cards to directly purchase tickets. The Nol Card is used to pay for the tickets, so you will need to purchase that before your travel. You can download the app on your phone from the App store or Google play.
The Red Ticket is the ideal ticket for tourists, as it can be topped up with 10 trips or 5 daily passes. It's valid for 90 days and it costs just 2 AED. You can read about the pricing, tickets and metro transport on their official website.
You can download the Metro and Tram map of Dubai from here.
Enjoy Taking the Tram
Dubai's tram network only covers 10.6 km and has a total of 11 stations. You can see the stations in the map above, in blue. It connects to the Red line in Zone 2 with Palm Monorail
The tram runs from 6 am to 1 am (the next day) from Monday to Saturday, and from 9 am to 1 am (next day) on Sunday. A full loop of the line takes about 40 minutes to complete and the trams run every 6 to 8 minutes.
Price wise, taking the tram is not expensive at all. The fare is fixed per ride, at 3 AED, regardless the distance you take it. Don't forget about the Nol Card. As the metro rides, trams use the same billing system. You check in with the Nol Card and then then out of the tram, by scanning the screen doors.
If you're a tourist, you might want to purchase the Red or Silver Nol Card ( 3 AED), as for the other cards, the prices can go up to 4 AED per ride.
Children under 5 years can travel for free and students get a 50% discount if they opt in for a Blue Nol Card.
Although it covers a relatively small distance, the tram is a great way to get around Dubai if you're looking to go to Jumeirah beach, Dubai Marina (and Mall) or Palm Jumeirah.
Hop on a Bus to go Around Dubai
Planning to visit in the early morning? Well then, you can hop in a bus starting with 4 am, the last hour for a ride being 1 am (the next day).
There are more than 100 bus routes serving Dubai, so that means you'll be able to get around Dubai easy and fairly fast. Most of the hotels, supermarkets or even tourist attractions can be reached by bus.
To top it off, you should know there are bus services classified by scope of serving. There are Express buses that are the fastest way to cross the city. Dubai also has Metro feeder buses that link travelers to the Metro stations.
If you want to travel between cities, there are also Intercity buses that can get you to Abu Dhabi, Sharjah, Ajman, Hatta, Fujairah and Al Ain. Seasonal buses that go to the Global Village and Miracle Garden are also available. And, of course, you also have the local buses that run just like any other bus, if you have time to spare.
Fares are reasonable and the bus rides are paid using the same Nol Card.
City Cards
If you're looking to see more and pay less as a tourist, then Dubai has something called City Cards. There's a whole lot of these that offer you great deals for visiting the top attractions of Dubai.
In most cases, getting from a place to another is not covered by these cards, but you'll have the option to choose cards that have hop-in and hop-off buses. This is a great way to get around Dubai and check out the views. It's comfortable, easy and safe. You just sit down and enjoy the ride.
Rent a Car in Dubai
Looking to rent Rolls Royce in Dubai? Or maybe you're looking for something more affordable? Whatever your budget is, you can rent cars in Dubai anytime of the day and enjoy the ride.
For tourists and visitors in Dubai, while renting a car, it's required to have your passport and VISA. Without these two, you cannot book a rental car.
Renting a car to get around Dubai is super fast and easy. With your passport, driver's license and at least 21 years of age, you'll get a car to drive around Dubai in a few minutes.
If you're wondering about pricing, well, you can easily go from $30 USD per day to a few thousand dollars, depending on your taste and budget. There are even car rentals for $17 USD per day, usually in the second half of January or first half of February.
Now, why would you want to rent a car in Dubai, when they have this great public transportation? It's easy: to get around fast and see as many things as you can, in a shorter amount of time. You will find that Dubai's infrastructure was designed for cars, and it's enjoyable, safe and easy. Parking is ample and sometimes free.
So, if you are that kind of person that simply wants to see all the places, then renting a car is definitely the way to go in Dubai!
Take a Boat
Marine transport is always fun (if you're not sea sick) and enjoyable, so booking such a ride in Dubai is of no exception.
Dubai Ferry is Fun
Seeing the historical sites and Dubai's coastline is considerably beautiful if you do it by ferry. It's one of the best ways to experience both the breathtaking views and also relax.
There are 6 major routes you can take with the ferry, including an inter-city one.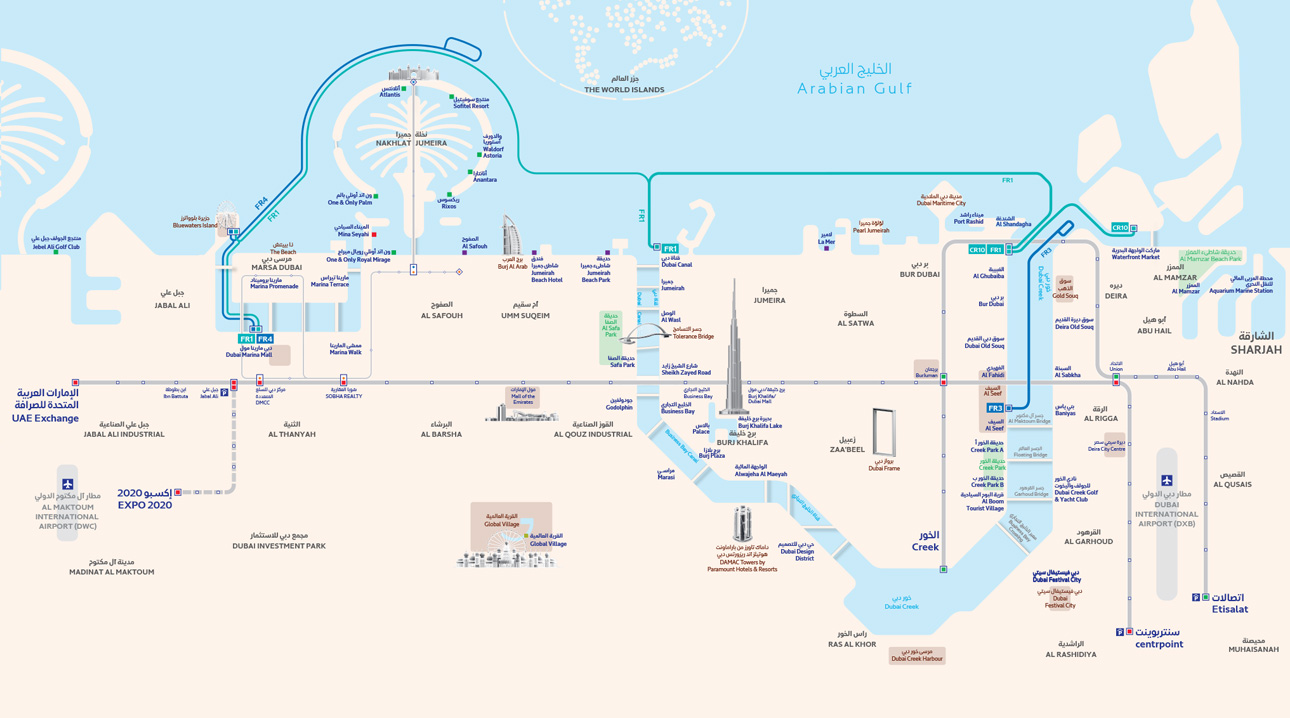 Try Crossing With the Abra
This is Dubai's traditional way of crossing, so if you feel you want to explore the culture in depth, then this is a ride you shouldn't miss.
While there are more modern Abras, with air conditioning and the latest tech on board, you also have the option to choose the traditional Abra, which is half boat and half raft.
Pricing for one way ride would be 2 AED for the modern Abra and just 1 AED for the traditional Abra.
There are also more expensive rides with a modern Abra, like taking the Petrol Heritage Abra on the Dubai water canal. It's a trip that lasts around 45 minutes and it costs 25 AED/hour per person. and 300 AED per hour/charter. Children under 2 years of are can board for free.
What's important to know about the Marine Transport is that children under 12 are not allowed to use it unaccompanied, and they also have to wear a life jacket. Don't forget to bring your passport as you will need some ID to join the ride.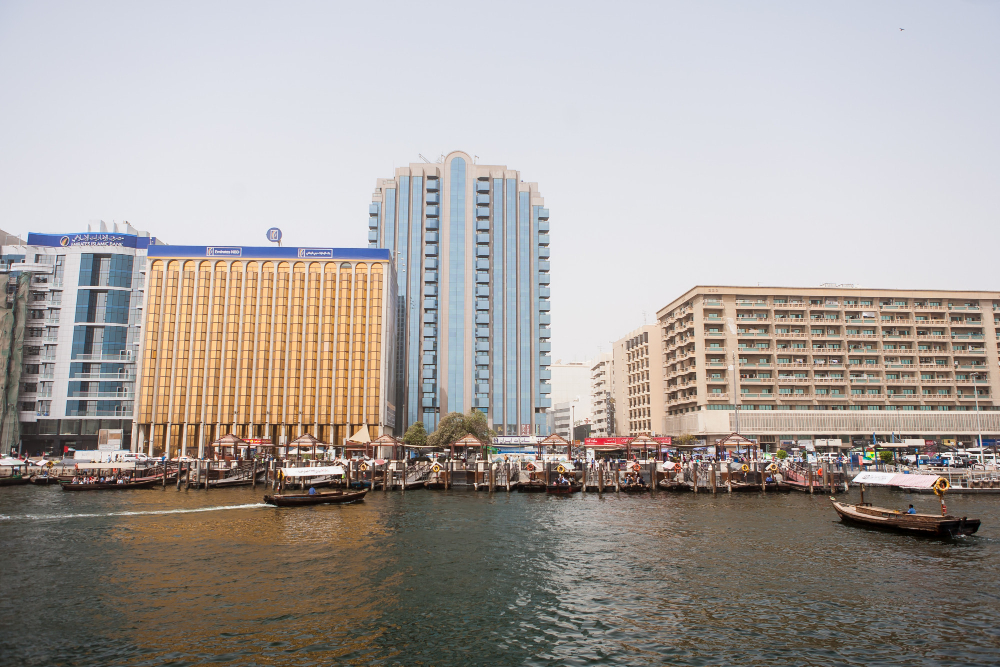 All in all, if you're a tourist looking to get around in Dubai, don't stress too much. If it's your first time there, you will find the city is surprisingly well organized when it comes to transportation and that all the top destinations are easily reachable. Cost wise, it can be very expensive or fairly cheap, depending on your budget. Just enjoy the views and make the best out of it!