If you're thinking about Maldives attractions, then that means you're already packing for vacation. And what a wonderful vacation this will be! The Maldives are a tropical paradise where anyone looking for sunny weather and relaxation will fit right in.
This place is filled with Maldives Villas that boast in spectacular views and luxurious accommodation. You can never go wrong with choosing this location for your holiday. Sparkling turquoise lagoons or deep blue ocean waters, lined with soft sand and lush greenery, all add up to the most amazing scenery.
The beaches, fish market and numerous islands are what Maldives is best known for. The attractions here might not be for everyone's taste, but if you're looking for peace and quiet, love to soak up the sun and snorkel, then this is the place to be.
Maldives Attractions – Things To Do
As the Maldives is actually a small archipelago, there is a limit to what you can do during your stay. If you're not the kind of person looking to just relax and lay on a sunbed, then you'll surely enjoy the nightlife.
The bliss and solitude is perfectly balanced by the exciting nightlife of the Maldives. Subsix at Niyama is one of those places that attracts party lovers inside an underwater nightclub. If you're looking for an amazing experience and you have never danced to the rhythm of the waters, then this 6 meter below the water restaurant is something you'll not easily forget.
Have you ever heard of crab racing? We didn't either, until we found it in Kuredu. It turns out it attracts a big crowd of people, and not only children. You can bet on your favorite crab and the winner gets rewarded with anything from a free trip to a dinner on the beach. All your crab needs to do is cross the sand circle first!
Even if you have an awful singing voice or maybe want to brag about your vocals, Maldives doesn't lack karaoke venues. Taki Taki, Flamenco or Karaoke Room are just a few spots where you can enjoy others singing. Friendly people gather around to claim a few minutes of celebrity fame and entertain the crowds. There's no need to actively participate in the live concert, but the atmosphere is fantastic.
The jungle cinema is another thing not to be missed and that's why we've included it in Maldives attractions. It's a memorable movie experience that you will enjoy, even if you're not a cinephile. Fresh popcorn, some snacks and comfortable sunbeds await guests, all in a natural and delightful environment, at Gili Lankanfushi.
Have you ever been fishing at night, under a sky filled with stars that you can actually see? Night fishing in the Maldives is a way of entertainment, where you can catch fish and also get a glimpse of the amazing star studded sky. It's a fun activity for tourists and it doesn't matter if you are an experienced fisherman or not. It's all about feeling good. But it doesn't end when you reach the shore. If you were lucky enough to catch some edible fish, there's a barbecue waiting for you!
Things to do in Maldives for Couples
If you're traveling with your significant other, then this is one of the most romantic Maldives attractions you need to try: star gazing. Have you ever seen the Milky Way? Bet you didn't know you can see it from the Maldives! Starting with the end of February and until the mid of October, you can enjoy a breathtaking view of the Milky Way while nesting comfortably in the fine sand, cuddling.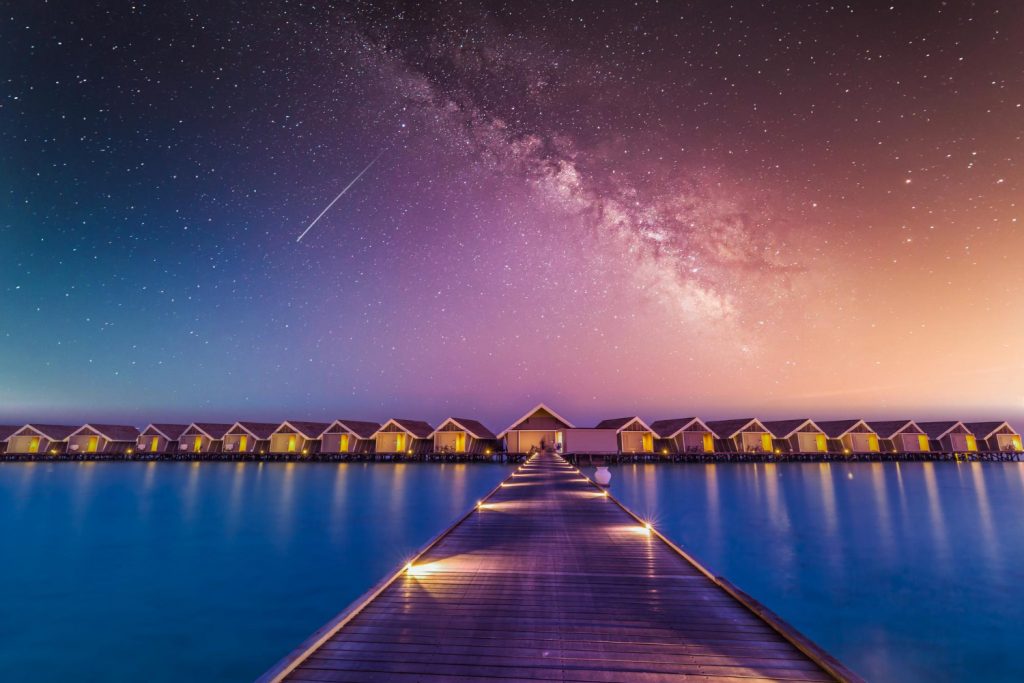 Finolhu Bubble tents are another experience you might enjoy as a couple. If you're looking for a romantic evening with an extra oomph, then be sure to book this stay. What could be more amazing than sleeping under a clear star lighted sky? And to top things up, you'll have your own private beach barbecue and breakfast on the beach is served!

Another thing you shouldn't miss out on doing with your loved one is visiting the glowing beach. Yes, that's right! There's a beach that lights up at night in Mudhdhoo Island (also known as Vaadhoo Island) and this makes it a unique place to be when the sun goes down. The organisms that live in the sea luminate the shoreline, creating a magical scenery, and you'll be living in a fairytale in no time. Mind you, it's not a regular nightly occurrence, but you might be lucky enough to see it.
Other activities that are great for couples include treasure hunting underwater, pampering yourselves in one of the many SPA centers or boat riding. There are lots of Maldives attractions you can try doing, depending on your state of mind.
What is Maldives Best Known For?
You might think that the Maldives is best known for its resorts, but it's actually the wide spectrum of marine life that makes it amazing.
People come to the Maldives (or wish to be there) because of the vibrant culture, wonderful beaches and to swim freely in the Indian Ocean. What a fantastic feeling to explore the coral reefs, clear waters and sprawling greenery, all while sea turtles make swim their way into the ocean.
It's the perfect place for sea lovers, a tropical honeymoon, shopping or enjoying the cultural diversity of this planet. It's a place that has it all, besides snow and low temperatures.
If you're someone who likes water sports, then the Maldives has wakeboarding, flyboarding , jet ski, parasailing, snorkeling and a lot more! You won't get bored here.