Quad biking, also known as all-terrain vehicle (ATV) riding, is a recreational activity that involves driving a four-wheeled vehicle designed for off-road use. These vehicles are often small and agile, equipped with powerful engines, and are intended for navigating a variety of terrains, including dirt trails, sand dunes, rocky paths, and more.
When in Dubai, you shouldn't miss this type of adventure, as it's a fun and adventurous way to discover the desert and the magical landscape.
To start with, you shouldn't actually be afraid to take on an activity like this. It might sound scarry at first, but trust us, they are safe. Quad biking is primarily an off-road activity, and riders use these vehicles to explore natural landscapes and terrains that may be inaccessible to conventional vehicles.
Don't be hesitant to jump on an ATV. They are designed to handle a wide range of terrains, making them suitable for activities like desert riding, mud bogging, forest trails, and mountain paths. Quad bikes are typically controlled using handlebars similar to those on a bicycle. You can use your hands to accelerate, brake, and steer the vehicle.
To ensure safety, tourists are often required to wear protective gear such as helmets, gloves, goggles, and sometimes even body armor. It's one of Dubai's popular recreational activity and is often enjoyed by adventure enthusiasts, thrill-seekers, and nature lovers.
So, if you're thinking of traveling to Dubai, make sure you don't miss out on this amazing experience. It just gives you a great sense of freedom and amazing thrills. Just imagine roaming the desert and experiencing silence. Maybe a breeze once in a while, but the feeling is indeed fascinating for those who get to explore it!
How much is quad biking in Dubai?
The cost of quad biking in Dubai can vary depending on several factors, including the duration of the ride, the location, and the specific package or tour you choose. As of my knowledge, you will find below some approximate price ranges for quad biking experiences in Dubai:
Desert Safari Tours: Many desert safari tours in Dubai include quad biking as part of their packages. The price for a desert safari, which often includes a short quad biking experience, can range from approximately $40 to $100 or more per person, depending on the level of luxury, inclusions, and the tour operator.
Dedicated Quad Biking Tours: If you're specifically interested in quad biking and want a longer riding experience, there are dedicated quad biking tours available. These can range from around $60 to $150 or more per person, with variations based on the duration of the ride and whether it's a guided tour or a self-guided rental.
Rental and Track Riding: Some indoor adventure parks and dedicated quad biking tracks in Dubai offer rental services for quad bikes. Prices for rental can vary, with hourly rates typically starting at around $50 and going up from there.
Group Discounts: Tour operators and adventure parks may offer discounts for group bookings or packages that combine multiple activities.
Please note that these prices are approximate and can change over time. It's advisable to check with tour operators, adventure parks, or booking platforms for the most up-to-date pricing and availability. Additionally, consider the type of quad biking experience you prefer, whether it's a guided tour, a desert safari package, or self-guided riding, as this can influence the cost.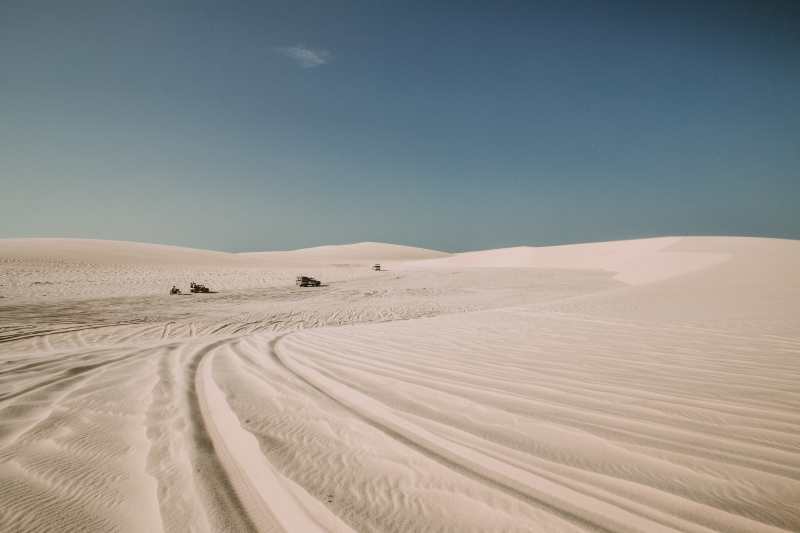 Do you need license for ATV in Dubai?
The short answer is no. You typically do not need a specific driver's license to operate an all-terrain vehicle (ATV) in Dubai if you are riding in designated areas or as part of guided tours and excursions. We know that in some countries you are indeed required to have a driver's license, but it's not needed for quad biking in Dubai. However, there are some important points to consider:
Age Restrictions: Operators of ATVs are often required to meet minimum age requirements, usually around 18 years old. Some tour operators may have their own age restrictions, so it's essential to check with the specific provider.
Safety Measures: You are generally required to wear appropriate safety gear, including helmets and protective clothing, when riding an ATV.
Guided Tours: Many ATV rides in Dubai are offered as part of guided desert safari tours. In such cases, the tour company typically provides the ATVs, and you'll receive basic instructions and safety guidance.
Rental Services: If you plan to rent an ATV from a dedicated rental service, they may require you to provide a copy of your passport and/or sign a liability waiver. Some rental agencies may have specific requirements, so it's best to check with them in advance.
Public Roads: ATVs are not generally allowed on public roads or in urban areas. They are designed for off-road use, and using them on public roads without proper licensing and registration is usually not permitted.
Please note that regulations and requirements can change, so it's essential to verify the latest rules and guidelines from local authorities or the ATV rental or tour operator you plan to use. Always prioritize safety and adhere to the rules and recommendations provided by the operator or local authorities when enjoying ATV rides in Dubai.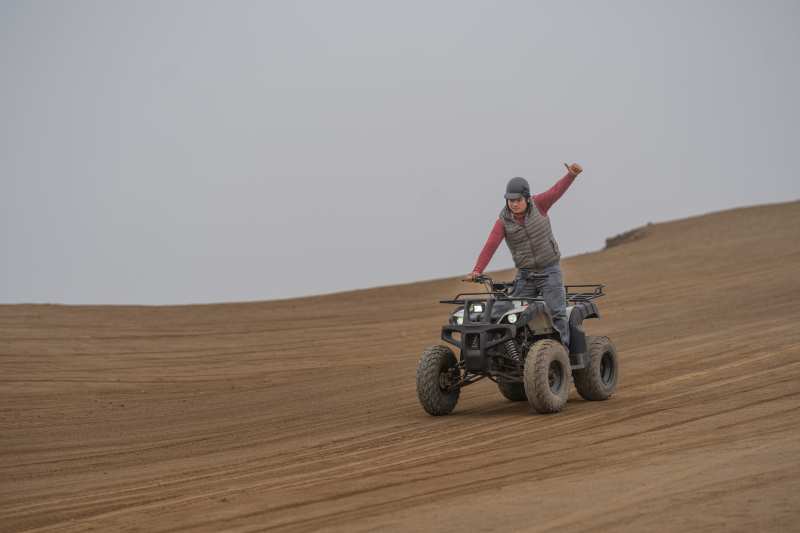 Quad biking provides an exciting way to experience the outdoors, offering a combination of adventure and exploration. Whether you're riding through sand dunes in a desert, exploring rugged mountain trails, or navigating forest paths, quad biking allows you to immerse yourself in nature and take on the challenges of off-road terrain. It's important to prioritize safety and adhere to any local regulations or guidelines when engaging in quad biking activities.
All in all, if you're an adventure seeker and want to try out something different and new, then quad biking in Dubai might be just what you need. It doesn't matter if you're traveling with a group or solo; the ride will fascinate you either way! We've seen teenagers, grownups and even elderly people take on this challenge and we've seen the happiness on their faces. Give it a shot and don't be afraid, it's worth it!