Imagine spending time at one of the biggest resorts on the Black Sea Coast, sinking your feet in golden sand. You no longer have to imagine; make plans to visit Golden Sands, a resort town in Bulgaria within the Varna municipality. Its popularity grows every year with tourists traveling from all over the world to engage in various activities in the resort town.
When to visit Golden Sands Bulgaria
Golden Sands has a mild climate that makes it an attractive destination all year round. If you love sunbathing and enjoy feeling the warm sunshine on your body, plan to visit the resort during summer. The season begins mid-May and gets better from June to September, making it the best time to visit.
The high season is from July to August, when the town experiences ten hours of sun daily. During these months, the weather is warm during the day and night, with temperatures reaching 30⁰C. The longer hours of sunshine give visitors more time to sightsee and enjoy beach activities.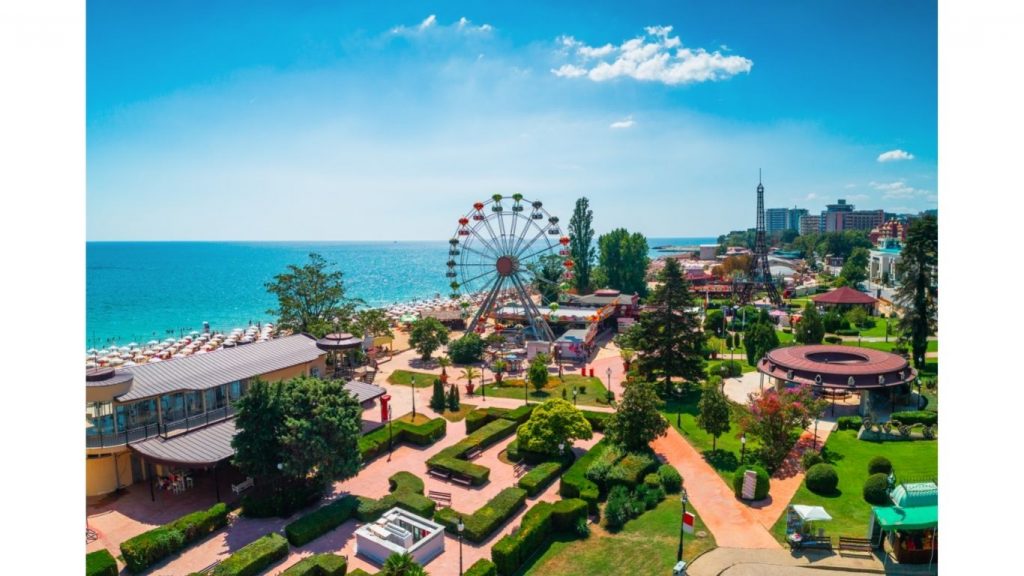 How big is Golden Sands Bulgaria?
Considered one of the largest resorts in Europe, Golden Sands is a beautiful sight to behold. Located to the north of the Black Sea Coast, it has plenty of lush vegetation comprising bushes and trees that resemble a park.
The resort has a beach strip that stretches 4 kilometers and is 100 meters wide, giving it the title of "best beach in Europe." Its pure sandy beaches filled with "golden sand" comprise gentle slopes with no sudden drops or rocks.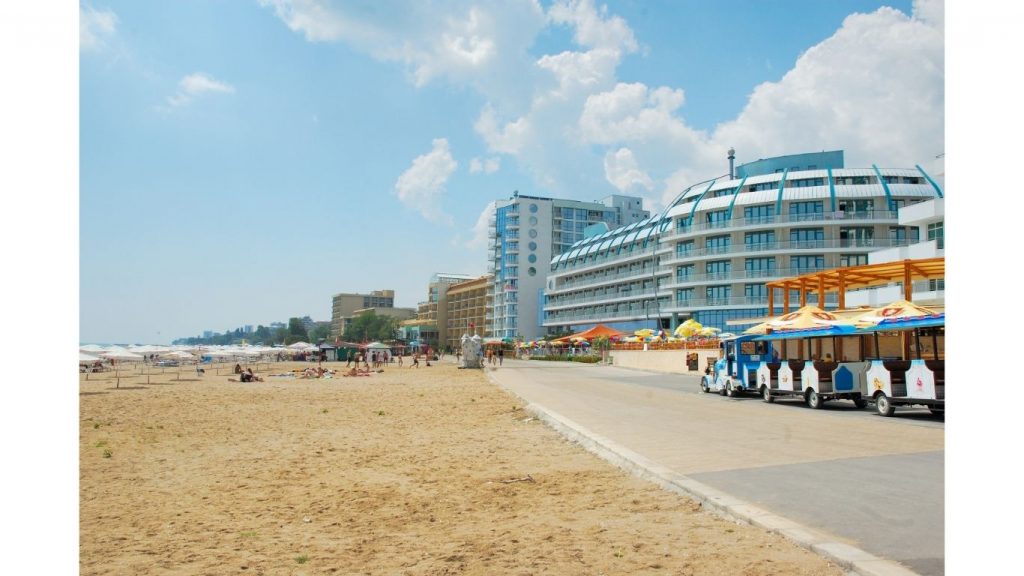 It proudly holds a Blue Flag resort badge which means that its beaches are clean and free from pollution. Besides the warm sand, visitors have an expanse of crystal-clear water perfect for cooling off by swimming or engaging in various water activities.
The beachfront promenade has several bars and shops that are the perfect spots for shopping and winding down at the end of the day. Many hotels are located within the broad-leaved forests at the resort and offer services at different categories and prices.
Additionally, Golden Sands has an Aqua Park and various facilities perfect for water sport activities. Its massive size is also heightened by its virtual connection to other nearby resorts, namely Riviera Resort, Elena Resort, St Konstatin, and other villa communities.
How far is Golden Sands from the airport?
Located 19km from Varna, Golden Sands is a leading seaside resort in Bulgaria that receives visitors throughout the year. Luckily, the area is served by two airports and several motorways, making it accessible to local and international travelers. The two major airports near Golden Sands are Varna International and Bourgas International.
Varna International airport is the closest airport to Golden Sands, approximately 25 km away. Visitors will take about half an hour from the airport to the resort using a private vehicle. Although it is 150 km away from Golden Sands, Bourgas International airport is another option for travelers. It takes about 140 min to move from the airport to Golden Sands using a private car.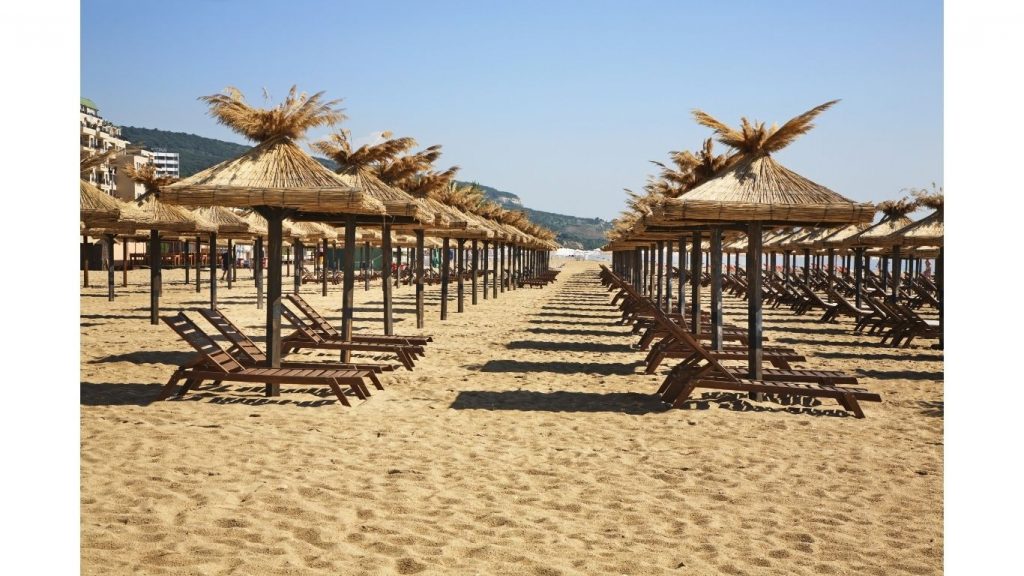 Where to stay in Golden Sands Bulgaria – Hotels
As far as accommodation, Golden Sands in Bulgaria offers a great variety from which you could choose. Ranging from budget rooms, to posh hotels, this place has it all.
You will find that most of the hotels offer an All Inclusive stay. That make things so much easier, if it's your first time visiting the Golden Sands.
RIU Astoria Hotel – 4 stars that feel like 5
When we first visited Golden Sands, we stayed at RIU Astoria – All Inclusive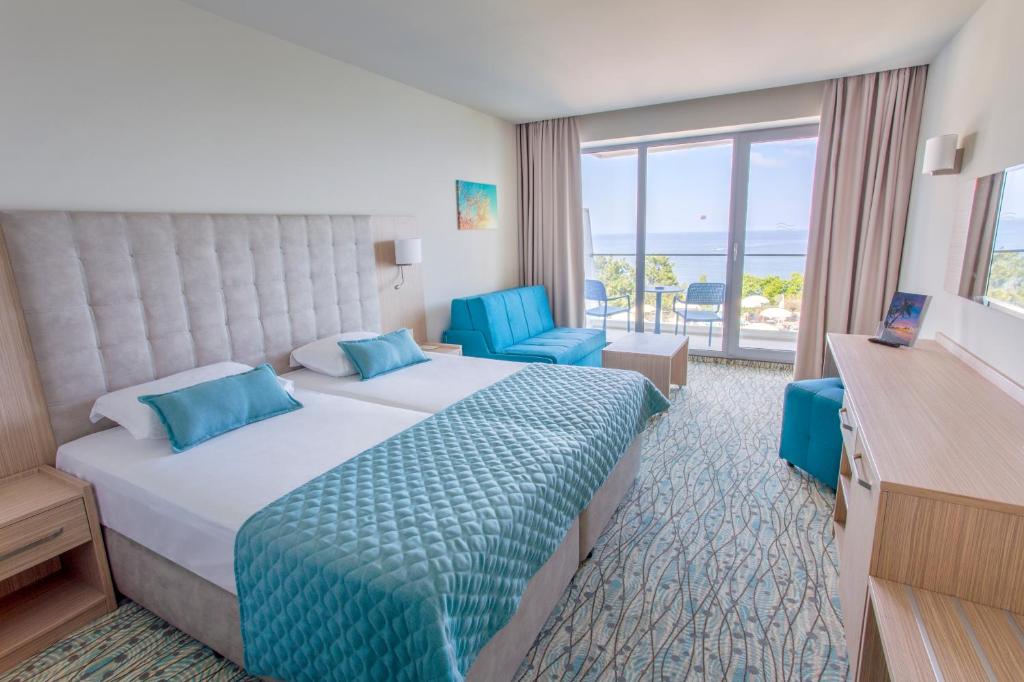 We had a sea view room, and an all inclusive stay.
Cleanliness: 10/10
Everything was clean. From the entrance to the room itself, there was nothing to be said. Several times a day someone would clean the entrance of the Hotel, mop the floor and make sure everything was ready to receive guests. The room was clean, with fresh air, and the view was amazing! The cleaning staff came by everyday and made sure you had all you need in your room. If you didn't want to be bothered, you just set the room to display " Do not disturb". In addition to that, the room had a doorplate with Please wait, Clean my room and a Bell.
Food: 10/10
Although we did see some reviews that were not so encouraging, we were lucky enough to be there when a chef was invited to cook. As a result, all we can say is the food was exceptional! But, the chef was there for only one evening, while we were there for 4 nights. Despite the reviews, we found everything to be tasty and fresh.
They had everything from vegan to pulled pork, pizza and rabbit, and, of course, sea food. Everyone could tell those were made that day, and not reheated. Even the deserts tasted heavenly! So, despite some negative reviews, all we can say is that the food was actually like we've never had in an all inclusive stay!
Drinks: 5/10
Like all inclusive resorts, drinks are something that just don't live up to anyone's expectations. Coffee tastes like tea, beer tastes like water with an aroma, orange juice like chemicals and so on. As opposed to the overall feel of the Hotel, the drinks were not that great, would have expected a lot more. As a consequence, we had our coffee somewhere else every morning – which was great, considering it was by the sea side.
Alcohol drinks and cocktails that we had were okay-ish, drinkable.
Location: 10/10
Perfect! It's right by the sea side. You just get out of the hotel and there it is, right in front of you: the Black Sea. It also has a private beach, which is always a plus on my list!
As the Golden Sands resort in Bulgaria is not that big, I cannot say if it was too far or close to other locations. It was a walkable distance to every spot (if you enjoy walking!).
Staff: 8/10
Don't get me wrong, the staff was super-polite, everywhere you went. But not all the staff spoke English, which made it a bit difficult to understand one another. That's why I've rated 8 out of 10. Nothing else to comment about that.
Other things to know:
They have a program for kids, so if you're thinking of bringing your toddlers, you'll be just fine. They have a small pool for that, a playground and at night they have a whole dancing and singing program!
You need to pay for your parking spot – either at the reception or when booking your stay.
You can only have free drinks at the pool bar, after the daily meals end.
Although we never actually stayed in Grifid hotels, we could tell from how they look that they are fabulous!
Their resorts look luxurious and high-end. Everything from top to bottom. Their wide sandy private beach is always clean and the sunbeds have a generous space between each other, so you'll have your privacy.
The architecture from the outside looks amazing, as it is from the inside. The design is lavish, but has a cosy feel to it. It's not in anyway intimidating or cheap!
All the Grifid hotel locations are highly rated. Rooms are spacious, pools both inside and outside are great, nice top terrace, restaurant at the beach remarkably good and tasty food.
As a consequence, we are not reluctant at all to recommend this hotel chain to you. If you're looking to have an all inclusive stay in a wonderful place, then don't hesitate to look at the Grifid Hotels.
Golden Sands restaurants – Where to Eat
Eating out is a great way to experience Golden Sands and interact with the local cuisine. Luckily, the seaside resort has several restaurants worth checking out regardless of your taste.
Old Oak Restaurant
If you would like to try traditional Bulgarian food in a modest restaurant, Old Oak is the perfect spot. The eatery located between hotels Melia Grand and Admiral offers a wide variety of local meals prepared in Bulgarian cooking style.
Besides local dishes, you can try out their dishes in their fish menu and freshly made Mediterranean salads. The cost of meals at Old Oak is reasonable, making it an excellent stopover for delicious cuisine on a budget.
Checkout the Coastal Town of Balchik – a Scenic Paradise
Golden Dreams Boat restaurant
The towering boat with an eatery inside is an attraction and a great place to grab a meal. The restaurant's exterior takes you back to earlier days in Bulgaria when boats were a major source of transportation. Once you step in, you are ushered into a beautiful space fitted with an inviting setting and affordable meals. The meals are a mixture of local and international cuisine, giving you a chance to sample great dishes while exploring the boat.
Magdalena Restaurant
Fish lovers say Magdalena is a "must visit" restaurant when visiting Golden Sands. The fish restaurant near Nirvana beach has a seaside ambiance and the best fish dishes in the area. Its location allows diners to enjoy a cool sea breeze as they enjoy various delicious specialties that include perfectly fried fish. Accompaniments such as roasted peppers combined with garlic and dill are a "must have" when in Magdalena. The prices of the seaside eatery are average regardless of the dish selected on the menu.
La Mer Restaurant
La Mer is the epitome of fine dining with an atmosphere of high-quality service and an excellent menu. It's a great place to enjoy a summer meal selected from their wide range of Mediterranean dishes. Wine is also available on order with its in-house sommelier helping diners choose the right one. Besides the refined atmosphere, the service is top-notch and attracts restaurants looking for flawless service.
Things to do in Golden Sands
Golden Sands has lots of activities worth trying out for those traveling alone or in a group. Some of the activities are accessible at no cost, while others require a minimal fee to be allowed in. Although the places to see in the seaside resort are many, some of the popular things to do are:
Visit Aquapolis
Have some fun in the water and cool down at Aquapolis, a waterpark at Golden sands. The 40,000 square meter park has numerous facilities that make it the perfect place to spend the day. Spend time at the pool, waterslides, waterfalls, towers, Jacuzzi, and ancient ruins, all within the park. Children get a chance to enjoy pony rides or play mini-golf at the park. Take a dip in the hot springs – Golden sands has several baths and mineral pools that are great for relaxation. The pools and baths are said to contain healing powers that leave your body feeling refreshed. Most hotels in the area have spa facilities that incorporate the hot springs as part of the offered services.
Relax on the beach
Golden sands has several Blue Flag beaches with clear warm water, making it a hotspot for swimming and other water activities. You can decide to lounge on the available loungers that are placed on the beach or engage in games such as beach volleyball, football, or tennis. Walking along the promenade will lead you to restaurants, bars, and shops, where you can grab lunch or buy gift items for loved ones.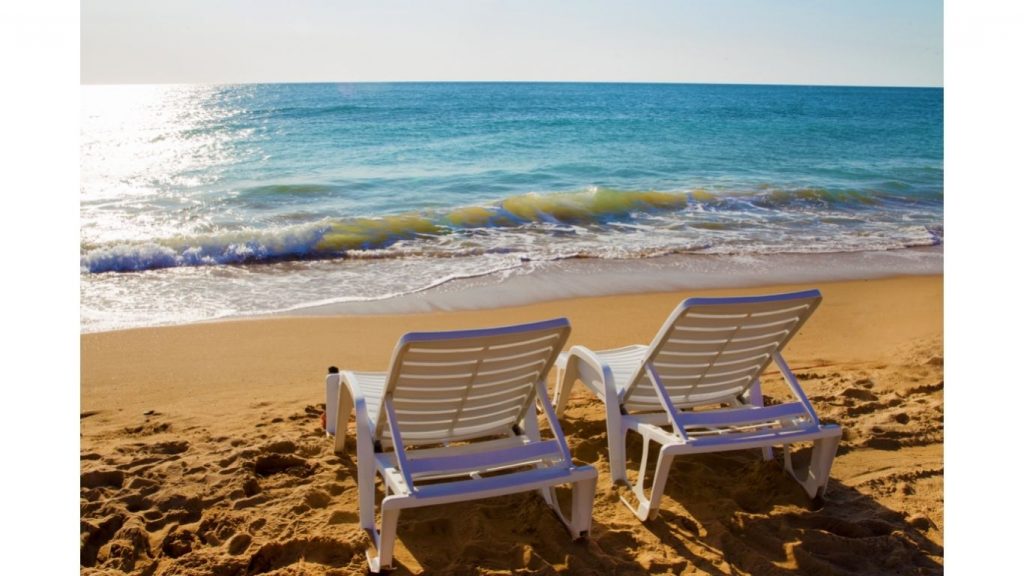 Enjoy the vibrant nightlife
You can be assured of a memorable night out in Golden sands at its many nightspots. Start with cocktails in the evening at Mojito Beach Bar before proceeding to nearby bars for some live entertainment or karaoke. If you love dancing, make your way to Arrogance Music Factory and dance the night away. With many bars, discos, and nightclubs, the seaside resort is a fun destination in Bulgaria.
Ultimately, Golden Sands is one of your best bets when it comes to an all-around summer vacation spot in Bulgaria!