Did you know that some of these essential phone apps when traveling abroad are a must? If you want to elevate how you plan your trips, save time and money or make sure you don't miss out on anything, then keep on reading!
Sygic for maps that don't use data
Sygic has a GPS navigation which makes it a great phone app when it comes to travelling abroad. A big plus for the app is that it doesn't need internet connection for it to run. So, considering the costs of activation your Internet when abroad, this is fabulous!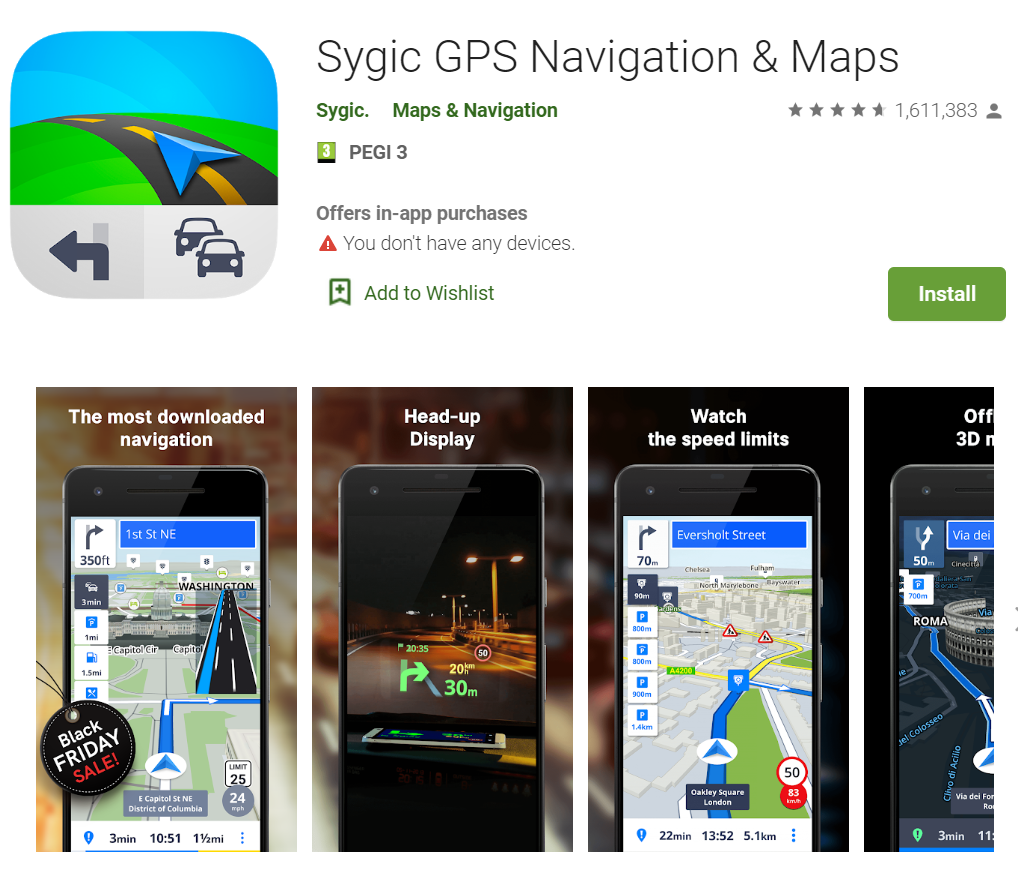 You can find great parking spots, escape traffic jams, see the closest petrol stations and fuel prices.
For those of you travelling with buddies, you can also share the routes and see the speed limits for each road.
This is one of the essential phone apps when traveling abroad that is targeting drivers in general, as it has a head-up display that projects navigation onto the car's windshield.
One time pricing: 13.99 EUR for Europe + Traffic or 17.99 EUR for World + Traffic. This travel phone app also has a free version available.
Add-ons: real view navigation, cockpit, dashcam and head-up display. These cost 3.99 EUR per add-on.
Android and iOS compatible.
You can get it on Google Play or download it from the App Store
Maps.me offline maps, tourist routes and navigaion
Essential phone apps when traveling abroad let you see the locations you need, even when you don't have Internet.
With Maps.me you can browse through Lodging, Shops, Transportation, Health, Food, Entertainment and much more!
This app helps travelers to find the right spots to visit: museums, parks, restaurants and organize independent travels.
It also has a great feature that uses walking routes and actually calculates the walking distance and time between different points.
Hotel bookings are available right on the map and prices are shown before booking.
You can get it on Google Play or download it from the App Store
AirBnB for great travel experiences
Besides from it being a top 5 booking website, AirBnB is one of those essential phone apps when traveling abroad that you need to have. This particular app can be quite handy if you're familiar with all its features.
Did you know that you can also find travel adventures and discover new locations? You have access to a vast network of information that can change the way you plan your vacations!
Hike to hidden waterfalls, Cook and dine with locals, take a history tour with a local DJ – these are just a few experiences that you can book, while browsing AirBnB. Go behind the scenes and enjoy the journey with this amazing app.
Download it for free on Google Play or App Store.
Google translate or iTranslate
These two apps are a must have companion, while traveling abroad.
You just type in your search phrase or sentence and you have an immediate translation on your screen. This helps a lot with street signs and communicating with locals.
This app can also be used with the camera or microphone, translating both images and audio. That means you can use this to record locals speaking to you and then have Google translate it for you.
Download Google translate from Google Play or from the App Store.
Both apps are free and have similar functions, so depending on your preference, you can choose any.
TripAdvisor for restaurants, tours and activities
TripAdvisor is one of those essential phone apps while traveling abroad that you must have!
Used by many tourists, it's popular because it offers extended information over a trip you're about to take or a specific place that you plan on seeing.
It has built a global community around the globe, made up of people that share their real experiences so that other travelers can learn from them. You can check out the best attractions, read about the must-take experiences, find the greatest restaurants and the hidden gems that you rarely get to read about.
What else can you do with TripAdvisor? Well, you can search flights, book vacation rentals in more than 200 countries, find the best cruises you need to be on, rent cars and many more.
…and you get all these things for free! Now do you see why we named it an essential app while traveling abroad?
You can download TripAdvisor app from Google play or App Store.
MoovIt for navigating public transport
Traveling abroad can mean extra costs if you don't know your way around. Taking a cab can be quite expensive. So, why not use public transport?
Moovit is one simple app that you need to have if you plan on moving via public transport and save some money!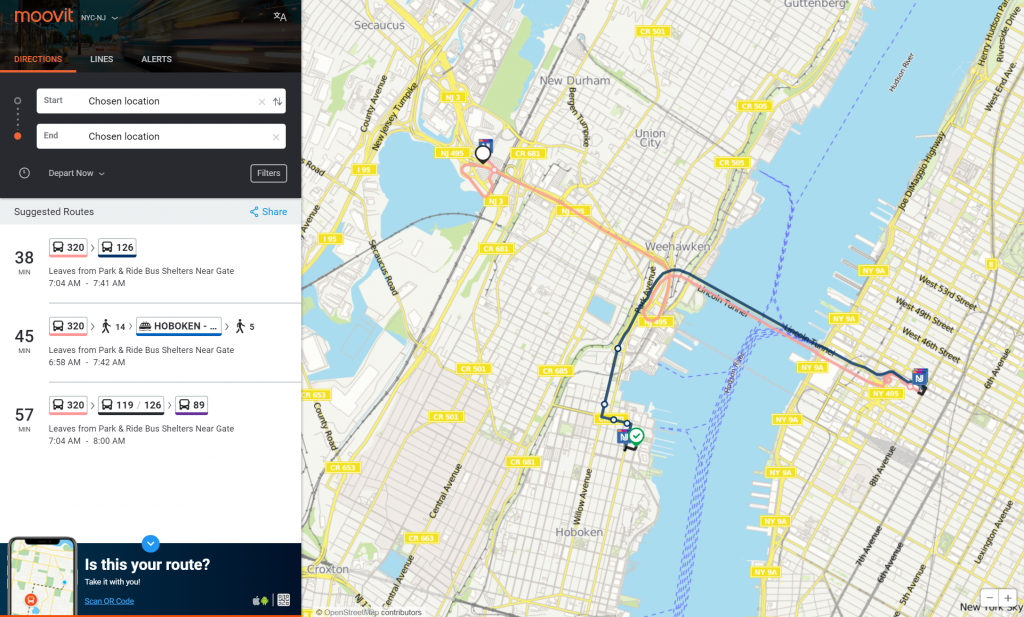 How does it work? Easy! You just input your location and destination and voila! You have your route.
You will also get real time alerts, updates about modified services and subway routes.
Moovit is a free app that you can download on your phone using Google Play or App Store.
Rome2Rio or getting from point A to B anywhere on the globe
Rome2Rio or R2R has been ramking in the top for essential phone apps when traveling abroad.
When wanting to get from a location to another, it searches over 200K train lanes, 650K bus routes, 10K ferries and over 50K flights.
Vienna to Bucharest, Madrid to Lisbon, Paris to Rome – you can see the costs and time for your travel with one click.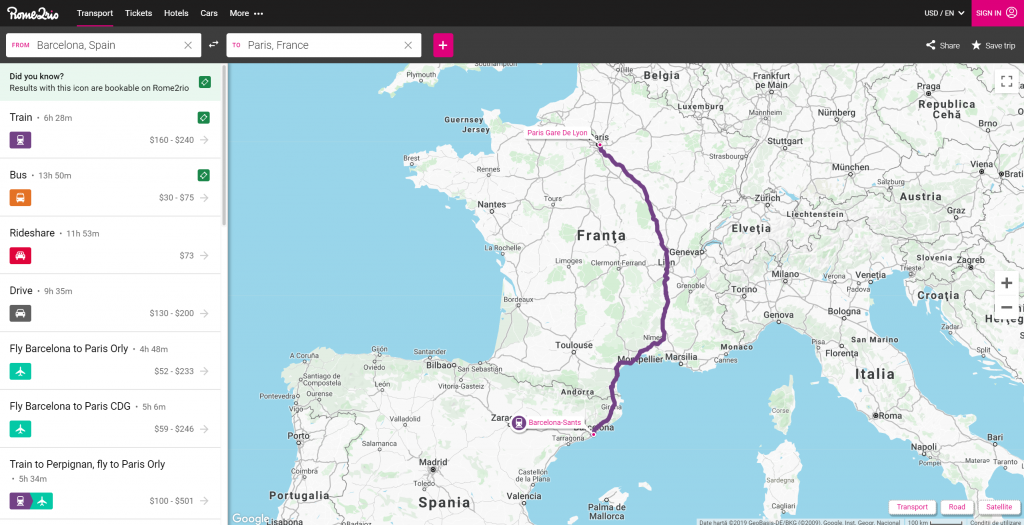 Accommodation, car hire and main attraction spots are also featured in the app. So, it's got you covered!
Rome2Rio is a free app that can be downloaded on your mobile phone from Googe Play or App Store.
Rick Steves app for guided tours
Why spend money on tour guides when you can have your private one, for free?
Rick Steves app lets you enjoy the surroundings while listening to great tips and jokes. Judging from the hundreds of positive reviews, this app is helpful in making you understand the culture of the places you visit, while also discovering hidden treasures of the land.
Another thing that makes this app essential when traveling abroad is that you have handy pdf maps that you can view on your device. But, there's also a big down sight to it: it's only available for America. New audio tracks for Europe will be added later on and the older ones updated.
This useful travel app can be downloaded here, via Google Play or on App Store.
AllTrails (for hiking/outdoorsy trips)
Finding your next favorite trail might be hard for you, but that's only because you haven't heard of AllTrails till now.
You can search in over 100K trails with useful information, detailed reviews, maps and photos/videos taken by other hikers.
Bringing a kid or your own pet? You can filter the trails based on companions or how hard the trip should be.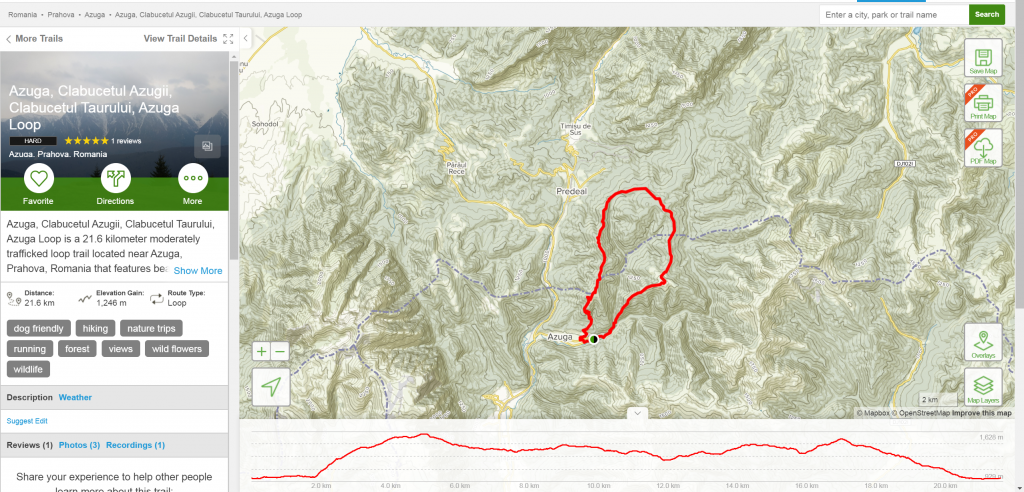 Another great thing about this app is that you can create custom maps: draw routes, waypoints, select colors and even share it with your friends or family.
If you're thinking that AllTrails might cost you a fortune to download, you can relax, it's all free! Download it from your Google Play or App Store.
Yango – a different kind of taxi app
While traveling abroad, you might find yourself in a situation where you just need to get a cab. But wouldn't it be better if you already know how much the fair costs?
Yango does just that! You can see upfront fairs, get the ride in minutes and make stops along the way.
Don't have enough cash? That's alright! The second best thing about this app is that you can pay the ride using your Credit Card.
At the end of your journey you will be asked how your experience was and you need to leave a feedback for the driver. If the experience was awesome, a tip is always welcomed!
XE Currency – transfer and monitor
Besides routes and places to see, we shouldn't exclude essential phone apps when traveling abroad that let you send, receive or convert money.
XE Currency does more than that. Students, expats and tourists alike have found this app helpful in their day to day lives.
It's their go-to phone app when sending, receiving or spending money.
Instead of going through the hassle of transferring your local currency to another through your bank, XE lets you do that instantly, on your phone. You can transfer currencies in over 170 countries, monitor conversion rates and set alerts or receive notifications.
XE Currency Converter & Money Transfers is a free app that can be downloaded via App Store or Google Play.