Veramar Beach, Kranevo, Bulgaria
This was the first time I went to Kranevo, Veramar beach, in Bulgaria. Although I heard that the seaside in Bulgaria is great, never had the chance to visit it. And I thought, why not? So, I booked 3 night at Veramar Hotel, all-inclusive, in July 2020.
Why did I choose Kranevo for a short beach vacation? Well, I wanted to spend time on a less crowded beach, far away from all the madness of hyper-full resorts. And I found one, in Veramar, Kranevo.
Kranevo is close to a number of great spots, so I also got to visit: Balchik, Dalboka and enjoy some stunning views along the way.
Balchik is famous for housing Queen Marry's Gardens and Palace. These two sites are worth visiting. The gardens are a pleasure to explore as they expand over 65 000 square meters and host over 2000 species of plants.
If you love mussels, then Dalboka is not far away. You'll find that the mussels farm restaurant is right by the Black Sea. It serves fresh mussels, fish, snails and some more. Delicious, I might add!
While you're in Kranevo, you can take a short walk to Albena. Just follow the sea, dip your feet into the sand and in 10 minutes you'll reach Albena and its beach. If you're into sunbathing without your clothes on, you'll also have a nudist beach, right there, inbetween.
Where to Stay in Kranevo?
I booked my spot at Veramar Beach Hotel, all inclusive, and it was great!
To be honest, I wasn't expecting the hotel to be as nice as it was. The inside was all clean and modern, and the staff was ok. The only inconvenience was that they didn't speak english that well, but we were able to understand each other perfectly!
The room had a sea view. I thought that during the day it would get scorching hot inside, but it was actually nice. They also had an air conditioning that worked seamlessly when turned on. The room was chilled within minutes. Bathroom was clean and modern, the bed was so comfy and the furniture was almost like brand new.
Veramar Beach hotel has its own private pool where you can bathe if you wish, anytime. It also has some slides for small children, sunbeds, umbrellas and a bar where you can get your drinks.
If you're eager to visit the beach, well, it's only 2 minutes away – right in front of the hotel. Veramar also has a private beach where you can go and relax. They don't charge you for the sunbeds or umbrella, as long as you have the Veramar Beach bracelet on your hand.
At night they would put up a show, with games and music and everybody was feeling great. The atmosphere was nice, welcoming. I've heard no tourist complain.
Food was diverse and tasty – also a big surprise. I would have expected the menu to be relatively poor in terms of dishes, given that the booking price was actually quite cheap. But, Veramar Beach hotel surprised me again. You will find pictures in the video above.
Breakfast, lunch and dinner at Veramar Beach hotel were Sweedish buffet. That meant that you could combine and choose whatever you wanted. They also had snacks between servings (ice cream, cakes, fruits, pizza etc) so you're stomach was always pleased.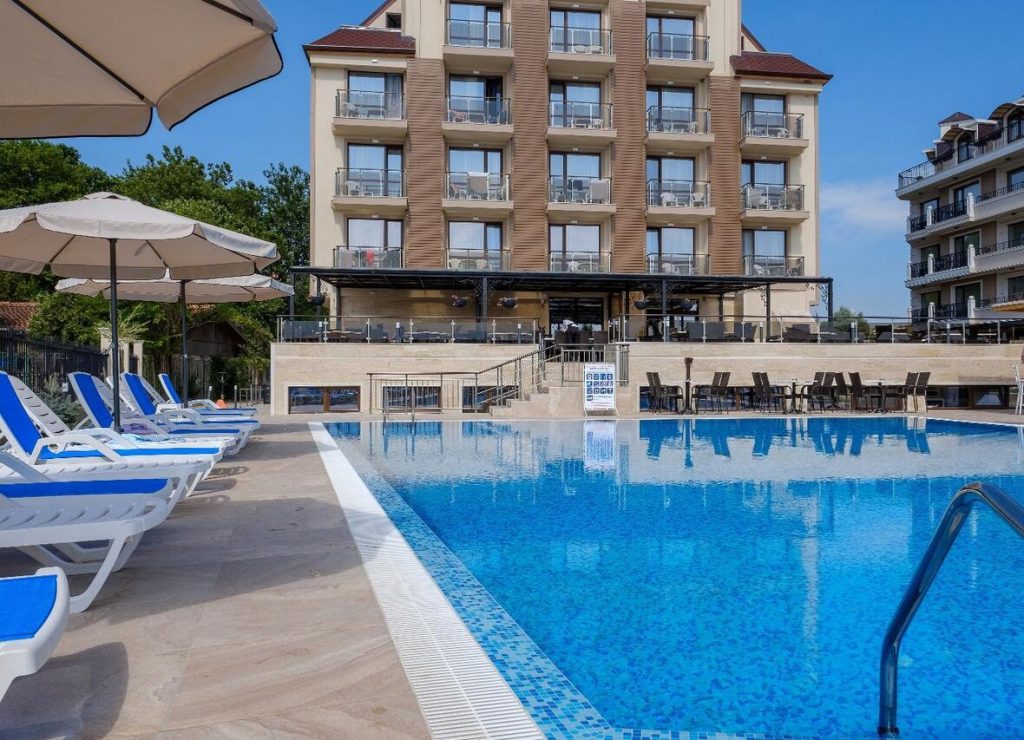 If you're a vegetarian, then you'll be pleased to hear they had lots of salads, vegetables cooked in several ways and plenty to choose from at breakfast. All in all, the food was a pleasant surprise!
Besides Veramar Beah Hotel, there are also some other great hotels in Kranevo. Some that I saw while walking around and looked good were: Sunny Castle Hotel – a 4 star hotel, next to Veramar, hotel Vega close to the sea and hotel Magnific, right on the beach.
Close to Albena you'll find another great hotel: Therma ECO Village – a 5 star resort. This would be the perfect spot to give into relaxation: SPAs, yoga sessions, jacuzzi, massage or sauna. They have that, plus much more!
Where can you eat in Kranevo?
If you wish to diversify your menu, there are a couple of places where you can have a decent meal.
Del Mar is the bar on the beach, serving not only seafood, but also pork or other dishes. You'll get a wonderful view of the sea, a nice portion of food and a not so expensive bill. Worth it!
There's also Krabi Bar where you can have a drink (or two!) and snack in between lunches.
Right next to it you'll spot First Line Restaurant – a gorgeous place to dine, especially at night!
Kranevo Weather – When to Visit
If you're looking for the perfect tan, then the summer moths in Kranevo will provide you just that!
From late June to August, temperatures are between 25 and 35 degrees celsius, clear sky and warm breeze. You can also sunbathe in September, as the sun will still shine its rays upon the shore.
On average, the warmest month is July, and the coolest one is January. But, if you don't like hot temperatures, you can even go in late May.
So, if you're looking for a not so crowded place to stay, enjoy the sun and a nice view, you should consider visiting Kranevo and the surroundings! Let me know if you need any advice or have questions, I'd be happy to answer you!