The Cultural Harbor / Port Cultural Cetate
Let's start with the end: yes, you need to visit the Cultural Harbor of Dinescu! Or, as locals know it: Port Cultural Cetate.
Now, let's take it at a slower pace. Have you ever felt the urge to just escape this madness? All the fuss and horns, traffic and everybody rushing here and there? Well, this is exactly what this place is made of: pure joy and relaxing dreams.
Located in Cetate, an old town facing the Danube, South of Romania, this location was a former grain port, dating way back, to the 1880's. It has still kept its charm, bohemian flair and shabby chic atmosphere.

When you are traveling to the Port via car, you will see that it's safely guarded from the main road. A lush green curtain hides the Danube river and you can spot fisherman nesting on the grass, parked trailers and remains of camp fires. If you'll arrive there via the Danube, you will set foot right on the Port's land.
There's much confusion once you get there. Where's the reception? Where do I park my car? Where can I order something to eat? Can I go inside the manor?
Port Cultural Cetate is not actually a hotel. It's a place of relaxation, with a wonderful view over the Danube river, facing Bulgaria and Serbia. Traditional buildings lack renovation, but that's part of the charm. The walls speak of old tales and stories that you can never find in a crowded city space. It's living history, trapped in time.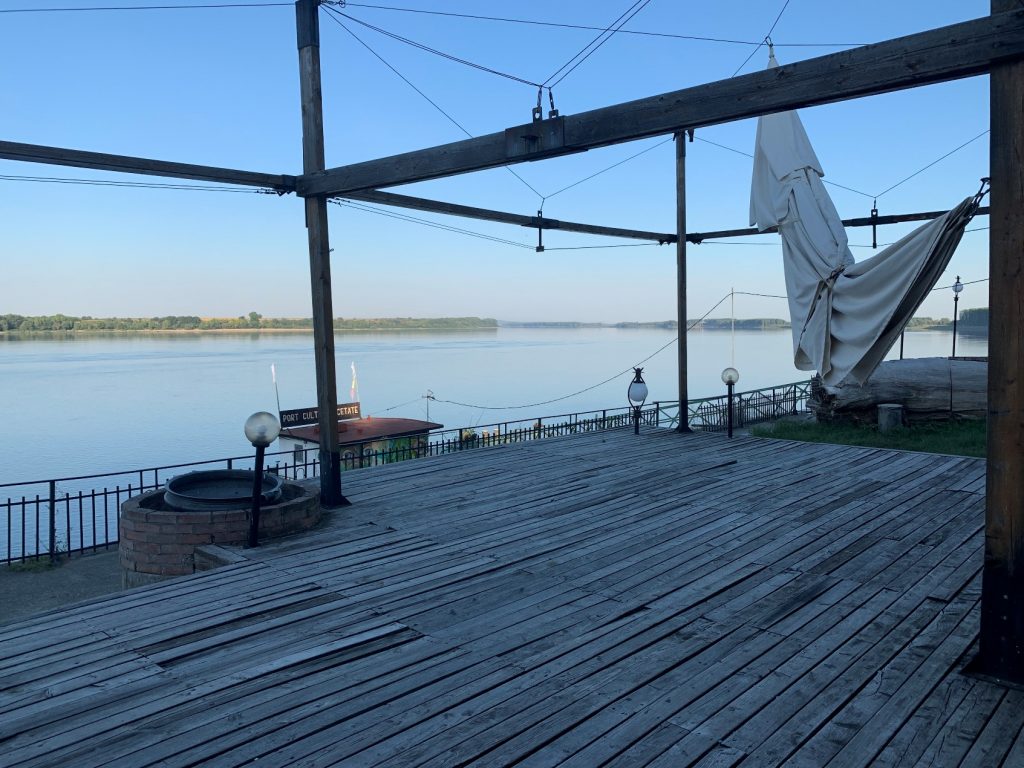 We were a bit reluctant to go inside, since we had no idea where to ask for our rooms. Conclusion: it doesn't matter, as long as you find someone and ask. Everyone is open and welcoming. A nice lady showed us to our room and also pointed the door to the apartment our friends rented, since she said she will be busy cooking the meals.
Lots of stray dogs and cats (mostly lots of dogs!), well fed, were also eager to meet us. All the dogs were very friendly and waving their tails in the air. It didn't matter if you didn't give them food, they'd still be friends with you!
Accommodation at Port Cultural Cetate / Cultural Port Cetate
If you're looking for fine porcelain and silk, you won't find them there. However, you will find a rustic place to rest your feet.
Accommodation at Port Cultural Cetate is just a bed to sleep in. A cosy one I might add. Well, if you booked just one room, it's not even a bed per say. It's two mattresses on a wooden board with pillars.
The room doesn't have a TV. I don't think any of the rooms have a TV. Instead, they have air conditioning, which was a big plus.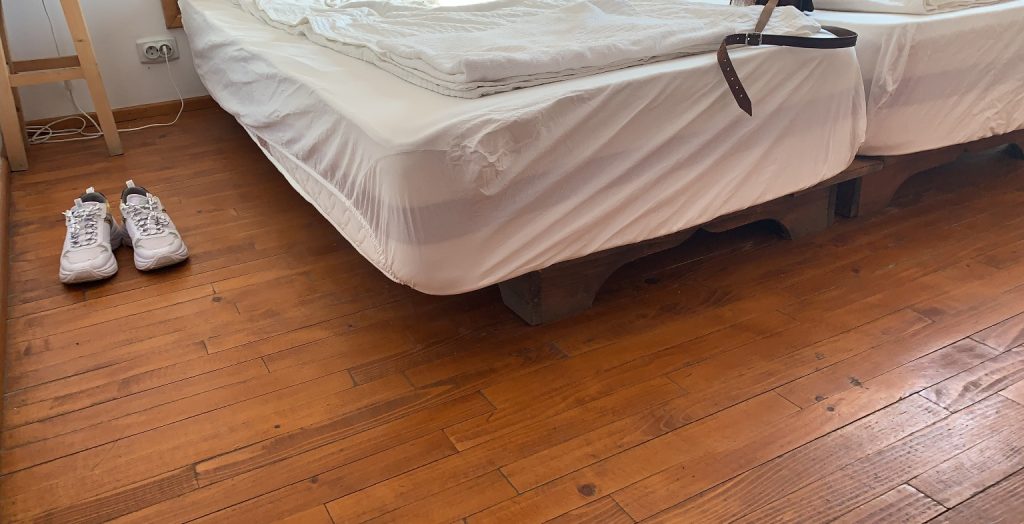 The nightstands are actually 2 wooden chairs, both "owning" a lamp from Ikea. Wardrobe? No, thank you! Just a stall for the hangers, but without the hangers.
The bathroom was neat, ok overall.
The apartment was a bit better, since it had a bathtub instead of a shower. But, the conditions were the same. No TV, nothing extra. In the video below you can see how it looks like inside, it starts at 0:58.
The price for booking a room for one night was 160Lei or $40 USD and 240Lei for the apartment – $60 USD. Be sure to book in advance, since it was fully booked by the end of the night.
The Food at Port Cultural Cetate / Cultural Port Cetate
Do you love eating fish? Does your mouth fill with joy when you taste carp? Well then, it's time to sit down and order something!
Now, I've got to straighten two things out: if you decide to eat here, be sure you're not starving, since it will be a long wait. And second, if you decide to eat at Port cultural Cetate, have lots of patience, since this location is the definition of a "long wait".
We arrived at Port Cultural Cetate around 11:00 when there were not so many tables occupied. We actually got server very quick: my boyfriend ordered a fish soup and carp with polenta and I asked for an eggplant salad. Local white wine for drinks.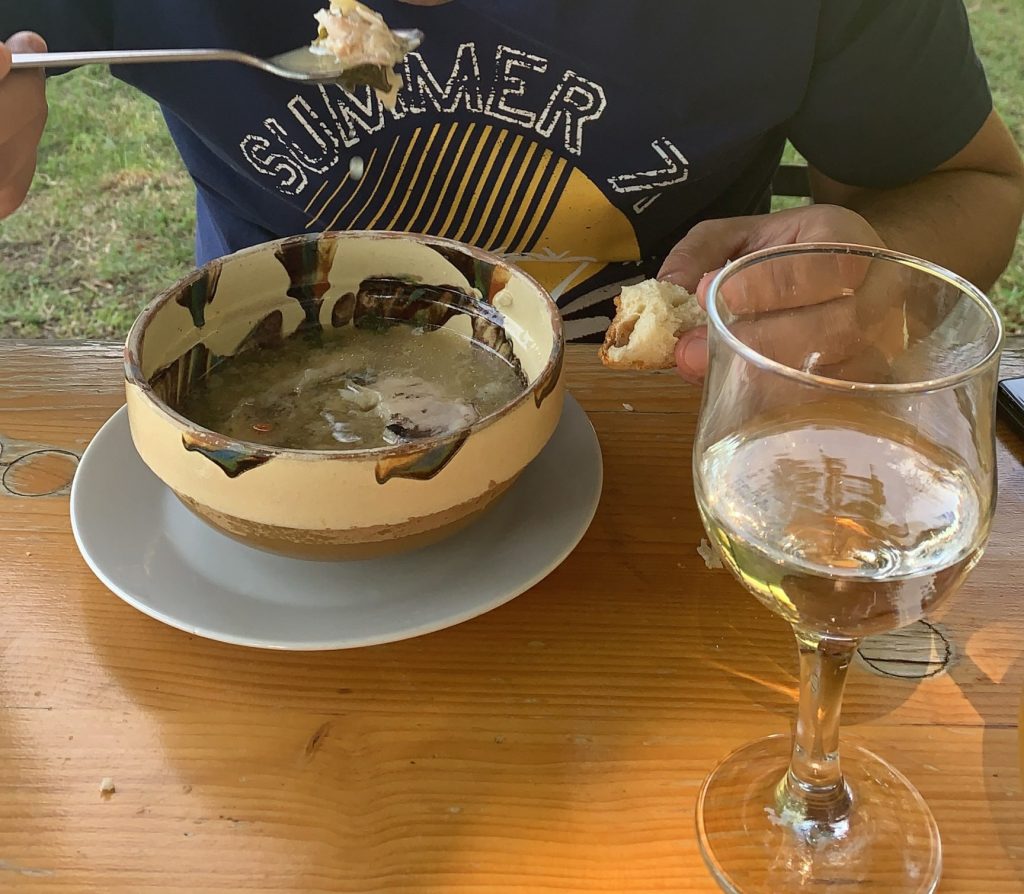 His first course of meal came in less than 10 minutes. He ate it all. The bread was home made and tasty. He also said the soup was ok – nothing that would blow your mind, but you'd still enjoy having it.
His second meal came in short time after he finished his soup. The carp fish had hot pepper jam aside, and a crazy (as in yummy) smelling garlic paste. The polenta accompanied the serving. He also ate it all.
Now, during the time he was served the second meal, it started to get crowded. There are, maybe, less than 20 tables on the premises. But they lack staff. Actually, I don't think they even care. It's a sort of stay if you like it, leave if you don't and I'm not going to blame them.
My eggplant salad came at about 15:30. That's almost 4 hours after I had ordered it. I thought the lady just forgot to bring it. Honestly, I have no idea how time passed so fast.
In the meantime, some of our other friends joined us: a family of four (2 kids and 2 adults). They also ordered some food and waited. And waited. And waited some more. The kids were getting nervous since they were hungry, but luckily the lady came and lunch was served. At around noon.
The menu is short, making it easy to decide: fish soup, fried fish, pork with potatoes, mushroom stew, roe or eggplant salad and some home made cookie for desert. Oh, and "sarmale" which I overhears some lady say they were delicious! For drinks you have wine or syrup.
It's a bit pricey I might add, but since you have nowhere else to eat, it's ok.
The atmosphere at Port Cultural Cetate
The place is owned by Mircea Dinescu, a Romanian poet, journalist, editor and now farmer. He actually stays at Port Cultural Cetate (not all the time!) and mingles with the crowd – whenever he feels like it. I've heard he likes telling stories about the communism era and enjoys taking part in conversations about culture in general.
He also has a TV show where he cooks and talks to celebrities. The show is shot at Port Cultural Cetate or at his restaurant in Bucharest. I've learned that the key ingredient in all his dishes is the orange. Yes, orange in soups, orange over meat, in sauces, in everything!
Port Cultural Cetate is a different kind of place. A bit unusual for some, familiar to others. It's the type of place that reminds you of you grandma's house. Nothing too fancy, but yet fantastic!
You get to wonder around the place freely, with no restrictions. The yard is a display of artworks gathered from local artisans that have shaped the grounds. In time and space, it seems surreal. Seamless. It has an inner peace, accompanied by soft music played live with accordions, in a whisper.
You can barely hear the people sitting next to your table. But it seems like you can clearly distinguish the Danube river, floating.
In the morning, the place is pure delight. You can grab a cup of coffee on the house and savor it wherever you want. On the deck, on the grass, on a small wooden chair or down by the river. You can hear a couple of seagulls making their way through the clear sky and, sure enough, a dog will be there to cuddle by your side!
All in all, it's a marvelous place to visit. For a day, or maybe two, or, why not, for longer!