Plan Your Vacation To Cabo San Lucas, Mexico
Have you ever heard someone say, "Once, when I was in Cabo…." and then start a boring tale? No, of course you haven't! Because there's no such thing as getting bored if you know exactly where to go.
In this article we're going to provide you with a full list of things to do when traveling to Cabo San Lucas – all inclusive!
Cabo San Lucas, Mexico seems to get pared down to just "Cabo" by the people who love to vacation there. It is an affectionate nickname for a little piece of a desert town at the end of the Baja California peninsula that lives up to it's own hype by being full of fun in the surf and sun.
Cabo San Lucas All Inclusive – Where to go?
When you begin to think about what activities you might expect to find on your vacation to Cabo San Lucas, Mexico, you will invariably start with the beach and ocean.
Scuba diving with manta rays has become an unusual activity that could be a once in a lifetime type of encounter. Whale watching excursions are also popular and can provide a lifetime of memories to take home. And snorkeling expeditions can be exhilarating to undertake.
But what brings most visitors to Cabo San Lucas is the sport fishing industry. Marlin, Dorado, Tuna, and many other species of fish are caught year round in the waters surrounding Cabo. Fishing boats are available for charter and can cater to any whim you may have. You can tussle with these monster fish all day and be pampered with a catered meal once you're done hauling them in.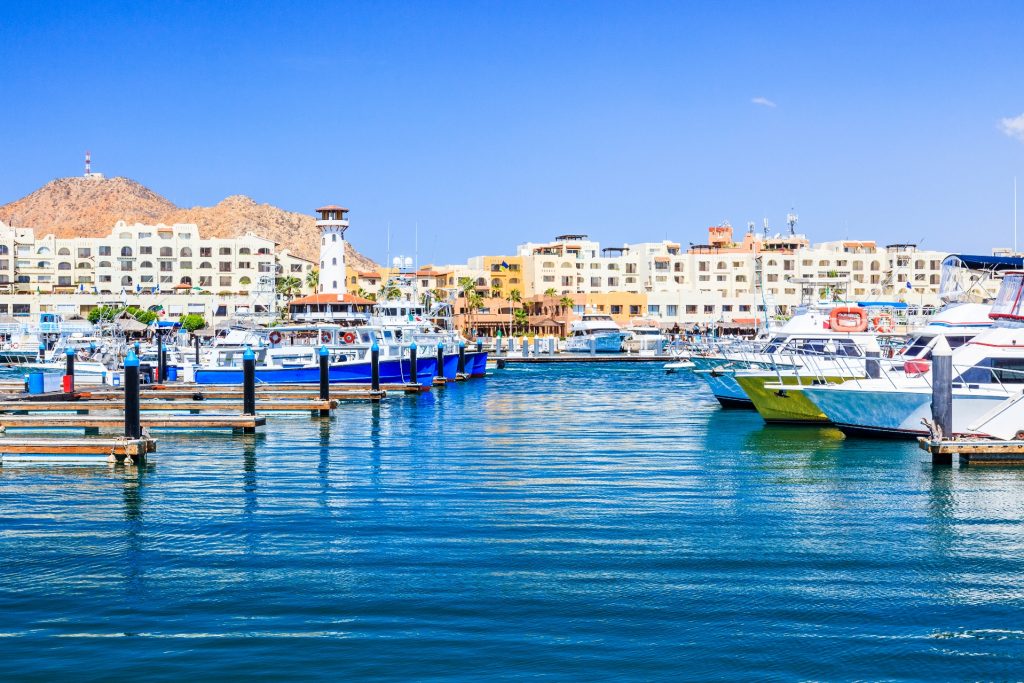 Enjoy the Gorgeous Beachscapes
We've already talked about some of the greatest beaches in Cabo but they do deserve another mention. If you're going to Cabo San Lucas you might as well include it all!

Playa del Amor, Land's End are just a few of the fine sand beaches that will relax your spirit.
Combining the desert, ocean, and mountains makes the Baja peninsula a beautiful and intriguing destination and provides the backdrop for many quaint villages and towns in the area that can be explored by taking day trips.
Taking a drive or joining a tour to visit towns like La Paz and Todos Santos can give you a glimpse of village life in Mexico that still exists in this technological age. Exploring old church squares and local shopping areas can be a lot of fun.
Golf Locations in Cabo San Lucas
Cabo San Lucas is quickly becoming the golf capital of Mexico. It has six championship courses that are very close to each other and they all share the beauty of the area.
They all have ocean views and three of them have holes right on the ocean. One of the best Golf Clubs in Cabo is the Country Club and Puerto Los Cabos.
And while you can take advantage of these great courses now you can also look forward to more courses that are now in the planning stage. So stay tuned!
If you fall so in love with Cabo San Lucas that you want to come back every year, you might want to look into getting a timeshare. Vacation ownership is a way that travelers can purchase time at a resort. That way they will, in essence, own the place for however many weeks a year have been paid.
This has many advantages, such as guaranteeing your same accommodations every year, allowing you to "give" your week to friends or family if you won't be using it, or trading your week to be used at another resort. Keep in mind that this last option does usually require you to be a member of a timeshare trading cooperative.
Looking for a Place to Stay in Cabo San Lucas?
You can find anything from affordable to high end luxury accommodation. Just checkout the map below and find your perfect spot.
You don't need to opt in for an actual Cabo San Lucas all inclusive resort. That's because you will probably be missing out on its charm and local attractions.
Cabo San Lucas has earned the reputation as a "party town" especially with the unofficial endorsement of famous rock and roller Sammy Hagar, who has adopted the town and opened up his own nightclub and restaurant there. But never fear if you don't like the all night party scene because there is plenty to do for everyone in this great vacation destination.
Weather in Cabo San Lucas now: