Where to Stay in Plitvice Lakes Croatia
If you're just starting to plan your trip to Croatia and you're wondering where to stay in Plitvice Lakes, then we've got you covered.
From rustic lodges to deluxe accommodations, we've researched the perfect spots from which you can choose.
Where Should I Stay When Visiting Plitvice Lakes?
If you want to be right in the middle of Plitvice Lakes Natural Park and wake up surrounded by humming birds and greenery, then you should know there are a few locations that offer just that.
Jezerce
Jezerce, a small village in Croatia, is one of the best locations to settle in for the night.
If being flooded by nature is your wildest dream, then Jezerce will surely delight you. Not only is it very close to Plitvice Lakes, but it's also a marvelous sight anytime of the year!
Stay at Ethno House
Looking for something rustic to sleep in like a baby? Plitvice Ethno House is brilliant for visiting the National Park.
The House is 2 minutes away from the entrance to the lake area and it's been rated as being a fabulous by most of the tourists. The food is wholesome, staff is friendly and the rooms feel very spacious.
The facility offers an outdoor swimming pool, a great garden and sun terrace, a sauna and fitness space for those of us that want to sweat out those toxins, air conditioning and much more. Oh, and the whole bedroom furniture is handmade from Oak and Pine.
If you have children, then you can breathe easy. Kids will be just fine in the generously sized playground.
Prices start from just only $68 USD for a large double bed with a splendid mountain view, private bathroom, air conditioning, totaling 20 square meters, plus a very good breakfast!
Sleep at Grand Lakes Rooms
If you're in the area, you might also want to check out Grand Lakes Rooms
The location is decorated in pastel colors that bend in just nice with the surroundings.
It's just a few kilometers away from the UNESCO listed Plitvice Lakes and guests can enjoy (besides a stunning backdrop) the comfort of a cozy bed. Plitvice Lakes National Park – Entrance 2 is 3.4 Km away and Entrance 1 is close to 6 Km.
Don't let the traditional exterior fool you, as the inside is furnished in a modern manner.
Rooms are as clean as they can get, furniture is in perfect condition, breakfast is great and staff is very friendly. If you're traveling in winter and you love sports, then you will be happy to know that just 1.7 KM away is a great ski resort.
Prices start from $97 USD for a 30 square meter room, with an extra large double bed. You'll also have a private bathroom, a coffee machine, free wi-fi and lots more. Prices can vary, depending on the season of choice.
Rada Guest House – Affordable accommodation in Plitvice Lakes
If you're on a budget, but still want to enjoy the perks of living in the midst of nature, then Rada Guest House is an awesome place to stay in.
The beds are incredibly comfy, rooms are well heated during the winter months. The property also has a garden and offers a good continental breakfast.
It's a 20 minutes walk down a forest road to Entrance 2. Take your time to reach the Lakes, as the stroll will surely be a delight. And it's perfectly safe!
For just $38 USD you get one large double bed, stunning views of the mountains and garden, en-suite bathroom. Add $8 USD more and you'll also have a delicious breakfast when waking up in the morning.
Plitvica Selo
Located right on the banks of Potok Plitvice, Milanovac and Kozjak, you will have a delightful view of the Lower Lakes and lush green landscape.
B&B Plitvica Lodge – an excellent location with a great view
Rated a perfect 9.0, it's no wonder this lodge is included in our list!
B&B Plitvica Lodge has hosted guests from all over the globe: from US to Hong Kong to Australia. It's a modern facility with a rustic design on the outside, and it has one of the most stunning views of the splendid scenery.
With facilities that include an outdoor dining area, terrace and garden, you will be delighted to stay here if you're looking for a room that has a cabin feel to it.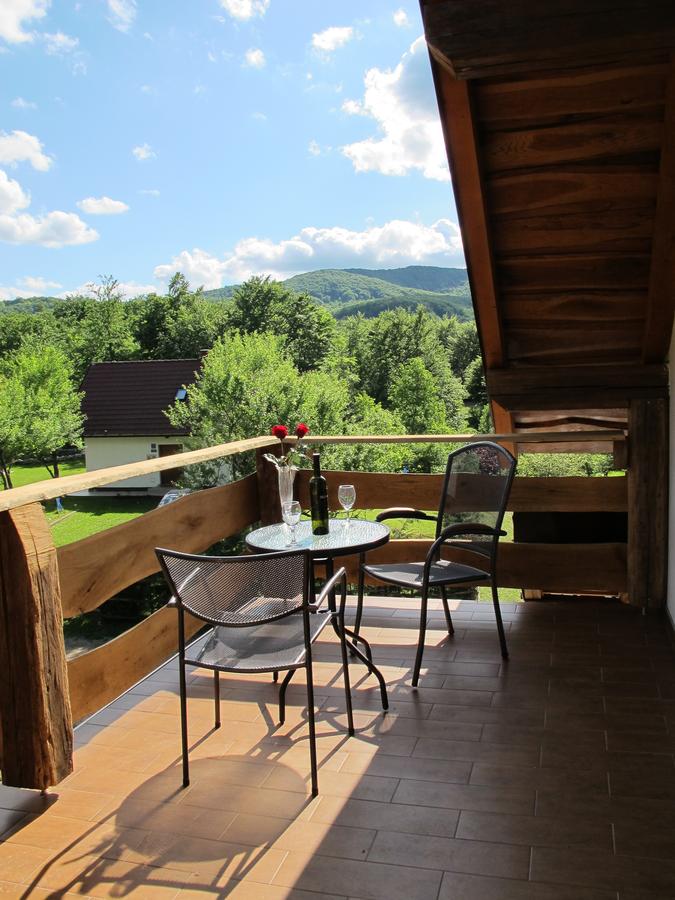 Being only 0.9KM from Plitvice Lakes National Park – Entrance 1 it's highly appreciated by tourists word wide. So, if you've found a free room, then you should be booking it right now!
Pries start from $93 USD, depending on the season, for one large double bed in a 18 square meter room. You will have your own private bathroom, free toiletries, a mini bar, air conditioning and a gorgeous landmark view!
Very friendly staff, great atmosphere and amazing barbecue dinners – what more can you ask for?
Lake Fairy a Secluded Chalet
This little place has its own story worth hearing. It's the place where the owner actually grew up and spent most of her childhood; surrounded by overwhelming beauty and fantastic wildlife (especially deer) it's located in the central area of Plitvice National Park.
Lake Fairy Chalet is very close to the hot spots of the area. Lake Kozjak is a short 20 mins walk or less and reaching the Big Waterfall will take you no ore than 25 mins – walking, yes!
The quiet that immerses this cottage house is so amazing, as you will be able to hear nature's sounds: birds humming, leaves flowing and animals whispering.
You can book the whole place for just $391 USD per 2 nights. That means 2 bedrooms and a living room.
You will have access to 100 square meters, with a romantic fireplace, kitchen and barbecue area, washing machine, free wi-fi and most important: an impressive view!
Where can I stay in Plitvice Lakes if I don't own a car?
If you don't own a car and you want to be close to the top attractions, then you shouldn't worry too much.
Most of the locations mentioned above are quite close to the Lakes and the trails are pure joy to walk on. You can find reasonable accommodation right in the midst of it all and you won't have to worry about having a car.
Supermarkets are also at a reasonable distance from the settlements and you will also find bus stops that can give you a ride.
People are very friendly and you can easily share a ride with them, if you're open to it. Tourists are there all year round, so safety isn't something you should worry about – but never let your guard down.
If you're looking for a budget friendly accommodation or posh location in Plitvice Lakes, then you should check out the map below. You will find several places to bunk that will probably fulfill all your needs!
Can I actually stay in Plitvice Lakes?
If you're looking for an alternative and unique place to stay in Plitvice Lakes, then we've got some interesting spots!
Big Bear Plitvice Camping Resort is surrounded by nature and it's all you would have dreamed of! You can visit anytime of the year since the backdrop will always be stunning!
You can go horse riding, hiking, take bike or walking tours, plus many more.
The resort is always welcoming, clean and it's been top rated by most of the tourists.
With prices you can't beat, staff that speaks English and rated an excellent 9.4, this camping spot is the place you should be checking out if you're looking to connect with nature.
Another gorgeous camping spot in Plitvice Lakes is Mobile Homes Camping .
It is located in Lika, about 3km away from the Plitvička Jezera National Park.
This accommodation offers a 5 star experience with a swimming pool, fitness facility, restaurant and exceptional breakfast.
You will also benefit from an outdoor fireplace, picnic area, barbecue facilities, sun terrace and much more!
It's rated a perfect 9.6 out of 10 and it can host up to 6 people for just $196 USD per night ($32.6 USD per person).
By now you should have an idea about the accommodations surrounding Plitvice Lakes, prices and facilities. Wherever you decide to stay, you will have one of the most precious guests: nature! Have a great trip!