Spring travel destinations are numerous, making it possible for you to travel regardless of your schedule. The season signals the end of the cold weather and the beginning of warmer days.
Springtime travel is also characterized by fewer crowds giving you a chance to visit popular attractions without queuing or bumping into too many people. Additionally, traveling during this season gives lone or group travelers a chance to explore the outdoors no matter the destinations.
It is one of the best times to travel because of the pleasant temperatures that make visiting your favorite destination worth the trip. Some of the best places to visit during this season are listed below.
Las Vegas, United States
The vibrant city of Las Vegas is an excellent destination during spring season when traveling alone or with friends.
The city is bustling with activities both day and night, which gives you a chance to explore and have fun during your trip. Travelers have the option of engaging in a variety of indoor and outdoor activities when visiting Las Vegas.
Visiting popular attractions such as museums and comedy shows are a great way to spend time in the city during spring. Some of the "must visit" places include the Madame Tussauds museum, Mob museum, and Neon museum. If you prefer, the outdoors then a guided trip to the Grand Canyon should be part of the itinerary.
Nighttime in Las Vegas gives visitors a chance to explore the city while enjoying endless hours of fun. Whether you prefer hanging out in pubs or prefer quieter surroundings such as restaurants, you will find your ideal spot in the city and its environs.
Cancun, Mexico
Mexico is another great spot listed among the best spring travel destinations. Being a touristy destination in summer, travelers are always looking to enjoy time during the spring season.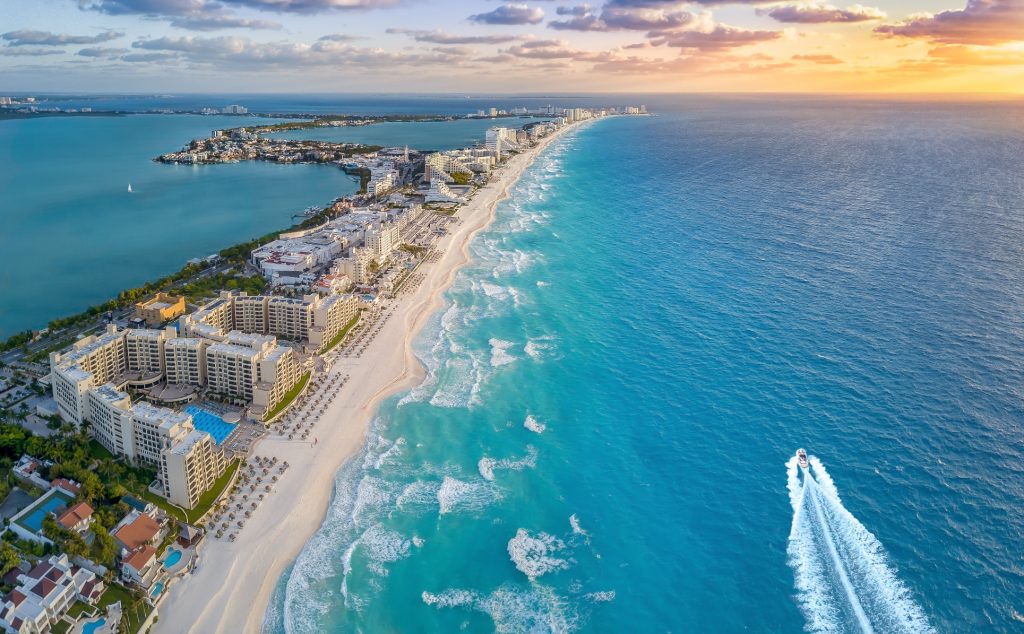 It does not matter whether you are on a budget or have some money to splurge, you will have a great time in Mexico. Cancun is popular with visitors throughout the year and is ideal for lone and group travelers. The accommodation options are diverse and can be booked well in advance to get the best rates.
If you plan to spend your spring vacation in Cancun, you can start by visiting the pristine beaches in the city and enjoy the warm breeze.
Swimming or soaking in the sun on a sunbed is a great way to enjoy your time in Cancun. If you are looking for an alternative to the beach experience, plan to visit the Mayan ruins and other historical locations spread all over the island.
Montreal, Canada
Montreal provides a great mix of French adventure and English culture making it a perfect destination in spring.
The city has beautiful scenery and breathtaking architecture that makes the thought of exploring it while on a tour exciting.
Start with Vieux-Montreal, an old town that offers visitors a taste of euro flair, unique buildings, and cobblestone streets. The city is also home to Cirque de Soleil which is a phenomenon celebrated by people from all over the world.
Festivals and night parties are popular in Montreal during the spring season making it a great destination when looking to have fun on your trip. The outdoor festivals are a great place to interact with locals and learn more about their culture and love for music.
The festivals take place during the day and night with many people in attendance. Although the city may be considered a luxury destination, it's possible to find affordable accommodation options a well.
The Greek Islands
The Greek Islands is one of the popular spring travel destinations for luxury travelers from all over the world. The islands which cover a vast area can take an extended time to explore and may require several return trips to reach every part of its territory.
Plan a trip to Corfu. See what you simply need to visit!
Even so, some islands are quite famous because of their natural features, strong culture and nightlife scene. Santorini is one such island that is characterized by blue-domed churches, bleach-white houses, and a surrounding blue sea. It is a lovely destination that is worth visiting during spring season as well as throughout the year.
Apart from the gorgeous seascape of Santorini, visitors can also visit the largest island in the Greek Islands, known as Crete. The island is known for its fun nightlife which spreads across the other islands as well.
Wonderful beaches are also spread across the islands, with some of the famous ones located in the Paros and Mykonos area.
Paradise Island, Bahamas
Paradise Island is your ideal luxury spring destination worth visiting over and over again. The island is a favorite of many celebrities and has a wide array of hotels or resorts that provide excellent services.
Guests are welcomed by cool drinks and ushered to their rooms by professional staff that ensures their trip starts well. Booking of hotel accommodation goes a long way in ensuring you get the best room at high-end resorts spread all over the area.
The island has several attractions that make it popular during the spring season for those traveling alone or with family. Atlantis is one of the most popular attractions in the area and attracts thousands of people annually. The water-themed attraction is a "must visit" when in the Bahamas and has activities designed for kids, teens and adults to ensure maximum enjoyment.
Spring weather is also perfect for sailing on the Atlantic Ocean that surrounds the island, which is a great addition to your travel itinerary. When out on the sea, you can decide to relax and enjoy the breeze or get involved in activities such as snorkeling or fishing.
Overall, finding the best spring travel destinations depends on your individual preference, budget, and schedule. Fortunately, you can start planning early for such trips by researching on luxury as well as budget-friendly destinations to help you make the best decision.
Most times, having information on the destination and the requirements needed to get there, makes the process much easier and faster for new and veteran spring travelers.