While the cold season is about to start, you are probably already wondering what are the best European cities to visit in winter?
If you live in Europe, you could probably easily reach most of these cities. Either by train, car or plane, travelling in winter offers you a unique view and holiday-ish feeling. These cities offer magnificent sights in summer, but they reveal their true beauty when covered in snow! From ancient sites, fantastic nightlife, gorgeous skylines and stunning architecture, we will go through some of the best European cities to visit in winter.
Winter Wonderland in Transylvania
While I am sure you have already heard about Transylvania, have you ever reached it? Renowned world-wide for its castles, especially Dracula's Castle (Bran Castle), the area is also a great host for medieval towns! If in the warm season these places are filled up with tourists, buzzing around, when winter comes it all settles down. This is a great time to actually visit Transylvania and enjoy the scenery!

Local habits are well kept and provide a unique flavor to any tourist that dares to wonder into the vampire's lands.
Cluj-Napoca, Sibiu, Brasov, Sighisoara and Alba Iulia are just a couple of places you should not miss!
Each year, in Sibiu, there is a Christmas festival. This event is known in Romania and abroad for its scale, atmosphere and tradition. Spectacular projections, trains that run through the town's most scenic streets, on a specific route, traditional street food, and handmade goods. The atmosphere is festive, joyful and impressive! It is often associated with Wien's Christmas Fair.

When deciding to visit some of the best Europeans cities in winter, you don't necessarily need to have a high budget. Unless you plan o visiting them all in one trip. Transylvania, although a breathtaking land, it is also quite inexpensive. The food is great, people are very friendly and the accommodation is cheap. You can either stay at a hotel or look for your host via Booking.

I assure you, Transylvania is not a place you would want to miss in winter!
Visiting Budapest in Winter, Hungary
Have you ever been to Budapest in winter? Probably not. Should you visit Budapest in winter? Probably yes!
Hungary's capital, Budapest is actually bisected by the River Danube into Buda and Pesta. A funicular that climbs all the way up from Castle Hill to Buda's Old Town, where the History Museum traces Budapest's life from Roman times onward.
The mixture of old and modern world, grand architecture and majestic buildings excite any traveler, especially in winter.
Go see the Baths and melt in the relaxing thermal springs, visit The Fisherman's Bastion for a stunning view of the city, hear the Organ concerts play for Christmas or watch the snow fall at Normafa in the Buda Hills.
Did I mention rides on the Danube River? Dress well as winter can be harsh in Budapest! Well, not as harsh as the Russian's winter, but still, be prepared!
Being a tourist in Budapest in winter is a must on your bucket list. Why? Well, it's impressive architecture strikes you as being in a fairy tale while strolling down the streets. It doesn't matter if there is a snow blizzard or two peaceful snowflakes that cover the grounds, Budapest is a sublime treasure of Hungary during winter!
Oh, forgot to mention: it's cheap, just like its neighboring Romania. Has lots of beautiful places to delight you with and you won't go broke for a second!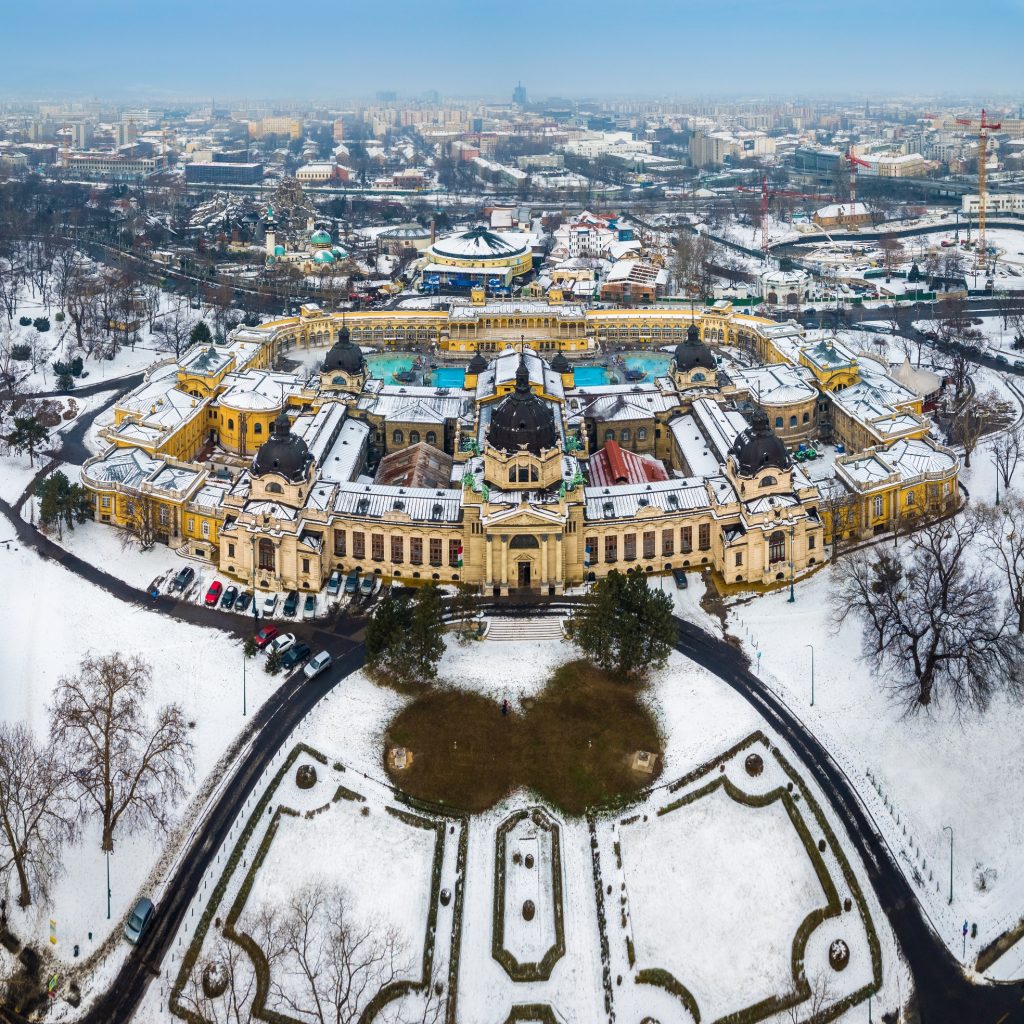 See the Northern Lights in Abisko, Sweden
Of course, we can't have the perfect winter article without mentioning Aurora Borealis! While it can be a hassle to reach Abisko, even in summer, I promise you that it's worth all your time and efforts! By train (from Stockholm or Oslo) or via plane ending up close to Kiruna (if 95 KM is considered close), it's a journey you will be rewarded for by the Gods – a perfect sky!
Go up to the Aurora Sky Station or just walk down to the harbor and look north. Always keep an eye on the sky as sometimes the Northern Lights will only appear for a moment or two.
When can you see the Northern Lights? You will start seeing them from late August to early April anytime during dark hours. Places like Abisko or Tromsø can, but not always be, nearly 24 hours a day in winter. Stay away from any light source while you're watching the sky for a fantastic experience.
Discover snow in Bergen, Norway
If you're a fan of winter sports, then you must know the mountains surrounding Bergen are perfect for skiing, sledging and hiking. This, but not only, makes it one of the best European cities to visit in winter.
You can also take a fjord cruise. I will be very honest when I'll say that Bergen is rarely a destination itself and it is often just a starting point to discover the Western Fjords. Take a trip and you will understand what I'm referring to.

Bergen is one of the cities that doesn't stop when winter comes. It just gets better!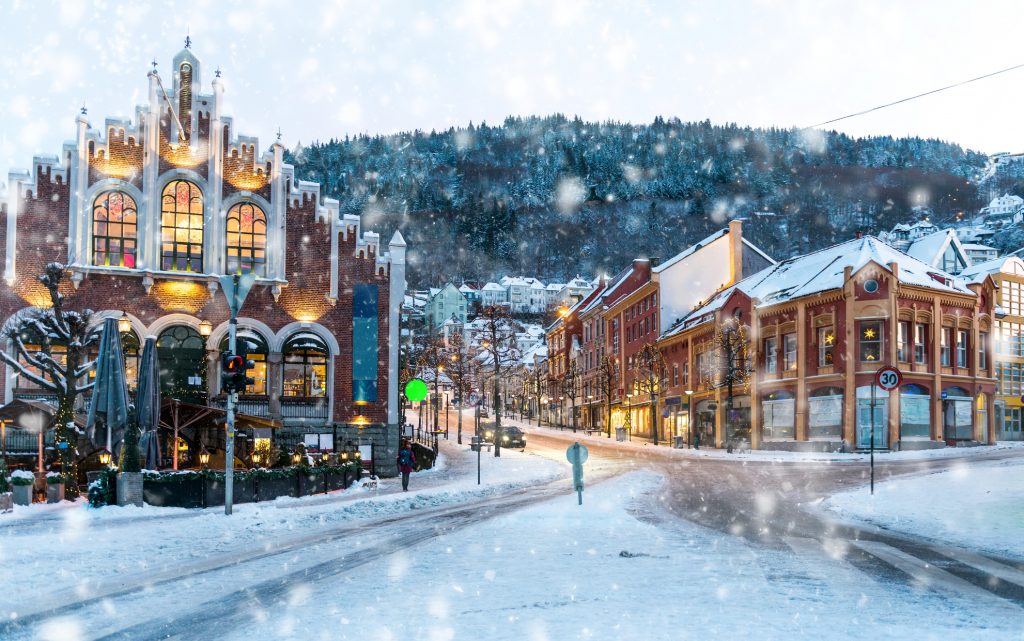 Attend the Venice Carnival, Italy
Who hasn't heard of Venice or dreamed of being there, just maybe for once? While most tourists are eager to visit this greatness in summer, there are tourists who enjoy it plenty during winter.
While Venice is an enchanting city throughout the year, it is particularly special when attending Carnevale di Venezia!
Visitors come from all over the globe to see the city transform. Even if you've seen Venice before, this is a spectacle you have yet to discover!
Black-tie code is a must if you're planning to attend the balls. Wear your most depraved mask if you dare and plunge in the masquerade!
Enjoy the Dubrovnik Winter Festival, Croatia
Any fans of the Game of Thrones series? If you're one of them, then you don't need winter to visit Dubrovnik, but yes, it's worth every minute!
Nominated as being one of the best European cities to visit in winter by the increasing number of tourists, you should consider adding it to your list if it's not there yet!
Dubrovnik is one of the absolute best European cities to visit in winter. Thanks to its imposing walls, architecture and the fact that it is simply charming, this place is perfect to get away from foggy season.
While most places are covered in snow, you'll find that you can easily take a seat on the terraces, cafes and savor the view. And oh, what a magnificent view that is!
So, if you're thinking of touring Croatia, then don't miss this city!
You could barely believe this, but during winter you can have the city walls all to yourself! The walls are almost 2000 meters long and you could walk through the historical relics, wealth and culture for about 2 hours straight.
Even though snowflakes are a rarity, you can still see them while attending the Winter Festival – projected on the walls, of course!
The whole fortress will be dressed in lights and you can enjoy the wonderful street food in a winter holiday atmosphere.
Christmas at Schonbrunn Palace in Vienna, Austria
One of the best European cities to visit in winter is, without a doubt, Vienna.
While its artistic and intellectual legacy were both shaped by residents that include Mozart, Beethoven and Sigmund Freud, its whimsical winter is mostly given by the Schonbrunn Palace mood.
Step into the joy of Christmas while walking the cobbled streets of Vienna. Seasonal treats, punch and wine fill the venues while the Christmas markets have become an old aged tradition. It's one of the best European cities to visit in winter as you will surely be amazed!
Of all the winter markets that are out there, Viennese Dream Christmas Market and Schönbrunn Palace Christmas and New Year's Market at are just magnificent! You won't be able to leave those places as you get caught in the midst of it all.
Need a place to eat in Vienna that has the charm of the locals? You'll find plenty of restaurants in Vienna that will simply delight your taste buds !
Travel to Edinburgh and Edinburgh Castle, Scotland
Harry Potter fans just love Edinburgh, as here were shot some amazing scenes associated with the fictional book. Not only that, but this city has some great views to offer in winter!
Walk down the Royal Mile, visit Holyrood Palace, the National Museum of Scotland, the Pentland Hills – these are just a few sights you should not miss, especially in winter!
There are so many fantastic attractions there, you will find it hard to get bored. You could even try, but you surely won't succeed! Camera Obscura and World of Illusions is surely a must, anytime of the year.
The Edinburgh Castle is actually the most recognizable landmark in the city, sitting atop a volcanic peak and guarding the realm. Breath the fresh Scottish air and disconnect from the world!
See the Snow-Covered Architecture of Prague, Czech Republic
I might say that Prague in winter time belongs to a fairy tale! It's famous historical buildings, emblematic red roof tiles, the largest ancient castle in the world and the exquisite local cuisine are just a few things that are worth mentioning.
Traveling to Prague this time of year means that it is far less crowded and you get to enjoy each place and savor the moment. Prague's Christmas markets are some of the best known in Europe and if you plan on going there, you will see why. Beautifully decorated and lit, great smells coming from everywhere, souvenir and gift shops are there to make your stay feel like it's fictitious.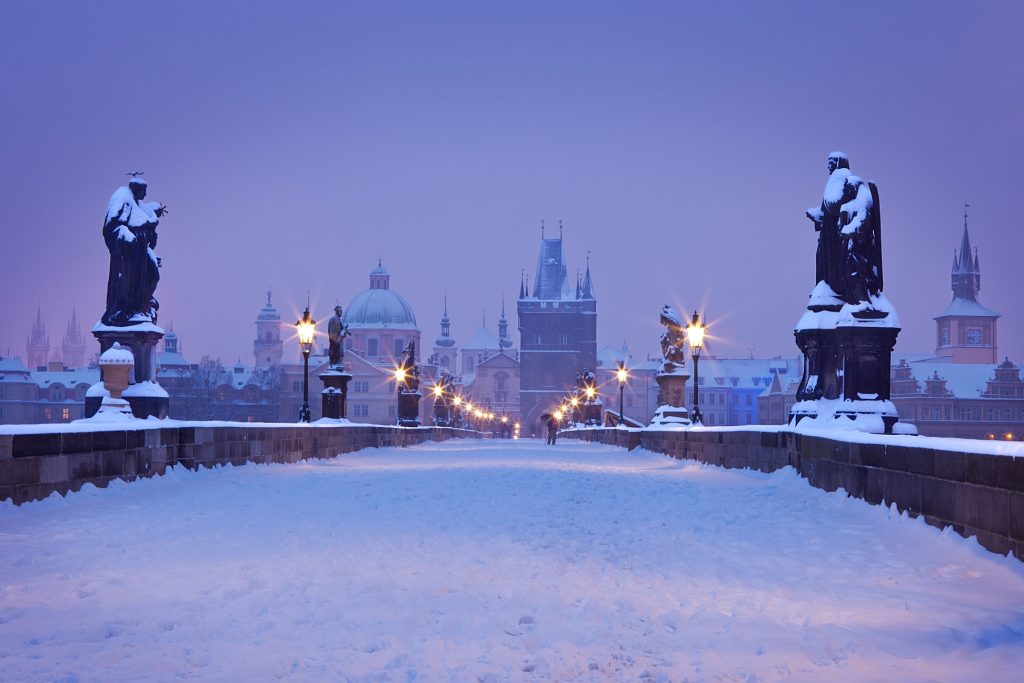 ---
Are you still wondering what are the best European cities to visit in winter? Do you have something extra to add to our list? I'm sure there are lots of undiscovered places that are truly worth visiting (not only in winter). Also, as a side note, if they are not included, it doesn't mean they are not worth including! So, what's your favorite place to visit in winter?