Places and Prices in Budapest
Seems like you're planning your trip to Europe and I'm interrupting you with my suggestions. Or am I? There are lots of great interesting places to see like Barcelona, Paris and Prague but Budapest has some extra edge to it. When I first visited it, it was a cold December month and although I struggled with the cold (I like sun and over 30 oC) I would always come back again. Curious as to why? Well, I've explained it below 🙂
What is Budapest known for?
Besides from being the Capital of Hungary, Budapest is tremendously famous for being a fine example of Baroque architecture intertwined with Gothic, Classical and Neoclassical accents and for having the greatest views. Composed of actually 3 neighboring cities (Buda, Pest and Obuda), it absorbed its surroundings in the early 1870's and emerged as a majestic city in 1950.
The city is divided into Buda's Old Town and Pest by the oozing Danube river. It flows seamlessly throughout the city and delights tourist and locals alike. Besides from being a traveler's joy, the river is Europe's second longest river, being surpassed only by Volga.
Linking the hilly Buda with Pest is Széchenyi Chain bridge. Regarded as an architectural wonder back in its early years, the bridge is now a symbol of culture, advancement and balance. With its cast iron embellishments, the bridge elevates the whole scenery and marks the connection between East and West.
What should I not miss in Budapest?
There are quite a few number of things you shouldn't miss in Budapest, but it actually comes down to what you're interested in seeing. While some will be looking to relax and have fun, others might be keen to explore new sights and roam the streets.
For those of you who like to party and relax, here are the spots you should be on the lookout for:
Party at Budapest Ruin Bars
It's a bit difficult to explain what these Ruin bars are, but once you'll see one or two, you won't believe the inside of those buildings. The establishments actually got their name in 2001 and you'll see below why.
These Budapest ruin bars are those kind of buildings that were abandoned in the World War 2 and have been given a new life. You won't notice them while walking down the streets as they don't resemble a bar at all. But once you enter the building, you'll find that there's a whole new world. Each of these ruin bars are different from one another, but they're all full of character, history and can transcend any tourist to another era. Expect to find every room to be different and strange in its own way.
Szimpla Kert is the oldest ruin bar in the Budapest and it has its doors open everyday of the week. It's stuffed with aged and mismatched objects, old cars (like a Trabant), review mirrors hanging from the ceiling, tired lamps – all fusing a retro vibe. Because it's often a busy pub, I suggest you go there before 11 pm so that you'll avoid waiting in line for a table. It's guaranteed to be a great experience, outside the box, in Budapest.
Ease in the Széchenyi Baths
While you might have heard about the thermal spring baths of Budapest, I assure you it's another things to go visit it. You just cannot capture all the essence in just one photo or read it in an article. You must experience it.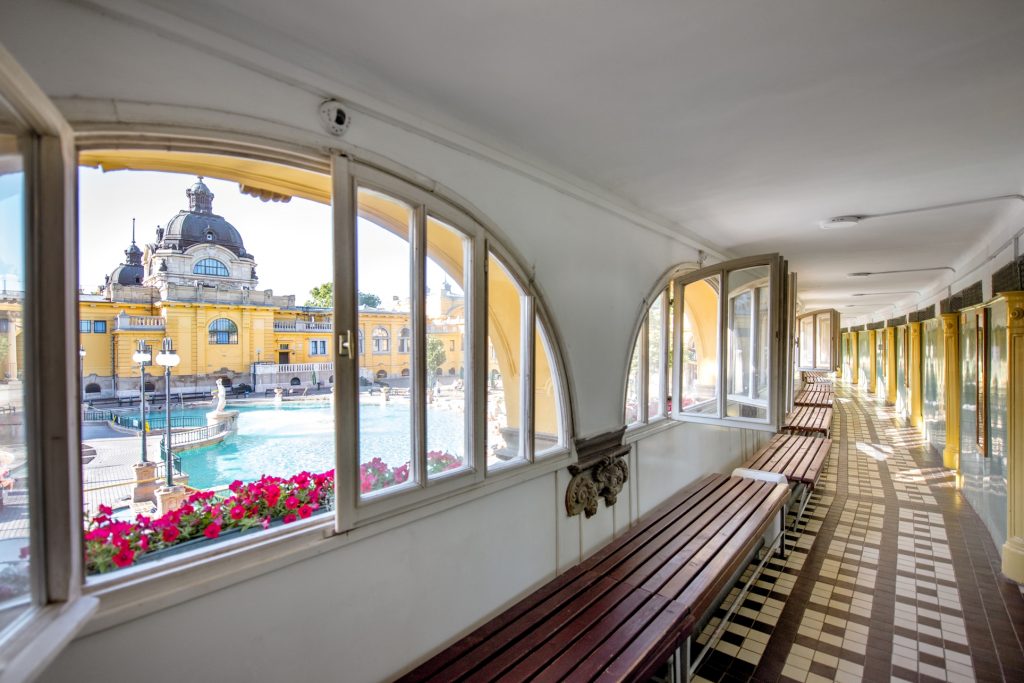 After long walks on the streets of Budapest, what can be more relaxing than taking a break at the SPA? And not just any SPA, an outdoor SPA!
Szechenyi SPA is actually the largest European medicinal bath, being supplied by only two thermal springs. The waters pour in at a temperature of 74 and 77 Celsius degrees and are just perfect for an outdoor pool. Well, 18 pools, to be more precise. There are also saunas where you can sweat your worries off, steam cabins, massage experts and facial treatments. Just pick any of them and you're guaranteed to loosen up!
Prices are decent and you can get a full day of pampering at some low scores.
Bath Ticket + Aroma Massage (20min) at Szechenyi Baths: 47 Euro.

Bath Ticket + Thermal Massage (20min) at Szechenyi Baths: 48 Euro.

Bath Ticket + Harmony Aroma Massage (45min) at Szechenyi Baths: 77 Euro.

Bath Ticket + Harmony Aroma Massage for Couples (45min) at Szechenyi Baths: 146 Euro.

Bath Ticket + Harmony Aroma Massage (60min) at Szechenyi Baths: 90 Euro.

Bath Ticket + Harmony Aroma Massage for Couples (60min) at Szechenyi Baths: 167 Euro.

Bath Ticket + Royal Thermal Massage (45min) at Szechenyi Baths: 80 Euro.

Bath Ticket + Royal Thermal Massage for Couples (45min) at Szechenyi Baths: 153 Euro.

Bath Ticket + Royal Thermal Massage (60min) at Szechenyi Baths: 92 Euro.

Bath Ticket + Royal Thermal Massage for Couples (60min) at Szechenyi Baths: 174 Euro.

Bath Ticket + Hungarian Mud Treatment (60 min) at Szechenyi Baths: 89 Euros

Bath Ticket + Hungarian Mud Treatment for Couples (60 min) at Szechenyi Baths: 167 Euros

Bath Ticket + Head Massage (20 min) at Szechenyi Baths: approx. 41 Euros

Bath Ticket + Foot Massage (20 min) at Szechenyi Baths: approx. 41 Euros
Fisherman's Bastion Viewpoint
You cannot find a better spot for viewing Budapest than the Fisherman's Bastion. This is an imposing construction, which assembles 7 stone piercing towers, dating back to the 1900's. While 7 is a lucky number when it comes to myths and tales, you should know that in this case it actually represents the Hungarian chieftains, leaders of the Magyar tribes.
How can you reach it? Well, when I first went there I didn't know there was a funicular. So, I walked. And what a lovely experience that was! I strongly suggest that, if you can, you choose to give use to your feet and strut to the very top. You will only encounter perfect views of the Parliament and Chain Bridge that will delight your retina.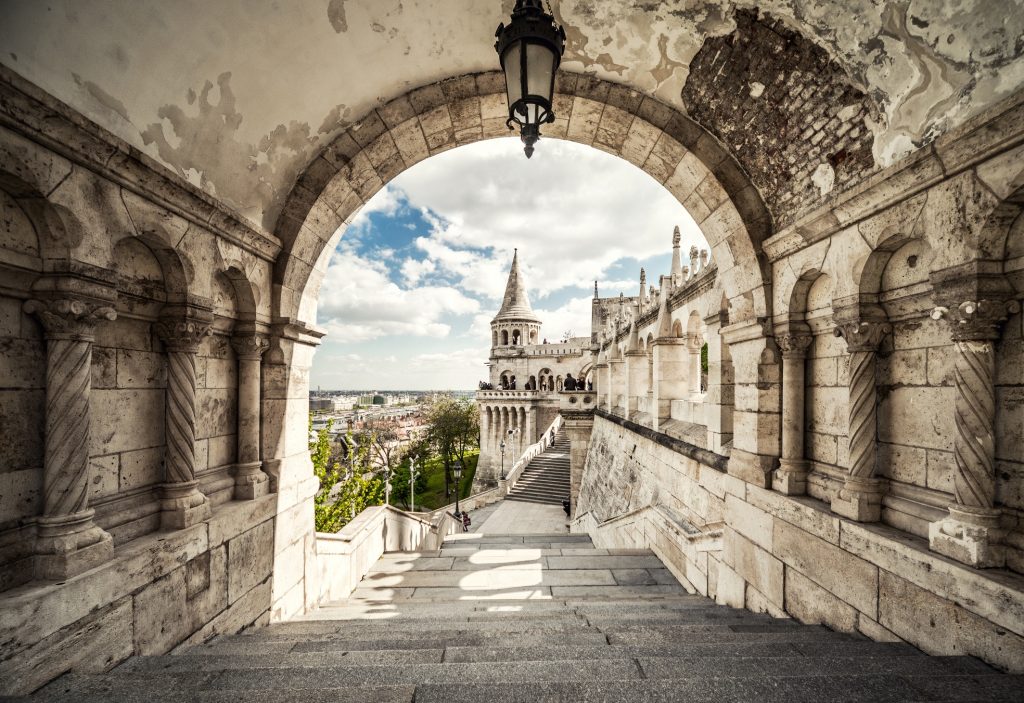 Boasting in a Neo-Romanesque style, the terraces that face the Danube river offer a stunning sight of the city and guard the realm. With imposing walls but seemingly inspired by a fairy tale, it would be hard to guess what you can find behind the structure.
Matthias Church is one of the many landmarks inside the fortress. You can visit it anytime, but it requires an entrance fee of 1000 HUF – close to $3.5 USD. Once you're there just take a moment to admire the tiles on the roof.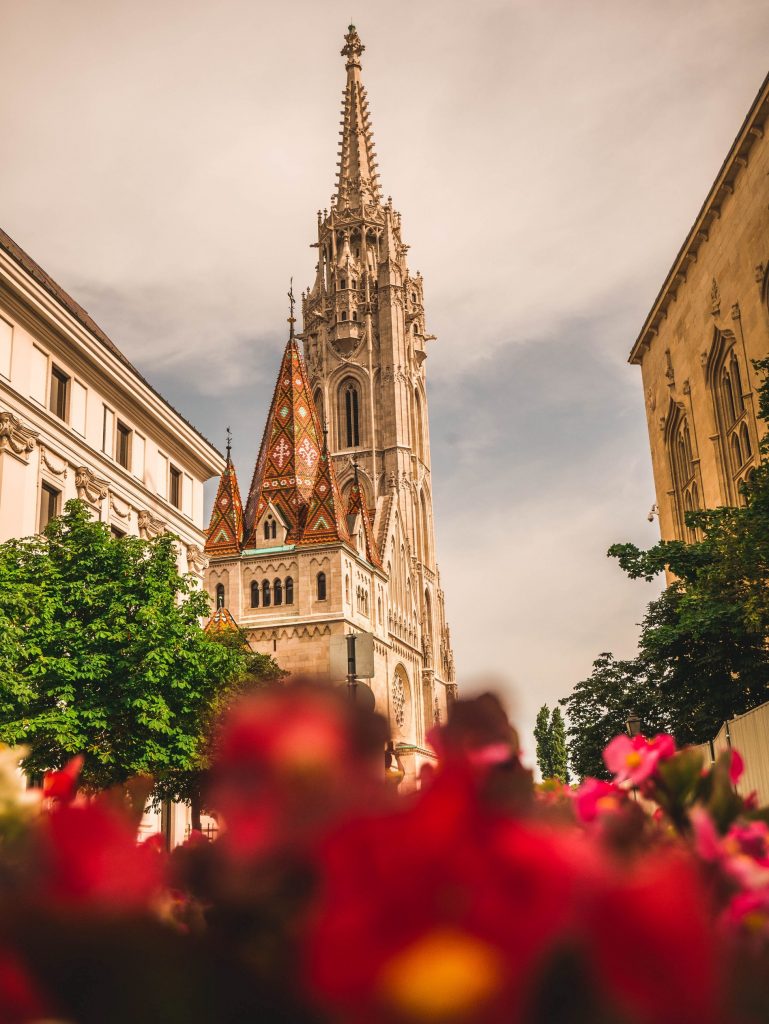 The entire place is open anytime and it's great to see at night. The towers and lower terraces have no entrance fee, but if you want to go higher, you need to purchase a ticket – 1000 HUF. You will only get taxed from March to October. If you're visiting outside that time, there is no entrance fee.
Explore the Buda Castle
You an reach the Buda Castle in Budapest via Funicular or even by foot. The funicular runs everyday starting with 07.30 and up to 22.00
It's located in the same place as Fisherman's Bastion. So if you're already thinking of visiting the above mentioned, then be sure to continue your journey with this architectural gem.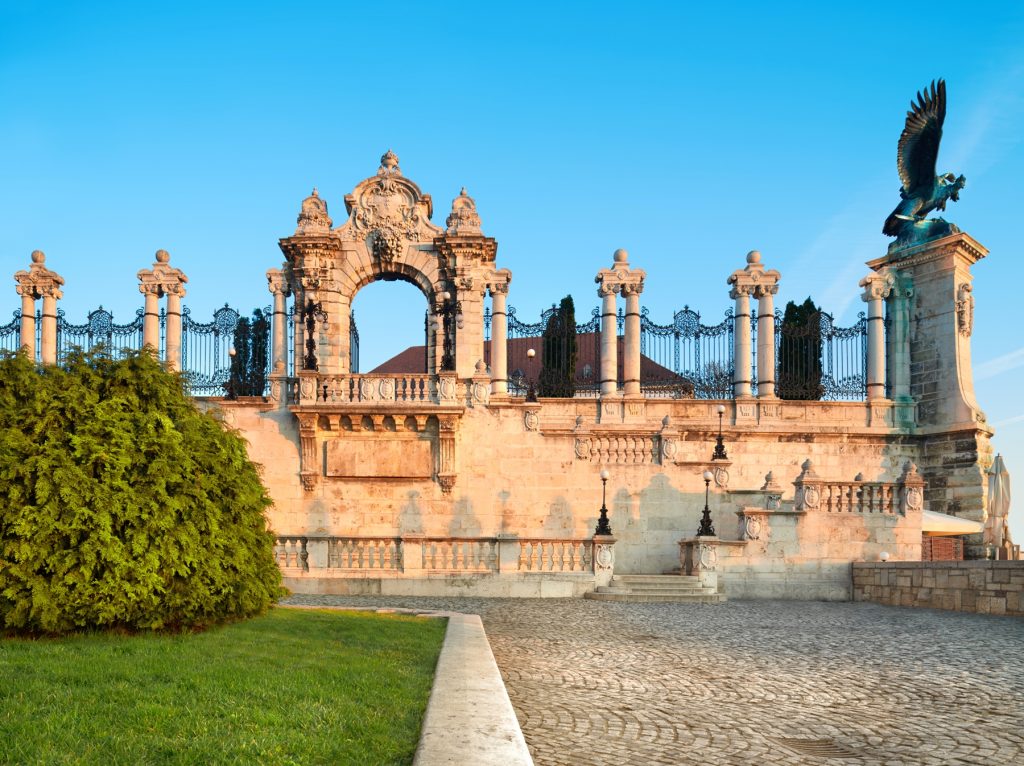 Funicular Tickets:

Upwards: 1 200 HUF/adult, 700 for children (between 3-14 years of age)
Return ticket 1 800 HUF, for kids between 3-14 years of age: 1 200 HUF
Children under 3 and people with disabilities can travel on the cable car free of charge.
If it's already on your to-visit list, then you can check the ticket price for Buda Castle tours and decide on the one that fancies you. Prices range from a budget ticket of only $11 USD to a whooping $ 170 USD if you want a private tour of the Buda Castle.
Walk Through the Chain Bridge
As you're exploring Budapest, make sure you start at least one of your mornings with a walk on the Chain Bridge and visit other side. Well, you could also have a late night stroll as you will be delighted with the backdrop.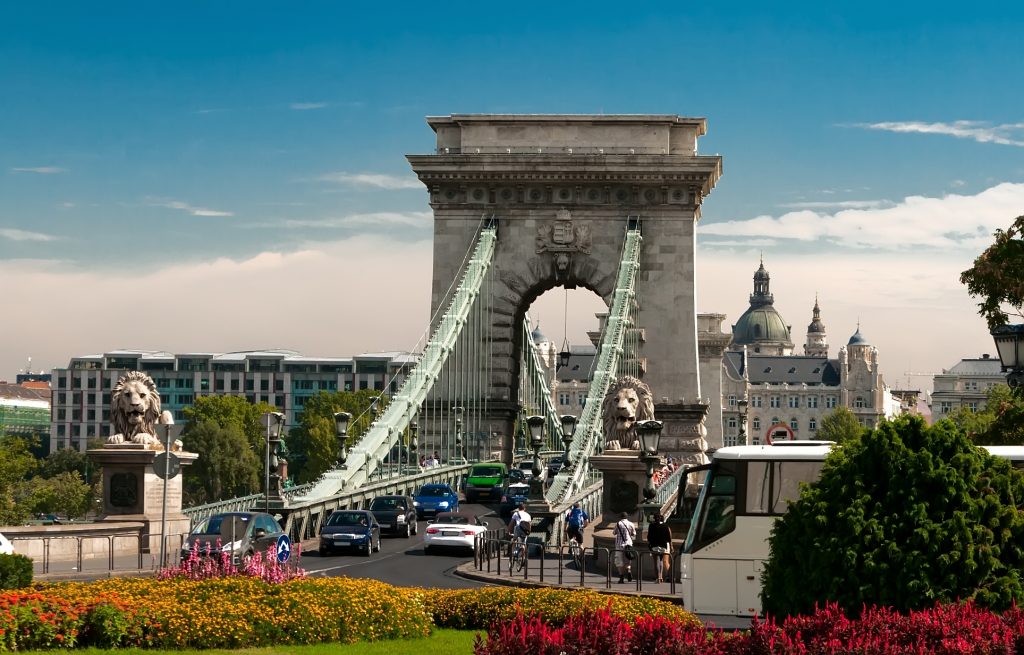 Visit The Great Synagogue
Another place to visit in Budapest is the great Synagogue. Also called the Dohány Street Synagogue, it is the largest synagogue in Europe and the 4th biggest synagogue in the world. It was built in the 1850's and has the capacity to seat almost 3000 people.
You should know that the Hungarian pro-nazi Arrow Cross Party bombed the Great Synagogue in 1939 and it was restored from 1991 to 1998.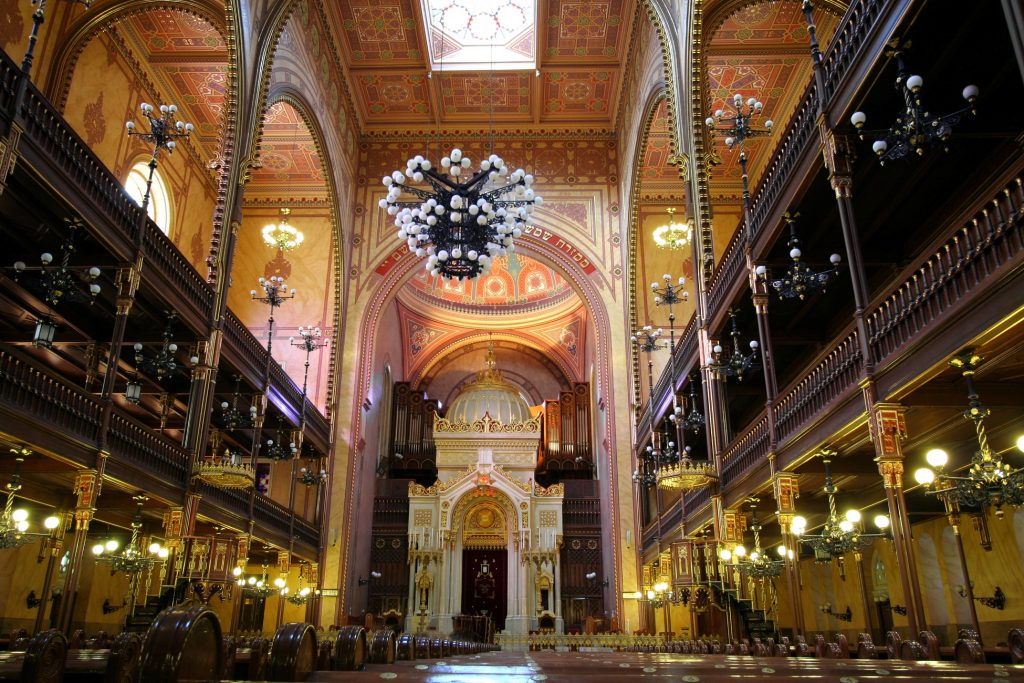 Pay a visit to the Hungarian Parliament
It's the most noticeable building and it's literally huge. You can enjoy the Guard's changing at the Hungarian Parliament Building if you have timed your trip right. But if you're visiting Budapest, you surely can't be missing this moment.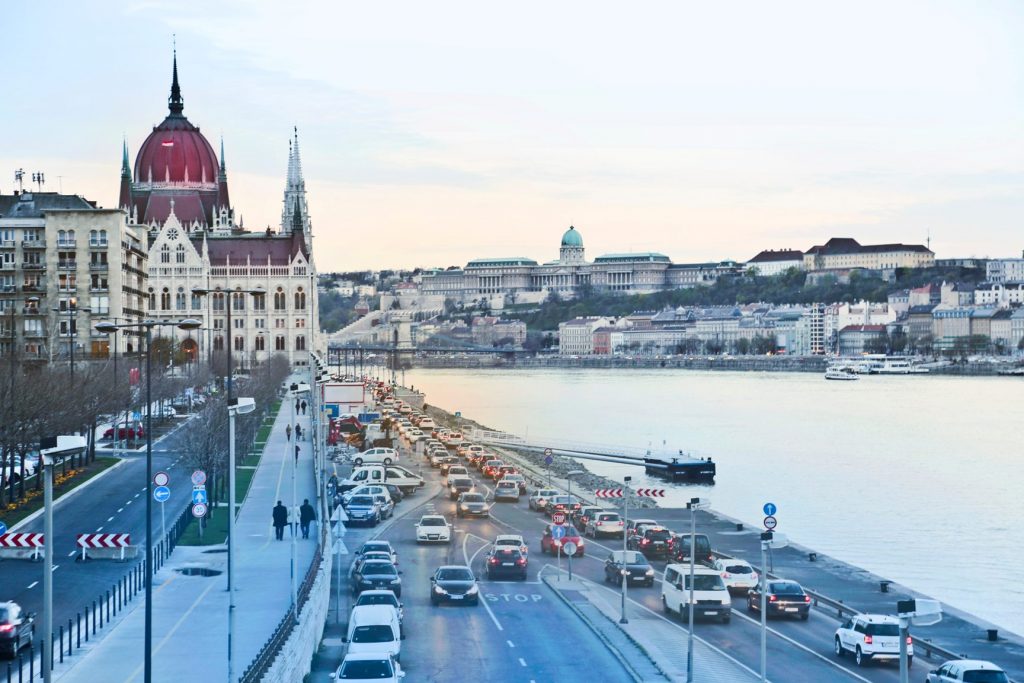 This Hungarian Parliament Building is the 3rd largest Parliament building in the world and also the biggest building in Hungary. It took almost 17 years for its construction and was completed in 1902. Because it's so popular among tourists, there are sometimes huge waiting lines to enter so it's better to book a tour of the Parliament Building in advance.
Sail the Danube River
Danube river cruise dinners or tours are not to be missed. Often called the Danube Pearl or the Paris of the East, Budapest attracts tourists with its enchanting boat rides.
What are the prices for a Danube cruise in Budapest? Cocktail cruises start at almost $30USD, but you can also take a budget ride with just $11 USD.
€10 Budapest Budget Cruise Inclusions:
1.5h Sightseeing Boat tour on the river Danube
1 Welcome Drink (1 glass of Sparkling Wine or Soft Drink)
Further drinks can be purchased and paid on board
AC (Air-conditioned boat in warm weather) / Heated in cold weather
UNESCO World Heritage Sights in the city of Budapest
Children under 6: free of charge
E-Ticket via email (no printing needed)
You can book a ticket for a Budget Cruise in Budapest or try a more fancy dinner cruise.
Whichever you decide to take, you won't be disappointed with the experience and most of all, with the view!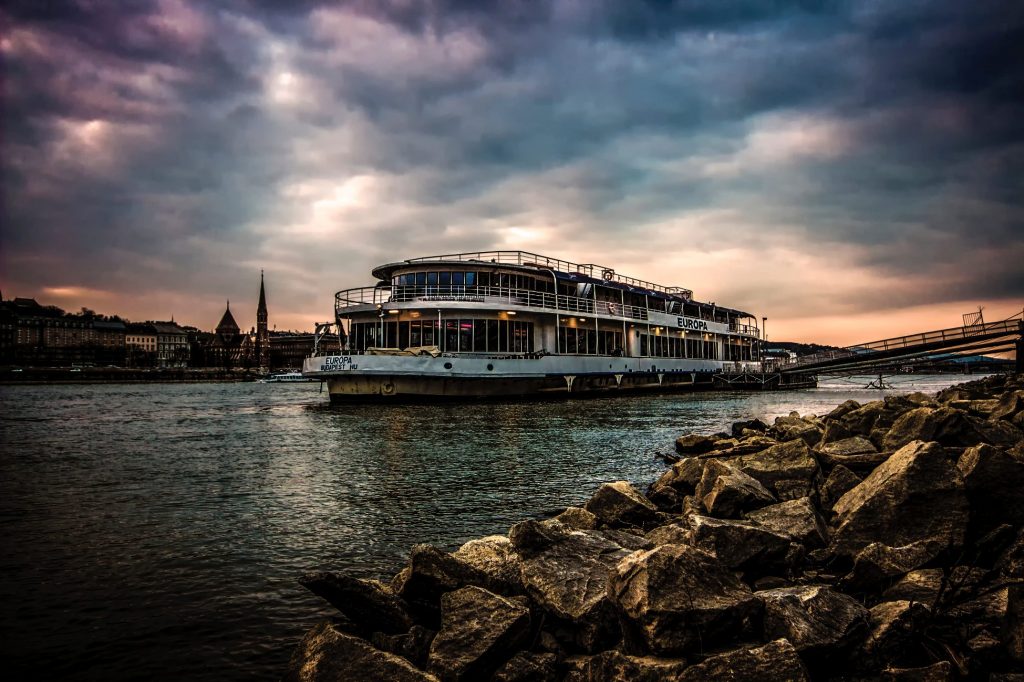 How expensive is Budapest?
Short answer: not expensive.
Budapest is known for being inexpensive when it comes to food and actually everything. You can easily fool your stomach with $15 USD per day! Add your ticket and entrance fees and you will not surpass $35 USD if you're on a budget. Good news, right?
Where can I eat in Budapest?
When I'm travelling abroad, I always try the variety of local food each place has to offer. Hungary was no exception.
I've tasted one of the most spicy goulash, made in bread loaf at a place in the Bastion (don't remember the name, sorry 🙁
If you're not into spicy food, then you should try a langos. It's sort of a doughnut – without the whole, topped with gated cheese, mashed potatoes or some sower cream yogurt.
Rakott Krumpli is another traditional dish made of layered potatoes, much like the French gratin potatoes.
Toltott Kaposzta is similar to the Romanian Sarmale (if not the same I might say). You get minced meat rolled in pickled cabbage leaves and boiled for a couple of hours. They are slow cooked usually in a clay pot. The only difference I could find between the two is, you've guessed it: Paprika
Túrós Csusza is actually a desert I might say, but it kind of fills your stomach. Made from noodles and cheese, it's a great mixture of salty and sweet. Layers of noodles are placed on a tray, then a layer of salty cheese beaten with eggs, noodles again and that's it! It's served right out he oven with a thin layer of sugar on top.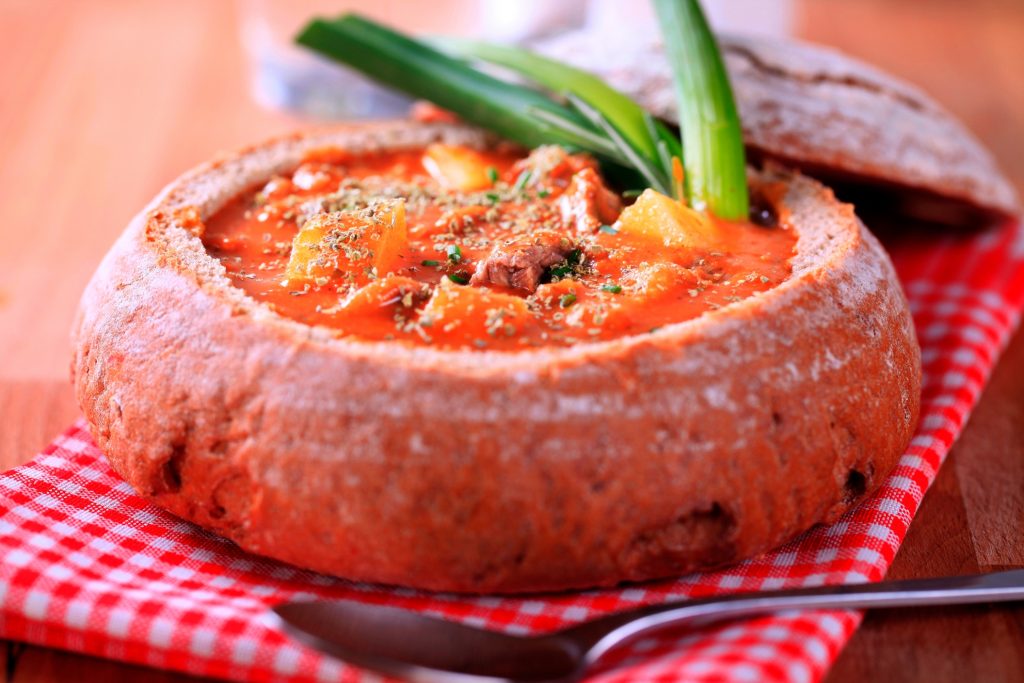 Speaking of sweet dishes, Dobos is a Hungarian cake made from caramel and chocolate cream, and Kurtos is another yummy desert you should not miss.
A Few Budget Breakfast Spots:
9BAR: Tasty cappuccino, espresso, and a few pastry options.
VINYL & WOOD: A hip little spot serving up coffee and pastries.
Bite Bakery Cafe: Coffee, huge cinnamon rolls, and chocolate rolls.
Inez Bagel Shop: Bagel sandwiches.
Cserpes Tejivo: A cozy spot with coffee, pastries, and sandwiches.
Duran Szendvics: Traditional Hungarian breakfast sandwiches.
A Few Budget-Friendly Lunch and Dinner Spots:
Street Food Karavan: A spot with multiple food trucks/stalls serving up different food and beer.
Klauzal Cafe: Authentic Hungarian spot serving up traditional fare.
Bors GasztroBar: Super tasty soups and sandwiches.
Regos Restaurant: Hearty traditional Hungarian food.
Hoppacska: Filling Hungarian sandwiches.
Buddies Burger: Cheap and tasty burgers.
Local Korner: Excellent pizza in a super fun atmosphere.
Hai Nam Vietnamese Bistro & Pho Bar: Solid Pho spot.
Where can I stay in Budapest?
I stayed at Hotel Charles, in Buda. The rooms were nice and clean and it was in the center of the city. We did most walks by foot. It's also close to the Mall in case you're thinking of shopping.
If you're looking for something else, you can find places for any budget. Just see the map below.
Is Budapest safe four tourists?
Well, it's like any other city. Sure, it's safe, but don't expect to find your wallet if you lose it.
I didn't have any issues whatsoever. People were friendly and communicative. They like tourists and they are not at all grumpy. English?Yes, they know it!
Info you need to know about Budapest
the currency of Hungary is Hungarian 

Forint

(shortened as HUF or Ft).
buy a BudapestTravel Card
check this website for upcoming festivals so you won't be missing anything
All in all, Budapest is a lovely city that you will most likely enjoy visiting. It's a place for a long night of partying, a relaxing time or an adventurous trip. Hope you will reach it someday, as it's worth seeing!