A Map of the Hot Springs in Iceland
Iceland is a paradise with fantastic natural attractions spread all over. No wonder they call it the Land of Fire and Ice!
Visitors often end up amazed at the excellent balance of both hot and cold in the region, making it a popular destination for many travelers. Although the Nordic region has several attractions, its geothermal pools take the lead when it comes to "must visit" places in Iceland.
The springs are either natural or man-made and are a great place to take a dip outdoors, while treating your body with natural minerals. If you are planning to visit Iceland to see the hot springs, here is some information you might need to make your trip memorable.
Best Icelandic Hot Springs
Hot springs are mostly in the west and south-west areas of Iceland and can be accessed throughout the year. The springs have a temperature of approximately thirty to forty degrees, making them perfect for bathing outdoors.
They also vary in size and shapes, with some located within another. This gives anyone a chance to choose their most favorite one. Even so, several springs have become popular over time because of the unique experience they offer travelers.
So, here's a map of the hot springs in Iceland:
Secret Lagoon Hot Springs
If you want to spend time in the oldest geothermal pool in Iceland, you need to visit the Secret Lagoon.
It is located in Flúðir village and has been a popular destination for tourists since the 80's. However, it was revamped in 2014, resulting in a modern relaxation area for those seeking an authentic hot spring experience.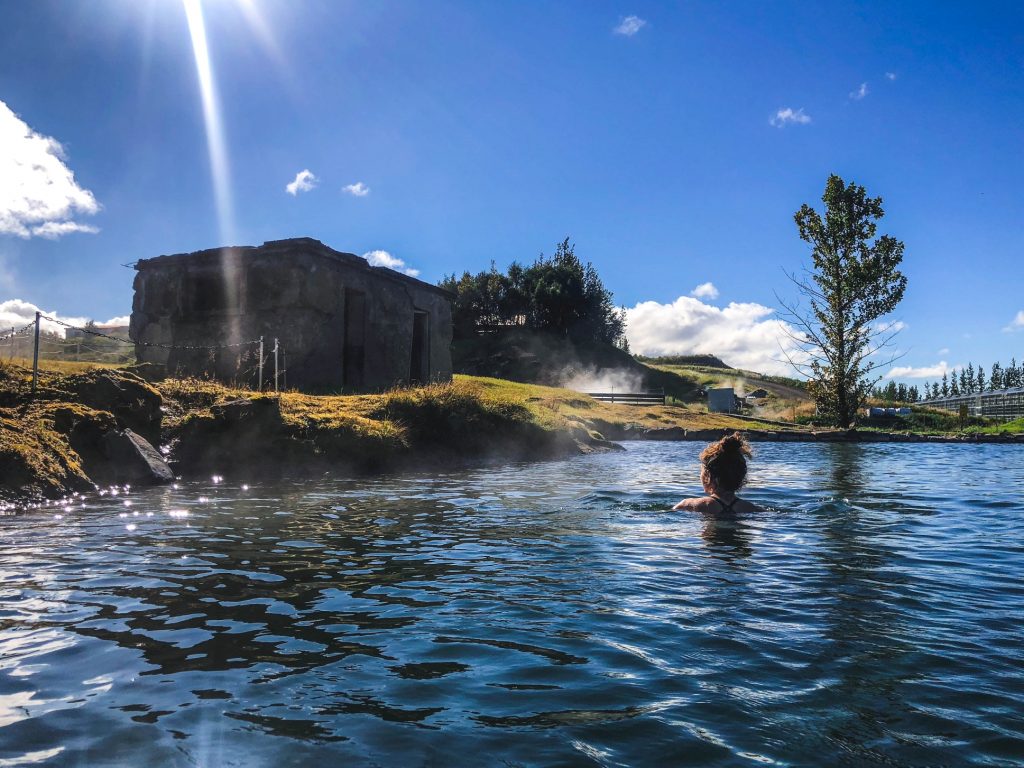 The geothermal pool resembles a hot tub whose temperatures are perfect for swimming and bathing. It also has beautiful scenery that consists of steaming fumaroles and small geysers that are active after every few minutes.
Besides being surrounded by magnificent scenery, the Secret Lagoon is also spacious and has modern facilities. It has a magnificent changing room and shower area for those planning to bathe in the hot spring. Access to the hot spring will cost a traveler, a minimum of 2800 Icelandic Krona, which is worth it for the services offered.
Hrunalaug Natural Hot Springs
Hrunalaug is two hot springs in one that is surrounded by an incredible scenery on every side.
This geothermal pool is also located in Flúðir, a small town in the southern part of Iceland. It provides visitors a bit of privacy, due to its hidden location. The springs allow bathing for six to eight people per session, making it essential to make a booking in advance.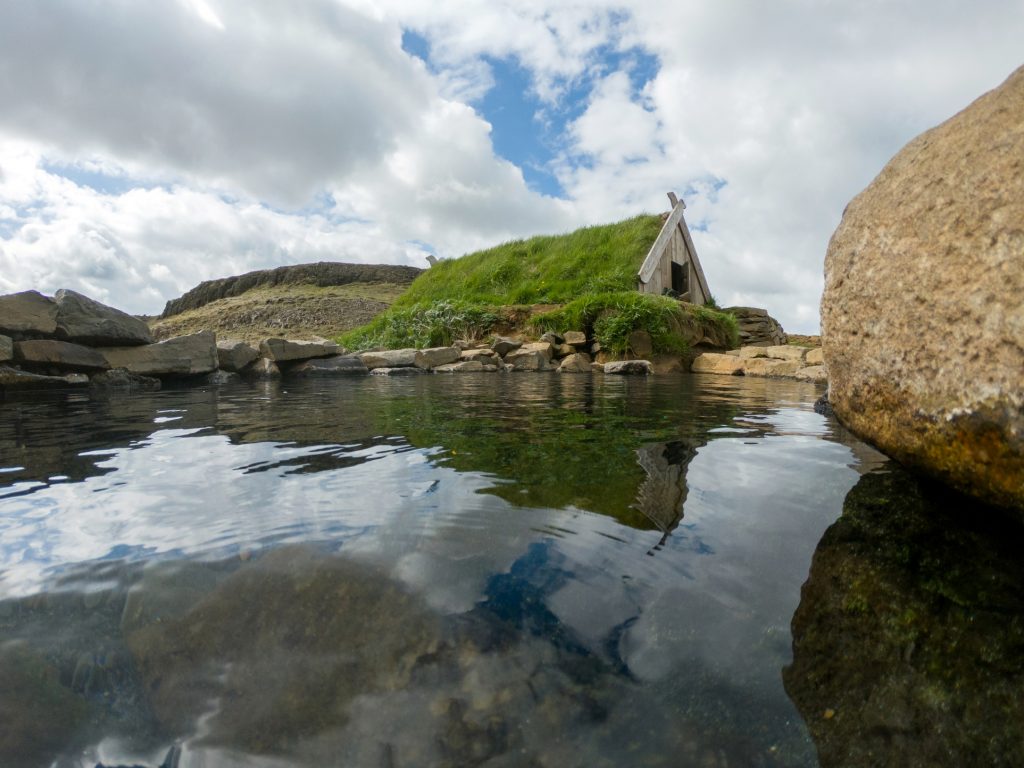 The scenery you will be prompted with marks a pin on our map of hot springs in Iceland that you need to see. Winter greets you with snow and fairy tale sights, while summer boasts Iceland's green lands.
Local people that reside near the geothermal pool emphasize on the need to keep the surrounding litter- free ensuring the area is clean and habitable for travelers.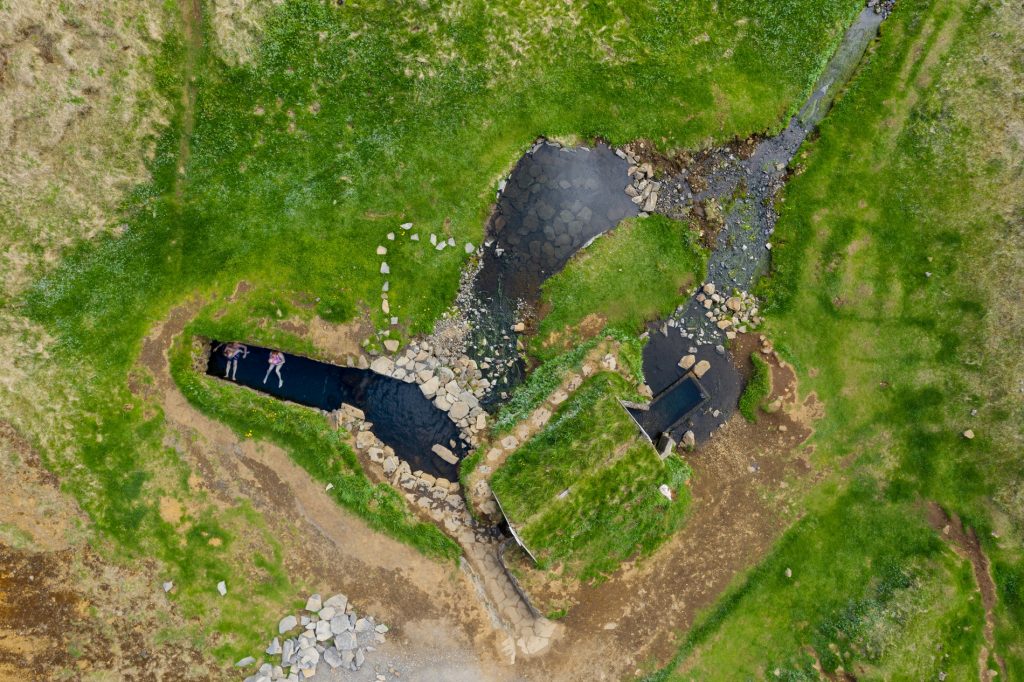 Hrunalaug is an ideal location for tourists looking for privacy and are excited about exploring new places in Iceland. The springs are right next to cabins that can be used for accommodation and others for changing before getting into the natural pool.
Entrance to the natural hot springs costs 1,000 Icelandic Króna per person. This is given as a donation for the maintenance of the pool area. That means you should pay $10 or $20 USD
Myvatn Hot Springs
Myvatn is located in the northern part of Iceland and is known for its coziness and incredible scenery.
The hot springs offer visitors the opportunity to enjoy a natural bath at temperatures of about thirty-six to forty degrees. Travelers visiting the spring get to enjoy the fantastic scenery while soaking themselves in water full of minerals which are perfect for your skin.
Changing facilities and a shower area are available at the location, giving you a chance to enjoy bathing in the spring as soon as you get there.
If you are travelling from Reykjavik, it will take you at least five hours to get to the springs, making it important to plan early. The location can be accessed by car or bus with the road leading up to its exact location. When compared to other springs in Iceland, Myvatn is quite affordable with prices ranging from 3800 Icelandic Króna or thereabout.
---
Reykjadalur Hot Springs
If you are an adventure lover and seek to combine your thrill-seeking tendencies with a soak in an Icelandic spring, you need to visit Reykjadalur.
The hot spring is located in Hveragerði town and is accessible by hiking up a hill for about half an hour. When coming from the city, you are allowed to drive to a certain point then hike the rest of the way.
For many travelers, the opportunity to soak their tired bodies in the spring after the hike offers much-needed relief. The warm pool is also surrounded by the breathtaking scenery that is seen right from the start of the hiking trail.
Reykjadalur is designed to offer travelers a glimpse of living with nature and does not provide a changing area in the spring. Visitors get to change in the wild and get into the warm pool when they get to the location. Additionally, entry to the hot spring is free, making it a site worth including on our map of hot springs in Iceland.
Blue Lagoon Hot Springs
Blue Lagoon is a famous hot spring that is considered a "must visit" when touring Iceland. It is located in the southern part of Iceland near Grindavík and is easily accessible from the capital city of Reykjavik.
The hot spring rose to popularity because of its large size and is recognized as one of the top wonders of the world. Its surrounding is made up of natural lava that gives a scenic background to the natural pool.
The water in the hot springs is milky and light blue, making it appealing for bathing and enjoying the warm water. It is also rich in minerals that treat the skin and leave it feeling and looking good after soaking for hours.
Travelers that visit the Blue Lagoon part with at least 9,000 Icelandic Króna to soak in its waters and enjoy the other modern facilities at the location.
Overall, hot springs in Iceland are worth the visit when travelling for a few days or over an extended period. The benefits for your skin and general state are simply amazing!