We've gathered some of the best places to visit in April in Europe where you can enjoy the scenery and discover some hidden gems. As winter begins to fade and the sun's rays begin to peek out in April, it is a sign that Spring is around the corner – at least in Europe. European Spring can be a bit chilly, but it is the perfect time to pack your bags and head to your favorite destination.
Besides the warm weather, many popular cities in the continent attract fewer crowds, allowing you to explore famous sights without distractions. If you wonder which European city is warm in April and worth visiting, below is a list to help you out.
Visit Tenerife, Canary Islands, Spain
Average Temperature: High: 72F/22C, Low: 61F/16C
If you are a beach lover, southwest Tenerife is the best destination to visit and enjoy warm weather. Although the temperatures may seem a bit chilly for some, it's actually pretty warm, with most visitors making their way to the beach to sunbathe.
If you want to avoid the crowded beaches like Playa de las Américas, you can visit other hidden gems in the Canary Islands. Some of the less known attractions on the island include Masca Bay which can be explored up close on a boat. Its dramatic shoreline has gigantic cliffs that are quite captivating, with waters colliding on them continuously.
Perfect for April: Antalya, Turkey
Average Temperature: High: 71F/22C, Low: 51F/11C
In April, the Mediterranean town of Antalya attracts thousands of visitors from Europe and beyond. The sunny weather gives them a chance to sunbathe and relax on some of the best beaches, including Cirali, Patara and Lara beach.
Antalya is also a popular cultural destination besides the beaches because of the roman and ancient Greek ruins peppered across the historic city. It is also surrounded by mountains and expansive meadows that are worth checking out.
If you are willing to go beyond the norm, you will discover Antalya has several undiscovered attractions such as Kıraç Kaleiçi Müzesi. The museum comprises traditional houses preserved to showcase local culture and its essential elements.
The Çığlıkara Nature Reserve is another hidden gem in Antalya with 400 plant species and diverse wildlife, including jackals. The reserve is an actual paradise and can be explored using marked paths.
After ending your trip to Antalya, you will surely also think it's one of the best places to visit in April!
One of the best places to visit in April is definitely Florence, Italy
Average Temperature: High: 66F/19C, Low: 46F/8C
Pleasant weather is the norm in April, with many visitors making their way to the famous Italian city. The culture, architecture and monuments in the city make it a city worth exploring.
Its famous museums and galleries like Palazzo Pitti and Ufizi Gallery are a great place to interact with renaissance art across several fields. If you prefer spending time in less-known attractions, hike up the hill to San Miniato al Monte. The basilica provides a scenic view of the city without the hassle of large crowds. Its exterior is also beautifully adorned with Renaissance frescoes and large marble pillars.
Exploring vineyards in the Tuscany wine region within Florence is a great way to spend Spring in the city. You can be part of a winery tour to vineyards like Felsina, Podere Le Ripi and Volpaia, considered hidden gems in the city.
Undiscovered attractions in Nice, France
Average Temperature: High: 62F/17C, Low: 50F/10C
Nice can get very crowded during the summer months, making it one of the best places to visit in April and enjoy the city's best sights.
The weather is warm, making it the ideal time to walk through outdoor markets shopping for souvenirs. Strolling on the private or public beaches spread across the city is also an excellent way to relax and interact with locals.
Although Nice is famous for its beautiful beaches, it has other undiscovered attractions worth visiting. Some of these attractions include Légion d'Honneur Garden, a perfect location to take a break and enjoy some quiet time or a picnic. The garden is filled with plenty of unique succulents and benches for relaxing while taking in its beauty.
The Baroque church of Saint Rita is an ecclesiastical building hidden between the narrow streets of Nice. It's beautiful and calm interior with ornate carving and frescoed ceilings make it worth the visit.
Average Temperature: High: 64F/18C, Low: 47F/8C
April in Barcelona is associated with fewer crowds and warm weather, resulting in more time spent outdoors. The city is known for its beautiful architecture, and most of its landmarks center around traditional and modern art. Strolling through the streets of Barcelona alone or on a walking tour is a great way to explore the city.
If you prefer to take the off-beaten path when visiting Barcelona, you are in for a treat. The city has a handful of places hidden away, such as bunkers Del Carmel, filled with wartime bunkers perfect for a 360-degree view of Barcelona. The Horta Labyrinth is another hidden gem just outside Barcelona, with a real-life maze covering 820 yards.
Split, Croatia – blooming in April
Average Temperature: High: 63F/17C, Low: 51F/11C
Split may not be a popular tourist destination than Dubrovnik, but it is one of the best locations to visit in Europe. Its town centers have a rich history seen in its many archaeological landmarks such as Diocletian's palace, which has been recognized as World Heritage sites.
Besides historical landmarks, Split has some less known attractions, such as Pazar Farmers Market that sells all types of green products. It is easy to miss because of its location but worth visiting to interact with its charming vendors. For the best Dalmatian dishes, visit Konoba Insula, a local Croatian restaurant. Its diverse menu makes it the perfect place for brunch or lunch.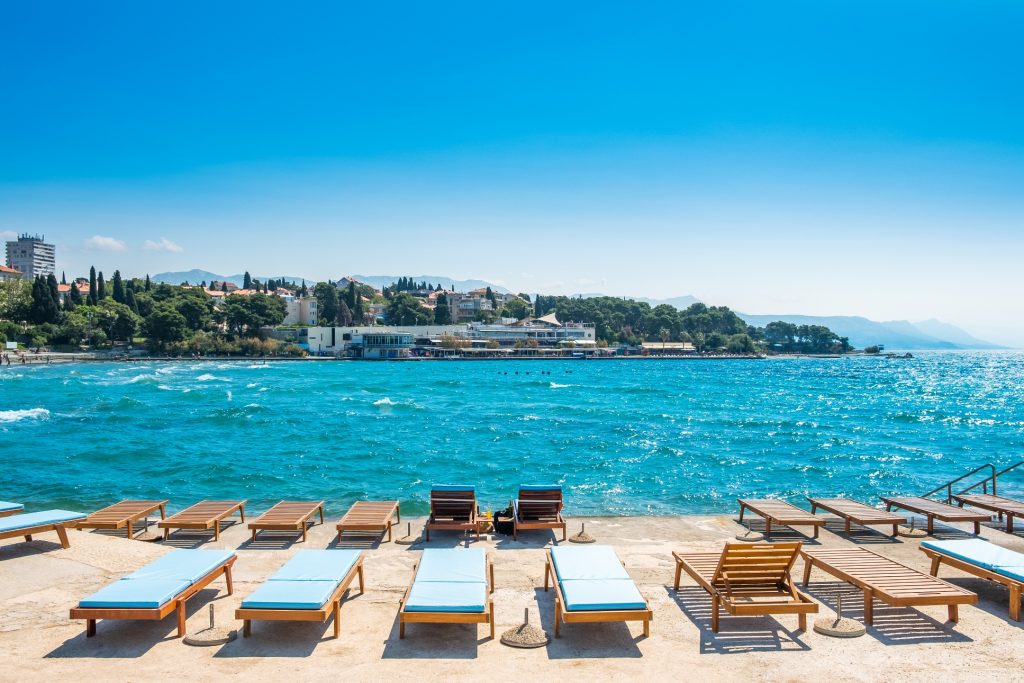 Treat yourself in Budapest, Hungary
Average Temperature: High: 61F/16C, Low: 43F/6C
When compared to Prague, Budapest is much warmer, making it the perfect destination in April. The city has several sights popular with tourists, such as the Budapest History Museum and Chain Bridge built in the 19th Century.
If you prefer visiting attractions with lesser crowds, consider visiting the underground caves of Szemlő-hegyi and the larger Pál-völgy. The cave system is captivating and fun to explore, its twists and turns. Green spaces like Kopaszi Dam are also worth checking out and perfect for enjoying an afternoon picnic.
If you're worrying about the prices in Budapest, you should know that the city is actually affordable. Don't give it much thought if you're planning on visiting it – it's worth it! Especialli because it's one of the best places to visit in April.