While many of us have thought about traveling to Cancun, only just a few have reached it and were lucky enough to be marveled by its beauty.
Located on the northeast side of the Yucatan Peninsula, this is still one of the world's top tourist destinations. What was once a jungle full of mangroves has steadily become a renowned destination for travelers world wide.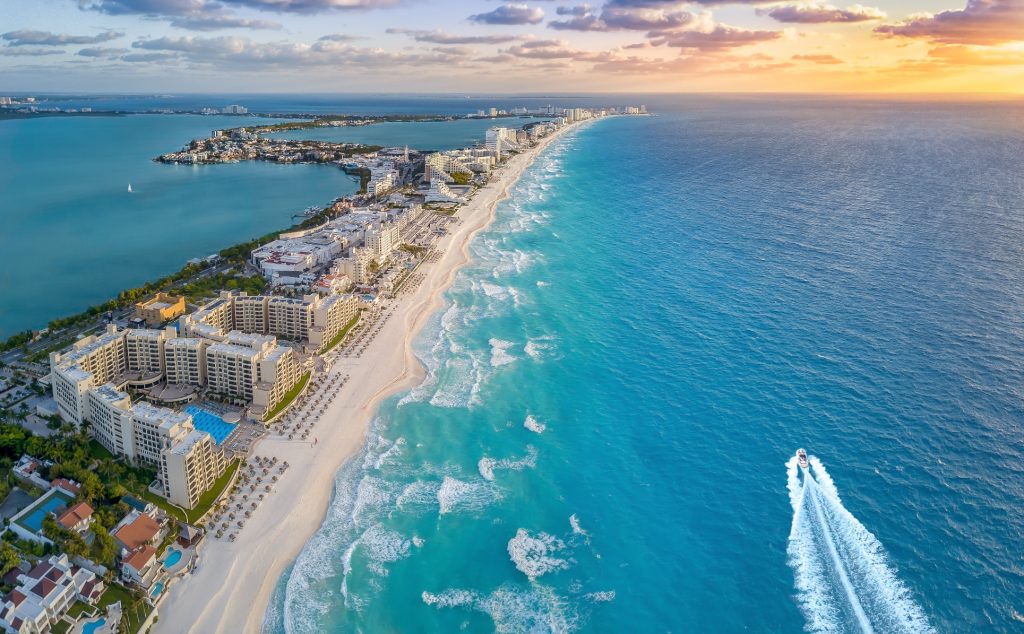 Opening in the year of 1974 by the Mexican government, the region has come a long way from its modest beginnings to a serious cash cow for Mexico. With beaches, relevant history full of museums and archaeological sites, to even their widely known nightlife and cultural scene, visiting Cancun is a must do in this lifetime. For that, we have created a small tour guide to help you while planning your trip to Cancun.
Where to go when traveling to Cancun?
The Cancun region of Mexico has some of the world's best beaches that have been internationally appraised every year.
This, however, has predominantly been due to the efforts by the Mexican government in revitalizing and remodeling it, especially after significant hurricanes like Wilma. So, if you are searching for white sandy beaches and clear blue waters, when traveling to Cancun, be sure not to miss the ones mentioned below.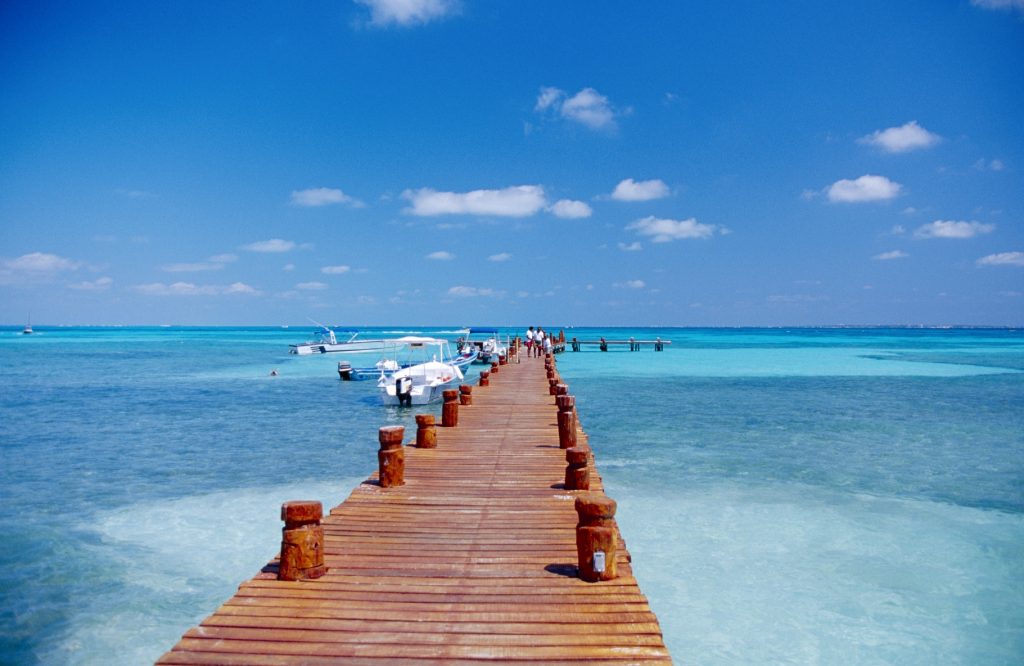 With 14 miles of coast side, Cancun is divided into two sections, which are the East and North sides. Within these sections, you can find world-class beaches like Playa Linda and Playa Tortugas, to name a few.
When visiting Cancun, you should not miss Croco Cun zoo. This open zoo lets you explore crocodiles in their natural habitat. For only $32 USD you can touch, hold and even feed some of the animals.
Cancun, which was initially thought of exclusively as a resort, is actually much more than that. It is surprisingly home to some great archaeological sites and museums that should be on your list of things to do in the region. Traveling to Cancun does not have to mean only beaches and sun.
Archaeological sites in Cancun
Many of these sites, especially the archaeological ones, date to a time before the Spanish Conquest. A number of them were architecturally created by the Mayan People, an ethnic group that is most notably known for the fabled Mayan Civilization.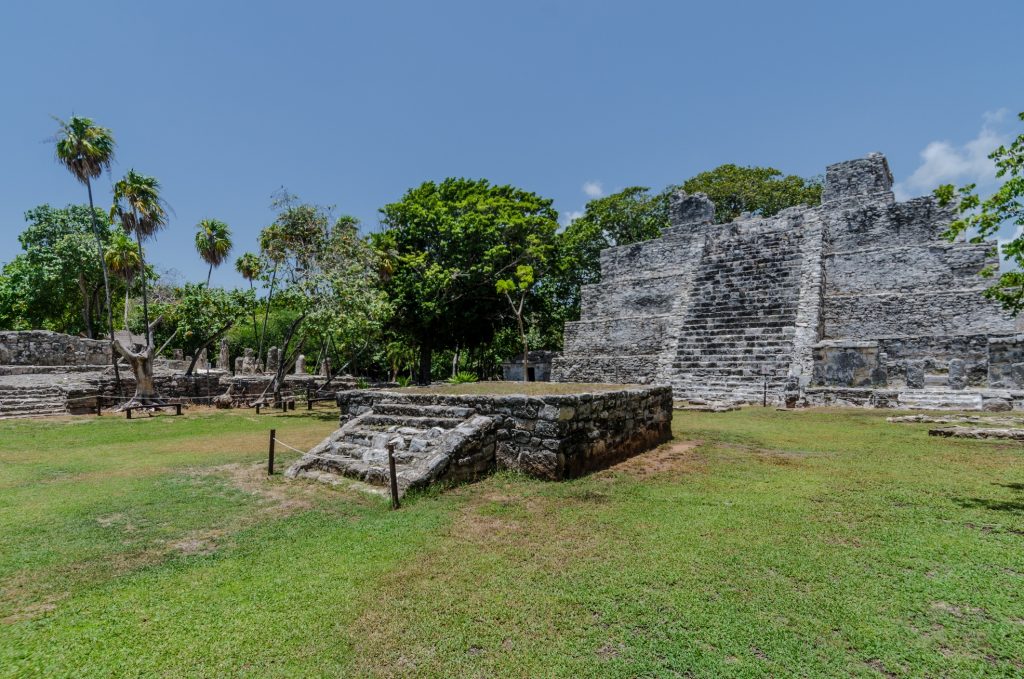 Home to three archaeological zones, the Cancun region can give you a glimpse into the past. An excellent starting point would be the EL Rey Archaeological Zone. Here you will have the chance to see some of the remnants of Mexico's ancient past with the abundance of plazas, temples, and pyramids. If you are lucky, you may also be able to see some of the world's most giant iguanas. Other noteworthy sites include the Yamil Lu'um and the El Meco Archaeological Zone.
If you want to increase your knowledge of the area, I strongly suggest seeing either Museo Subacuatico de Arte, Museo Palapas and the Parque Las Palapas.
Museo Subacuatico, in particular, is very unique. Although underwater sculptures are nothing new, there has not been anything more ambitious and gorgeous than the thousand life-like caricatures in 20 feet of water off the Cancun's coast. To access this, however, does not come free as diving will cost between $45-65, while snorkeling will be slightly cheaper at $25-35.
Nightlife in Cancun
Looking for a good time out? Cancun has you covered as the resort city is arguably best known for its abundant nightlife. With a rich collection of bars, live music, dance theaters, movies and more, you can be assured that a night in here will be one that you will not forget.
The biggest, most popular nightclubs are near the forum by the sea mall in Zona Hotelera. A widely known club, which is a great choice and affordable, at only $40, is the Daddy-O and Daddy-Rock clubs off of Kukulcan Blvd. Here you can experience laser shows, swimsuit contests and dancing all night long.
If you are looking for something more soothing and relaxing when traveling to Cancun, the Zona Hotelera region of Cancun offers intimate music such as Jazz, solo guitarist, and trios. A place that should come to mind if you want to access this is the Roots Jazz Club off of Tulipanes Blvd.
Besides its abundant nightlife, Cancun is also a cultural hub as well. Places like the Cultural Center and Jazz Festival have much to offer.
Other events like the Jazz Festival and the Concurso Municipal de Artesanias offer activities such as city-wide handicraft competition by artisans in the region and a chance to listen to some of the best jazz music in the world. The cultural center, which is state-funded, provides an incredible array of artistic workshops, performances, films, and expositions.
Cancun has five significant malls, a handful of open markets and a plethora of independent shops to choose from. Ranging from inexpensive to upscale, Cancun has budget stores and also some for those who want to splurge.
In the Open Air Market, you will be able to find the Mercado 28. Located off of Avenue Sunyaxchen, this open market is predominately budget friendly with a wide variety of handcrafted Mexican souvenirs.
If you are looking to spend some cash, then the Plaza Kukulcan is just for you. In this area that has been dubbed Luxury Avenue, you will find stores such as the Maraf Jewelry, Sunglass Island and a MixUp store.
Also, this area is home to Kukulkids, which is a place where kids can play. Although not free, prices are low, costing only $6 for one hour and an extra $3 for any additional hours. Children under the age of four, however, must be supervised.
Cancun has many hotels varying from inexpensive to luxury.
Downtown Cancun will most likely be your best bet if looking for something cheap, while the Zona Hotelera region is usually more expensive. However, you can still find comfortable and affordable, as well as costly hotels in both areas.
One hotel that is a steal in the Zona Hotelera region is the Hostal Mayapan (Plaza Maya Fair, Blvd. Kukulcan). For only $18-22, you will have continental breakfast, free wifi, clean linens, and 24-hour security.
If you want something more luxurious in the area or want to splurge yourself than the Fiesta Americana Grand Coral Beach is what you want. Starting at $290-395 for a junior suite and $459-669 for a master, the resort (in better terms) offers spacious and comfortable suites, ocean-view balconies, lush gardens, and even places for kids to retreat to.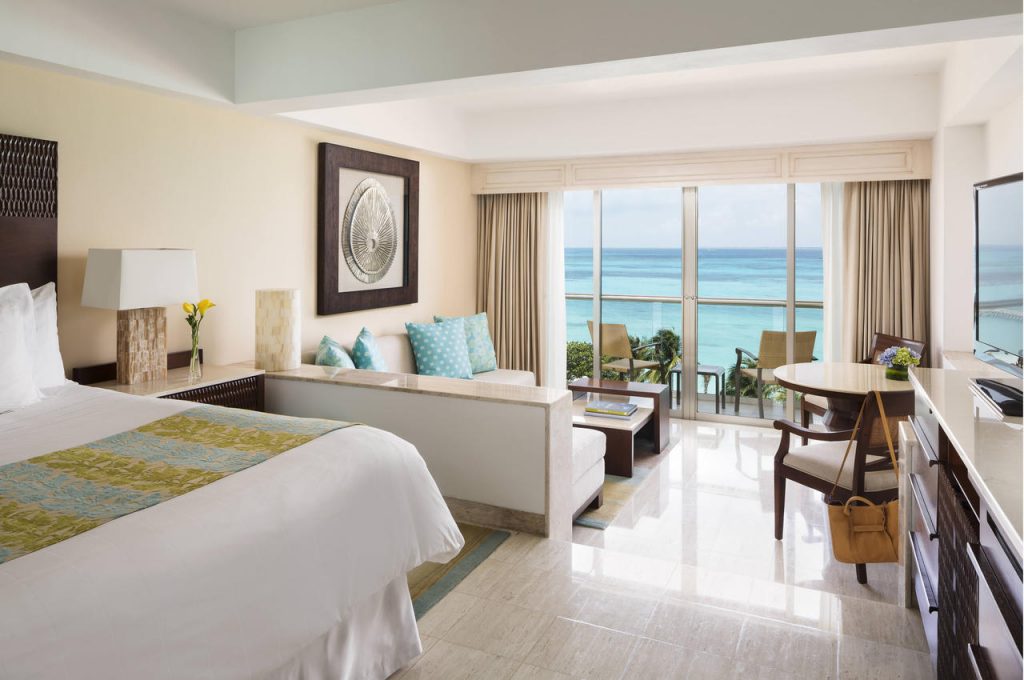 Downtown Cancun, on the other hand, although cheaper, does not disappoint. Starting with the inexpensive, the Quetzal loft, which starts at $18 per dorm, is a great budget option. With its artsy feel, airy rooms, verdant garden, and rooftop lounge with views of downtown, this one is a steal.
If you want something more upscale, prices, surprisingly, do not differ astronomically, like the ones in Zona Hotelera. For $50-100, you can access the Hotel Colonial Cancun (Tulipanes 22). Recently being remodeled amenities include cable TV, WIFI, and quiet, air-conditioned rooms.
All in all, Cancun is a wonderful place to be in. With tropical sights, great weather and a variety of things to do, you are guaranteed a great vacation!