If you're a traveler looking for adventure and out of the box experiences, then we've got some wonderful suggestions for you! Our Mexico travel guide to explore unique places in Mexico features some sites that we bet you had no idea they existed.
Mexico is a mix of breathtaking natural sceneries, intriguing art, fascinating history and enchanting traditions. Make your trip to Mexico a memorable one and be sure to explore at least one of the places mentioned below. You will not regret it!
Chichen Itza – For Adventure Seekers!
If you're an enthusiast when it comes to great archeological finds and ancient civilizations, then this ancient Mayan archaeological site in Yucatan is where you need to go.
Chichen Itza is world renowned for the El Castillo pyramid ( also known as the Temple of Kukulkan ) famous for its incredible precision and astronomical significance. This place was a major pre-Columbian city built by the Maya civilization. It reached its height during the Terminal Classic period (around the 7th century) and later became a center of worship and pilgrimage.
Besides an amazing pyramid, this site hosts an observatory tower with a winding, spiral staircase. Its circular design and unusual shape make it stand out among the more common rectangular structures at Chichen Itza. The outer shell of the observatory is made of carefully cut and fitted stone blocks, and it has narrow slits and windows for astronomical observations.
Things to Know Before Going:
Guided Tours: Consider taking a guided tour to learn more about the history and significance of the site. English-speaking guides are readily available for hire at the entrance.
Comfortable Clothing: Wear comfortable clothing, a hat, and sunscreen, as the Yucatan Peninsula can get very hot.
Water and Snacks: Bring water and snacks, as there are limited food and beverage options inside the archaeological site.
Respectful Behavior: Show respect to the historical site and its surroundings. Climbing on the structures is generally not allowed.
Dive Into Surrealism Deep in The Jungle: Garden of Edward James
Some of the most unique places to visit in Mexico are related to architecture and the next one is not an exception, But, it's not like something you can ever imagine!
The Surrealist Garden of Edward James, known as "Las Pozas," is a truly unique and whimsical sculpture garden located in Xilitla, a small town in the Huasteca Potosina region of Mexico.
Its creator, Edward James, was a British poet and artist who, in the mid-20th century, became captivated by the beauty of the tropical rainforests in the Huasteca Potosina. He purchased a coffee plantation in Xilitla and began transforming it into an artistic wonderland.
Las Pozas is a manifestation of Edward James's surreal artistic vision. It features a series of surreal and otherworldly sculptures, structures, and gardens built among the lush vegetation of the rainforest.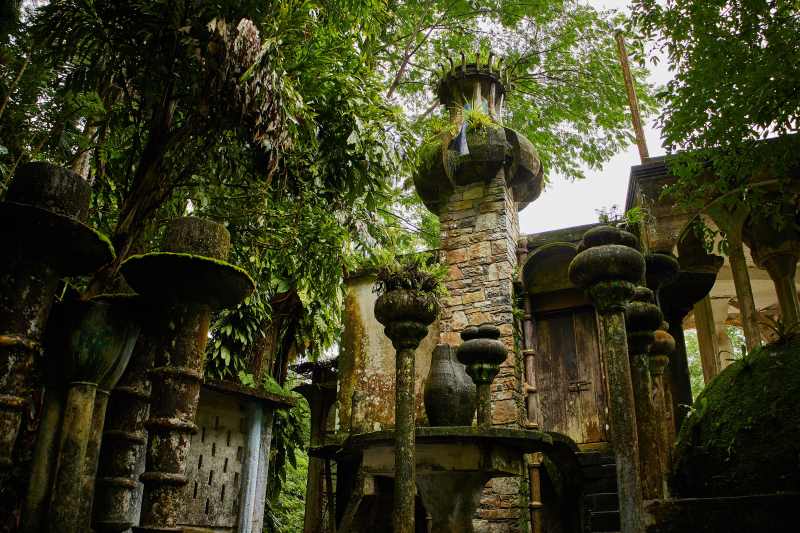 Las Grutas de Tolantongo – Remarkable Thermal Water
Las Grutas de Tolantongo is a remarkable thermal water complex located in the Mezquital Valley of the Mexican state of Hidalgo. It's known for its stunning natural landscapes, hot springs, caves, and lush surroundings, making it part of the unique places in Mexico you need to see.
Las Grutas de Tolantongo, which translates to "Tolantongo Grottoes," were formed by the underground flow of the Tolantongo River, which carved out a series of caves, tunnels, and canyons over millions of years.
The main attraction of Las Grutas de Tolantongo is the series of natural thermal pools and hot springs. These pools vary in temperature, and visitors can relax in the warm, soothing waters while enjoying the beautiful surrounding landscapes.
Take a step back and enjoy the tranquility and the therapeutic benefits of natural hot springs! Just immerse yourself in the scenic beauty of the Mezquital Valley and stop your journey for a while. This unique place in Mexico is pure delight! But, if you're afraid of heights, then you might decide to skip it.
Fly Away to The Monarch Butterfly Biosphere Reserve
While in Mexico, there are some things you shouldn't miss. For example, witnessing the incredible migration of millions of monarch butterflies to the forests of Michoacán and the State of Mexico. Monarchs from eastern North America travel up to 3,000 miles to reach the forests of central Mexico, where they overwinter.
Within the reserve, you will find that there are several sanctuaries where you can observe the monarch butterflies in their overwintering clusters. Some of the well-known sanctuaries within the reserve include El Rosario, Sierra Chincua, and Piedra Herrada.
The best time to visit the Monarch Butterfly Biosphere Reserve is during the winter months, roughly from late November to early March, when the butterflies are overwintering in the area.
The Monarch Butterfly Biosphere Reserve is a UNESCO World Heritage Site and a symbol of both the marvels of the natural world and the importance of international conservation efforts. It offers a unique opportunity to witness the incredible journey and collective behavior of the monarch butterflies, making it a must-visit destination for nature enthusiasts and wildlife lovers.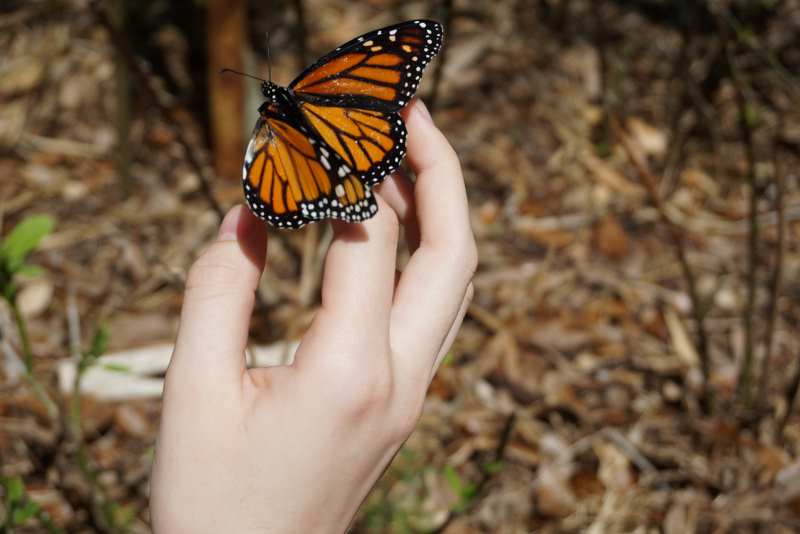 Copper Canyon (Barrancas del Cobre)
This series of canyons in the Sierra Madre Occidental is larger and deeper than the Grand Canyon in the United States. It can reach depths of over 1,800 meters (5,900 feet) and span an area four times larger than the Grand Canyon. The canyons are deep, rugged, and surrounded by rugged terrain and high cliffs.
This place offers stunning views and unique travel experiences. So, if you're an adventure seeker and love visiting canyons, then this spot will be worth your time.
Barrancas del Cobre, often referred to as Copper Canyon, is a stunning and expansive network of canyons in northwestern Mexico, primarily located in the state of Chihuahua. It is a breathtaking natural wonder and one of the most spectacular canyon systems in the world.
And, if you didn't know, you could also take the train and pass through the canyon. The Ferrocarril Chihuahua al Pacífico, also known as "El Chepe," is a scenic train that runs through the Barrancas del Cobre region. The train offers passengers breathtaking views of the canyons and the opportunity to visit various towns and communities along the way.
Barrancas del Cobre is a captivating destination for nature enthusiasts, adventure seekers, and those interested in experiencing the rich indigenous culture of the Tarahumara people. The breathtaking vistas, diverse ecosystems, and outdoor activities such as hiking, horseback riding, mountain biking, bird-watching, and guided tours, make it a must-visit for those looking to explore Mexico's natural wonders.
Real de Catorce
Have you ever wondered how it's like to visit a ghost town? Well, you could now experience it! Real de Catorce is the closest you will get to a ghost town turned tourist destination; It's known for its rich history, well-preserved colonial architecture, and its unique, almost mystical atmosphere.
Real de Catorce was founded as a mining town in the 18th century, primarily for silver mining. It was once one of the most important silver-producing towns in Mexico. But, due to the decline in the 20th century, it was largely abandoned and fell into a state of disrepair, leading to its classification as a ghost town.
In recent decades, Real de Catorce has experienced a renaissance and is now a popular tourist destination. Its unique, time-frozen atmosphere, colonial architecture, and surrounding desert landscapes have drawn visitors from all over the world.
Real de Catorce is a place where time seems to stand still, and its evocative atmosphere has made it a popular destination for tourists, artists, and those seeking a unique and spiritual experience. If you're looking just for that, then best plan your trip!
Teotihuacan – Explore the ancient pyramids and the "Avenue of the Dead"
Like Chichen Itza, Teotihuacan is one of the most significant and well-preserved archaeological sites in Mexico. It was one of the largest and most influential cities in ancient Mesoamerica and is known for its massive pyramids and its historical and cultural importance.
Teotihuacano civilization and is known for its advanced architecture, urban planning, and complex society.The city is known for its carefully planned layout, with a grid-like system of streets and avenues. The most prominent structures are the Pyramid of the Sun, the Pyramid of the Moon, and the Avenue of the Dead, which runs between them. These architectural features align with astronomical and calendrical events.
Teotihuacan is not only a testament to the advanced engineering and urban planning of the ancient Mesoamerican world but also a place of cultural and historical significance that continues to captivate the imagination of visitors and researchers alike. It's a must-visit destination if you're interested in ancient civilizations and archaeological wonders.
Pueblos Mágicos – Mexico's "Magical Towns"
Mexico's "Pueblos Mágicos," which translates to "Magical Towns," is a program initiated by the Mexican government to promote and preserve culturally rich and historically significant towns across the country. These towns are known for their unique charm, cultural heritage, natural beauty, and distinctive characteristics that make them stand out as special places to visit.
There are dozens of Pueblos Mágicos throughout Mexico. Some of the most popular ones include San Cristóbal de las Casas in Chiapas, Real de Catorce in San Luis Potosi, Pátzcuaro in Michoacán, and Tequisquiapan in Querétaro, among others. These towns offer travelers a chance to experience the rich and diverse cultural tapestry of the country while enjoying their unique and enchanting atmospheres.
Many Pueblos Mágicos host annual events and festivals that celebrate their cultural heritage. The events often feature traditional music, dance, art, and local cuisine that everyone simply adores.
If you're someone that loves to discover the local traditions and immerse yourself in local culture, then a visit to at least one of the magical towns will make your stay!
The Mayan Ruins of Palenque – Intricate Carvings and Beautiful Setting
The Mayan ruins of Palenque are located in the southern state of Chiapas, Mexico, and are among the most significant and well-preserved archaeological sites in the Mayan world. Who wouldn't want to step foot and imagine how life would have been, long before ourselves?
Palenque's architecture is characterized by its well-preserved temples, palaces, and ceremonial structures. The city's most iconic buildings include the Temple of the Inscriptions, the Palace, and the Temple of the Cross Group.
Palenque was designated a UNESCO World Heritage Site in 1987, recognizing its cultural and historical significance.
The ruins of Palenque are easily accessible to visitors, and the well-maintained site offers a range of facilities, including museums and visitor centers. Guided tours and informational signage provide insights into the history and architecture of the site.
The Mayan ruins of Palenque are a testament to the artistic and architectural achievements of the ancient Maya civilization. They provide a window into the history, mythology, and culture of one of Mesoamerica's most influential city-states. A visit to Palenque offers a remarkable opportunity to step back in time and explore the world of the Maya in a stunning jungle setting.
These are just a few examples of the many unique places to explore in Mexico. The country's diversity offers something for every type of traveler, whether you're interested in history, culture, nature, or adventure.