Secret spots in Los Angeles you don't know about
If you've already booked your trip and wondering what secret spots you could see in Los Angeles, I've got them all figured out!
There's much more to gaze at than Disneyland and Hollywood. While LA has its iconic film studios and behind-the-scenes tours, it also boasts in other alluring places that might excite you beyond your expectation.
Watts Towers – an Art Statement
Located off of Santa Ana Blvd in the Los Angeles community of Watts, is a peculiar structure when seen with the naked eye. Unlike many of the famous landmarks in the state and arguably the nation, the Watts Tower is very unique.
Created by an Italian immigrant, Simon Rodia, who worked as a construction worker and as a tile mason, the project was actually thirty years in the making. After immigrating to the United States from Italy, Simon and his family originally settled on the east coast in the state of Pennsylvania. They then moved to Seattle briefly then to the California city of Oakland. In the year 1909 however, Simon and his wife divorced which impacted him deeply due to him being estranged from his children. With no skills, barely literate, and deeply addicted to alcohol, Rodia sensed the end. However, it was not the end but only the beginning.
The beginning of the construction of the Watts Towers was a source of pride for Rodia. The task was a tedious one. The structure is composed of steel rebar, porcelain tile, and both natural and synthetic items ranging from bottle caps to seashells. All this requires time and an abundance of material. To insure that he had this type of material, Rodia would walk often to the city of Wilmington, some 20 miles away in the port of Los Angeles. As Rodia got older and his health declined he started to understand that his creation required constant care, something he was becoming unable to perform.

Before departing to live with his sister in Martinez, California, he transferred the land the towers were on to a neighbor and never returned.


After Rodia left Los Angeles there was a concern that his structure was not safe and could be a hazard to people in the area. Due to this, the city of Los Angeles ordered the structure to be demolished which is not surprising considering that Rodia had to fight the city for permits his entire time there. The demolition however never materialized because of concerned neighbors who gathered enough signatures and raised money to preserve the structure. This allowed the city of Los Angeles to grant them leniency since the test past all the engineering guidelines.
Three years later, the structure was sold to Bill Cartwright and Nate King, Watts Tower enthusiasts who were dedicated to preserving the structure. This prompted them, with community support, the Watts Tower Arts Center, which is still there today and gives an excellent lesson of the history of the structure. In 1990, nearly 30 years after the death of its architect, the site was named not only a California National Landmark, but also a National Historic Landmark. Each year, thousands of people visit the Towers for the Simon Rodia Watts Tower Jazz Festival and the Day Of The Drum Festival. The Watts Cultural Center or the Cultural Affairs Department provides very educational tours, lessons, and school workshops for teachers, children and even tourists.
El Matador State Beach
Located in Malibu, California, right of Pacific Coast Highway is El Matador State Beach. Many residents in the Malibu area know this beach as one of three that belongs to the greater Robert H. Meyer Memorial State Beach, which includes El Pescador and La Piedra. The parks are all operated and funded by the California Department Of Parks And Recreation, which provide the health, inspiration and education of Californians by maintaining and preserving its natural and cultural resources for the public's use.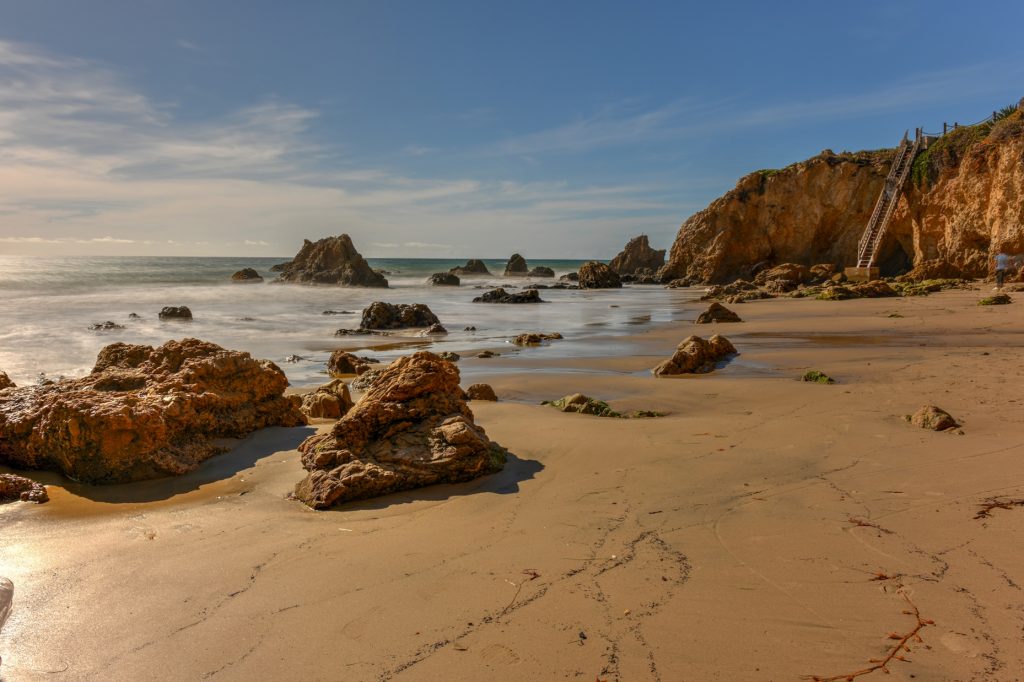 The parks are all operated and funded by the California Department Of Parks And Recreation. El Matador, the most widely known, has been considered a gem out of the three. Being rather secluded and having an abundance of caves, if often brings a lot of photographers together for marvelous pictorials.
Reaching it is fairly easy as one would only need to access the Pacific Coast Highway to do so. If you are coming from San Fernando Valley it may be easier to cut through the Santa Monica Mountains to access it. Once there, you will have to descend a flight of stairs which are very steep but manageable. Lucky for us the beach belongs to the State Of California, so access is free, well if you do not count parking. You are allowed to park on the street, but you should avoid the stress caused by a ticket fee and pay $8 USD for the entire day – which is a good deal if you ask me. But yes, there's a trick to this: you need to arrive early as there are only 20 parking spots available.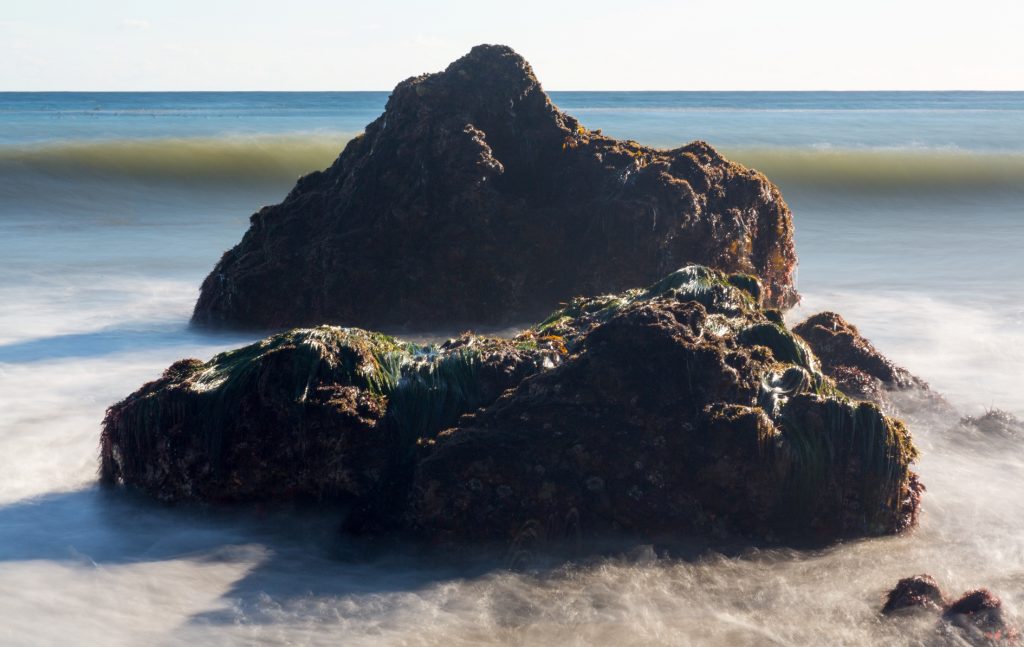 Due to the urban density of Los Angeles county and it having possibly the worst traffic in the nation (if not the world) consider leaving in the wee hours of the morning to be able to reach the beach. Even if you are close prepare your trip. It is not mandatory, but it's good for people who want to catch the morning sun. The best time to see this beach is during sunrise or sunset as the rocks emit a golden hue. Due to it being rather secluded, there are no lifeguards like other more popular beaches so be on the lookout for the tide and keep a safe distance. Although very popular and receiving great reviews over the years, however, residents have complained about the quality being diminished buy low budget photographers, who are seen there almost daily.
Unlike beaches in Florida or the Caribbean, California beach sand quality has been known to leave a tar-like substance on people's bodies, which can be washed off but is very annoying to do so. However, besides this, it is still a beach worth seeing and has received a plethora of positive reviews that should make you want to visit the location yourself. Besides hiking the beach offers many other activities and amenities like picnicking, surfing, scuba diving, swimming and wildlife viewing. Also, the beach is one of three beaches in the area, so feel free to roam around and get the entire Southern California coastal experience.
Old LA Zoo in Griffith Park
The Old Zoo in Griffith Park, or the Griffith Park Zoo to those who were able to experience it, was a city-owned establishment that maintained a collection of wild animals for study, conservation, and display. It was in operation for the public from 1912 until it's closing year of 1966 when the much more reputable Los Angeles Zoo opened.
What was once a zoo full of animals is now predominately ruins and animal enclosures. However, that does not mean it is not a tourist attraction. Although most of it today has been converted into a park and hiking trail, tourists can still see the former structure as a valuable historical tool when understanding the region.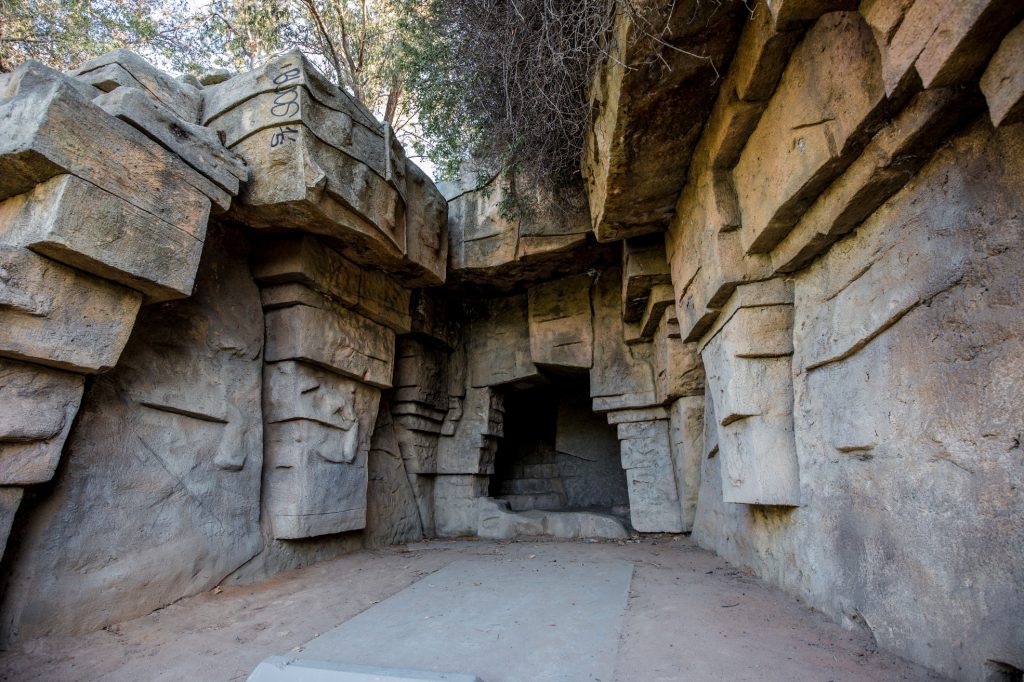 Opening in the year 1912, many would assume that this was Los Angeles's first zoo but they are mistaken. Los Angeles's first zoo was actually the Eastlake Zoo that opened in 1885. Built on the Griffith J Griffith's ostrich farm, the Griffith Zoo grew substantially in the 1920's to 1930's. Much of this growth is credited to the late film producer Willian Nicolas Selig. Unfortunately, as time passed and the population of L.A. started to become larger and larger, the zoo was often criticized for it being poorly managed. Despite this, the zoo was still able to draw millions of people each year. This sadly did not stop the city of Los Angeles from planning the construction of a new zoo, which became our contemporary LA Zoo.
Even though much of the Old Griffith Park is just that, a park, it still has been significant due to its proximity to Hollywood and the film industry. If you are familiar with American films and television shows, you will be very amazed of how often this site has been in the motion pictures. It has been in at least two episodes of the show Starsky and Hutch, an action-based movie revolving around two southern California cops and also the crime drama show Chips, which featured actors such as Larry Wilcox and Eric Estrada. We can not forget too that it has also made an appearance in the episode titled, "Mind Stealers from Outer Space" and has been used by a more recent TV series like Aquarius and in popular hits like Rush Hour.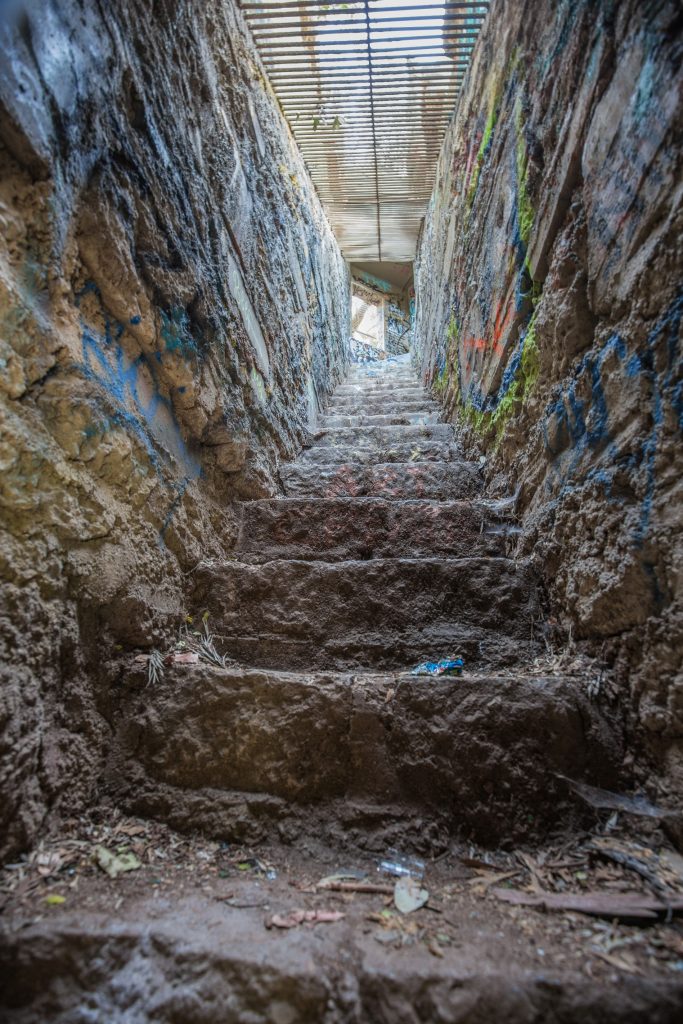 To reach this peculiar location after getting off the Interstate 5 freeway, make your way to the Los Angeles Zoo, which is off of Zoo Dr. Instead of visiting one of the top tourist destinations in the area, continue south along Western Heritage Way. The street will then transition into Crystal Springs Dr but do not be alarmed as the two streets are connected. Once you get further in, look for a street that is called Griffith Park Drive. You will make a right on that street and you will continue till you arrive at a fork in the road. Make a left and continue straight and the park will be near a roundabout. To access the zoo all you have to do is climb a flight of stairs, which should be on your left when you enter the roundabout.
Live a Fairytale at the Chandelier Tree in Silver Lake
Another mesmerizing location you have to see, especially at night is the Chandelier Tree in Silver Lake, created nearly six years ago by the master journeyman Adam Tenebaum. This is one of the less known secret spots in Los Angeles, but really worth seeing!
Tenebaum, who did not have room in his residence to hang the chandlers he received from a job that he was working on, decided that the only way he could make use of these newly acquired chandeliers was to place them on the tree outside his home. As he started to hang them, then and there Tenenbaum knew that this project was something special. Even though being an artist with a low budget, Tenenbaum did not let that stop him. Besides the chandeliers he received from his worksite, the vast majority of the chandeliers were the result of donations and swap meets. Tenebaum, whom probably pays more for electricity than any other Los Angeles and Southern California resident, says that his main motivation comes from the support he receives from residents, tourists, and passersby.
What has allowed him to continue operating his chandelier tree is the donations he has received from his outre meter that accepts 25 cents and according to Tenebaum, amounted to nearly $400 dollars, which he says helps continue the project. Besides the support he has received from his neighbors and community, the Chandelier trees may be expanding. In an interview with KCET, Telebaum has several customers who have contacted him about constructing chandelier trees in their own front yard. Tenenbaum is hoping that this demand will help him actualize his dream of being an artist. Accessing this structure is very easy and does not require as much effort as previous locations.
If you are recently touring the Old LA zoo that was previously mentioned, all that needs to be done is to continue south on Crystal Springs Drive where it naturally transitions into Riverside Dr. Make a right on Hyperion and travel less than a mile to the street of Rowena Dr where you will make a left. Continue south until you reach the street called W.Silver Lake Dr where you will make a final right. The tree along with the residence should be on your right.
If the lights are not on or if it does not appear to be operating, that is because recently Adam Tenenbaum has been in a dispute with the city of Los Angeles regarding his tree and public safety. The tree surprisingly is actually more planted in public domain than it is in Tenenbaum residence. As a consequence, many officials in Los Angeles do not want the city being sued for possible accidents involving cars, motorists or cyclists since some of his chandeliers do hover over streets and sidewalks. However, do not be discouraged just yet because according to the LA Times, Tenenbaum is currently working with his local councilman to obtain a permit that allows him to "encroach" on public space. He will also have to pay insurance so that the city of Los Angeles does not become the guilty party in the case of an accident. Even though lighting may be random, if you are in the Silver Lake area at night it would not hurt to make a quick stop. Who knows it might illuminate your evening.
The Imposing Bradbury Building
    Located in the heart of Los Angeles, it is arguably one of the most brilliant displays of architecture in California, if not the country. The Bradbury Building, built in 1893 is one of Los Angeles's oldest buildings and one of its most significant structures.
Upon arriving at the location, do not be deceived by its Romanesque exterior, as you can easily mistake it for an average building. It is the inside that is worth seeing. Its lobby with its low ceiling and natural light, has an almost Parisian feel to it, that is often seen in Catholic Cathedrals. With its cast ornament iron, Italian marble, Mexican tile, and polished terra-Tora, the place is as said by a writer for the Los Angeles Times, "a mesmerizing degree of symmetry and visual complexity".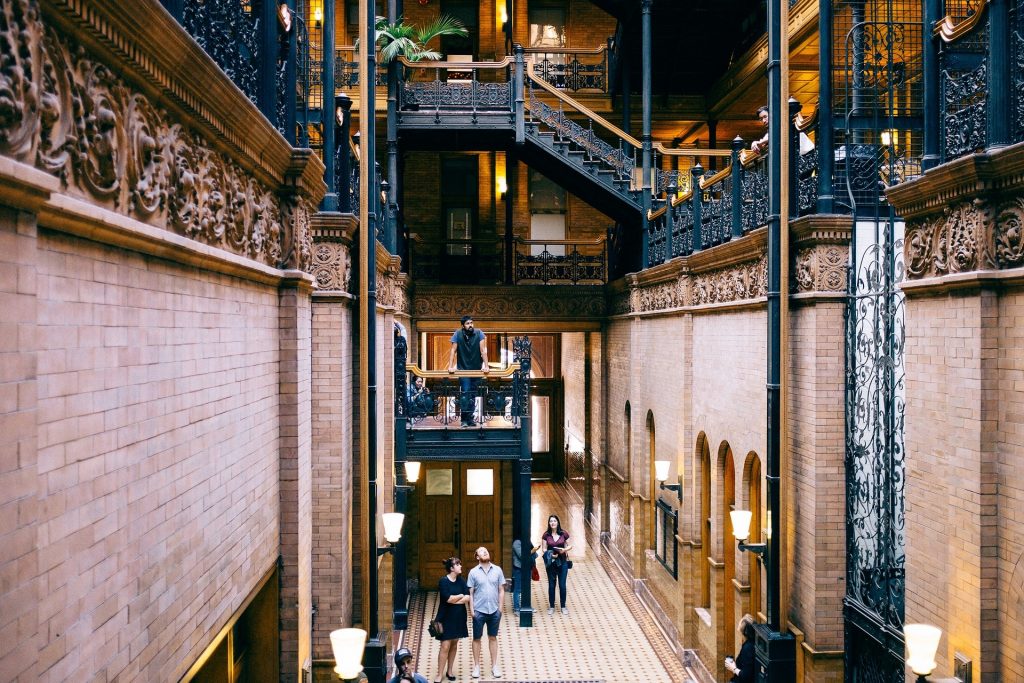 Being built in the late 19th century you will witness that the Bradbury Building is inspired by Victorian architecture that is also prevalent in the Eastern United States and Western Europe, particularly England. Victorian Age architecture actually is the revival of Gothic architecture that is prominent in many parts of Europe. In fact places like the Gothic Library of Nicolas II, Tower Bridge in London, and even the Tribune Tower in Chicago are designed with the same theme. It is why many visitors from abroad, especially from the aforementioned places, get a rush of nostalgia as it often does remind them of their home countries. While it's fame constantly rose in the last years, it still remains a secret place in Los Angeles
It is not known accurately whom the architect was that crafted this five-story building. The reason for this is quite complex, as there was a feud between Lewis Bradbury, a mining and real estate millionaire whom the building is named after and Summer Hunt, a reputable architect who also created structures like the Southwest museum and the Vermont Square Branch. The feud was based on architecture plans and design, which Bradbury objected to. This prompted him to hire Hunt's assistant George Wyman, an assistant with no formal education at the time, basically having the same architectural plans as Hunt. However, both are credited with designing the structure.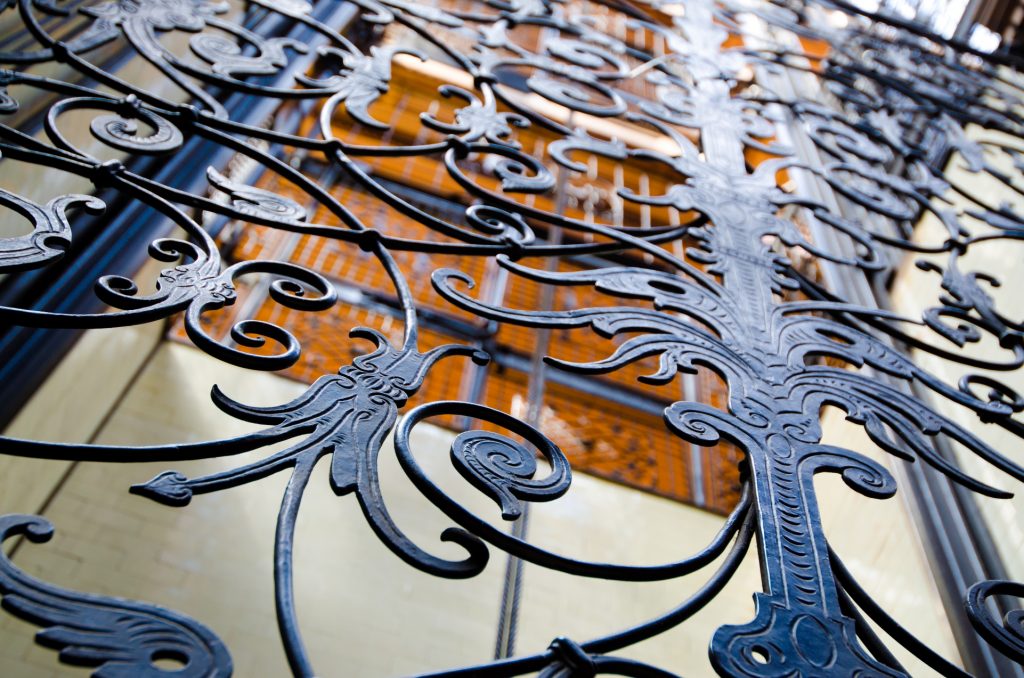 Located off of 3rd Street in Los Angeles, getting to this location will be difficult. If you are taking interstate 110 exit off of W 3rd Street and continue west until you reach Broadway. If you are taking the 101, exiting of Broadway will suffice. Just like our El Matador State Beach location, it is wise to plan your trip and arrive in downtown Los Angeles early to beat the traffic, which can waste much of your time. The best time to go in my opinion is between noon and 3 pm where the sun is at its highest. There you can see an illuminated version of the building that would probably be unrecognizable at night.
If you happen to be smart and take advantage of the morning commute, you should know that the Bradbury building is surrounded by other well-known locations. Places like the Grand Central Market, the Million Dollar Theater, and LA Live are all within walking distance and can preoccupy you indefinitely.
Travel in Time at The Last Bookstore
Not far from the Bradbury Building is arguably one of the most unique book stores in all of Los Angeles. If you are one who enjoys reading and listening to classic records still in their retro-like covering, there is no other place but the Last Bookstore. The location is independently run by Josh Spencer, who created the specialty retail store in 2005. The Kentucky native who traveled to California was so successful with his initial location off of Spring and 5 street that he had to relocate to its current location which used to be a bank. Since it has been featured heavily in both magazines, websites and even among Instagrammers, Spencer made sure to add a lot of personality to his store.
If you do happen to visit it, I suggest looking around and taking in the atmosphere because it is a work of art! When you enter the building turn right and look up and you will see a structure made entirely of books! Also, there are about 20 or so radios and record players that have been converted into planting pots adding an almost eco-friendly theme to the already hipster feel. If you journey even further within the bookstore, you will start to recognize the remnants of what used to be a bank with the vaulted ceilings and vault door. This makes sense because where the Last Bookstore is located now use to be considered the "Wall Street Of The West" where all the business took place in the historic Los Angeles area.
One of the most underrated aspects of the Last Bookstore is how easy it is to find what you are looking for. Of course, if you are a tourist or if you are visiting the place for the first time, you may have a few questions. But other than that, it is very easy to navigate and the atmosphere almost brings out your inner curiosity to roam around. Instead of searching for a book by the author, everything is divided by genre and color, which can be very helpful.
Getting to this location is fairly easy if you're already in the Los Angeles area. If you are finishing your tour of the Bradbury Building all you have to do is continue south on Broadway till you reach 5th street. There, you will make a left and after you past Frank CT it will be on your left. If you are coming from S Spring Street heading south, make sure to turn around to 5th street to access the store. There will be an entrance on Spring Street, but it currently is inoperable and the police officer who guards it will direct you to the store entrance. There are very few brick and mortar bookstores around so I would put this one my list as a constant go-to place for literature and cultural items.
This store, along with our previous locations and ones not mentioned in this blog, are a testament to the importance creativity has on our culture and communities.
Where to stay in Los Angeles
This entry was posted in
North America
,
America
,
Los Angeles