Madeira Weather – Best time to Travel
Madeira weather is always welcoming, so if you're someone that loves the sun, tropical landscapes, outdoor activities or looking forward to trying new cultural experiences, Madeira is all that plus more.
Once you arrive to Madeira, take a good look around you. Spare a few moments to captivate the scenery. Take a deep breath and let the surrounding colors sooth your senses. Different shades of green, an azure sea and all the hallmarks of the subtropics are there.
Where is Madeira Located?
Madeira is an autonomous region of Portugal, an archipelago visited all year round by tourists that overgrow its population up to five times. Funchal is the capital of Madeira, located along the southern coast of the island. Its neighboring Santa Cruz de Tenerife and Las Palmas de Gran Canaria are just 400 Km far down South, but the region is most famous for its wines, vast green landscapes and cultural values.

The island sits atop a volcanic shield that rises from the Atlantic's floor, 6 km in height. Stunning landscapes have rewarded the place with sea cliffs, mountain ridges, subtropical rain-forests, reefs and marine vestiges. Thanks to its location, the weather in Madeira has made this location a paradise!
Where are the Sandy Beaches in Madeira?
There are only a handful of natural sand beaches in Madeira. This is due to its natural volcanic formation. Even those few that exist are lined with volcanic grey pebbles and black basalt stones.
If you want to experience the sand beaches of Madeira, then I suggest you pack your things and head straight to the fairy, in Funchal.
Take the first ride to Porto Santo, about 2 hours at sea and you'll be reaching its shores before you know it. You could also book a day trip for almost $70 USD where you'll depart in the morning and return in the evening.

Praia da Calheta and Paira de Machico are two artificial beaches that are worth visiting in Madeira. With soft silky sand brought straight from Morocco, your feet will feel like they are getting a luxurious massage just by walking bare foot. Madeira weather is mostly perfect for swimming!
Where Can You Swim in Madeira?
Looking at the variety of options that you can choose from, it will be hard to pick just one place where you can swim in Madeira. Why? Just because each place has its unique breathtaking view and make you feel like you're one with the surroundings.
Take for example Porto Moniz. Located on the northern coast, it's a wild scenery combined with modern sleek architecture.
Lava boulders that rise from underneath the sea and a lagoon man shaped pool create the perfect natural place to swim in Madeira. And while you can only imagine how relaxing the breeze must be, you should know that this spot has both shallow and deep waters. Perfect for everyone!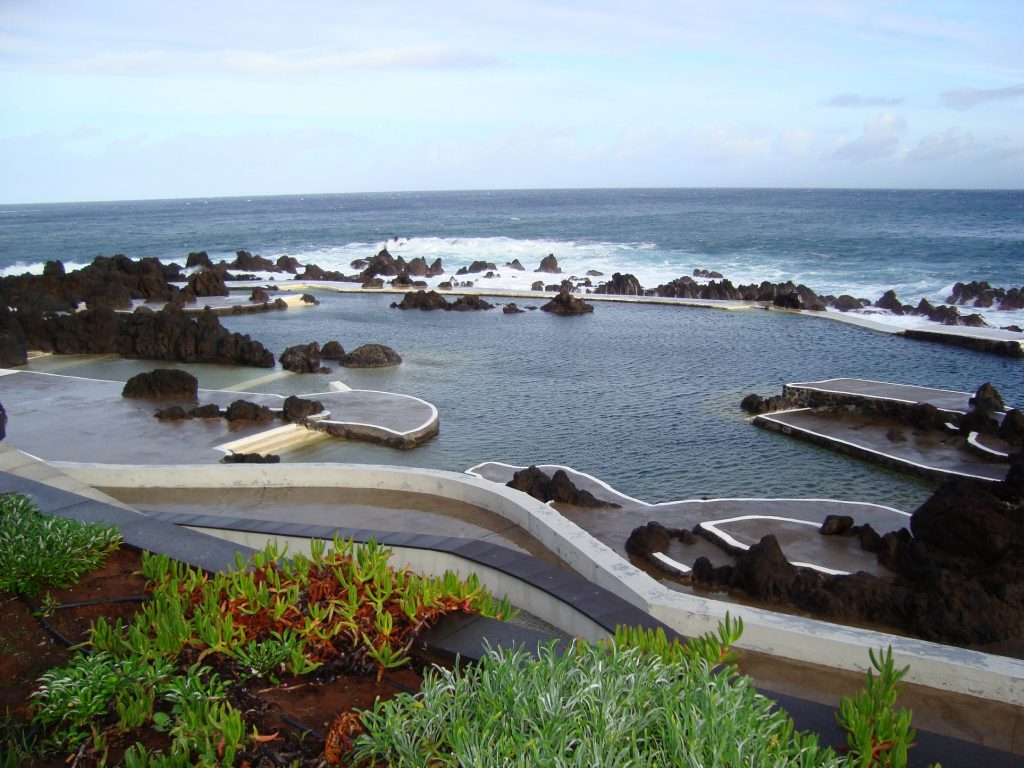 Stay in Funchal if all you're looking for is a big swimming pool with a million dollar view. Lido pools look like they are floating above the sea and it's exactly what you need if you want to shelter from the crashing waves.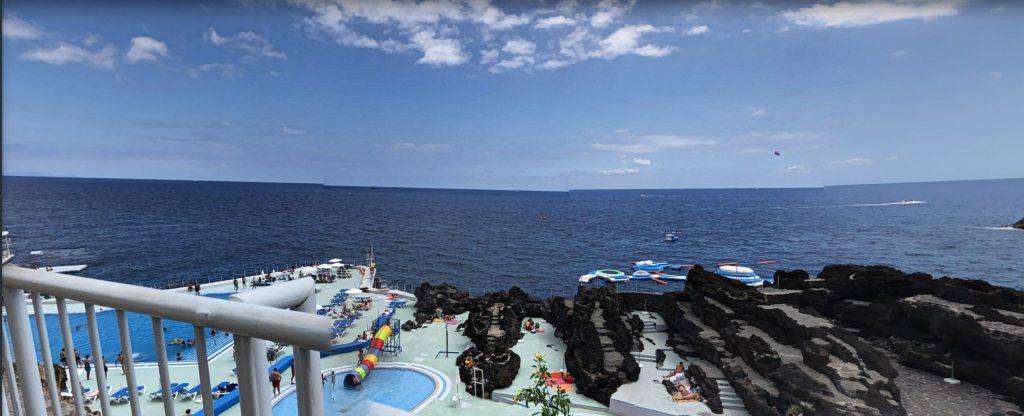 If you're looking to spend the day under the sun and build sand castles, Seixal deserves to be on your list. Not just for that, but have you ever seen a black sand beach? Beautiful mountains contour the shoreline, while the waves gently touch the lush sand. With natural waters surrounding this enchanting place, you will hardly want to leave even when it gets dark.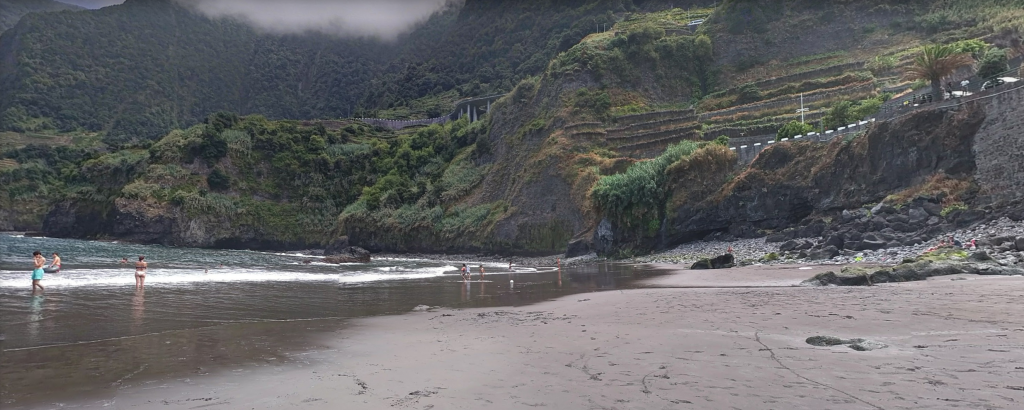 Have you ever imagined you could have direct access to the sea from the pool? Doca do Cavacas has made this possible and attracts lots of savvy tourists around the year. Diving into these waters makes you feel sublime and free, while the sun softly touches your skin and warms you up.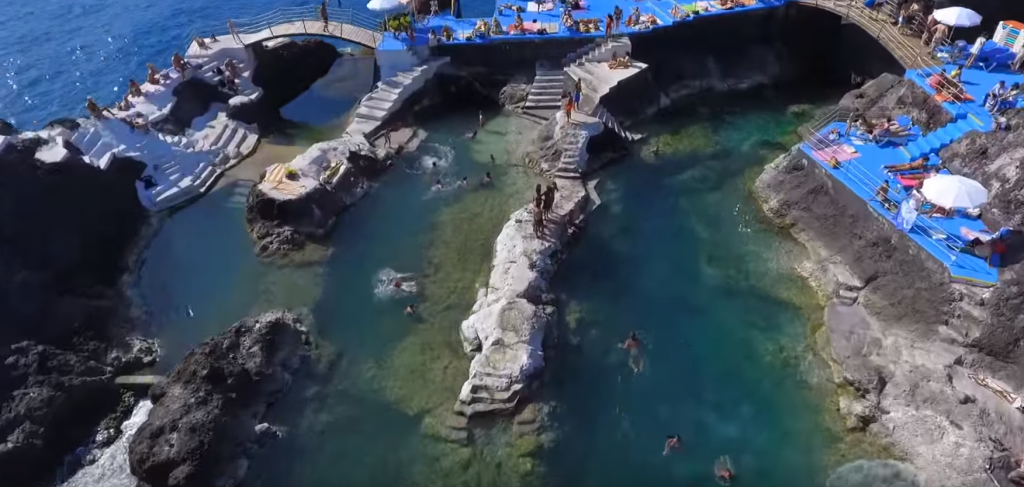 Escape Winter in the Island of Eternal Spring
If you're wondering about the weather in Madeira, there's no other season than Spring. With temperatures averaging from 16 degrees in March, and up to 24 in August, it has lots of sun and a charming drop of rain (now and then). That's why you can visit anytime of the year, as Maderia weather will be welcoming!
If you're visiting in Spring, when nature blooms again and everything is given another life, then you will surely enjoy Madeira and it's tropical locations.
This nature's gem has hiking trails that will make your trip surreal. With lush greenery, light that sometimes barely pokes through the leaves and droplets of water suspended in the air, it would be a shame not to take a walk through this beauty!
Going to Levada dos Balcoes is a delightful slow paced stroll and the landscape you'll stumble upon looks like heaven was built there.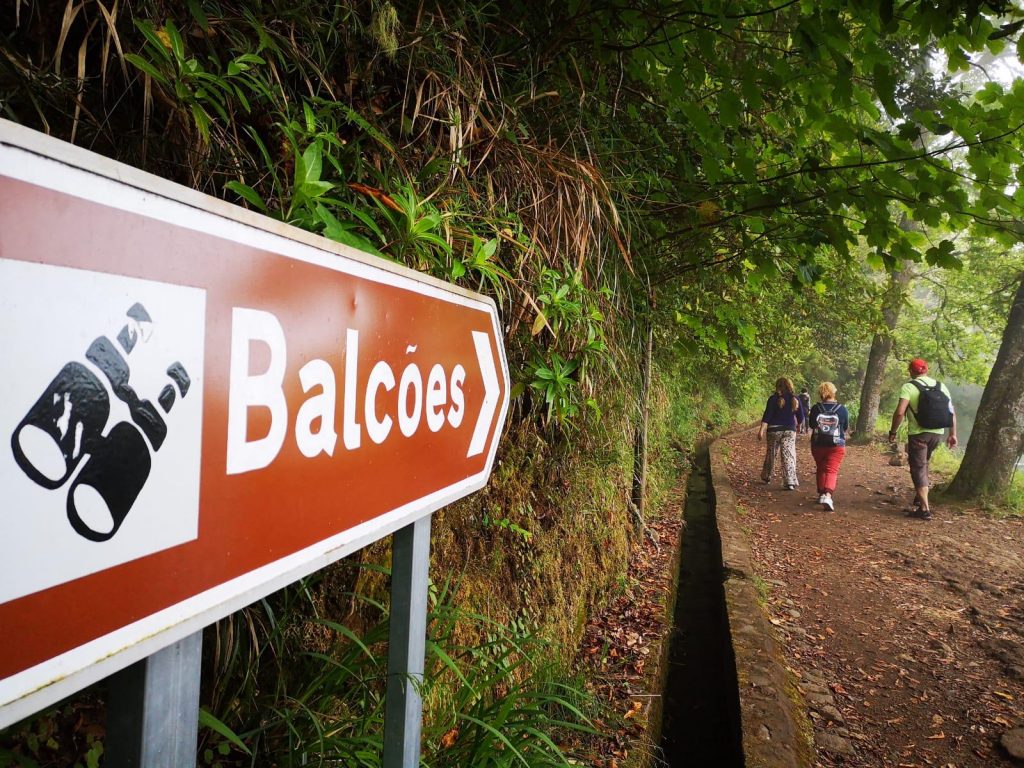 Best Place for Snorkeling in Madeira
Being a snorkeling enthusiast myself, I thoroughly looked for spots that would quench my appetite. Luckily I found Caniçal a place where you could dive. Although it has lots of rocks and it can get tricky to walk, it's a good spot if you want to grab your googles and go make some fishy friends.
In Reis Magos beach you will also find a diving center, but yes, you will also find those big annoying rocks. They're almost everywhere!

If you want, you can also book a tour and snorkel with dolphins, go whale watching or kayaking.
Is Madeira Expensive?
It depends on how much you're willing to spend. If you're looking to have diners at restaurants then yes, it can get a bit expensive. But if you'll settle for a touristy place, then your budget won't be so damaged. To be honest, you can't really find a cheap place. Then again, cheap is relative, depending on our finances.
So, no, it's not expensive if you don't want it to be.
Is Madeira Safe to Visit?
Funchal is rated a low score when it comes to crime. That means that something bad happening to you is highly unlikely, but it's always possible to get a sunburn 🙂
There have not been recorded any violent acts against tourists and people there are usually very friendly. However, pickpockets are everywhere in this world, so don't leave your goods unattended. Keep your money close and pay extra attention to people that came too close to you, brushing on your clothes.
Usually the worst "criminals" are mosquitoes and a few bugs.