Mamaia Beach – a Mini Guide to the Best Vacation
Mamaia Beach is one of the prominent Romanian tourist destinations set in between the Black Sea and Lake Siutghiol. The beach resort which covers eight kilometers has plenty of restaurants, hotels, and fun parks worth exploring.
It is also popular with party-goers because of its vibrant nightlife which offers excellent opportunities to get crazy all night long. Whether you are traveling alone or in a group, Mamaia guarantees an unforgettable vacation.
When is the Best Time to Visit – Weather in Mamaia Beach
Mamaia Beach has a moderate climate for most of the year with the tourist season lasting three months.
The summer season runs from June to September recording temperatures of 23 – 30°C
August is the warmest month and can reach highs of 35°C when hot air masses pass through the country. During this season the water at the seaside resort is warm, making it an ideal destination for a summer vacation in Romania.
Besides warm waters, the vegetation in the resort is greener and the temperatures quite warm. If you want to see Mamaia at its best, consider booking your trip during the summer months, and don't forget to pack your swimsuit and sunscreen.
Mamaia Beach Clubs and Nightlife
Nighttime in Mamaia Beach is the highlight of every party-goer visiting the seaside resort. It has some of the best clubs in Romania with the majority located at the beachfront.
If you are looking for a place to hang out while getting VIP treatment then clubs like Fratelli, Ego Club, Bamboo, Café Del Mar, Loft Mamaia, and Asylum Mamaia are worth checking out. These clubs are highly rated entertainment spots that attract tourists from the world over.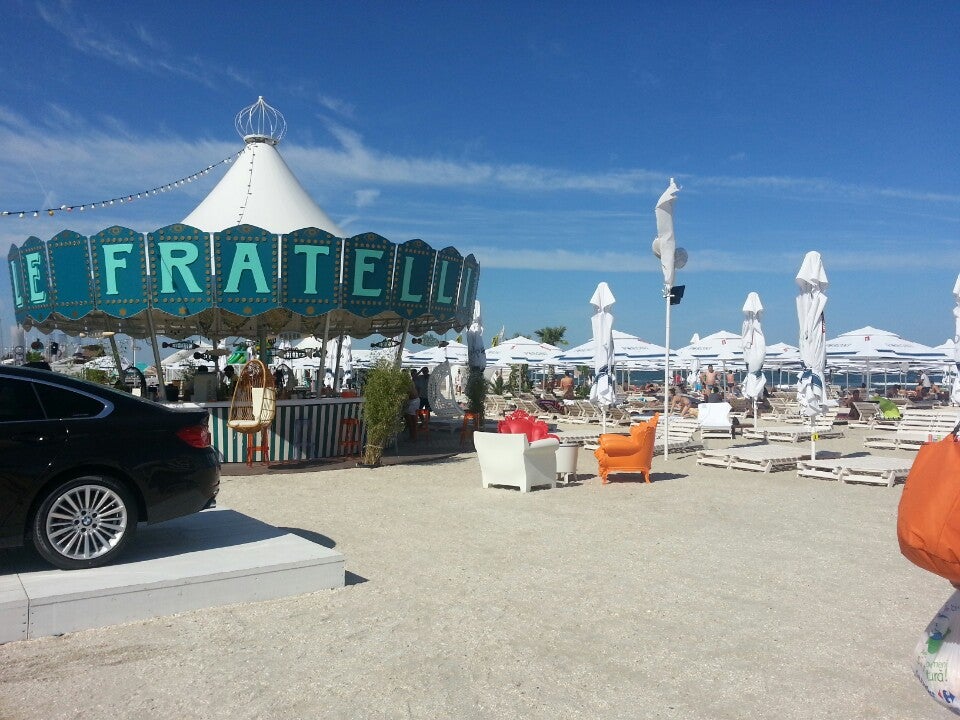 Mamaia beach clubs host several concerts during summer giving you a chance to meet and enjoy the music of renowned musicians. The concerts are popular with tourists and locals, giving you a chance to interact with the local Romanians. If interested in partying for several days, consider attending festivals such as NeverSea in Constanta's Modern Beach close by.
Pool parties are also common during the night in Mamaia, with various clubs allowing revelers to get into the swimming pool with their drinks. At Ego Club, you will find hundreds of people packed in the pool enjoying electrifying music while dancing the night away.
Food is also an integral part of the nightlife in Mamaia with a majority of the clubs offering sumptuous meals to revelers. Whether you want a full meal or want to eat finger foods all night long, you can order at the club. Meals are made freshly made daily with several drinks on offer as accompaniments.
Mamaia North Resorts
Mamaia is home to some of the most exclusive resorts in Romania with hotels ranging from mid-end to 4 to 5-star hotels.
Most of the resorts are located to the north of the beach providing top-notch services to tourists. While staying at the hotels' guests enjoy various features like private beaches with gorgeous views of the Black sea; stylish and cozy rooms; infinity pools, gym and sauna; plus mouthwatering meals at their in-house restaurants.
Some of the top resorts popular with visitors to Mamaia include the ones listed below.
Phoenicia Royal Hotel – from $492 USD per 3 nights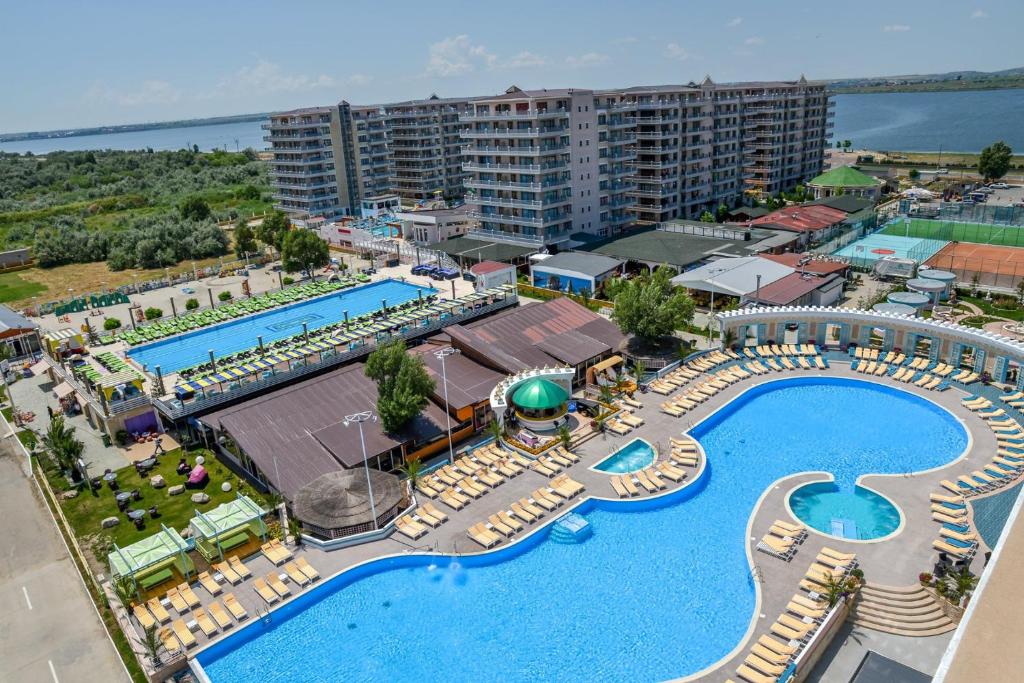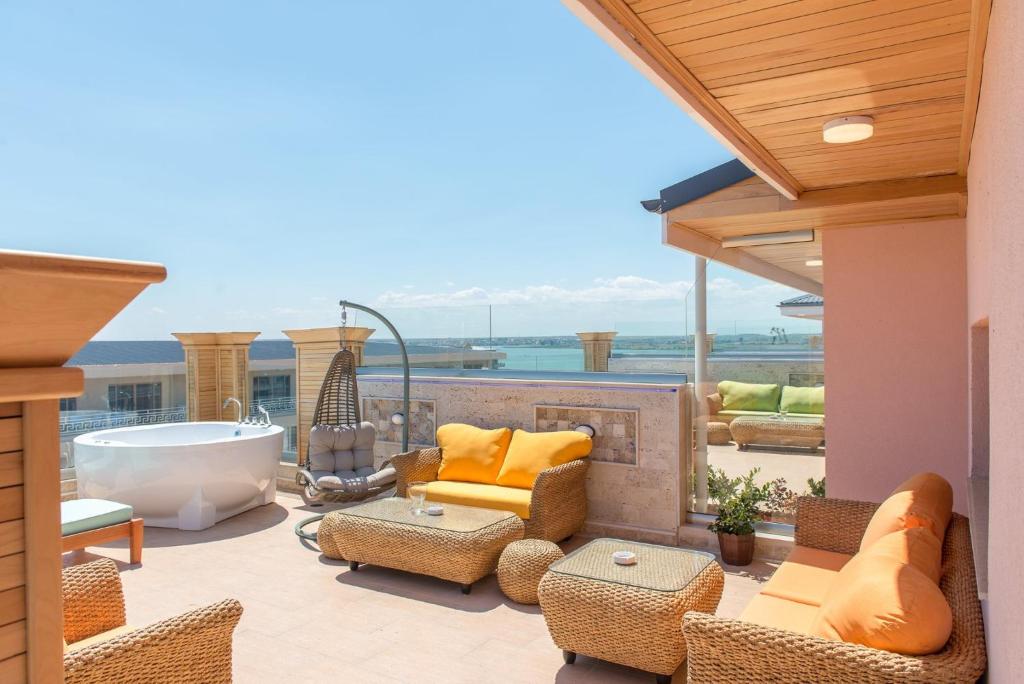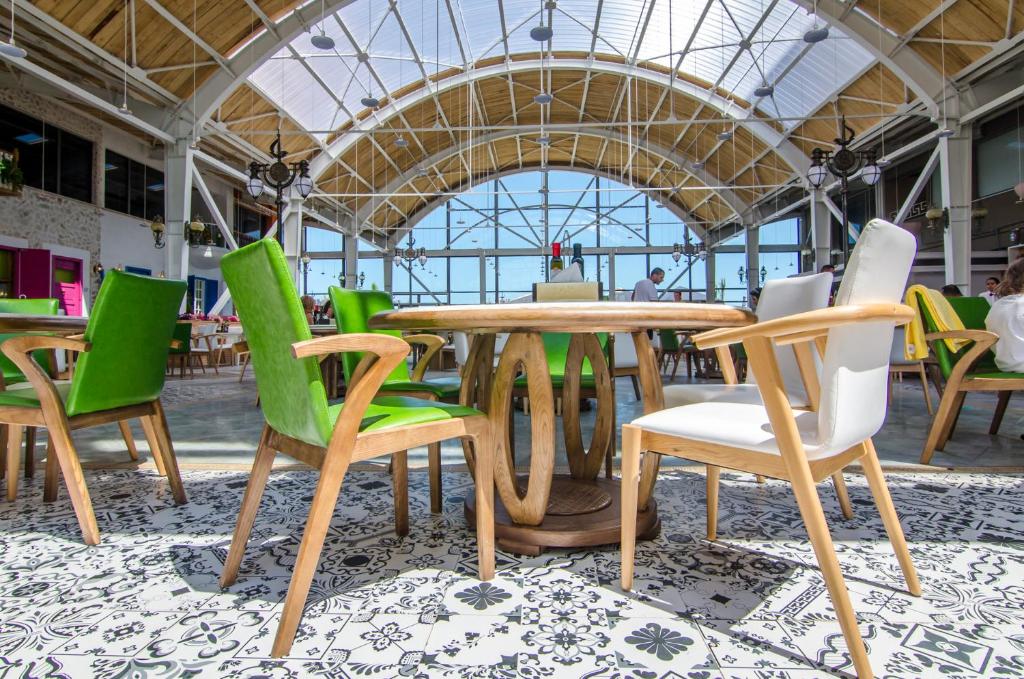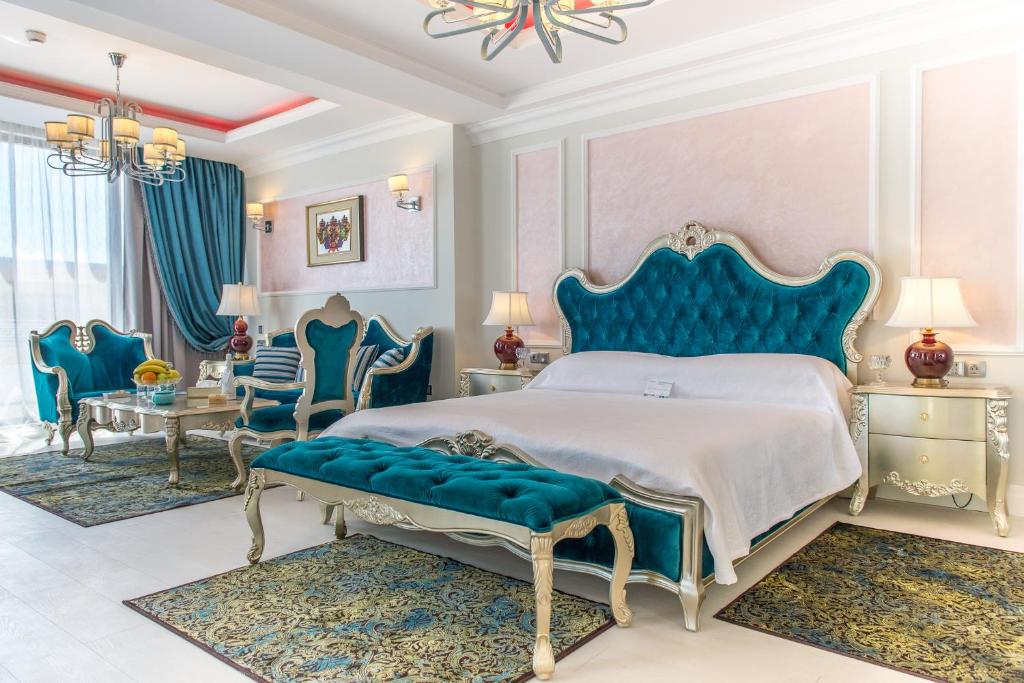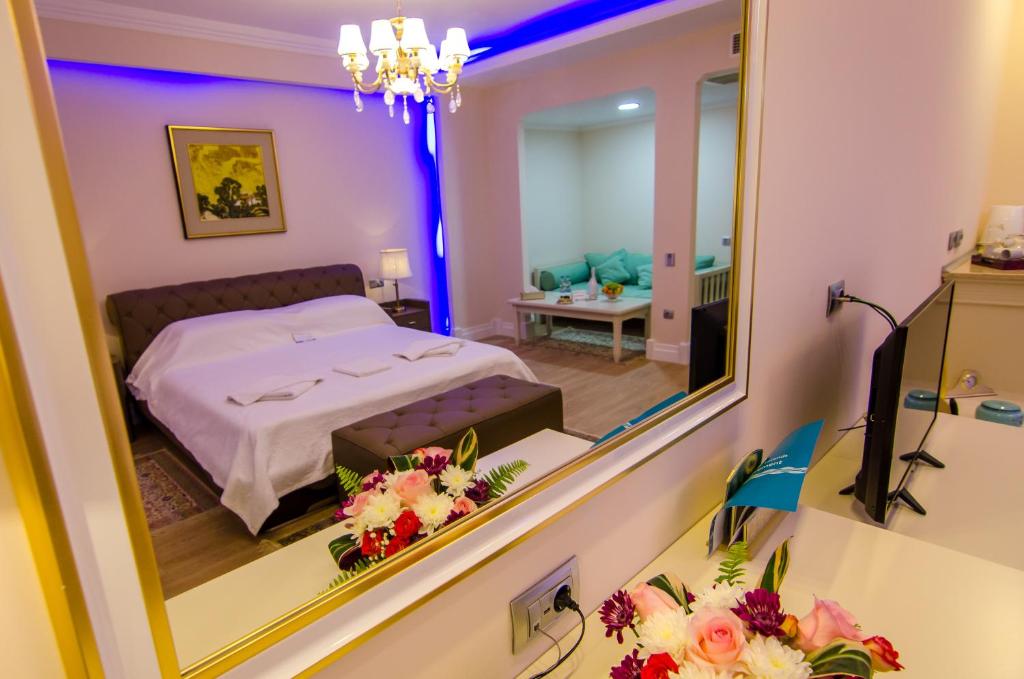 Arena Regia Hotel & Spa – from $192 USD per night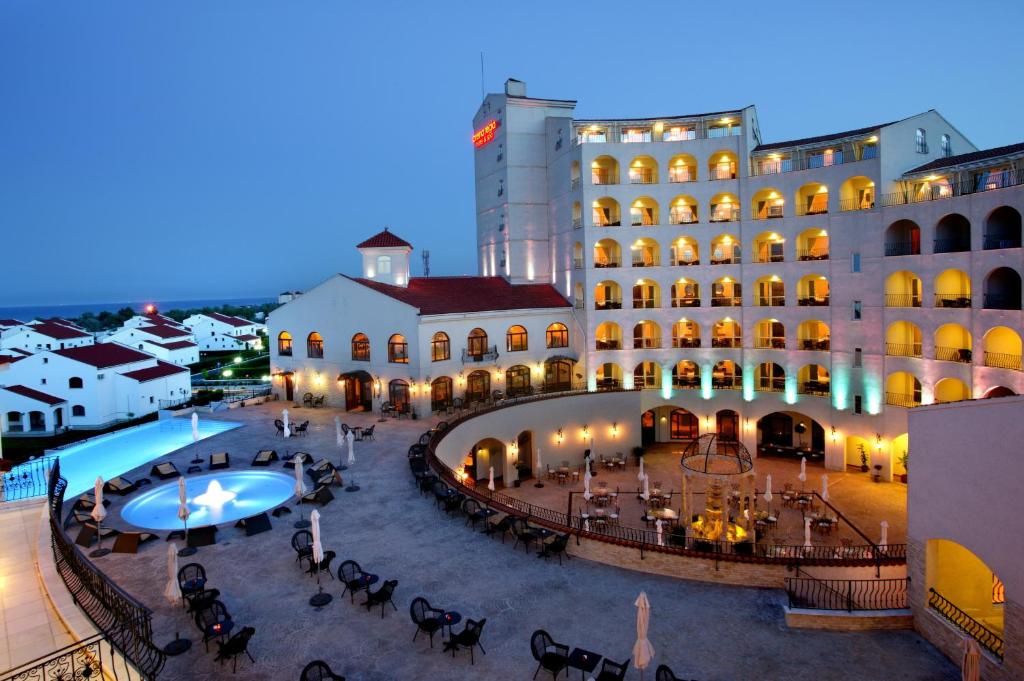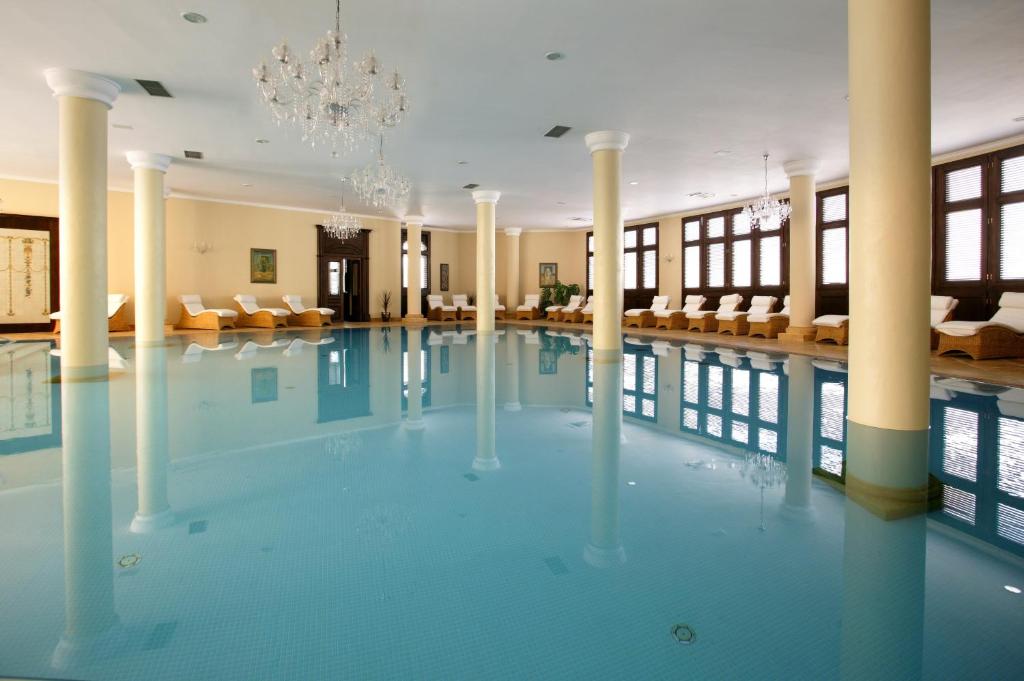 Summer Nest by Onix Blue Mamaia – from $137 USD per night
Antonia Alezzi Beach Resort – from $275 USD per 2 nights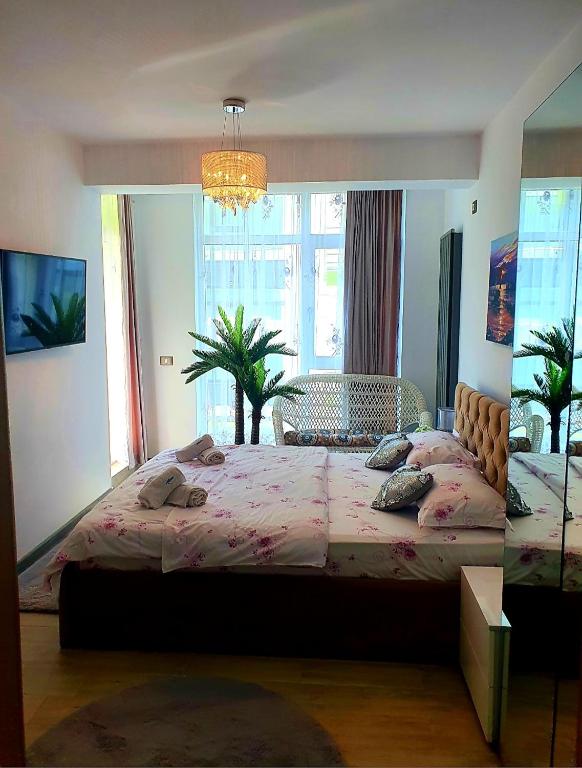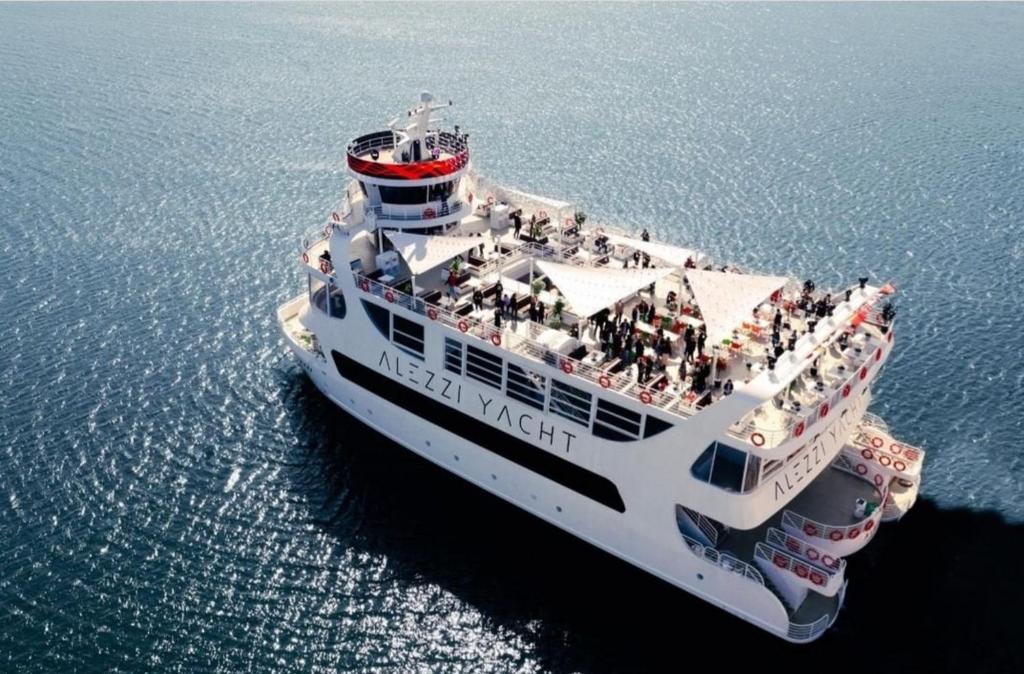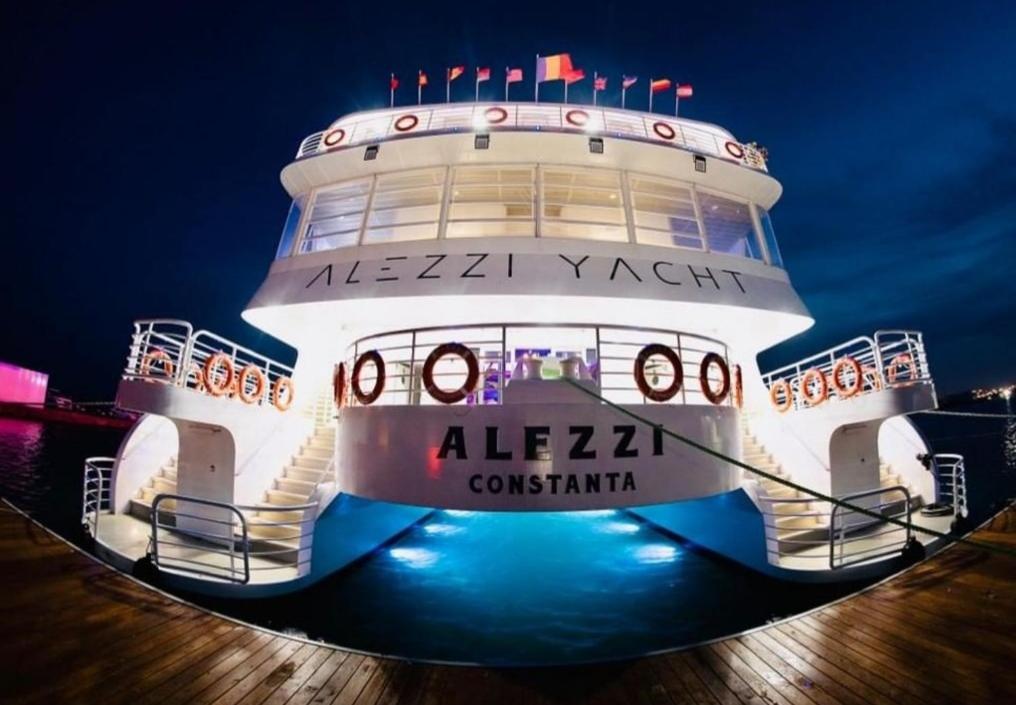 Yaio Studio – from $130 USD per night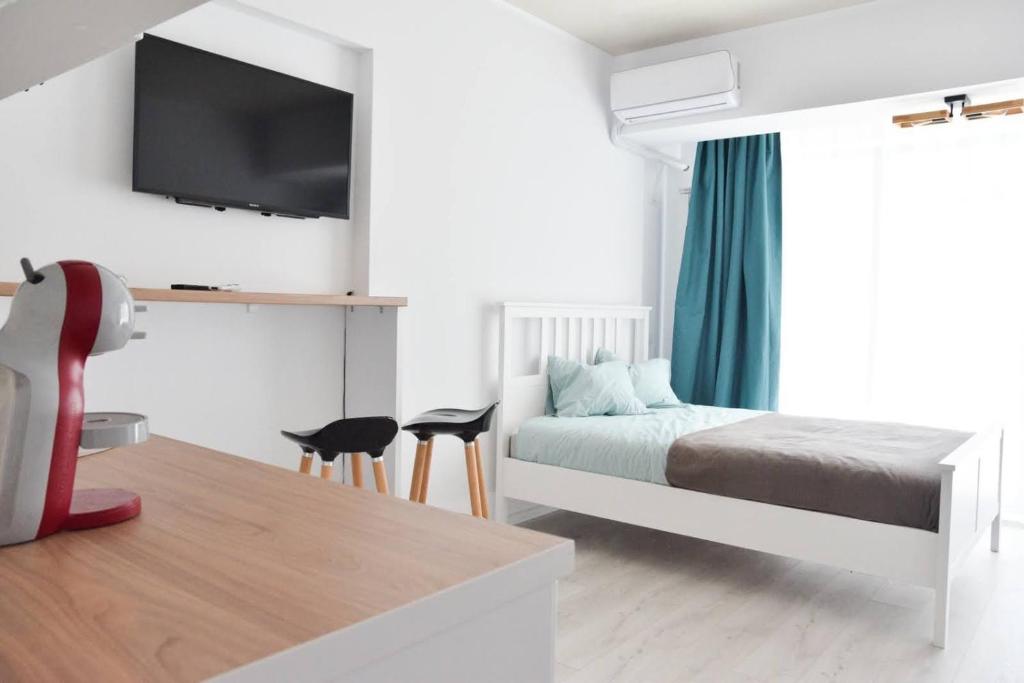 Mamaia North vs South prices
The beachfront in Mamaia offers travelers lots of opportunities to have fun, relax and interact with locals. The beautiful resorts lined up by the Black Sea are accessible to all albeit at different prices.
Since most of the entertainment spots and luxury hotels are in the north of Mamaia, it is considered a bit more expensive than the south. Visitors should plan to spend a bit more to gain access to some of the most exclusive accommodation, bars, clubs, and hotels in Romania when visiting Mamaia North.
Consider that, for example, food and drinks can be half the price in the South, while the North will surely slim down your bank account.
Saying that the services are better in the North can be untrue. You can find the same serving conditions in a restaurant that is mid budget. I would dare to say that in some locations we found the staff to be a bit arrogant. But, the conditions that Mamaia North offers are definitely better than the South!
If you are traveling on a budget consider shuttling between the north and south of the seaside resort to experience the best Romania has to offer within your budget.
What to Do in Mamaia
Mamaia has lots to offer visitors arriving at the seaside resort for the first time and those making a return trip. Mamaia beach is filled with several hotels and entertainment spots that are worth checking out during your stay. Alternatively, visitors can decide to spend time visiting some of the popular spots on the beachfront. Here are some ways to spend your time in Mamaia, besides attending parties and festivals.
Relax on the beach
Majority of people that visit Mamaia want to spend time on the beautiful beach while enjoying the sun. Luckily, the 8km strip has enough space for you to sunbathe along the seashore and get a beautiful tan.
You can also sit by the poolside at your preferred hotel and soak in the warm rays of sunshine.
If you prefer walks on the beach, then an evening stroll is a great way to unwind and marvel at the beautiful sunset or sunrise.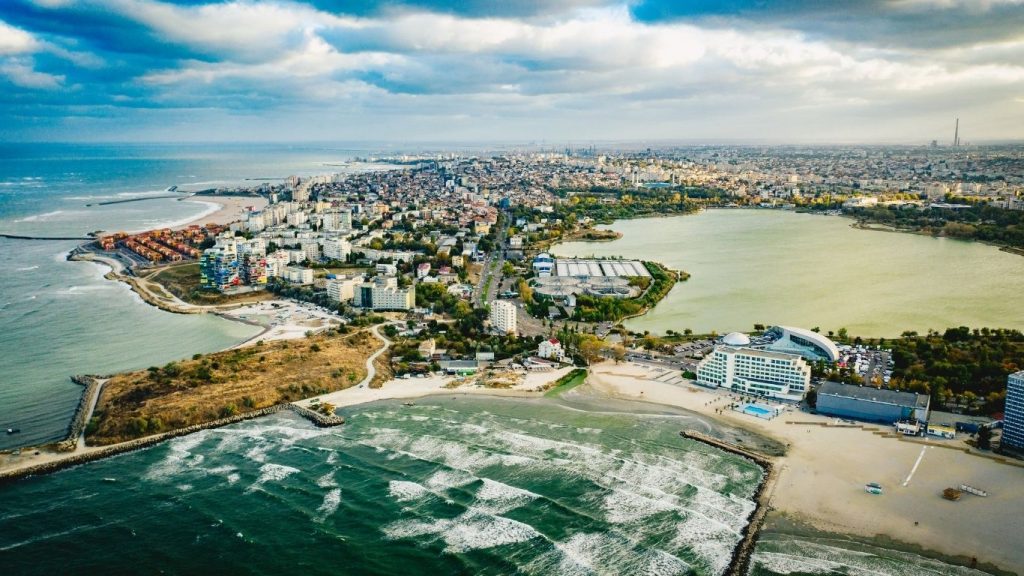 Visit Lunar Park
Lunar Park is a themed amusement spot that is perfect for those on a family vacation with kids.
The park has several attractions that can keep you busy throughout the day such as a roller coaster, bowling alley, gravity tower, carousels, and a small golf course. Other funfair activities to check out include the driving simulator and shooting range for gun lovers.
After spending all your energy on various activities, you can refuel at the park's food court which offers a wide array of meals and drinks.
Ride on a Telegondola
Enjoy an aerial view of Mamaia beach by taking a ride on the popular telegondola.
The ride on the floating cabins takes about eight minutes from Perla Hotel to the Casino and back. Although the trip covers 2km in the air, visitors have a great view of the entire Mamaia resort, the Black Sea, and the city of Constanta. Safety in the telegondola is guaranteed with regular inspections done which allow you to not worry and enjoy your trip.
Fun fact: when you take the ride, you get to pass so close to some hotels, you're actually touching their balcony!
The price for a one way trip is 4 EUR. Children under 7 can board for free.
Take a Trip to Bucharest – Capital of Romania
You could also take your day off from staying at the beach and go visit Bucharest, the capital of the country.
Bucharest is an amazing city, with lots of activities happening, daily. If you like visiting museums or parks, you'll have plenty to choose from. Partying and delicious food? Also has that covered! Shopping? Yes! You can also do a little bargain if you want, in local flea markets.
If you decide to do so, you should know you have a highway that links to Bucharest directly. So, getting there won't take forever. You could also take the plane from Constanta to Bucharest, but be sure to check the flight schedule as you might need to stay in Bucharest for the night.
Don't miss out on visiting Bucharest if you can!
Visit Constanta and the Casino
Take a trip to Constanta and enjoy the Old Town and historic sites.
One of the most enchanting places you'll find is the Casino. It's not open anymore, being a defunct casino, but it is currently being renovated.
Built between 1904 and 1910 by the initiative of King Carol the First, it has an amazing architecture and it's the pride of the city!
Aqua Magic Mamaia
If your visiting with your family, kids of even solo, Aqua Magic is an amazing waterpark with slides, games and play areas for kids you will surely enjoy!
If you're tired of sitting on the sunbed next to the sea and want some action, then these slides are exactly what you need. You'll pay roughly 12 EUR for an adult and 6 EUR for one child. Children under 3 are excluded from charges.
For small kids, there are designated areas such as Waterplayground or Babypool, where the depth of the water is no more than 40 cm.
For us adults you'll find racing multislides, river rides, space bowls and much more.
Where to Eat in Mamaia Beach
It doesn't matter if you're on a budget or have unlimited cash to spend, you can find fantastic food at any cost. You will see that Mamaia is versatile when it comes to places you can dine. You can choose from having dinner on the beach, or a tasty burger at the fast food.
I should say, that if you like fine meals and nice serving, Mamaia North has the most locations where you can eat. You should be weary of the fact that finding a table for dinner can be tricky, so I suggest you book your seat in advance.
We've listed below some of the best places you can eat in Mamaia. Don't worry, you'll find one that fits your tastes!
Ammos Mediterranean Delights & Music – Right On the Beach
This is one of the places we had dinner in, while in Mamaia. I can tell you, first hand, it's something you won't regret, if you like Greek food.
First of all, the music plays live, every night – at least that's how it was when we visited. The atmosphere is so cosy, the staff is nice and attentive. Food and drinks come in fast so you won't have to worry about it if you're craving for something.
If you're thinking it might be exceeding your budget, you'll be surprised to know the prices are actually affordable. And comparing this place to others in Mamaia North, I could dare say they were cheap!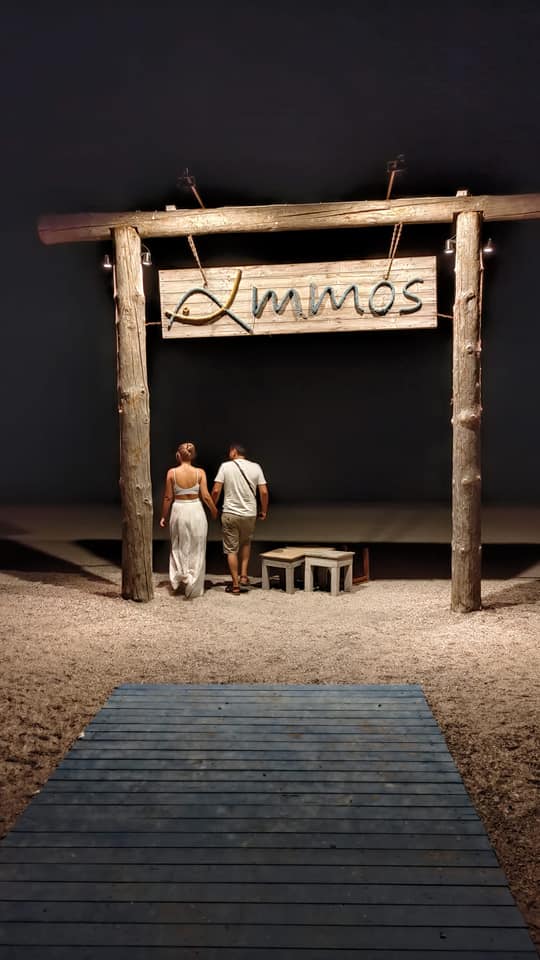 Argo Beach and Restaurant
Argo is another place where we enjoyed the food and drinks. Although it is more expensive than your regular dining spots, this place is a bit posh and the food is delicious. At least the food we tried!
They have everything from pizza to salads and Mediterranean food. The place is usually not very crowded, as most people are locals who enjoy the good music and party together.
If you're around the area and are wondering where to eat, do stop by!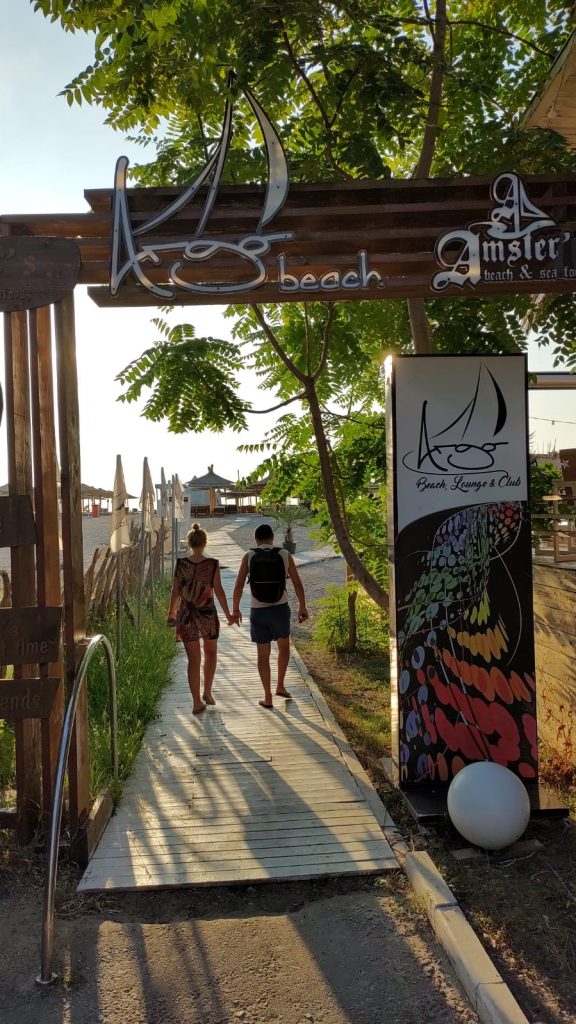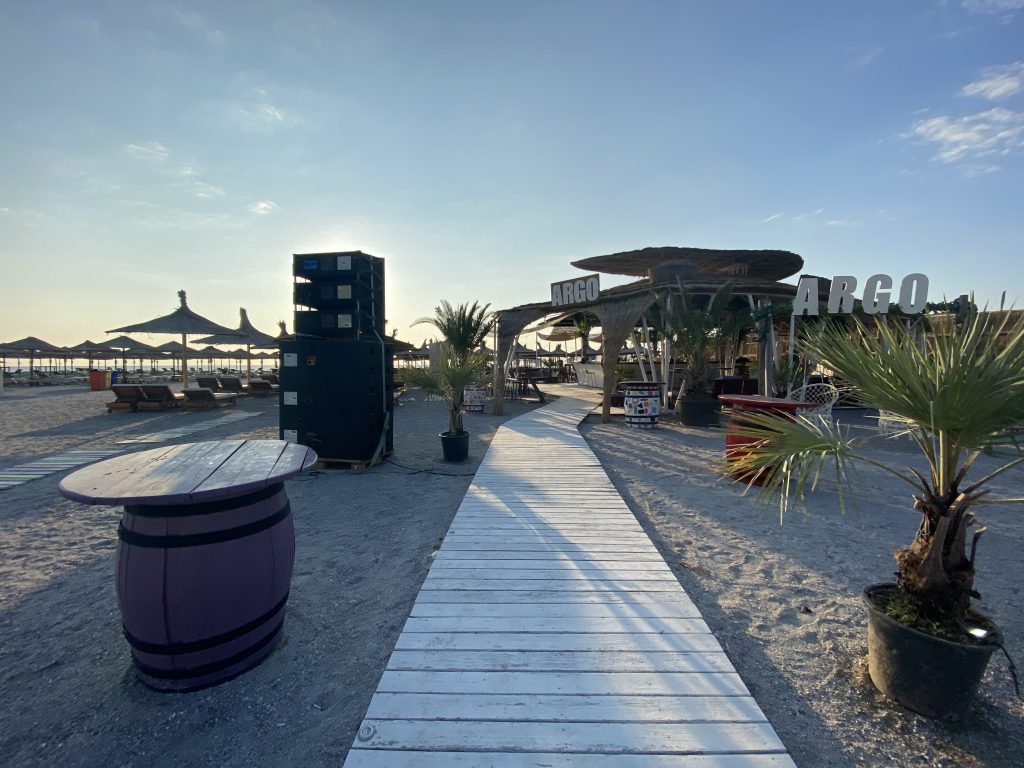 Amster's Beach & Sea Food
This is a Mediterranean restaurant where you can eat without having to worry about how delicious the food is. We had lunch here on our stay in Mamaia Beach and it was delightful.
Prices are more on the upper side, but definitely worth it! If you have the budget for it, we do recommend trying it at least once. You won't regret it!
The only thing I disliked here was the time we had to wait for the bill to come. It seemed like forever.
Barrels Pub Mamaia
If you love your fast food, this small pub is exactly what you're looking for. They have everything from awesome burgers to salads and even mussels!
The location is close to the beach and they have some room to eat inside, as well as a small terrace.
Manciuria Bistro in Mamaia Beach
Server your breakfast, lunch, brunch or dinner here. If you're a seafood lover, then this place is a great fit! It's affordable and more on the South side of Mamaia. So if you want a relaxing spot to grab a bite to eat, you can check out this place.
Ultimately, Mamaia Beach is your ideal vacation spot when visiting Romania for a short beach vacation or extended period and want to spend summer on the coastline. Don't forget to bring some sunscreen, since the sun can be on a high volume sometimes!