Sentido Palm Royale Resort Soma Bay
It was the first time we stayed at Sentido Palm Royale resort in Soma bay, but not the first time visiting Egypt. We're going to review the resort in this article and provide you with some tips, if it's the first time you plan on visiting Egypt.
To start with, we booked our stay in December, which also included New Year's Eve at Sentido Palm Royale resort. This was a 7 days vacation, which started on December the 28th 2022 and ended on January 2023 on the 4th. This is just so you get an idea of the weather and prices.
Although I could not say it was neither cheap or expensive, the resort kind of looked empty. This might be because the hotel is actually not located in Hurghada. It's about 40km away, to the South. But this made it the perfect choice for us, as it was closer to Luxor.
On our first visit to Hurghada, Egypt, we didn't get to see it all. But, no worries, we didn't get to see them all now, either! That's why we'll keep returning. But that's a story for another time.
If we were to talk about Sentido Palm Royale resort, we would only have to say that there was nothing we did not like. It is amazing. You'll find below a video of the whole resort, including how our room looked. I apologize in advance for how I recorded the room video, as we were tired and wanted to just sleep.
Property size
Sentido Palm Royale Resort has a whooping 2 300 palm trees. No wonder it's called Palm Royale! The surroundings and idyllic outdoors are spread across 70 000 square meters and the private beach stretches for 1.2 kilometers.
The gardens are impressive, and the landscape is flawless. All is cared for, every detail matters and no leaf is out of its place. The crystal clear water where you can spot small fish and catfish are safe, secure and private. The two adjoined engulfed bays contribute to the perfect atmosphere of the whole resort.
There's also a private marina, swimming pools, diving center, children's playground, baby care, aqua center, health club/gym, SPA, tennis and volley courts, mini golf, horse stable, shopping center, clinic/pharmacy, and beauty salon. I might have forgot a few, but if needed, ask a question in the comment box.
Check-in
We arrived at the hotel around 22.00. We went to the reception which was to the right, and we showed them our tickets. They gave us something to fill in, and provided us with an envelope.
The envelope contained our room key, 2 towel cards (we were 2 people), a flyer with a 20% discount at the SPA center, and three cards which we could use to reserve a table at any of the restaurants in the resort, for free.
We tipped them 10 EUR in the passport when we provided them, and they gave us a room with a view!
They took our luggage and off we went to our room. Tipped the man, changed our clothes and got down for dinner.
Dinner was actually closed, but they provided us with some cheese, salami, bread and I don't remember what. It was modest, but we were starving. I started to wonder if all the meals would be like that and if we might have been wrong to choose Sentido Palm Royale resort in Soma bay. Don't worry, it got way better!
The check in took around 7 minutes as the person at the reception had to inform us of all the facilities the resort had. Once that was done, we all were escorted to our rooms.

Room
The room was clean and pretty spacious. We had a balcony that was right above Johnny's Bar. We could see the pools and the sea from out balcony. It was at the second floor. At night we could hear people that were outside at the terrace. If you're not a sound sleeper, you might not like that. I had ear plugs.
The bathroom also had a bidet and a tub. We didn't bathe in the tub, we prefer to avoid that in every hotel. I'm not sure if all the rooms in the resort are spacious like that, but our friend's room was the same.
The rooms at Sentido Palm Royale resort in Soma bay are clean and they will clean your room everyday, if you need it. We only had our room cleaned two times during our stay, and each time it was perfect.
The mini bar will always be filled up when cleaning the room, towels changed and any toiletry provided/refilled.
You can see the hotel room in our video posted in the beginning, staring at 7:30. It was the first time we got inside. It was dark, and we were tired. The lens were also kind of foggy as we forgot to clean them.
Restaurants
There are quite a few restaurants at Sentido Palm Royale resort in Soma Bay, Hurghada, but you will server your main meals at Cafe Stella. This is to your left, when you enter the hotel, after the shopping gallery. You can't miss it.
Meals entitlement
Breakfast from 06.30 a.m. to 10.30 a.m. at Cafe Stella
It's a buffet breakfast, like all the meals are. You are servers fruits, cereals, eggs in different ways, sausages, potatoes, salads, cheese, pastries and some. Coffee and other drinks are limitless.
Lunch from 12.00 p.m. to 3.00 p.m. at Cafe Stella
International cuisine is served and it varies every few days. I've heard nobody complain about the food here.
Lunch at the outdoor bar (if available) from 12.00 p.m. to 5.00 p.m.
It's a light a la carte lunch, served outside when the weather permits it. For instance, now, in December, the bar was closed for lunch.
Dinner from 6.30 p.m. to 9.30 p.m. at Cafe Stella
It's an all you can eat buffet. There are various dishes that you can choose from. There's sometimes duck, veal, chicken, sea fruits or shrimps, traditional dishes, pizza, lots of vegetables (grilled or not), salads (greek, cabbage, vegetable, corn, hummus, cheese, tabouleh and lots I don't even remember) and cakes.
A la carte restaurants open from 18.30 p.m. to 22.00 p.m.
There are four a la carte restaurants at Sentido Palm Royale resort in Soma bay, Hurghada: Lebanese, Greek, Asian Delights and Italian. Each restaurant will provide you with a three course meal: starter, main course and dessert.
If you have booked an All Inclusive stay, you will be able to book three of them for free. Reservation is encouraged to be made 24h prior to your meals. You can make a reservation during breakfast and lunch, at Cafe Stella A la carte reservation desk.
Beverage entitlement
During your all inclusive stay, you will be allowed to order the following drinks: soft drinks, local draft wines, beer and spirits, tea and coffee, canned fruit juice, sparking and still water. Don't worry, you can get as much as you like.
The beer is more like a lite beer, not that much alcohol in it. The cocktails are the same. But if you tip them 1 EUR and ask them to make you a decent cocktail, they sure will!
Where can you take a sip of all those drinks? Well, the following provide them:
Atrium Bar from 10.00 a.m. to 12.00 a.m.
Azur Bar from 12.00 a.m. to 5.00 p.m.
Captain Nemo's Bar from 10.00 a.m. to 5.00 p.m.
Johnny's Bar from 4.00 p.m. to 12.00 a.m.
Pool Bar from 10.00 a.m to 5.00 p.m.
The Health club opens at 7.00 a.m. until 8.00 p.m.
You will find a heated swimming pool (adults only in the summer and in the winter time children are allowed), a gym, sauna and steam room, jacuzzi and a table for tennis just at the entrance.
Kids Club opens at 9.00 a.m. until 5.30 p.m. and it's for children that are between 4 and 12 years old. So, if you have an infant with you that just wants to have fun, then you're settled! Maria's Kids Club is where the party is and the schedule is filled with activities all day long.
Activities
There are a bunch of activities you can do while in Sentido Palm Royale resort Soma Bay. Some of the most popular include diving, snorkeling, kite surfing, windsurfing, water ski, boat trips, tennis and horseback riding. These all come with a fee, depending on how you bargain.
For example, we took a trip with the Sea Scope submarine on the Read Sea for 3 hours, which also included snorkeling. This was 70 EUR for 2 (35 EUR/person) but I'm sure we could have negotiated the price more. We just didn't feel like it.
There's also a pool table at Johnny's Bar, but reservation is required for that, depending on the season. When we went in December there was nobody even playing, so I'm sure there was no need for a reservation.
The animation team provides shows every night. From violin concerts to dancing, playing darts or aqua aerobics, this place make sure you're never bored.
Good to Know
there is a Quiet zone on the beach, just beside the Asian restaurant. If you wish to have some peace of mind without anybody talking loud, that's the place to go. There's also no sales staff or animation team.
room service menu is taxable
proper dressing code is required in restaurants
internet is free of charge. The password is printed at the reception. Take a picture with your phone and keep it
massages, scrubs, facials and other beauty treatments have a chargeable fee
you are not allowed to smoke in your room. You can do that on the balcony
the towels left on the sunbeds will be removed before 6.00 a.m. if left unattended. You are also not allowed to take the beach towel to you room. You must leave it at the Towel center and get your towel card back.
New Year's Eve
If you're on the younger side, I would surely not recommend spending New Year's eve here. Still, I'm in my early 30s and I had a great time. The others, not so much!
New year's eve is not something as you would imagine. At least not at Sentido Palm Royare resort in Hurghada. I would have imagined that the sky would be lit up with fireworks, people outside clinking glasses and sipping champaign, all smiling and having a great time.
Well, this is how it all went down. I won't even ask you to take a seat, because it didn't last that long.
The schedule for New Year's Eve was like this:
18.30 – 19.30 Welcome cocktail
20.00 Gala dinner
20.15 – 21.30 Live Band
21.30 – 22.00 Belly Dancer
22.00 – 23.00 Live band
23.00 -23.30 International Show
23.30 DJ Countdown
At around 6.30 p.m. there were cocktail glasses handed out in the reception. We had none. And not because we didn't want any, but because by the time we got downstairs, they were all gone. Like termites just sipped them all. And we were there at around 19.00
You had to wait until you would be allowed in the room where the new year's eve party would be. It was literally a room with a small stage and tables. They called it the ballroom. You had to wait at the door for someone to escort you to your table, which was nice (we booked the table a few days before).
They gave our table to somebody else. They put us at another table. Then, they wanted to move us again as they saw we were unhappy. We were a group of 4 adults and 2 children (both 5 years old) and they wanted us to sit close to the speakers, that's why we were unhappy. Finally, they moved the people that were sitting at our table and the fun started.
Dress code
There was no imposed dress code, but obviously you would not be wearing your shorts and slippers.
Some were fancy looking, extravagant, and some (including myself) were casual. There were long sparkly dresses and tuxes, but you could also see casual dresses and pants, paired with sneakers.
Nobody cared how you looked, we were all there to have fun and enjoy the evening.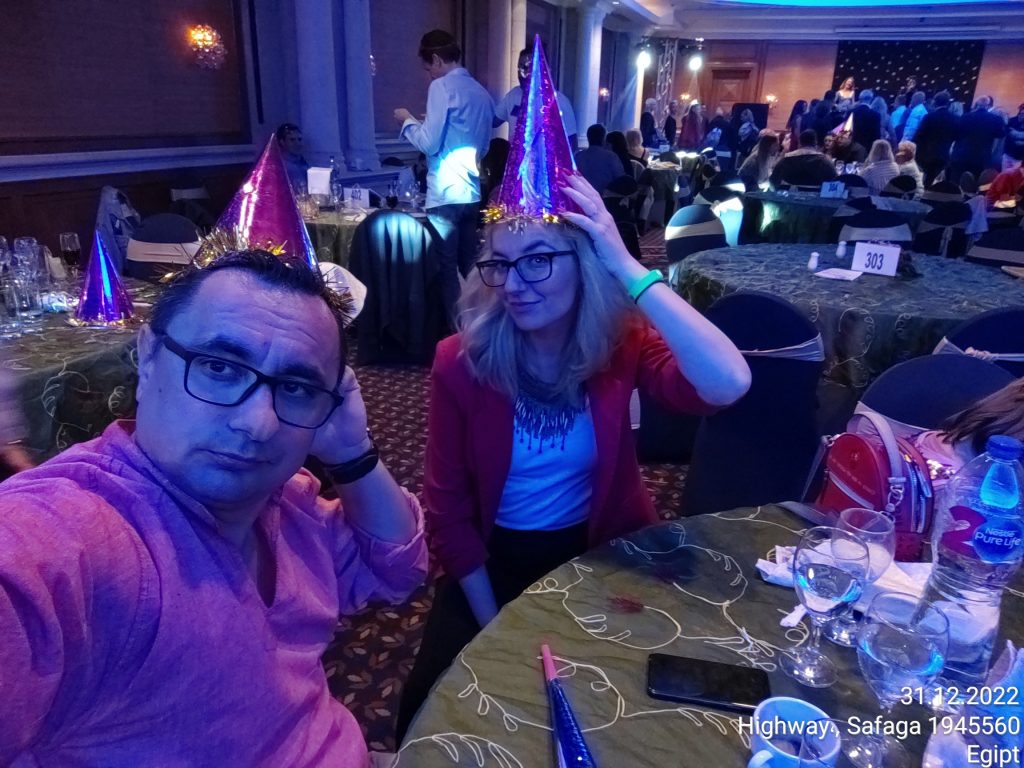 Food
The food was a buffet. I mean can you imagine a mass of people getting up from their chairs because someone said that the buffet was open now? How the line looked like, just to get some food? For you to grab your food, you had to exit the room and go to a room that was in front of our salon. There, you had to wait in line to get your food.
You had no idea what the menu was and you had no time to dwell as people were like all frowning behind you. We came back to our table and took no food. I grabbed some cakes as those were right at the door, to your right. Delicious cakes! When they were all fed up, we went back and took a few dishes on the plate.
From what I saw, there was a variety of dishes, probably merged from all the a la carte restaurants in the resort. They looked great and the ones I did get tasted well. I must say, my plate was not full. I had one shrimp, something wrapped in cabbage (I believe some sort of rice), rice again and I don't remember anything else. But, again, there was plenty to choose from, not complaining just because I lost my appetite with eating all those cakes.
Drinks
The drinks were the same as the ones you would normally order within the resort. Nothing fancy, nothing extra.
I would need to say that before this, when you booked your table, they would present you with a menu of beverages from which they could have served you during this magnificent evening. Everything was obviously overpriced.
You had sparking wine available, fancy champaigns and other bottled selections.
To my astonishment, when the clock reached 00.00 the only glasses of champaign that I saw were those that purchased it and had it included in their menu. Those were a couple of tables. The rest of us were just left watching. I thought this was so inappropriate for a 5 star hotel. I mean it was New year's eve and we paid for that dinner!
Atmosphere
I would not brag about the atmosphere either, and I will tell you why.
There was a live band show. A man and a woman sang some songs in a tune that was better muted. Their voices did not sync and well, basically, they had no voices. I'm sure that if there was a record played, we would have been better off. From all the shows that went on that stage, these were the ones that I just didn't bother filming. They were that good and I thought I'd spare you of it.
There was a belly dancer that was just great. That woman knew how to dance and entertain the audience. It was a pleasure watching her move and smile the entire show!
After that some dancers came and went. Nothing spectacular, but decent. They performed well on the stage, but were kind of rigid. I mean for a New year's eve show, you need to have some entertainers that will get you going. They didn't.
The atmosphere was so wrong for a party. It was like having a meal in a restaurant with the music very loud. I tried having fun, danced some, ate some and drank some ( 1 glass of wine and water for the rest of the night).
The schedule wasn't actually respected. As in there was a so said "DJ countdown" at 11.30 p.m. that never happened.
The Fireworks
There were none. No fireworks whatsoever. Some balloons were dispersed in the room and there you have it! New year's eve! You had some party accessories in a bag (placed on each seat, before you arrived) which you could use.
You had sone horns that you could blow, making a loud noise. A mask, some confetti and some plastic clapping hands. If you wanted, you could just make the most of if. And we did.
After the hours 00.00 passed, people were gathering the food from the buffet and in a few minutes, that room was empty. You had nothing to eat. While some were leaving, the staff was already clearing out the tables. Like they were never there. It looked like they were inviting us to leave, which we did in a few minutes.
Conclusions for Sentido Palm Royale Restort, Soma Bay, Hurghada
The resort itself is wonderful, I had nothing to complain about there. Beaches are clean, everyone is welcoming and friendly. The staff is helpful and I have not met anyone to make me feel uncomfortable.
Rooms are spacious and the resort is sparkless. Food is great and plenty. Drinks as well.
But, if you plan on celebrating anything there, you best be either not fond of parties or late nights or retired. I don't know how you celebrate in your country, but from where I am at, the sky is just full of fireworks, people getting out of their homes and clinking glasses, whishing all a better and happy year.
I truly believe that you are not allowed to throw out fireworks due to the state of Egypt, but hey, how they handled all that "fancy dinner" was not at all convenient for us. And it appeared for others as well, as people did leave before the night ended.
It's a great place to stay if you want to travel to Luxor, as it is closer. We took that trip and we left the hotel at 5.00 a.m. and we got back around 10.00 p.m.
You can get from Sentido Pal Royale Restort to Hurghada by taxi (Uber) or make a deal with someone at the reception.
This resort has 5 stars from me. I would go back anytime! If you enjoyed this article then this resort will exceed your expectations, as I could not capture all its beauty in just a few photos and videos.
Take that trip, it's worth it!