Titanic Palace Resort in Hurghada Review
We stayed at the Titanic Palace resort in Hurghada Egypt. This was one of the greatest resorts we have been to. We later booked Sentido Palm Royale and Labranda Club Makadi hotel and will probably book others in the future.
This hotel is both family and adult friendly. It's named Titanic because, in some areas, you will find it mimics the boat. There's the stairways that Kate descended on, while Leo was waiting for her, you have the architecture, the grand chandelier, the murals, statues and all of that. It's clean and welcoming.
Titanic Palace is actually connected to Titanic Beach. You can literally walk from one to the other and you won't even notice it. We would sometimes eat at Titanic Beach when it smelled better and nobody would say anything. The two hotels are massive and imposing, sharing the aqua park and the beach.
People that work there are what make this place one of the best. Honestly, I have never felt so great anywhere else. Do you know that feeling when you eat somewhere and the waiter feels you don't tip enough? And gives you that look? Or when you ask for something and they reply with half of a mouth? When you ask for a drink and you get served hours after? When you don't find a free sunbed near the pool or on the beach? Forget all of that.
Titanic Palace resort in Hurghada is a place that makes you feel wanted. Everyone is super friendly. For 1 EUR tip per day, you will have water brought everyday in your room, soda, towels changed and room cleaned. For 2 EUR they would add in an extra 2 bottles of soda in your mini fridge.
For 5 EUR you will be served throughout the entire day by the pool. Sunbeds will be there waiting for you every morning. If your glass is empty, it will be filled up until you say no more. Staff would joke with you, talk to you and ask you if there's anything else they can help you with. Sure, they do it for the tips, but others also work in this industry and expect a tip for doing nothing, and they are, most of the time, showing a poker face. Not here. Everyone looks genuinely friendly, because they actually are.
When we read about reviews for resorts, we didn't find that much for Titanic Palace in Hurghada. Actually, we did find some concerning reviews and that made us doubt a bit. The vast majority of the positive reviews were left by Arab people, so we figured it might not live up to our standards.
Speaking of standards, Titanic Palace is a 5 star resort in Hurghada Egypt. This equals 3+ stars in Europe, close to 4. Mind you, Egypt is in Africa, so don't forget about that.
Even so, we were glad to see our room was clean throughout the entire stay. And so was the whole resort. No matter the time, you would see someone cleaning something: other rooms, pools, trimming the hedge, watering the pavement and more. There was no littering or at least we couldn't spot any.
Check in at Titanic Palace
We arrived at the hotel around 12, while the check in would be made at 14:00. While at some resorts they would just make you wait in the lobby or invite you to take a walk, Titanic Palace in Hurghada was different. They just invited us in.
People there are very welcoming. I mean never have I visited a place before that had such amazing people that worked there. First of all, everyone was super friendly. That's because they live off of tips. We'll get to that later. But, even so, they had a great vibe! Everyone, from the guy cleaning the pools to the guy just passing by, would ask you if everything was okay, with a big smile.
Although our check in was at 14:00, when we arrived they took our luggage, tagged them and left them for safe keeping. We had our resort bracelet strapped on our wrist and were told we could start enjoying the whole resort. They invited us to go at the restaurant and eat, since we were just off the plane. And so we did.
The surprise came later, when we found out that they had upgraded 2 out of 3 rooms. There was nothing to be upgraded for our room, since we had their bungalow room. But, for the 2 families that had joined us in Hurghada Egypt, it was a treat. And to think that all they had to do is place 10 EUR in the check-in documents! Yes, if they have free rooms and you tip them, they will upgrade your room so that you can enjoy your stay with them. That's something to remember for any resort in Hurghada, or Egypt for that matter. They each saved a few hundred Euros.
At 14:00 sharp we went at the reception to take our rooms. One guy took all our luggage with a trolley and off we went to each room. We tipped him 5 EUR at the end and he was more than happy!
After that, we took some time to sleep as we were very tired. The room was clean and the smell was that of an oriental perfume.
Room at Titanic Palace Resort in Hurghada
We booked a bungalow room for our stay, which was not exactly what we expected. The inside of the room was as depicted in the photos but the outside not so much. I was a bit disappointed, just because we were supposed to have a private swimming pool from our balcony.
I will post a photo of how it looked like in the advertised brochures: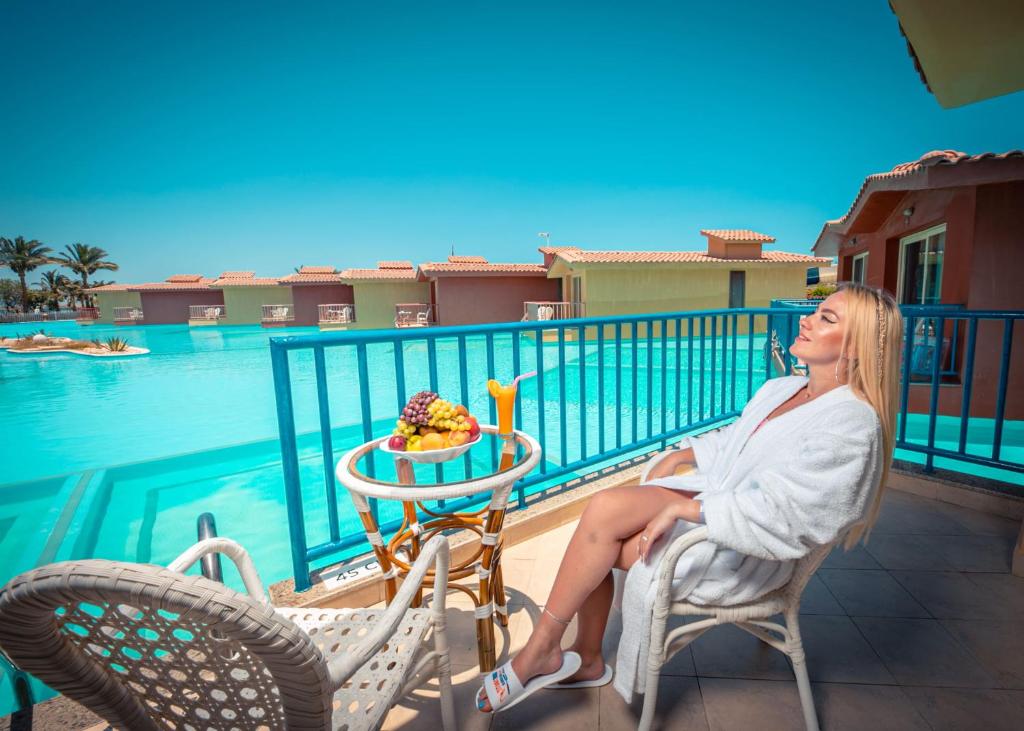 Well, it was still the same place as the pic, but the bungalows and private pools are right next to the aquapark. I mean where this photo is cropped, on the left there are the water slides, the sunbeds, the pools and everything. It's always noisy and you can't actually have privacy in the pool. I was a bit disappointed by that. And there's only a small wooden fence between them, which I guess was just for decoration as it didn't help with privacy. You can see that in the video below.
The rooms are as clean as they can get, but even though Titanic Palace Resort in Hurghada is a 5 stars hotel, the room was a bit shabby. You could tell the furniture was a bit old and it could use some upgrades, but it was overall acceptable for a 5 stars hotel in Egypt.
They would clean our room everyday if we did not hang the Do not disturb sign and fill up the fridge with soda and water. Towels would be replaced, beds made and floors cleaned. What I personally loved about the whole hotel was the scent. It was an Arabic perfume scent all around the resort: reception, hallways, restaurants, bathrooms and even our room after cleaning. It was a discrete scent, not unpleasant, but distinct.
We had air conditioning, but when you removed the key card, it would shutdown. This was something we hated, as it was very hot outside and the bungalow was isolated. This meant we had the sun shining on it all day, from all directions. When we went to Labranda Club resort, the air conditioning would run non stop, without a card, and that was a 4 stars hotel.
Overall, after we have seen other resorts, now Titanic doesn't feel it's still the best of our choices. But, surely in my top 3!
Food at Titanic Palace
Absolutely nothing to complain about the food. There were two restaurants that server the same food, next to each other. This was probably because the resort was large and it was also right next to Titanic Beach. You would have breakfast, lunch and dinner at the same restaurant.
Food would vary from one day to another. I absolutely loved their salads and tomatoes! Those were so tasty and I would always get more. Every night there would be something extra outside, usually grilled. All you can eat, everything you wanted. They had some traditional dishes, but mostly international cuisine, you would never starve there. I struggled to find hummus the whole stay and I once did!
Regarding the food, I've heard many people say it's not good or that it gives you stomach aches. It actually does, if you mix everything in your stomach, and that is very normal.
For the first three days I was careful what I ate. I had no issues at all. I would stay away from any sauce and minced meat. I would also not eat things that were new to me, like some of their traditional food. This is because my European stomach does not know how to digest this kind of food. Locals would also be sick if they ate what we did. So, it went well as I dodged spicy food, and stuck to what I knew worked for me.
On the fourth day I started eating everything I wanted. I said that if I'm there, might as well take the risk. The food was worth all my stomach aches and visiting the toilet for 3 times a day. It was heavenly. Their traditional dishes are something that I would eat on a daily basis, even at night, in between dinner and breakfast. By the fifth day it got better and I would enjoy the meals at their full potential until our vacation ended.
So, it's not the food there that makes you sick. It's the way you combine them and how you are used to eating. There's no bad food at Titanic Palace in Hurghada. There's just poor choice of mixing the foods, or, in some cases, eating more than your stomach can take. Below just a few photos we took from our breakfast. They had croissants, and I got that beans are a part of every breakfast.
Pools and Beach
Like I have mentioned before, everything is clean, so the pools are of no exception. The cleaners would be up since the dawn of the day to clean them as we saw them every morning at around 5 am.
One of the best things about Titanic Palace is the pools. If you're lucky enough to have a room on the ground floor, you might have access directly to the swimming pool. If you haven't booked a room with direct access, tip the guy at the reception a few dollars and you're all set!
The pools run all around the resort. You are completely surrounded by water, and I mean it. You have a pirate ship that floats in one pool for kids, a smaller pool for infants, a wave pool, sliders with pools, pools for bungalows, winding pools for the hotel rooms and I could go on.
But, there's a catch to this: even though Titanic Palace is open to the Red Sea, the water barely reached our ankles when the sea retreats. Our whole stay we were kind of left wondering how it would have been to take a dive in the sea.
There is still a small place for snorkeling, just a few meters away, on the beach. Take some breadcrumbs with you and you'll thank me later.
As for the private beach of Titanic Palace resort – all I can say is that it was clean, well taken care of, and there were sunbeds for everyone! You had towel cards that you would swap for towels and we ended up having one missing – so be careful as there are towel thieves there 🙂
The beach bar is close by and the bartenders are very friendly even if you tip them or not.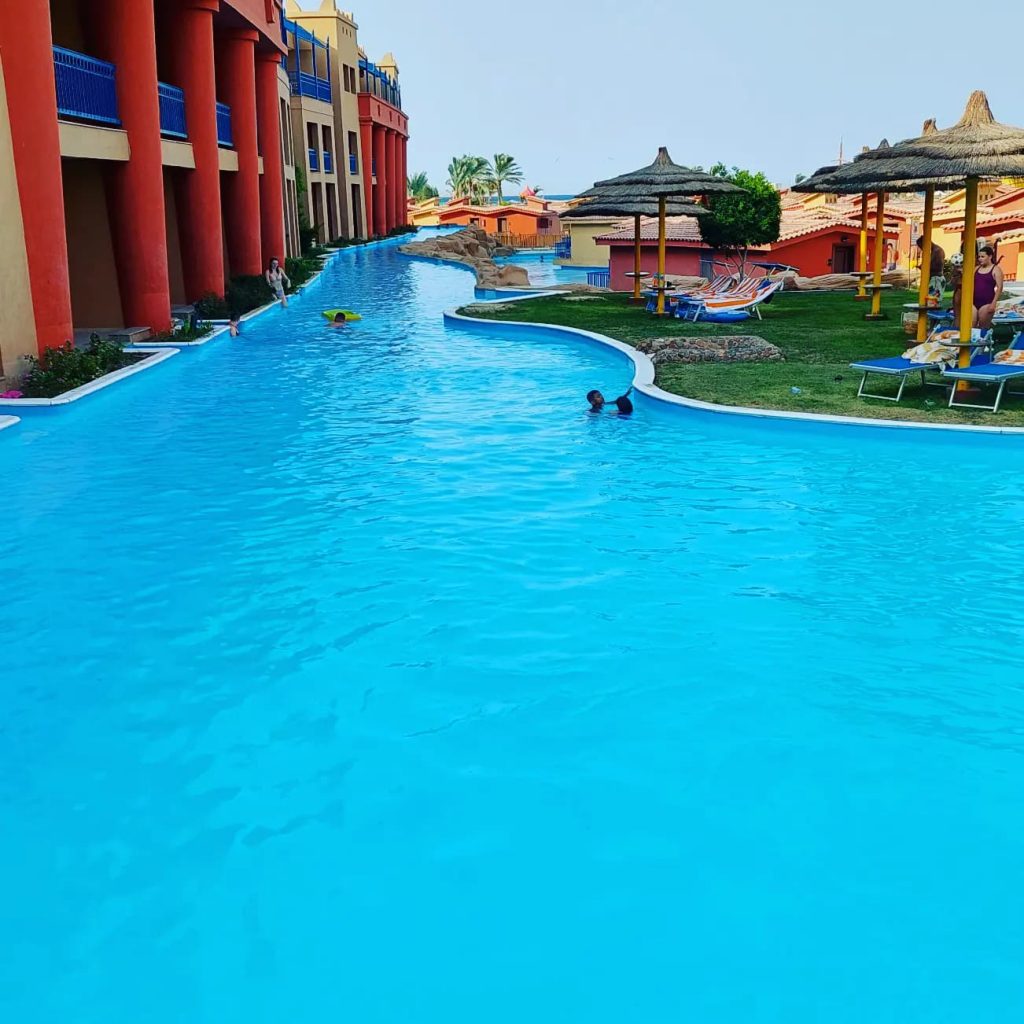 Entertainment
There was some sort of entertainment at Titanic Palace, but we only made it to one foam party on the beach. Even then, there were people just like sardines, trying to catch some foam and I didn't stress about it.
Music was nice on the beach at night, and although you would not be allowed to go in the water, you could still dance and have a cocktail!
There would also be some shows in the amphitheater until a bit late at night, the one right next to the pools and you could also enjoy a drink in the resort, at the terrace.
Inside the resort there would be a game alley, where you could play pool and some other games, which we found was great. Of course, you have to pay by the hour for those – they are not for free.
They have a shopping alley which I don't recommend because the prices are triple their worth and you have to negotiate. And maybe you don't feel like it. If you're the type of person that likes to bargain, then you will love Hurghada and the whole of Egypt.
Every night there would be something to do: either a foam party, disco night, live music, or similar. You wouldn't get bored over there. Plus, if you have children, there's a playground near the pools, especially for them.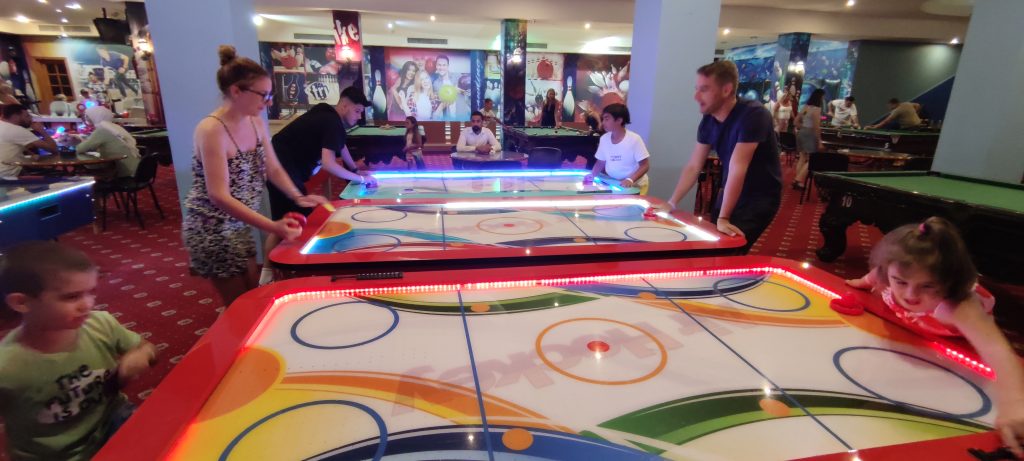 Staff
Staff at Titanic Palace is lovely! From the person cleaning the pools, to the top management, they are all super friendly and polite. We all know the main reason why they are so welcoming: because they get tips, but it's still hard work to be so polite.
We've been to other resorts and we can tell you not all the hotel staff is friendly. We had some places where they just ignored us and pretend they did not see us. Nobody was smiling or even trying to pretend. They just did their job and did that right.
But at Titanic Palace, not most but all of the staff we came in contact with made us feel welcomed and you felt that they were there to help you anytime. You trusted that if something went wrong, they would fix it.
There is absolutely nothing to complain about the staff at this resort, at least nothing we could dig up.
Check out
Our check out was at 12:00 and we had the bus take off at 16:00 as the flight was around 19:00. We had talked at the reception to keep one room until we left the resort, and they were willing to let us do so.
Just 10 minutes before 12:00, there was a knock at the door. When we opened, there was the same guy that had helped us with the luggage at the check in. He was also going to check us out. We were not allowed to carry our trolly, he would do that for us, He said it was his job to do so, as we are guests. We tipped him 2 EUR which pleased him. He went on to leave our luggage at the reception.
We stayed behind, had lunch once again at the resort, drank some coffee and talked to each other, before it was time to leave.
The hotel staff will also ask if you would like your baggage to be foiled, as that is a requirement for the airport. You should politely decline, even though they will state it is cheaper then foiling them at the airport. They might have that right, but what they don't tell you is that the airport might decline your baggage because it's not foiled there, so we passed on that. Foiling one luggage would cost you 5 EUR at the airport.
At precisely 16:00 we got in our buss and headed for the airport. The guide wished us a safe trip back home and hoped we would come back another time. And that was that!
All in all, our vacation to Titanic Palace in Hurghada Egypt was worth every penny. We would recommend this resort to anyone who loves water slides, great food and great people!