Labranda Club Makadi Hurghada Review
This year we visited Labranda Club Makadi in Hurghada, Egypt and stayed there for 14 days. I'm thinking that's more than enough to provide you with a decent review of the hotel, if you plan on staying there.
To start off, I'd like to say that this was our first experience at a 4 stars hotel in Egypt and we actually enjoyed it. I would have loved to say that Labranda Club was perfect, but that's not the case. Still, we had a better time there than we had at all the other 5 stars hotels in Hurghada like Sentido Palm Royal or Titanic Palace. Overall, it's a great place to be and I'll be providing you with all the details below.
The hotel is not really in Hurghada, but more like 23km away, towards Safaga. If you're planning on visiting the city, it will take you around 25 minutes to reach it by car.
Labranda Club is actually connected to Labranda Royal. You can walk from one resort to another without even noticing it. The only differences I saw between the two were the rooms (much better at Royal) and the pool size and number of pools. In Labranda Royal you had multiple pools, but the walk to the beach was a bit longer. Still, the beach was the same for both resorts.
Check in is at 15:00 and the check-out at 12:00. If the room is ready, they will accommodate you immediately. We had to wait a while as we tipped the person at the reception and he upgraded our room. That's a common practice in Egypt and other countries as well. You can enjoy breakfast or lunch, depending when you arrive, before the check in time.
Labranda Club Hotel Room – Review
Our stay in the room was acceptable. I would have rated it 5 stars if we did not have some sort of bugs coming out of the bathtub and if the draining pipes were not clogged. But I'll get to that later.
When we first entered the room, it was refreshing. We had a double sized bed and a single bed. The single bed did not have the sheets on, as they had rushed to prepare the upgraded room. But, nevertheless, in just a few minutes someone was there to make sure everything was perfect.
We got our towels from the cleaning person, as they don't have towel cards like in the 5 stars hotel. You get your towels and you're stuck with them, unless you ask them to be changed. We tipped the guy $2 USD and he was pleased and moved on smiling.
The room was spacious for just two people. You have a (small) TV with mostly Russian and French programs and CNN. The TV cable had to be fixed in the right position as it was giving out a bad signal, but we got that solved, eventually. You also have an electrical boiling mug which you can use to make some tea or coffee. That's on the house!
The small fridge had a mini bar, but you had to pay for the sodas, beer and whatever was in there (some M&Ms I believe). The only thing that was free was the water. It would be refilled the next time the room was cleaned.
You also had a small terrace, with one small round table and two chairs – plastic material. It was perfect for a morning coffee.
Now, the bathroom looked decent. It was as clean as it could be. You could tell the whole hotel needed some renovation, and the bathroom was no exception.
The bathtub was a bit rusty where the water drains, but it was overall okay. The problem was that after you took a shower, you had the bathtub filled with water as it wasn't going anywhere. Well, at least for some time it wasn't. It was a bit clogged, but then one day the cleaners decided to fix that.
One day, when we came back from the beach, I was relieved to see the water draining like it should. But, the excitement didn't last long. It lasted until I saw water was leaking from beneath the bathtub. I told the reception to have someone sent there to fix it, but we ended up using it like that for the remainder of the days. I was tired and we only had like three more days.
On one of the days, the water completely stopped around 15:00. There was no water in the whole hotel. Even the showers on the beach did not work. When we asked around, they told us that it would be fixed in one hour. It took until around 19:00 to have the water running again. Not complaining, these things might happen, but just to let you know.
We also had a blackout on one of the nights, but it didn't last that long. Not sure if they had a backup generator that kicked in, as the lights turned off two times. I know that when the power stops, the generator is set to start at a given time (like 2 minutes if the power doesn't come back). And when the power comes back on, the generator stops and it commutes to the power grid. So I'm thinking that they do have a backup generator, which is great.
I mentioned some bugs and yes, I will mention them again. When the water was not running, some bugs would creep out from the bathtub. A big no no for me. You also had ants outside and other species of little bugs, but those were irrelevant. They sprayed the resort each night with fumes and other chemicals to keep the mosquitoes away and that did a great job. We had no mosquitoes there.
Overall, the rooms do need a bit of improvement, but it's not something major. A few touches here and there would make a big difference.
You can see the room in our video posted at the end of the article. In the video you will also see the whole resort, restaurants and food dishes.
Restaurants and Food
I'll just start off by saying that the food was great. Neither of us expected it to be so diverse and we were a group of 6 persons.
Breakfast was kind of the same everyday, with some unnoticeable differences. But lunch was great and for dinner you always had themed nights. Although the main dishes were still present, you had extra dishes prepared every time for lunch and dinner. We had the Bedouin night, when the staff would dress up as Bedouins and the food was delicious. You had Indian and Chinese. You had Italian and many others.
The resort has two main restaurants: one over the beach where they serve breakfast and lunch, and one next to the reception, where they serve dinner. Nothing fancy.
Labranda Club also has an alley where themed restaurants are placed. But you will get to enjoy all of those foods in the themed nights, so I saw no point in going there. When you check in, they will provide you with some Vouchers that you can use to eat for free at the restaurants you pick, if you want a bit of peace and quiet.
I would never forgive myself for not telling you about the restaurant on the boat, that serves fresh seafood. If you like seafood, then you best not skip this one! Although you have to pay for the menu, I can honestly tell you the food is magnificent and really inexpensive. I have never tasted grill octopus like that in all my life and the shrimps, calamari and fresh fish were all delicious. Heads up, the wine is a bit pricy and they only serve dry wine. Too expensive for its taste, if you ask me. We went there two times and dined in style! The staff is just lovely and knowledgeable. Highly recommend it!
Let's talk a bit about Thursday nights. You're probably wondering why it's worth mentioning this day. Well, if you're there on a Thursday night, you'll be thrilled. It's a feast that ends with a party and fireworks and the Labranda group CEO will surely be there. It's basically like a wedding, or at least that's the feeling I got. The whole promenade street is filled up with food, chefs cooking there in the open air, tables are laid on the grass and both resorts, Labranda Club and Royal, come to life!
It's actually a themed party: we got to experience the White party and the Black and White party. The first time we thought we were so lucky to be there as we never have imagined it would happen again. But, we found out, to our surprise, that happens every Thursday! It's a great way to enjoy the culinary fest that this place offers you. In the end, all the staff, from chefs to managers, will join the loud party and dance, giving the whole space a great vibe!
We thought that if this is the way they organize culinary feasts, we would surely want to be there on New Years Eve!
To sum up, food is tasty, more than enough and you have a wide range where you can choose from. Nothing to complain here. The only thing I would complain is that the tablecloths were not changed after every meal, but I guess that's because they had no time. Still, not an excuse to dine on a stained tablecloth.
Private Beach
The private beach of Labranda Club is shared with its sister Royal. Both resorts use the same private beach, that opens to the Red Sea. It's clean and there are sunbeds for everyone. The umbrellas are fixed, but you can move the sunbeds.
On the beach you will find a bar that opens at 10:00 and serves drinks: soda, beer and some cocktails. If you ask me, you can totally skip the cocktails, or if you want one, tip the bartender first! The glasses are all reusable, hard plastic and some are chipped or even cracked, so you might find your drink has vanished by the time you reach your spot. Not sure how they wash them, but I didn't even want to know.
The sea does not retreat there, or at least not as noticeable as with other hotels, where you would have water just above your ankles. The temperature and depths are perfect. Kids can safely go in at the shore and swimmers can venture out. There are lifeguards that keep an eye on things, but you should be careful, too.
There is a relatively small area with pebbles, but that can be ignored. Just take a few steps to your left and you'll have no problem going in the water.
The beach is clean and you have cool water bottles stacked in two large refrigerators on the beach. You can take how many you need, but they will heat up rapidly from the sun. There are also showers and a clean toilet for you to use. The sand is fine and I basically could not complain about the beach. They also have those things that will shelter you from the wind that's sometimes blowing up the sand – just perfect.
Animation Team
The entertainment crew was the same for both hotels. You would see them migrate from one hotel to another at a given time.
If you have small children, you will be delighted to know that there is a mini disco organized every night outside. They will have an adult that will keep them busy with dancing and playing around on the music for a few good minutes.
When the mini disco ends, both adults and children move to the amphitheater. To be honest, it's kind of small for the large crowd they had there. Both resorts go there for the night show and later move on to the Coco Loco beach for an open air club.
The amphitheater hosts shows from belly dancing to flame throwers and even the Miss Labranda competition. It's a good way to spend time, but because it is so small, it gets crowded and you start sweating a lot at one point. We only stayed in there for a short while, as we couldn't bear the heat.
Overall, the animation team does a good job entertaining both children and adults and they have a great attitude. They are friendly, polite and have a good sense of humor. You will also find them in the morning when they can invite you to join one of their stretching program or aqua gym.
Staff at Labranda Club
Comparing the staff at this resorts with the others that we met at the other 5 stars resorts, I would have to say that these were a bit reluctant, a bit cold or even a bit obnoxious.
While we were used to friendly and always smiling staff, this resort had some stiff people. They would barely say hello to you when you passed them by, and I got the feeling that they were avoiding eye contact. But, there were also some staff members that made you feel more than welcomed there.
We had our favorite at the restaurant on the beach, that would sometimes sing in a low voice and be overall happy. We did find him one day unamused and when we asked why, he said he was a bit tired. Truth be told, these guys are understaffed. You would see the same people from dawn till dusk. When I talked to one of them, he said that he works 4-5 weeks non stop and after that he gets a week off, when he returns to his family. No wonder they don't feel like being happy all the time, they can't even fake it anymore.
We befriended another staff that told us about life in Hurghada in general and believe me when I say it's not easy at all. After hearing all the stories, I came to realize that these guys were doing all they could to make your stay pleasant, but they were just tired all the time from working non stop. Never was any of them rude, but you could tell they were sad, even if they did make an elephant from our towels, in the room!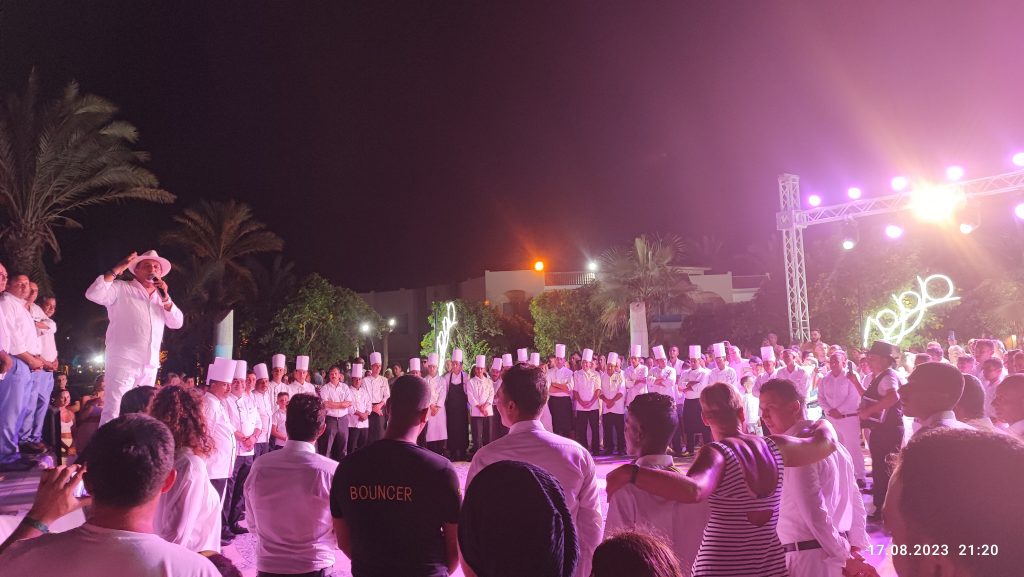 Overall, Labranda Club exceeded or expectations in terms of how a 4 stars hotel is like. We were kind of nervous going, because of all the stories we heard, but everything was even better than we had imagined (minus the bugs in the bathroom). We will surely return if we get the chance and it'd surely recommend it if you don't expect luxury and sparkles!