When most people think of Egypt, they immediately think of the country's rich history and its modern marvels, like the Great Sphinx. With the achievements of the Ancient Egyptians being widely known, it is by no surprise that many tourists seem to ignore what Egypt has to offer besides its rich history.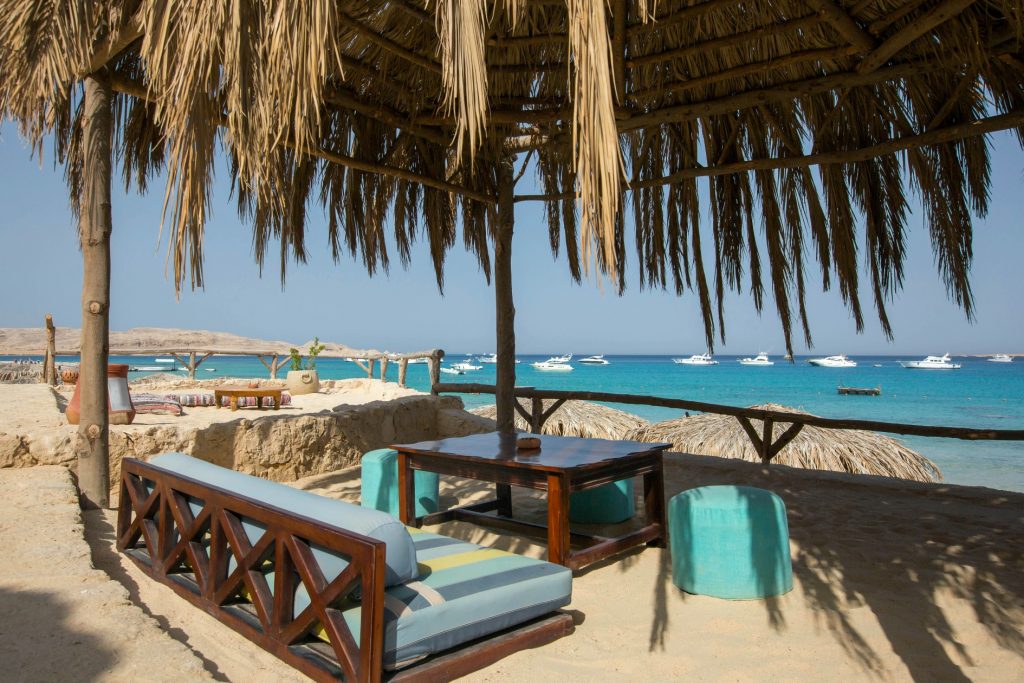 Mahmya Beach, located on Mahmya Island, is a slice of heaven that you can enjoy while on your trip to Egypt. With pristine blue waters, white sandy beaches and exotic scenery, you can only have a perfect day!
How to get to Mahmya Island ?
If you're already wondering how to get to Mahmaya Island you should know that the costs depend on who you book with.
The only way to reach the Island is by boat. You can barter the price with the tour operators and go as low as $45 USD. Many ships sail to the location, so it will not be hard to catch a quick ride.
The trip usually lasts a whole day and can include lunch and some soft drinks.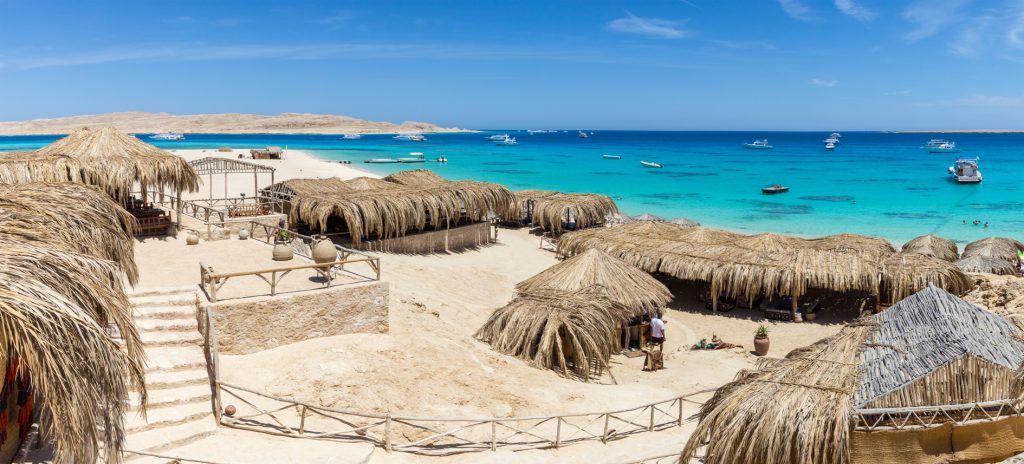 Mahmya Island Tour
If you're departing from El Gouna you can get in touch with Colona Divers They offer Diving trips and Excursions. You can choose to take a full day trip, or, if you're more adventurous, you can go up to 10 days at sea.
Sailing over the Red Sea to Mahmaya Island can also be done with the help of other cruises. There are also companies that pick you up from your hotel and waves you through the sparking warm waters. The prices include transport, buffet, snorkeling, soft drinks and lunch. Prices can go as high as $83 USD, depending on the season.
Mahmya Island can also be the perfect honeymoon tropical location or a wedding destination.
Mahmya Island Snorkeling
It's no coincidence that Mahmaya actually means Protected area in Arabic, as Mahmaya Island is a true paradise when it comes to snorkeling.
If you're an avid snorkeler, then you will find the Red Sea to be one of the most spectacular places to be in.
With prices ranging from $80 to $110 USD, you are promised a delightful experience underneath the waters. The price includes pickup from your hotel (or a place near your location), a day trip to Mahmaya Island, equipment for snorkeling, refreshments and taxes.
You can book a trip here
Have you ever been on a submarine? For $40 USD you can take a dive in this yellow Sinbad Submarine. Descend in the Red Sea and reach depths of 20m, where the waters will dazzle you with unseen life.
Mahmya Island Booking
Finding accommodation in Mahmaya Island is close to impossible. Being a barren land, this Island does not have any hotels or apartments. The closest accomodations are those in Hurghada.
Prices for booking a place to stay in Hurghada range from a budget friendly flat to a high end resort.
2 bedroom apartment direct to pool – from $175 USD per night
Set in El Gouna, Hurghada, this apartment features two bedrooms, an outdoor pool, air conditioning and garden access.
It's only 30km away from Hurghada International Airport, making this place a steal!
Panorama Bungalows Resort El Gouna – from $141 USD per night
If you're looking to settle in a 4 star resort, with a private beach, then this place is what you're looking for!
Couples particularly like the location — they rated it 9.6 for a two-person trip.
The resort offers four restaurants on site. La Palma Restaurant is open for serving a buffet breakfast, while Lagoon is open only for dinner. If you want to have brunch, you can have a seat at Zaytona Restaurant. The Garden cafe is open all the time, serving a menu that's a la carte.
Room size vary from a 38 square meters standard single room or bungalow, to 46 square meters. You can choose to have a lake view, city view, garden view, pool view – or all the views!
Zeytouna Beach is 700m away, while Mangroovy or The Smokery Beach are 2km far away.
Hurghada International Airport is 27km fromt he location, while Sharm el-Sheikh International Airport is 96km from this resort.
Apartments at Aldau Heights – from $70 USD per night
Set in Hurghada, about 7km from the city's center, this property offers a great city views at an affordable price!
Couples particularly like the location — they rated it 8.5 for a two-person trip.
Although the place does have its own restaurant, you still have plenty to choose from by visiting the nearby locations. Star Fish Restaurant, New Marina, and Hurghada Downtown – Saqqala Square are all in a 4km range.
All the apartments have a size of 60 square meters, making them the perfect choice that can accommodate up to 4 people.
Popular beaches nearby are Old Vic Beach at only 600m away. Albatros White Beach, The View Hurghada Beach, Mahmya Beach and Harouny Beach being in a 2km radius.
Hurghada International Airport is just 4km away from this spot!
Hilton Hurghada Plaza Hotel – from $191 USD per night
Hilton never disappoints, offering full views of the Read Sea from every room.
Couples particularly like the location — they rated it 8.6 for a two-person trip.
This hotel has three restaurants on site, including a seafood restaurant overlooking the marina. While Rostrata restaurant offers international dishes, Lophelia specializes in seafood. There's also an Asian themed restaurant, only open for dinner.
Room size varies from 28 square meters for a king guest room, to 73 square meters for a king suite.
As a top attraction in the area, Jungle Aqua Park is only 19km away from the hotel.
If you're traveling by plane, you should know Hurghada International Airport is 9km far away, while Sharm el-Sheikh International Airport is 98km away from this location.
Mahmya Island Restaurants
It doesn't matter if you like Chinese food, Italian, Thai, Lebanese or an International menu – you can taste them all!
If you need a place with a good view, then The Moon Restaurant is the place that will fill your belly and delight your sights.
Another great place to eat in Hurghada is Granada. It has a delicious Egyptian and International menu, but what will thrill you the most is the stunning placement.
If you want to catch some Italian atmosphere and mix it with the Egyptian chills, then your stop should be L'Imperatore Marina
Mahmya Island Prices
Travelling to Mahmya Island is not expensive. You can take a day's trip and spend less than $100 USD.
For 2 dives you will pay close to $65 USD and $35 USD for a full day of snorkeling.
However, the scenery is worth a million dollars! With dolphins that swim near you, tiny fish and corals, manta rays and other marine life, Mahmya Island is surely divine place that you should definitely visit.
Mahmya Island Weather and Best Time to Visit Hurghada
Being a country in Africa, Egypt is known for scorching temperatures and rare showers.
The best time to visit Hurghada is either April – June or September to your early November. Try not to visit Mahmay Island in July – August, as the sun can burn you skin and temperatures can be unbearable.
Usually, temperatures drop with 10o C at night, so take this into consideration when packing your bags.