You might be wondering what's famous in Hanoi. Well, almost everything!
Hanoi is the capital of Vietnam and a very busy city. You should have heard by now that it's widely favored by tourists for keeping centuries-old architectural heritage on its land.
This is a place where you can experience its native cultures. In fact, it is easy to find traces of multiple cultures like Chinese, Southeast Asian, and French in its roots.
Visiting Hanoi can give you an opportunity to get a close glimpse of the distinct culture, religion, goods, and flavor. And of course, when you are exploring the popular locations of this place, don't forget to visit their Bach Ma temple and ĐồngXuân Market.
What Should I Not Miss In Hanoi?
You should first know that it is not possible to explore the entire city in a matter of days. But still, for those who won't be spending too much time in the exploration of this beautiful place, these selected choices can be the best alternative. If you want to enjoy the famous Hanoi spots, then keep on reading.
Imperial Citadel of Thang Long
A famous Hanoi location is the Imperial Citadel of Thang Long. Considered a relic of Vietnam's intriguing history, this UNESCO World Heritage Site has a height of 40 meters and its central flag is used as a symbol of Hanoi.
This can be a perfect place for you to start your journey. It is located in Quan Thanh, Ba Dinh, Hanoi. This citadel is open for visit all days (8:00 – 12:30 & 13:30 – 19:30).
Water Puppet Theater
Now if you want to dive into Vietnamese culture, then the puppet show is a must. Water puppetry is an ancient art form that has been part of Hanoi culture for a long time. Thang Long Puppet Theater is the most popular theater of this town that organizes the puppet shows with its traditional elegance.
It is a famous Hanoi attraction, located in 57B, Dinh Tien Hoang Street, Hoan Kiem District, Hanoi. This theater is open for audiences all days (15:00, 16:10, 17:20, 18:30 & 20:00).
The Perfume Pagoda
Thinking of exploring the historical architecture of Hanoi? Then this is yet another famous Hanoi spot you should see. It's considered to be first constructed in the 15th century.
There is a Buddhist temple series on the mountain range in the alleyways alike maze. This maze is carved within rocks and it's surrounded by the rich forests and native streams of this area.
It is located in Huong Son, My Duc, Hanoi. Visitors can explore its beauty on all-days (06:30 – 17:00).
Ho Chi Minh Mausoleum
When you look into the history from the perspective of locals, you will find this place might as well be the most interesting place of Hanoi.
Ho Chi Minh Mausoleum is dedicated to the country's great leader, commonly known to locals by his nickname "uncle ho".
It's located in 8 Hung Vuong, Dien Bien, Ba Dinh, Hanoi. You can visit the site from Tuesday to Thursday (07:30 – 10:30) and Saturday & Sunday (07:30 – 11:00).
Hoan Kiem Lake and Ngoc Son
Now if you've finished exploring the culture and history of these famous Hanoi spots, it should be the perfect time for you to explore its natural beauty.
Hoan Kiem Lake or turtle lake is one of the most popular tourist attraction in Hanoi. The beautiful scenery of this place attracts huge visitors and you can see elderly practicing Tai Chi & line dancing etc.
It is located in the Hanoi Old Quarter. You can enjoy its view anytime you want. You can also visit Ba Vi National Park for more stunning cultural exploration.
What Should I Buy In Hanoi?
There are a lot of things that you can buy in Hanoi. But, if you want to keep them as a memory of your travel then it is best to buy something that has the touch of Hanoi culture, local life and famous Hanoi reminders.
So, here is the things that might be a perfect fit for journey souvenirs.
Vietnamese Silk Products
Vietnam is popular for its silk industries and Van Phuc village is highly popular for silk products. This famous south Hanoi village will introduce you to a complete new range of traditional silk varieties and products you will enjoy!
'Do' Paper Products
If you're looking for art, the Dong Ho paintings are just what you need to see.
If you don't know what Do' paper is, it's created from local Rhamnoneuron tree bark which can only be found in Vietnam. You can buy notebooks, cards, stationery and paintings made from this paper. Just a quick search in the local market and you're bound to see some.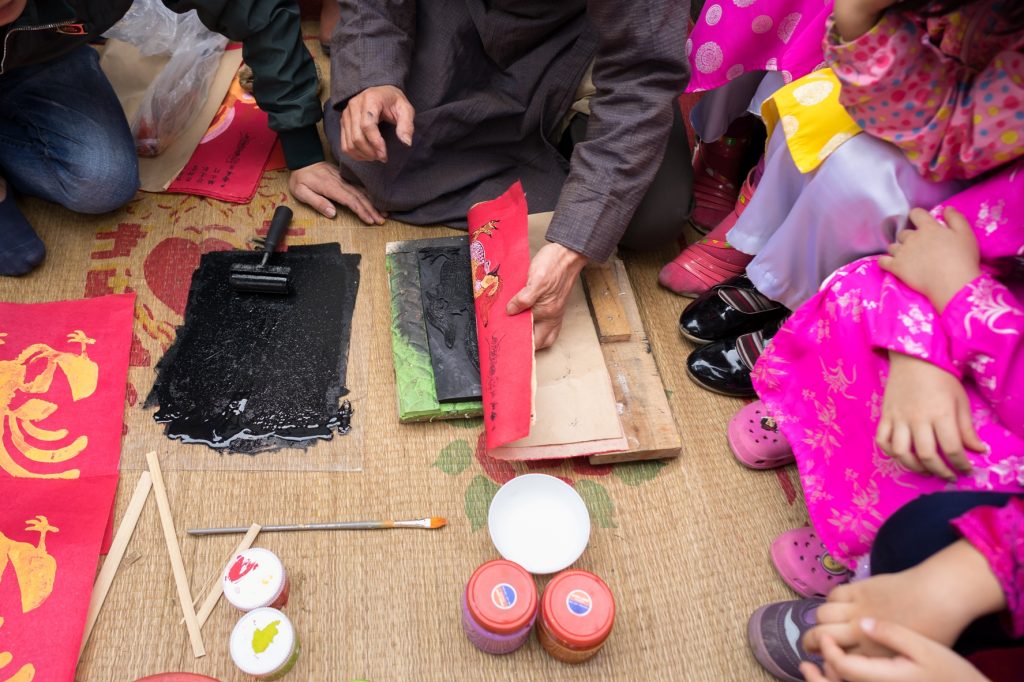 Lacquerware & Ceramics
This is a traditional ceramic that has its own procedure. Each lacquer ware takes approximately 100 days to finish.
Bamboo Products
Since Bamboo is the traditional plant of Vietnamese culture, you can find some amazing and highly creative bamboo products in the local market.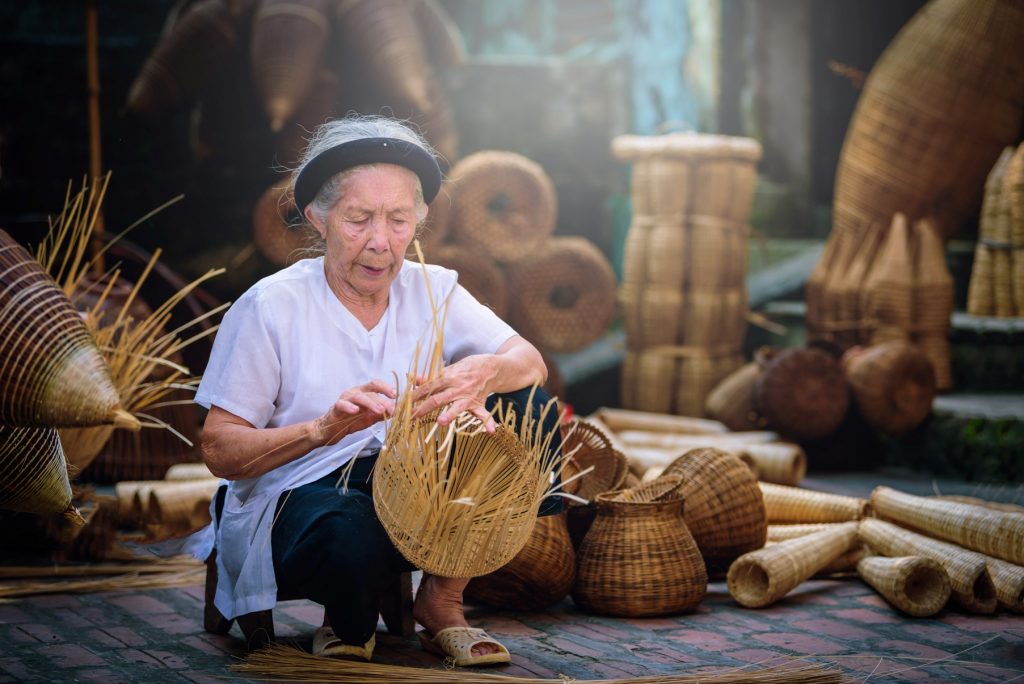 Lotus Tea
As we know, the lotus is the national flower of Vietnam. It's also a common tea consumed by the locals.
The west lake is the main producer of huge varieties of lotus flowers that creates a distinct favored lotus tea which will give you the best taste in its local region.
O Mai
If you're in love with fruits, then you must try this famous Hanoi dish.
O Mai is actually a traditional let's call it desert? It's actually a mix of dried fruits, sugar, a little bit of ginger, salt and lime. The flavors blend in the most harmonious way, giving you a taste of sweet, sour and spicy at the same time.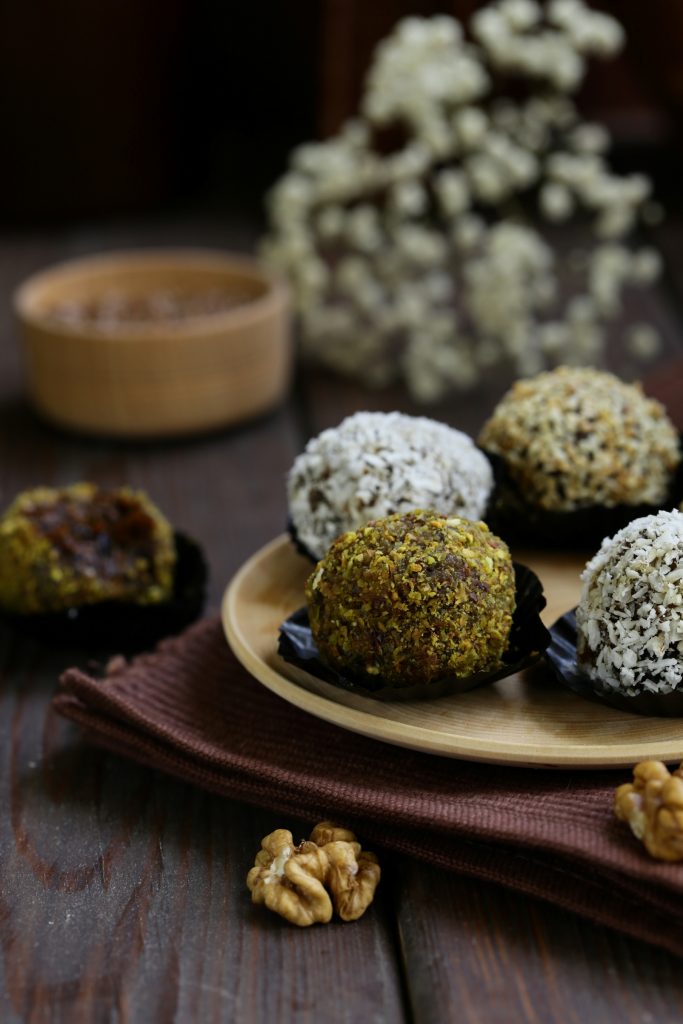 Ao Dai
When you visit Vietnam, how can you complete your journey without Ao Dai, a traditional Vietnamese outfit?
Back in the days, Ao Dai was made from a mix of silk chiffon fabrics. While tradition has been safely kept, nowadays it can also be found made from stretch cotton, linen or silk brocade.
What makes this item distinct is its beading, fabulous embroidery or hand painted designs.
This is a must-buy item for every traveler who visits Hanoi.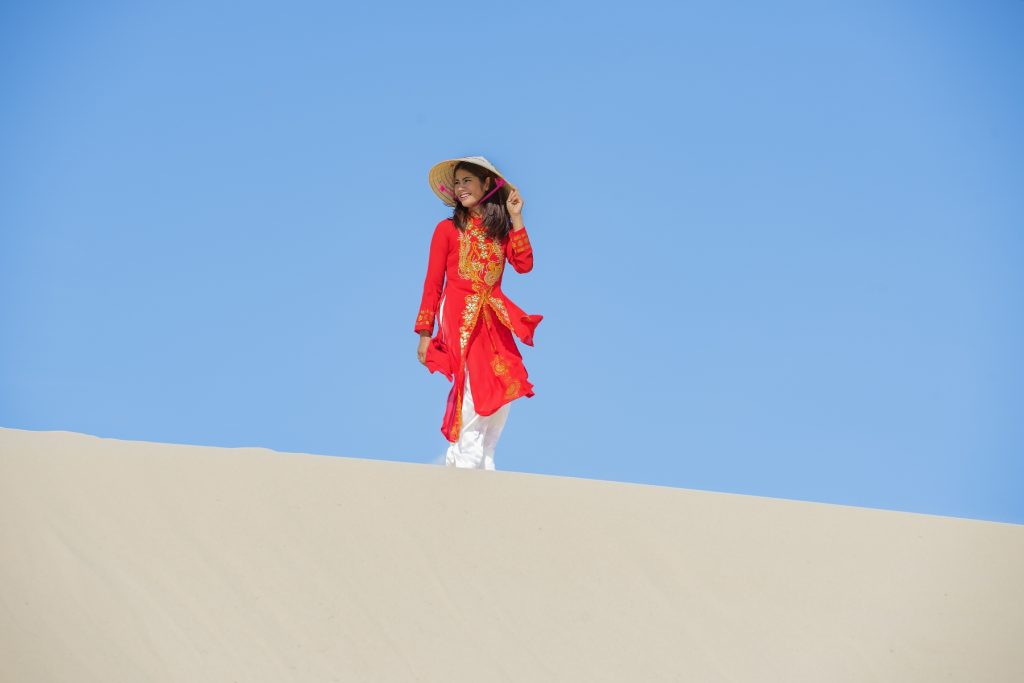 Vietnamese Coffee
If you like to explore different tastes and flavors of this refreshing brew, then Vietnam will give you a huge variety from you to choose from.
There's a distinctive taste when it comes to robusta coffee beans. It's almost twice as strong then regular coffee, a little bit thicker and with a higher acidity.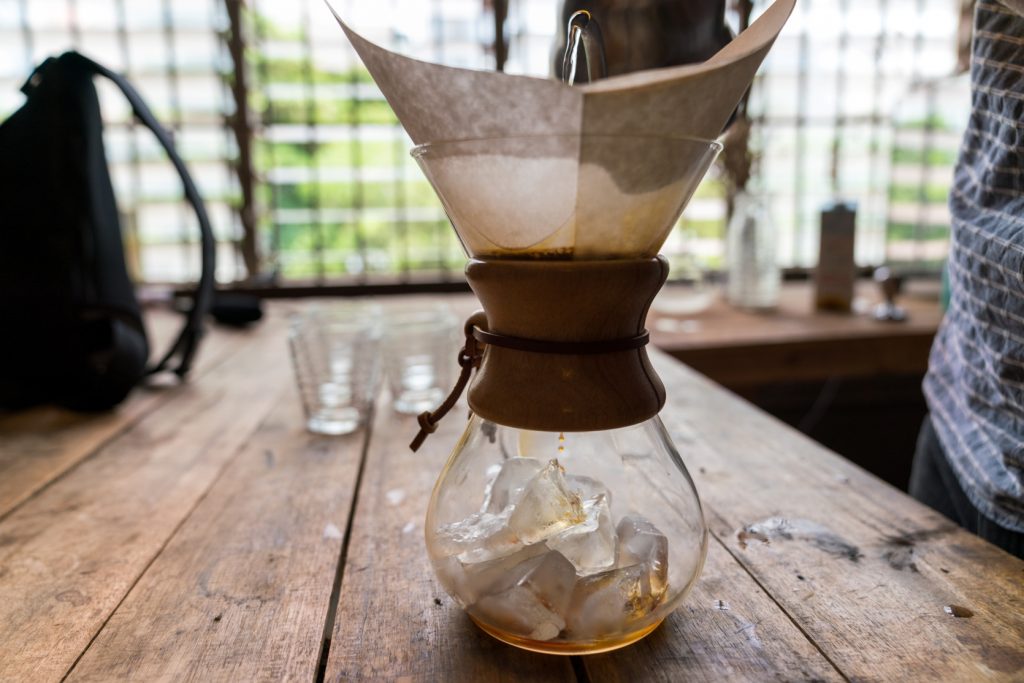 Traditional Ethnic Minorities' Souvenirs
In the local market of Vietnam, you can easily find traditional products of diverse traditional communities and minorities in one place.
53 ethnic minorities currently live in Vietnam, making up around 12 million of its population. They each have embedded pieces of their culture in artifacts, small handmade objects and art.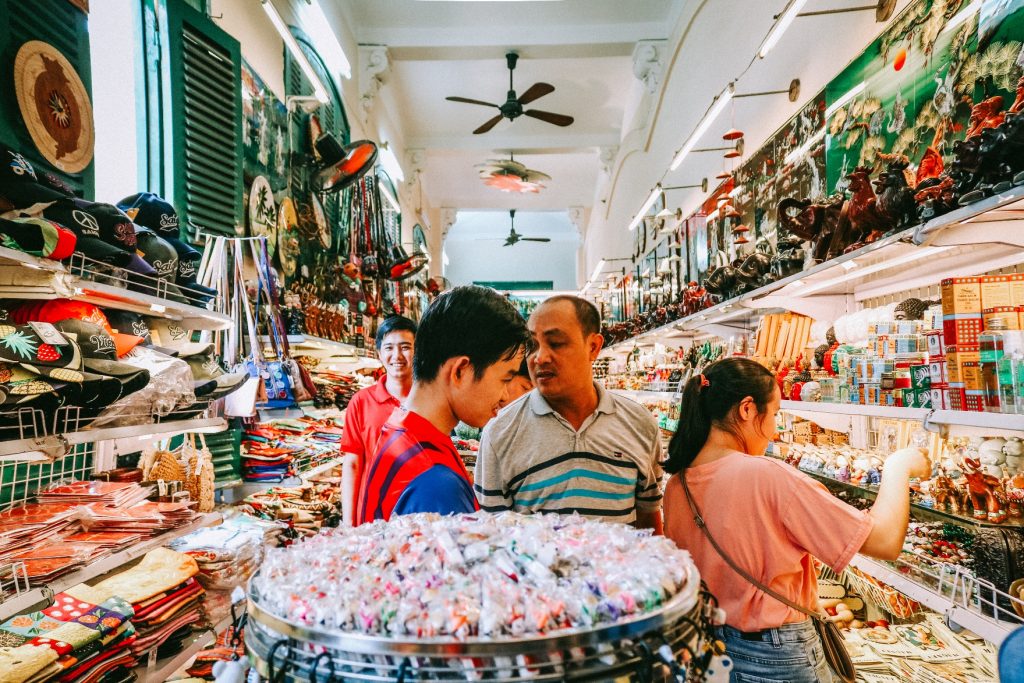 Traditional Dolls
If you want to get something small and yet memorable, then a doll can be a wise choice. These dolls are usually dressed in colorful Vietnamese costumes. It can be a perfect gift for kids, and friends as well!
Hanoi Upcoming Events
If you want to make your trip even more memorable, then you should look over the upcoming events in Hanoi. Choose the best day for your trip according to the date sheet of their local festive events and blend with the locals.
Tet Nguyen Dan is celebrated on 25th January
If you're lucky enough to be in Hanoi on the 25th of January, then prepare for a festive New Year's Eve. This is the most important celebration in the Vietnamese culture and the perfect opportunity to mingle with the crowds.
You should know that this event doesn't have a fixed date, but it's based on a Chinese lunisolar calendar. So, the new year's eve in Vietnam for 2021 will be celebrated on February the 12th.
Lim Festival is celebrated on 6th February
If you can't see it, then you can hear it! This festival is a clash of voices that worship Ba Mu, included in UNESCO's Intangible Cultural Heritage since 2009.
This famous Vietnam festival is held in Tien Du District in Bac Ninh Province, Vietnam, so be sure not to miss it!
Perfume Pagoda Festival is celebrated on 8th February
Who would have thought that you could carve an entire religious complex in limestone? Perfume Pagoda is living proof that Vietnam has a strong Buddhist culture, celebrating it each year with a religious festival.
Pilgrims across Vietnam join together to celebrate in communion in this famous Hanoi spot. You can get there via waterboat or road and don't worry that you'll miss it – this festival lasts for 3 months!
Phu Giay Festival is celebrated from 26th March to 1st April
You will find Phu Giat to be different from most festivals, because it worships bot unreal and real saints.
This celebration is dedicated to Lieu Hanh, a woman who died at the age of 21, with no apparent illness. She's been considered the daughter of the God of Heaven.
During this ceremony you will get to see women carrying a long piece of cloth on their head. This symbolizes the bridges that spirits use to travel to the world.
You'll be amazed to see a stretch of 2km of people, as they gather around to sing, dance and play local games.
Tet Han Thuc is celebrated on 26th March
What traveler wouldn't want to explore traditional food? And what best place to do that then a Cold Food Festival?
You can enjoy "banh troi" and "banh chay", which are two traditional foods in Vietnam. While banh troi has sugar in it, bahn chay have bean paste instead. Both made from glutinous rice flower, sweet and tasty!
Hung King Temple Festival is celebrated from 31st March to 2nd April
This famous festival honors the nation's first Emperors and founders of the nation. It's a tribute to the contributors of the Vietnamese culture and overall life.
Hue Festival is celebrated from 1st April to 6th April
This is a festival that's held once in every 2 years, ccelebrating the rich cultural life of Vietnam.
It's famous in Vietnam, as it boasts in art exhibitions, culture explosion, spectacular performances and shows. As a tourist, you will find this festival to capture all the essence of Vietnam!
Buddha's Birthday is celebrated on 30th April
Also known as Vesak, it's certainly one of the most important Buddhist festivals. This is because this day marks Buddha's birthday. For some Buddhists, it goes a little further than that. It also marks his enlightenment, the time when he discovered the meaning of life.
Reunification Day is celebrated on 30th April
Also known as Liberation Day or Victory Day, this is the time that marks the end of the Vietnam War and the beginning of reunification.
You will get to see a display of forces on the streets of Hanoi, applauded by joyful crowds.
Vietnam Independence Day is celebrated on 2nd September
This is the day that Vietnam declared its independence from France, back in 1945.
It's a parade that trains over 30 000 people to march along the streets of Hanoi, similar as Reunification Day.
Mid-Autumn Festival is celebrated on 1st October
Widely known as Tet Trung Thu, this festival is famous not only in Hanoy, but throughout Vietnam. It's the second most important festival as it celebrates the end of the harvest.
More than 4000 years have passed since the first celebration, yet the parade still immerses in tradition and cultural experiences.
The busy streets of Hanoi are filled with parades, exhibits from artisans , local craftsmen that will teach you how to create local objects and a great atmosphere.
Halloween is celebrated on 31st October
Although it originates from Western countries, Halloween has been a welcomed festival by Vietnamese, who are open to new horizons.
Being a fun holiday, it has gained popularity amidst the locals, who now enjoy costuming and roaming the streets at night.
Hoi An Lantern Festival is celebrated on Full Moon Every Month
It's a time to meditate, reflect on life and observe rituals. People from all over Asia view the full moon as a sacred time. So sacred, that they have dedicated a festival with lanterns to it, each month.
The lanterns light up at night, providing tourists with a spectacular view of the sky and grounds. If you're traveling to Hanoi or any part of Vietnam, be sure you don't miss a full moon event!
Wandering Souls Day is celebrated on 15th Day Of The 7th Lunar Month
Not only famous in Hanoi, this festival is celebrated all over the country. It's the Buddhist version of the Christian Soul's Day.
Locally known as Trung Nguyen, this holiday is based on the belief that each person has a spiritual soul and a material soul. Due to someone dying the soul will be judged based on the deeds it has made. Some souls go to heaven, some end up in hell. Hence, for the latter ones, the family and friends will pray during this festivity, so that they may pass on to heaven.
It's also believed that the gates of hell will open at sunset and wondering souls will flood the lands. That's why locals will cook lots of food and place it on altars.
If you want to enjoy your visit to Hanoi, it is best to take a few days and make your plan ahead of the time so that you can explore everything that you want.