Vietnam Famous Restaurants – Where to Eat in Vietnam
Tourists often visit Vietnam because of its colorful colonial past, unique culture and mouthwatering cuisine. Food lovers that make their way to the Asian nation will realize that it provides a wide array of dishes for all types of palates.
Although Vietnamese cooking borrows from a lot of influences such as French, Chinese, Cambodian and Thai, it still has its distinctive features. The union of diverse flavors using local ingredients only serves to enhance the overall cuisine.
Fortunately, Vietnam has many restaurants that you can visit and sample the meals on the menu. Some of the restaurants accept walk-in clients while others require booking in advance to get a table. Even so, some restaurants are more popular than others attracting thousands of visitors throughout the year.
If you are planning on going out to eat while in the country, here are some Vietnam famous restaurants to check out.
Vietnam Famous Restaurants: The Dining Room
The Dining Room is the best restaurant for tourists looking for traditional cuisine made in Vietnam.
Located in Ho Chi Minh City, the restaurant is well known among travelers to Saigon from all parts of the world regardless of their age.
Visitors to the restaurant get the chance to select meals from a diverse menu that includes starters, main dishes, and soup dishes. Some of the popular dishes include various spring rolls, grilled salmon, prawn soup that is a favorite at the restaurant.
Additionally, the Dining Room boasts of a seafood collection like no other in the whole of Vietnam.
Main website
Restaurant location on Google Maps
Vietnam House Restaurant
If you are looking for Vietnam famous restaurants that are affordable and provide sumptuous food, stop by Vietnam House.
It is a popular spot for locals and tourists giving you a chance to interact with more people as you sample various meals. Some of the dishes that are a favorite of many at the restaurant are Bun Bo Hue (spicy beef noodles), Banh MiThitNuong (pork sandwich) and Pho Ga (chicken noodle rice).
The dishes can be served with different accompaniments depending on your preference.
Besides the regular menu, vegans and those allergic to gluten can find specially prepared foods at Vietnam House.
Main website
Restaurant location on Google Maps
Red Bean Classic in Hanoi
A mix of modernity and tradition when it comes to Vietnamese cooking is what Read Bean in Vietnam offers its patrons.
The restaurant located in Hanoi gives visitors a chance to try out meals from both sides under one roof. Famous Vietnamese delicacies available at the restaurant include Banh Cuon, NemTuroi and Pho Ga among others.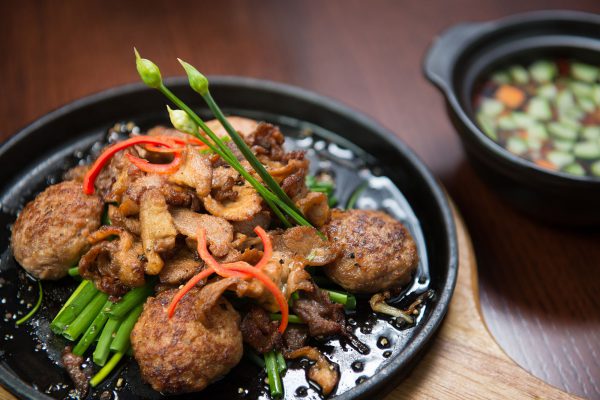 Some foreign dishes served at Red Bean include Australian beef, Tomato Bruschetta and various types of seafood.
Fortunately, the cost of meals is also reasonable and starts at 500VND.
Main website
Restaurant location on Google Maps
Cuc Gach Quan
Cuc Gach is one of the leading restaurants in Ho Chi Minh City and is quite popular with tourists.
Its decoration reveals a homely look that accentuates its old French colonial architecture. The eccentric design and tasteful interior give it an intimate and friendly atmosphere.
A unique thing about the restaurant is that it does not have a set menu, with the establishment encouraging guests to put their trust in them. The staff lays out diverse meals and allows guests to sample the best.
In most cases, the meals are served in four portions as is typical with Vietnamese traditional meals.
Main website
Restaurant location on Google Maps
Secret Garden Restaurant in Ho Chi Minh
Home-cooked Vietnamese meals on a rooftop is what you can expect when you visit the Secret Garden restaurant in Ho Chi Minh City.
The rooftop oasis has lots of greenery and is beautifully decorated with Vietnamese-style lanterns that make it quite inviting. The wooden furniture matches the interior and also complements the family-style outlook in the restaurant.
Although the menu is filled with simple dishes, it does not take away from the popping flavors and freshness of the meals. Whether you are looking for a place to enjoy brunch, lunch or dinner when in Vietnam, the Secret Garden can definitely be a good choice!
Main website
Restaurant location on Google Maps
Michelin Star Restaurants in Vietnam
Michelin rated restaurants are known for their quality service and fabulous meals. Vietnam is not left behind, with some of its famous restaurants being led by chefs that have earned recognition from the well-respected Michelin Guide. Some of these Vietnam famous restaurants are highlighted below.
La Maison 1888 in Da Nang
La Maison 1888 is one of the top restaurants in Vietnam that is led by the famous Chef Pierre Gagnaire. It is set up to resemble a colonial French setting that makes you feel at home.
The Michelin-starred chef brings out the French Cuisine in a variety of tasty meals that are well-known worldwide. Guests get to enjoy pre-dinner drinks that may include aged whiskeys or infused vodkas
The main dishes are served soon after and later delectable desserts that leave you satisfied.
Main website
Restaurant location on Google Maps
Costs of meals in Vietnam Famous Restaurants
The cost of meals in restaurants in Vietnam varies depending on several factors. It is important to do some research on the most suitable ones before deciding to visit any of the popular ones.
Nevertheless, to enjoy your time at a good restaurant, you need to set aside fifteen to twenty dollars per meal. Vietnamese restaurants that serve exotic food may be a bit expensive and may require that you dig deeper into your pocket.
When it comes to food options, visitors can expect a lot from the restaurants in major cities across Vietnam. Some of the popular dishes served at these eateries include Cao Lau (pork and noodles), Bun Bo Nam Bo (beef and rice noodles), ThitNuong (grilled pork), Banh Mi (baguettes), Banh Xeo (crepe wrap), summer rolls and spring rolls among others.
Most of these meals are fairly priced at most of the popular eateries within Vietnam.
Ultimately, finding the best restaurants in Vietnam will require a bit of effort to get to the ones that meet your needs. The majority of restaurants focus on providing great ambiance, quality food using professional staff for their patrons during the day or night.
Whether you are traveling alone or with family, visiting one of the restaurants listed above is an excellent way of enjoying authentic Vietnamese meals with loved ones.